Create Your Own Summer Staycation Oasis With A Resurfaced Pool Deck
Rising gas prices have caused many people to rethink their summer travel plans. Road trips to destination hotels and resorts have become cost prohibitive so families are looking closer to home for summer entertainment. Rather than have your vacation dollars boost the economy somewhere else, why not invest in your own home? Concrete Craft® can help you turn your backyard into the ideal vacation spot with decorative concrete solutions like stained concrete and stamped concrete, so swimming, pool games, barbequing, sunbathing, and inviting friends over can fill your summertime hours. Instead of one or two weeks of vacation fun, you'll have your own outdoor oasis that can be enjoyed all year long.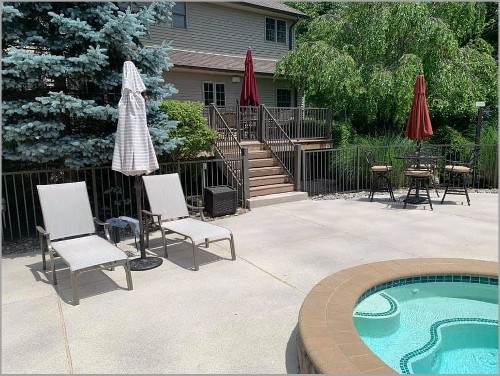 Treat your pool to a resort-style makeover and incorporate all the amenities you travel for right at home
A well-loved and well-used swimming pool can quickly begin to show wear after just one summer of fun. Food spills, suntan lotions, fruit drinks, and chemicals in pool water can all leave their mark on plain gray concrete and, after several years, you've got a messed-up pool deck. Add a few cracks and chipped edges and you may see your dream of a great pool area begin to fade. Concrete Craft has decorative concrete options that can transform your pool deck as well as surrounding hardscapes like seat walls, walkways, and steps so you can quickly and easily have your luxurious backyard oasis.
Pool deck rescue 101
Concrete Craft began revitalizing pool decks over 15 years ago with beautiful decorative concrete finishes to give homeowners an affordable option to plain gray pool decks. Today, our MasterPro FinishTM products include repair and restoration systems for severely damaged concrete, stained concrete, stamped concrete, and various resurfacing finishes that can deliver on just about any look you can imagine! Vibrant stain colors, stamped faux stone and wood, slate textures, polished concrete, and a real river rock overlay are just some of the options for transforming your pool deck and patio. Even moisture-heavy pool decks stay damage-free year after year, taking demolition and replacement off the table!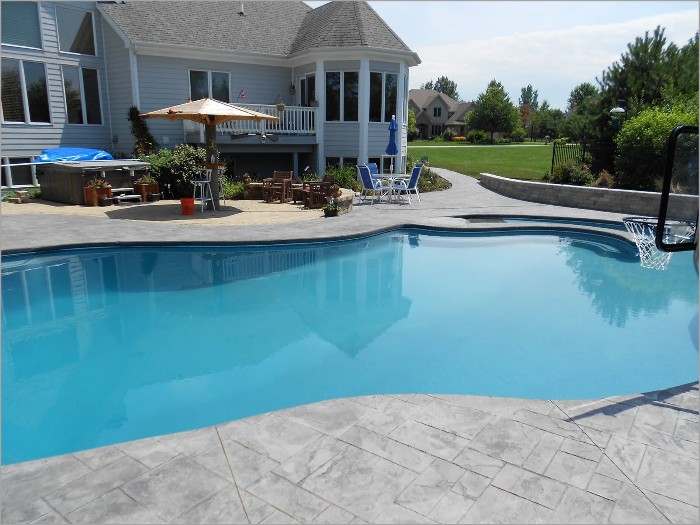 Transform your pool with custom decorative concrete finishes like this Ashlar slate pattern and feel like you're at a luxury hotel all summer long
For concrete in good condition, a concrete stain adds vibrant color and a durable new finish.
A resurfaced concrete overlay hides imperfections and presents a fresh surface for stained, stamped

, and

hand-carved custom designs like flagstone, cobblestone, slate, and wood plank.
RenewKoatTM is a rolled-on cementitious overlay that restores a faded decorative concrete surface to its original beauty and color, or you can select a fresh new color.
ColorRestoreTM is a water-based stain that penetrates the surface, forming a breathable, natural finish with the look of colored concrete.
PebbleKoatTM is real stone decorative river rock in a non-epoxy-based concrete overlay available in a range of color blends from light Frost to a dark Espresso.
QuartzKoatTM is an industrial-grade colored restorative overlay that covers compromised concrete and gives the smooth look of new concrete. Cost-efficient for large areas, installation is quick with a curing time of 24 hours.
RestoreKoatTM can repair spalling, deep cracks, and a severely degraded surface to a like-new finish that is tougher than bare concrete, resistant to water damage, cracking, peeling, or fading.
RubberKoatTM is a rubber resurfacing system that adds a little "cush" underfoot. Ideal for pool decks, it is stain, odor, and moisture-resistant with a non-slip finish for additional safety.
Functional architecture: seat walls and retaining walls
If your patio or pool deck space is open and undefined, retaining walls and seat walls can add great value to activity areas by dividing the space into outdoor "rooms." A seat wall and a fire pit create a welcoming gathering spot and retaining walls or raised garden enclosures bring functionality to wide open spaces. With capstones, they provide expanded seating capacity when needed and beautiful enhancements all the time. We can create custom curved designs for any shape patio or pool deck as well as update existing structures with vertical concrete resurfacing overlays that replicate of any type of stone, color, or texture to complement or unify your existing hardscapes.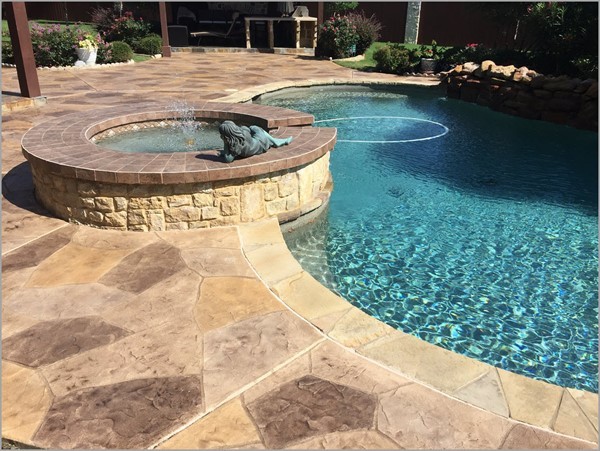 Well-placed seat walls are a simple and low-cost way to incorporate a focal point that also serves as an entertaining area
The realistic stone façade is created on-site, to exact measurement, with custom hand-carved designs like Mountain drystack, castle rock, orchard stone, and cobblestone.
Embedded lights in seat walls are a great way to add safety and path lighting in the pool area without visible fixtures.
For extra comfort on the seat walls, incorporate a backrest of iron or concrete and add colorful cushions to protect tender backsides.
Update an outdoor fireplace with vertical concrete resurfacing to repair an old finish or resurface it to match your new faux stone seat walls.
A commercial-grade, industry-tough sealer protects the faux stone finish with a seamless surface that resists stains, moisture, and grout deterioration you get with real grouted stone.
Glam up your pool with resort amenities
The swimming pool will most likely be in constant use with water toys and floating rafts but having lots of other things to do will bring that never-a-dull-moment vacation feeling to your backyard. Create different activity areas for conversation, reading, lounging in the sun, eating, crafting, and playing games. Game tables and lawn games create permanent activity areas that won't interfere with patio tables where cool drinks, snacking, and lazy conversation are the draw. Utilize all your space and keep the whole family entertained and engaged, individually and collectively. Adopt all those amenities you go to the fancy hotels for right in your own backyard, with an inviting space where you want to spend time relaxing or entertaining.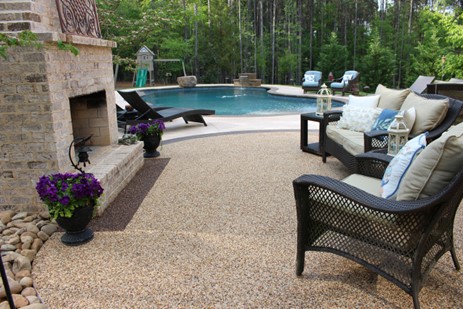 With lounge chairs, side tables and portable awnings, this PebbleKoat pool deck is your own home resort for a busy, sun- and fun-seeking family
A minibar to keep drinks cold and a serve-yourself food station with snacks, finger foods, and fresh fruit lets everyone graze to their heart's content.
Think pampering with outdoor rugs to cushion your feet and plush towels to wrap up in after a swim.
Protect from UV rays with a supply of hats and suntan lotions (broad-spectrum SPF 30 or higher) to avoid sunburn. See 7 Best Sunscreens to Protect the Whole Family.
Impart a garden atmosphere with surrounding trees, shrubbery, and flowers in planters.
Use strings of lights, decorative solar lights, and citronella Tiki torches to light up the night and banish pesky bugs.
Clean or refinish patio furniture you already have and buy new outdoor cushions.
Have chairs, lounges, ottomans, and tables so everyone can keep food and drink handy anywhere around the pool.
Provide sun relief with portable shade umbrellas or a patio cover in seating areas.
Don't burn up those hard-earned vacation savings by extensive summer driving. Create your own oasis right at home that will give year-round satisfaction in every season. It's not too late for your local Concrete Craft to help you get ready for the perfect summer family staycation by enhancing your backyard pool deck or patio with custom, decorate concrete enhancements. Call 888-852-9244 today or go online to www.concretecraft.com to find the Concrete Craft location nearest you and request a free in-home or virtual* consultation and see where dreaming takes you.
*Virtual consultations may not be available at every location