Four Options To Restore A Damaged Concrete Driveway Instead of Costly Replacement
If your driveway has finally become impossible to tolerate, Concrete Craft® has good news for you! Whether it's cracked, chipped, worn down to the aggregate, or stained from years of vehicles and harsh weather, we have decorative concrete options to repair and restore your concrete driveway that will spare you and your wallet the pain and inconvenience of demolition and replacement.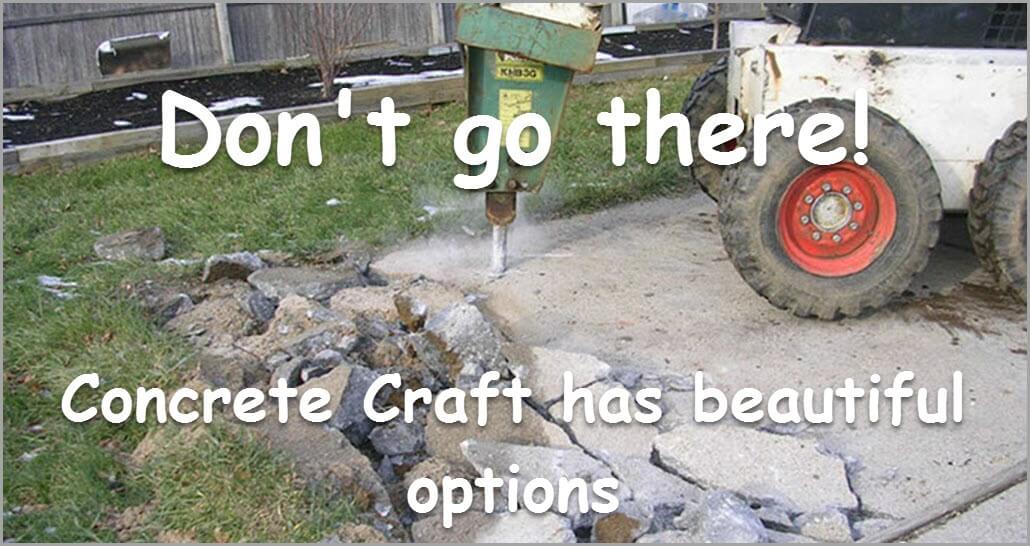 Just imagine:
No need for jackhammers and haulers to dispose of the old concrete
No concrete mixers damaging your lawn while pouring concrete
No waiting up to 30 days for a new concrete driveway to cure and harden
A beautiful, new driveway for far less cost than demolition and replacement
Concrete Craft can have your ugly driveway repaired, restored, or resurfaced in a matter of days so you can get on with the more important things in life. And, we won't damage your yard or scare your pets with the noise.
Decorative concrete overlays
If your driveway needs a whole new look, a decorative concrete overlay will create a new finish that covers minor surface damage like cracks, imperfections, and discoloration. The overlay creates a durable finish and long-lasting bond with the original concrete that will not chip, crack or peel. Concrete overlays can be stained, stamped, and hand-carved in faux finishes like flagstone, cobblestone, Ashlar slate, and Roman slate for the exquisite look of real stone.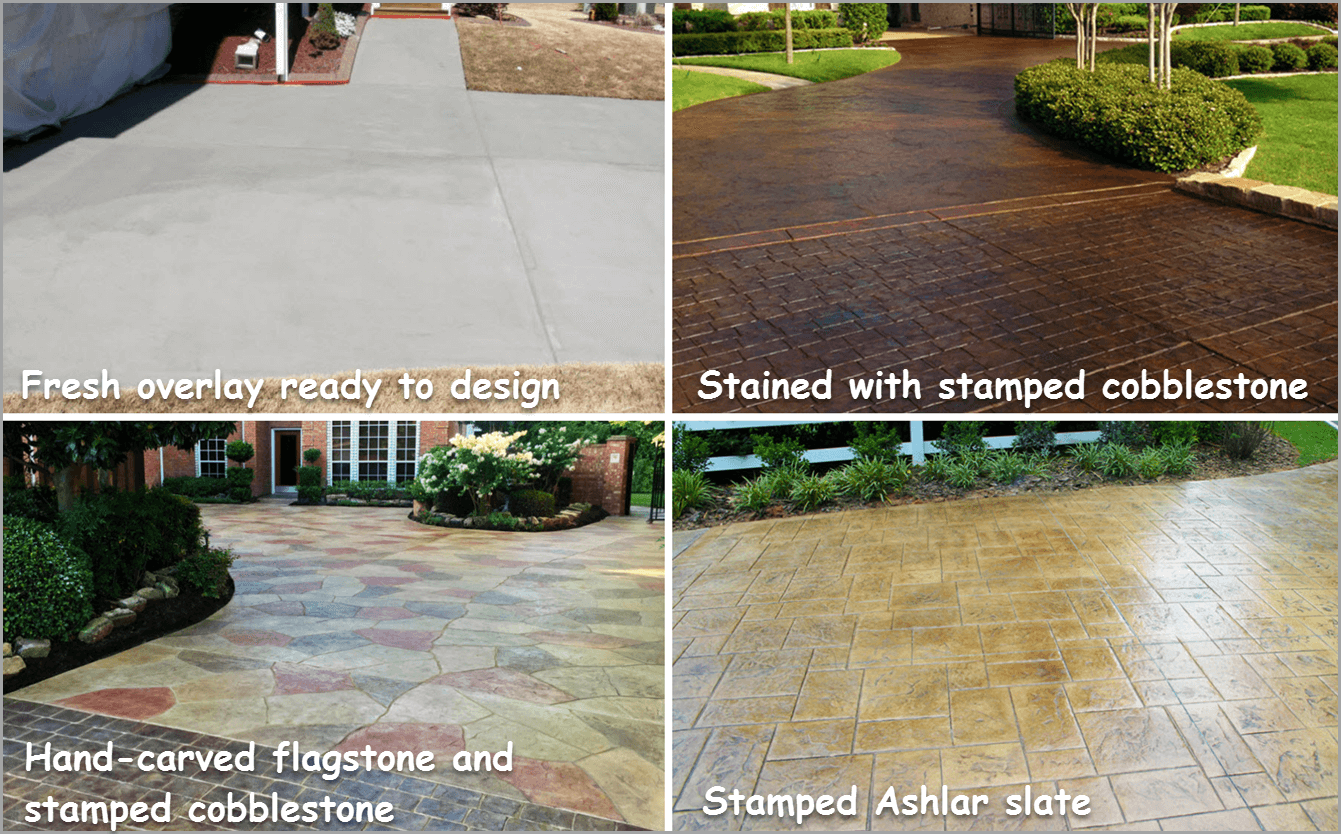 Real stone molds and hand-applied stain colors result in finishes that look natural and authentic.
Combining two styles is easy, like the hand-cut and custom-colored flagstone driveway with a stamped concrete cobblestone border.
Stained concrete transforms with vibrant color, including one color or multiple colors, and borders or stenciled designs.
Our high-quality overlays give unlimited design potential and since everything is created onsite, there are no restrictions for the type of stone or desired colors.
Restore your driveway to its glory days
Perhaps your driveway already has a finish or design that you like, but it's lost its color and luster over the years. Our revolutionary RenewKoat by Concrete CraftTM will restore the faded surface with an industry-tough overlay made with real cement that rolls on like paint, preserving the integrity of the original design, but making it better than new!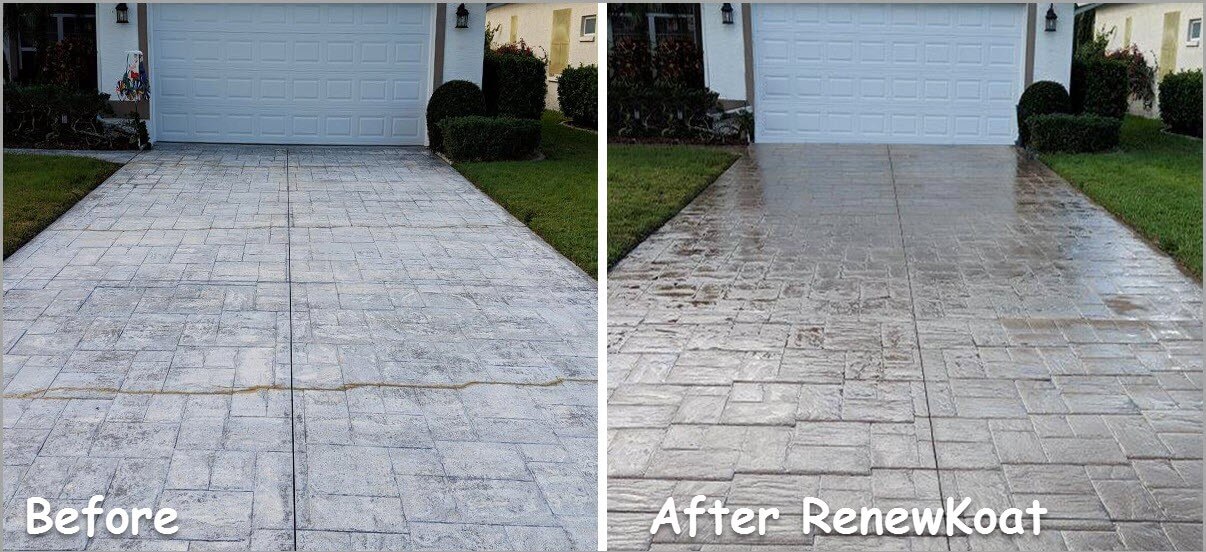 10 colors let you match the original design or go for a completely new look to update your home.
The application is quick and clean with very little mess or dust.
Fast cure time gets your driveway back in service quickly.
The new finish is resistant to weather, abrasion, UV fading, and auto fluids of all kinds.
Affordable, elegant river rock
For a driveway with serious cracks, uneven surfaces, and a damaged finish, PebbleKoat by Concrete CraftTM can eliminate all those problems with a one-step overlay of beautiful, decorative river rock. Our exclusive non-epoxy-based river rock concrete overlay is available in a range of colors to complement any home and landscape design. You'll be amazed how quickly your old driveway becomes a distant memory with a new river rock overlay.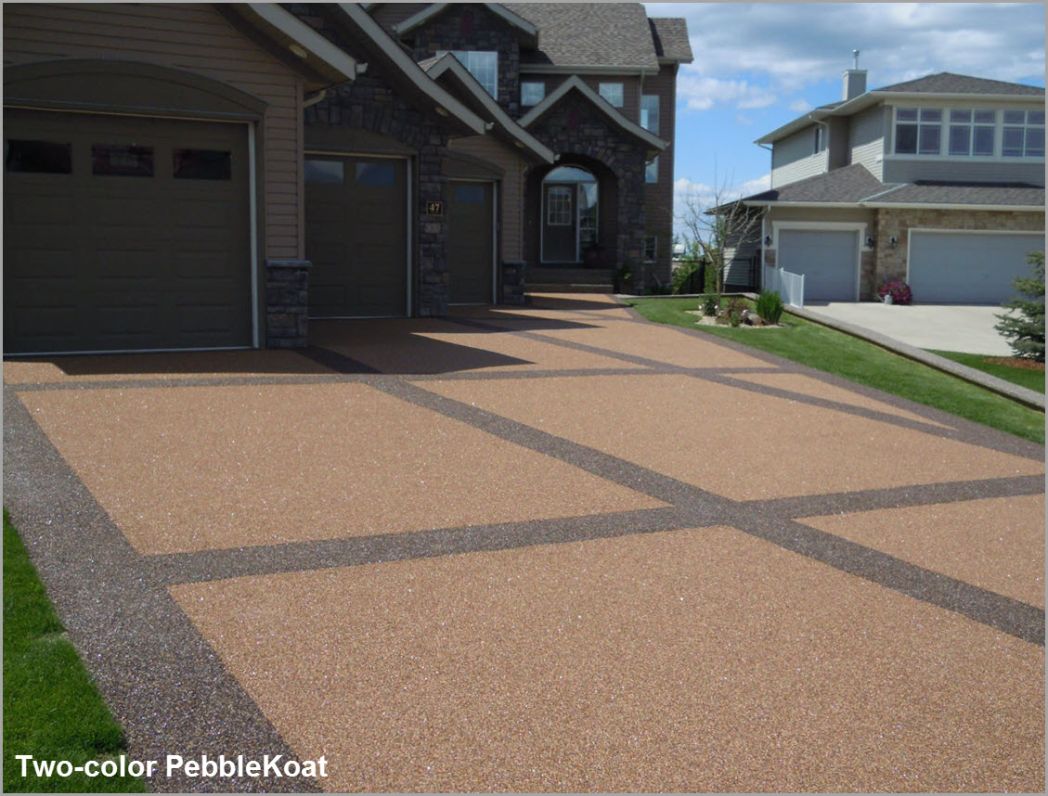 Creates a seamless, decorative glossy finish of real stone.
Multiple color options to mix and match for unique designs.
A durable surface resists abrasion and impact and withstands any kind of weather without cracking or peeling.
Easy to maintain and keep clean for an impressive welcome to your home.
For the concrete purist
Fresh, new concrete does have a beauty all its own. If you like the look of fresh concrete, your damaged concrete can be restored to a like-new finish, only tougher than bare concrete. Spalling, deep cracks, and a severely-degraded surface can be repaired with RestoreKoat by Concrete CraftTM. Especially economical for big projects like driveways, our versatile repair mortar can repair the damage and eliminate years of wear embedded in your driveway.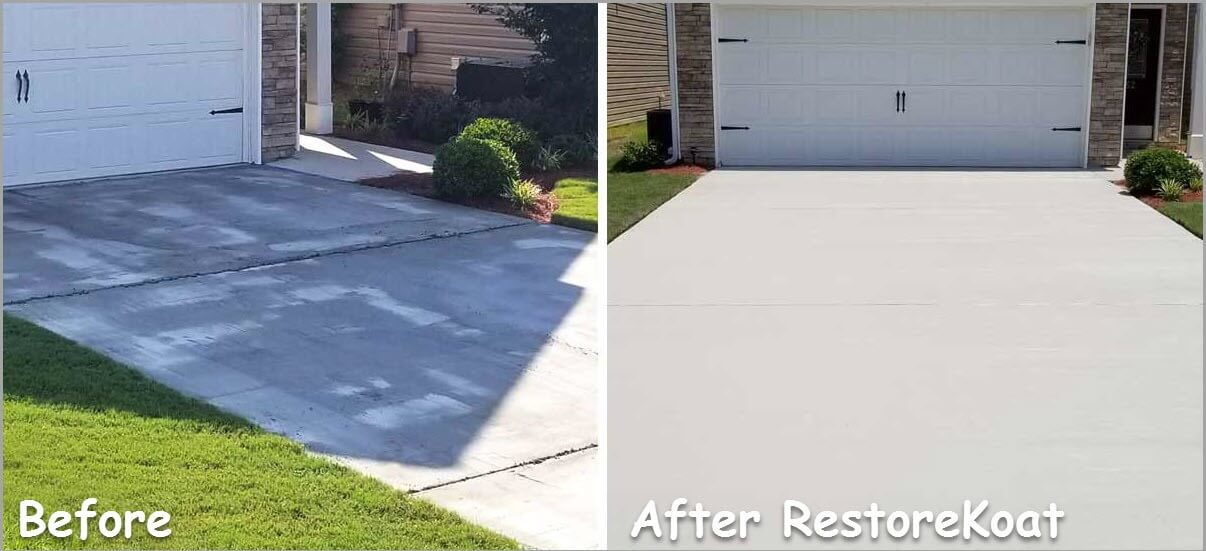 A stand-alone overlay for complete repair and restoration.
Immediately improves the curb appeal of your home.
Installation is quick, most driveways are back in service within one day.
Industry-tough finish repels spills, stains, abrasions, and harsh weather conditions.
Trust your driveway to Concrete Craft
If what to do with your driveway is keeping you up nights, don't waste any more time worrying. One call to Concrete Craft will have the experts who know concrete at your service! They can evaluate your driveway and talk you through the best options for your desired result, whether to repair, restore, or create a fabulous faux stone design with a decorative concrete overlay in stained, stamped, or hand-carved concrete.
We have the expertise to guarantee a successful result.
Our MasterProTM products are the best in the industry.
Our craftsmen are experienced in creating beautiful concrete designs.
As a local business owner in your community, we care about your complete satisfaction.
Contact us today or go online to www.concretecraft.com to find the Concrete Craft location nearest you and request a FREE consultation. You can trust Concrete Craft to deliver on the promise of the driveway of your dreams. We can also enhance interior floors, patios, walkways, pool decks, and more, with versatile concrete overlays, including vertical concrete resurfacing for fireplace fronts and retaining walls. View our MasterPro Product Catalog online for even more innovative concrete designs to transform your home inside and out.