From Start To Finish: A Resurfaced Concrete Overlay
If you're a home improvement enthusiast, you've probably spent many hours reading home décor magazines and online design sites and wandering around home shows. One thing you may not have investigated is what is involved in having a patio or driveway resurfaced. DIY fixes can be disastrous, but with the professionals at Concrete Craft®, a concrete overlay, decorative overlay, coating, or, as we like to call it, a resurfaced concrete overlay is a beautiful thing. Here, from start to finish is the transformation of an ugly, damaged patio and walkway into an elegant flagstone pattern.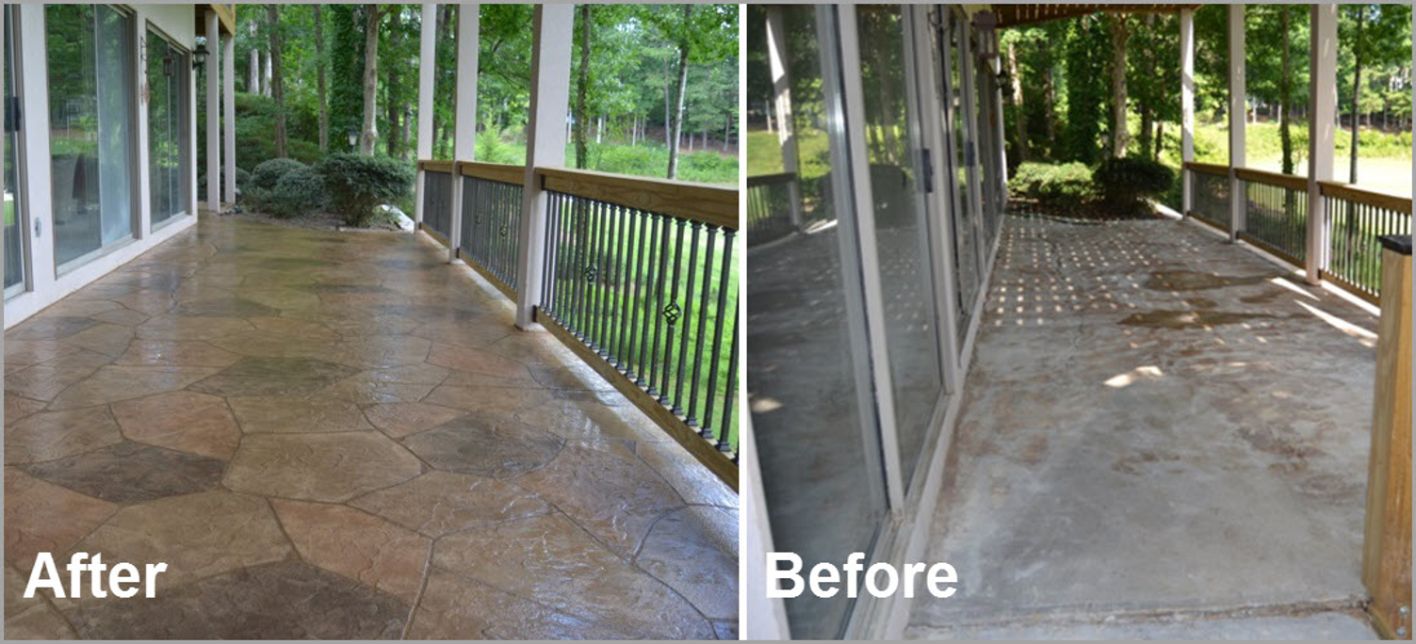 Step One: Taking stock of your damaged concrete
To the untrained eye, this patio appears to be beyond hope. Its years of service have left it looking weather-worn, discolored, and cracked. Still structurally sound, this patio can be restored to an attractive place for spending quality time with family and friends without demolition and replacement. John Kostro, Co-founder of Concrete Craft, isn't intimated by cracks that appear daunting, he says, "Another cool part of this project is how we incorporate cracks into the design." Who would have thought?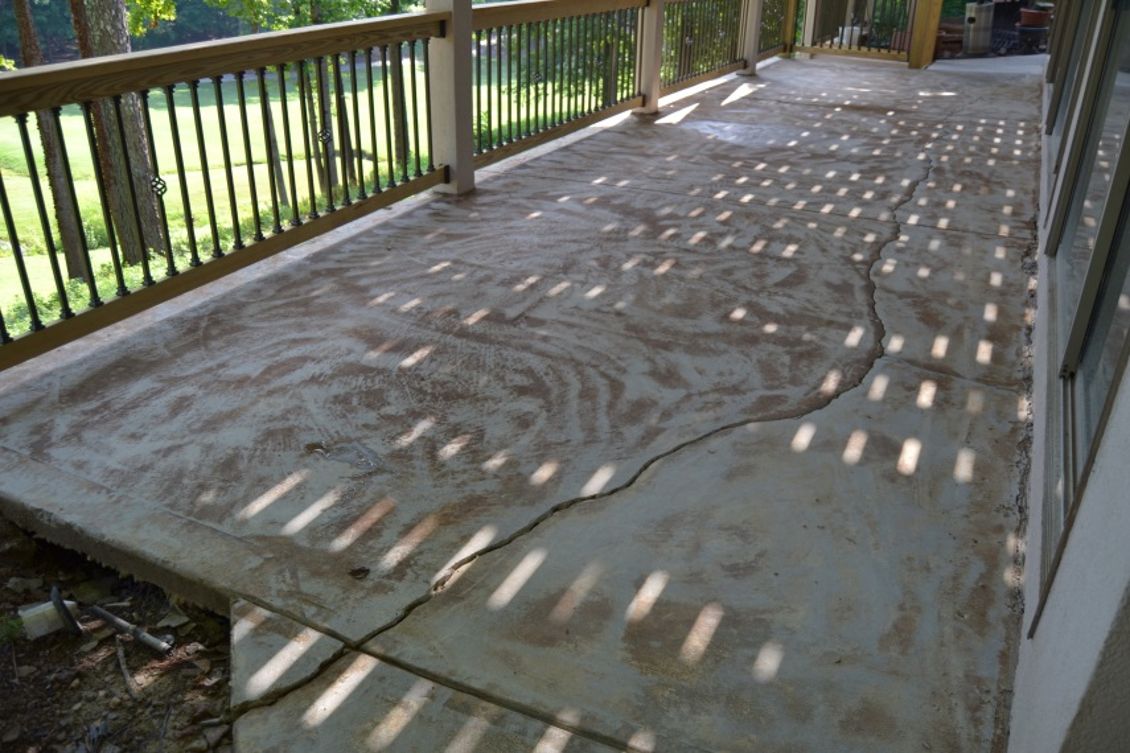 Step two: Preparing the concrete for the overlay
Before the overlay can be applied, the surface of the slab must be properly cleaned, patched, and primer applied. Cleaning involves removing any anti-adherents and then pressure washing to eliminate loose debris creating a clean palette for applying bonding primer before patching damaged areas and applying the overlay. Primer ensures that applied product, for both patching and the overlay, will permanently adhere to the surface of the concrete. Depending on how much repair work has been done and the condition of the surface of the slab, two coats of primer may be required. Patched areas will disappear once the overlay is applied. Cracks and expansion joints are not filled in with material that could pull loose over time; they become an integral part of the overall hand-cut design.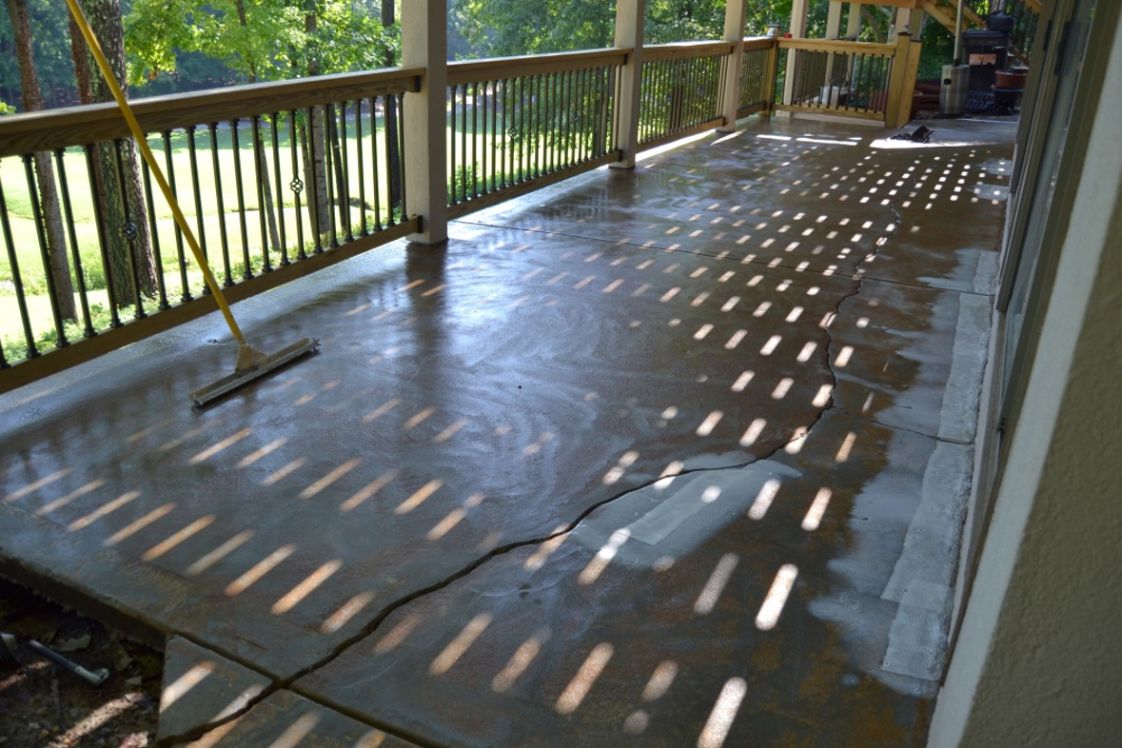 Step three: Product selection
Over a decade of testing and perfecting resulted in Concrete Craft developing an exclusive MasterProTM concrete resurfacing system that includes proprietary products that are performance-grade resurfacing mixes for a superior product. Our concrete overlays produce a smoother, more consistent long-lasting bond to transform existing concrete surfaces to like new, ready for staining, stamping, and hand-carved decorative concrete finishes. When compared side by side, the quality of our concrete mixes is simply better than anything else on the market. The proprietary blend is mixed fresh on-site with the proper amounts of ingredients, including rubberized polymer, elastomeric resin, cement, cement modifiers, fibers, polymers, and aggregates for a perfect overlay. No cement trucks or heavy equipment are required to create the new concrete overlay.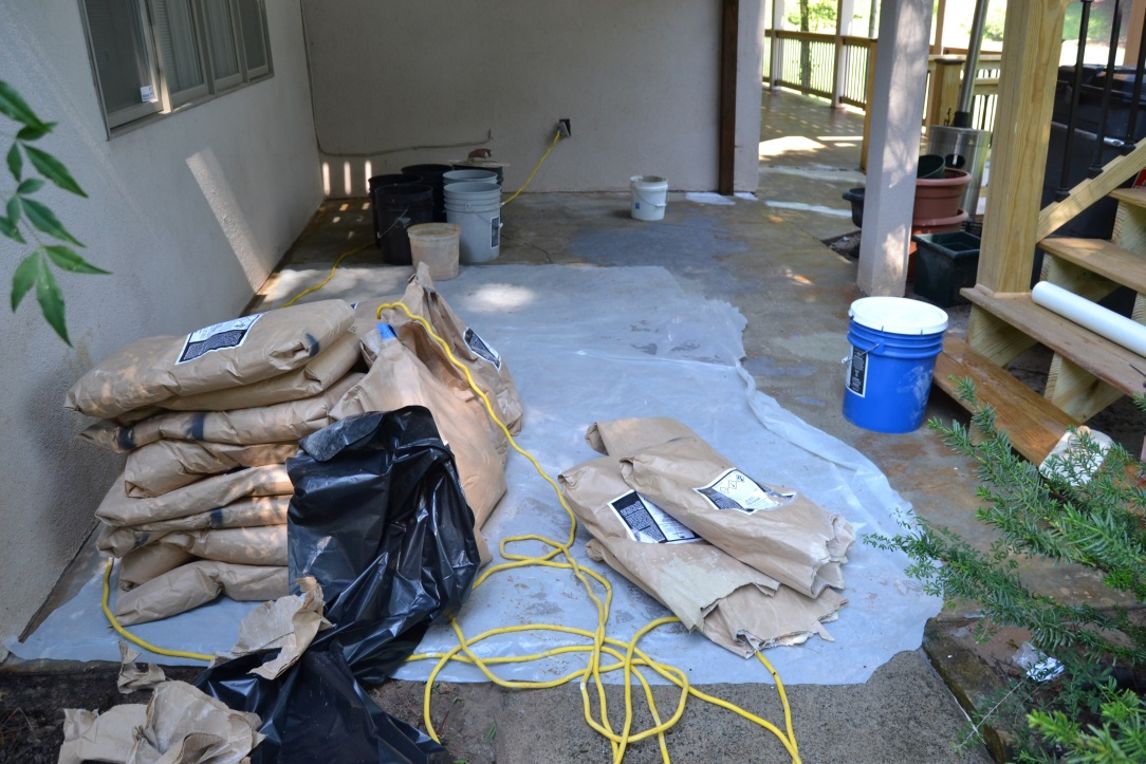 Step four: Applying the concrete overlay
Installers work quickly, pouring to the proper depth and smoothing properly to eliminate any random show-through or weak pockets due to overwork of the product. The finished overlay has the look of a new-poured concrete slab, making its damage and discoloration a thing of the past. Now the overlay is ready for the chosen decorative concrete design, in this case, flagstone.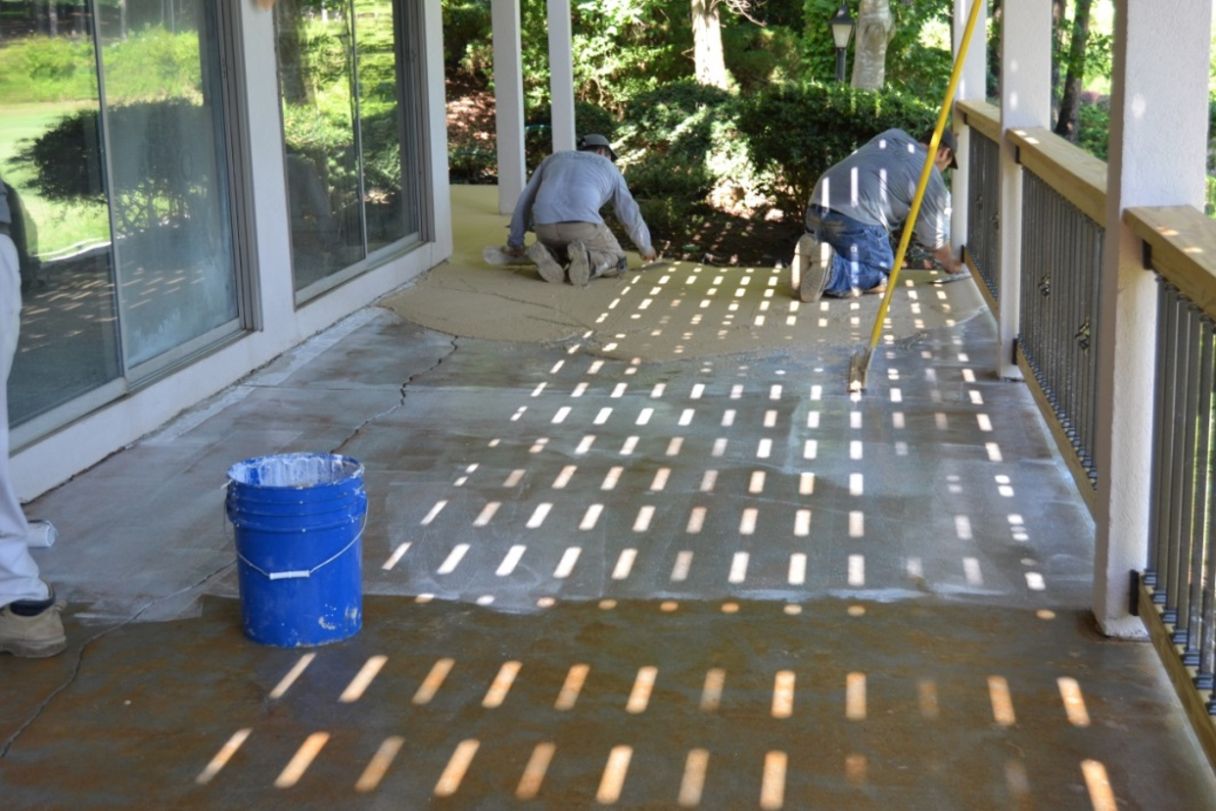 The fresh, new surface is ready for a redesign.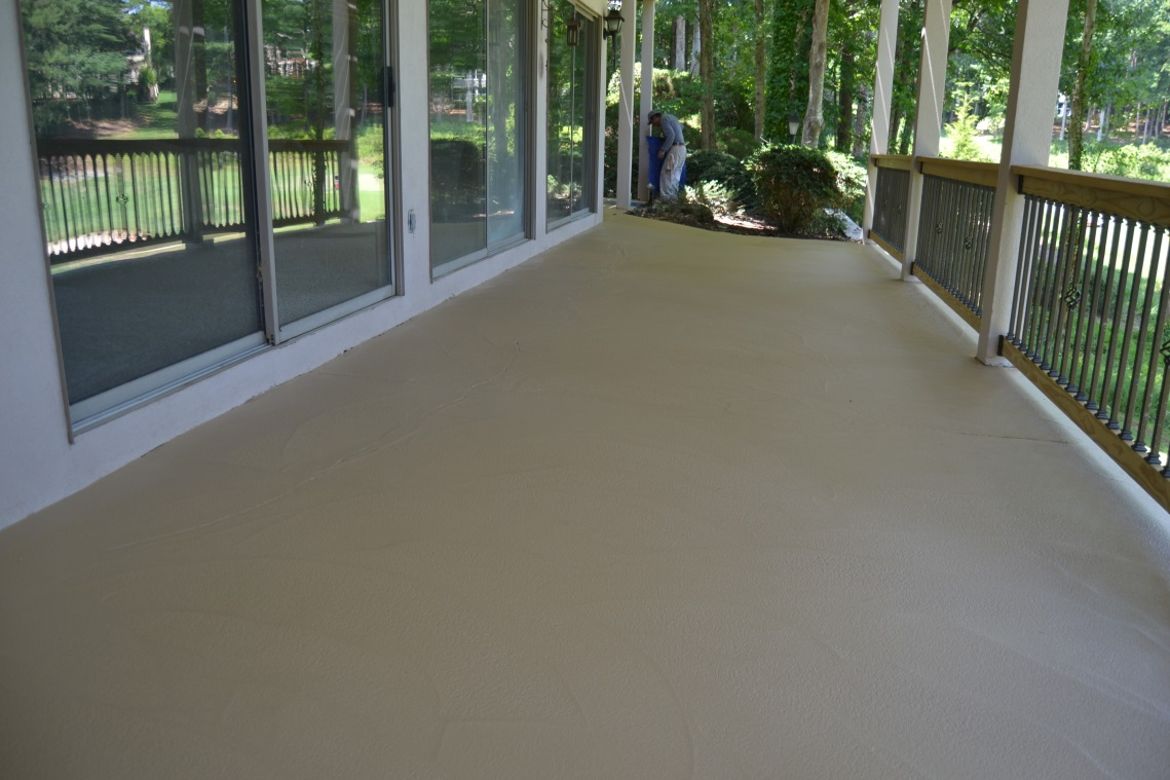 Step five: Creating the decorative concrete overlay surface
This is where Concrete Craft's craftsmanship, artistry, and authenticity of design come into play. Texturizing the surface of the overlay by hand or with stamped concrete patterns creates the appearance of real stone, removing the smooth, brushed concrete look. Attention to detail and careful execution of "grout lines," hand-cut to the correct depth, ensures smooth, non-chip edges for the flagstone design. Stones are cut to size and measure to fit the area so the scale of the design will be perfect. It's now impossible to tell grout lines from cracks, they are seamlessly consolidated into the design. The flagstone design is now ready for overnight curing before the hand-applied, custom concrete stain colors that will bring the design to life.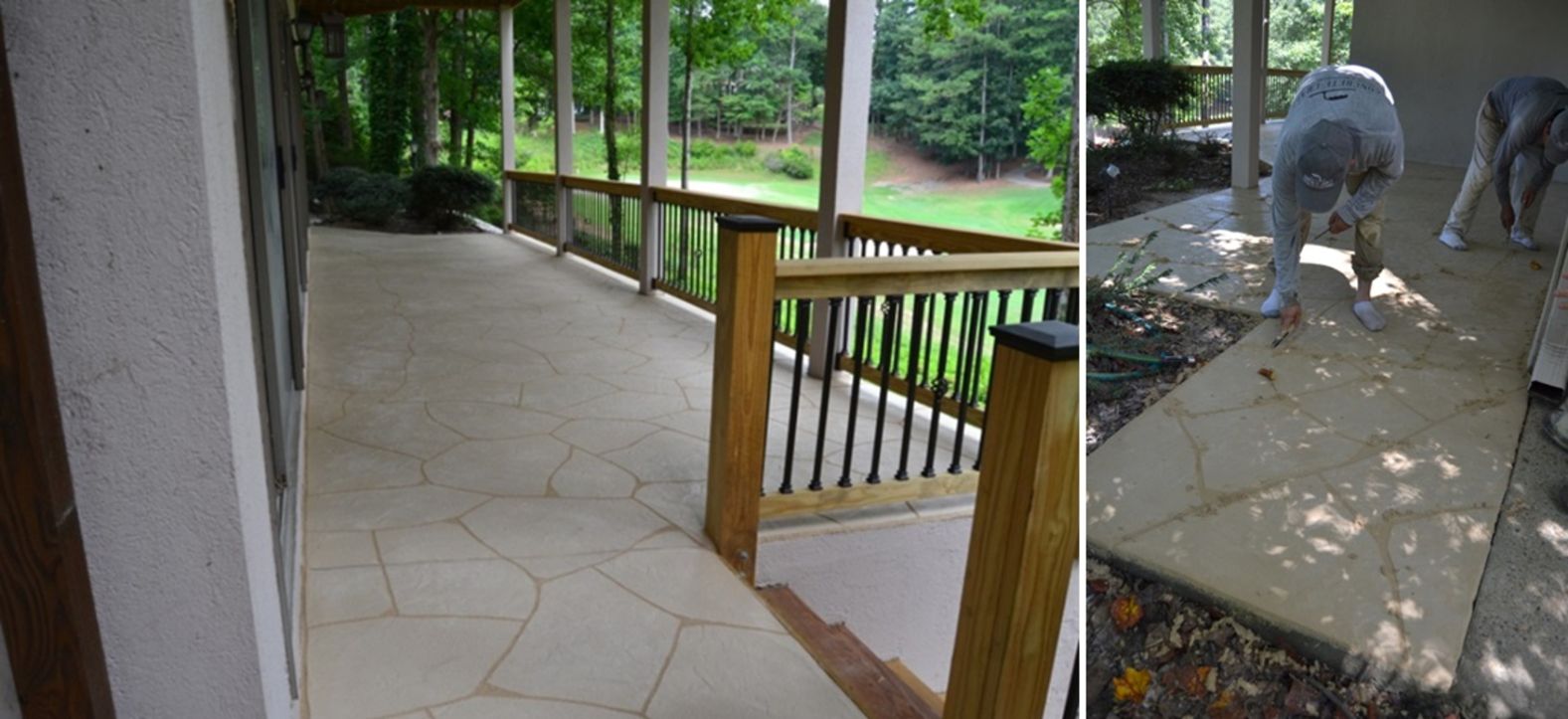 Step six: Custom concrete stain
For a more realistic look, the flagstone pattern is a combination of two primary colors and a base wash. The randomness of the colored stones gives authenticity to the design, mirroring the randomness that is nature's real stone and rock formations. Each stone is hand-stained, ensuring that the stain saturates and penetrates to the edges so there are no gaps in color. A colored base coat wash over the stain completes the colors amalgamation and darkens the grout lines before the final, protective sealer is applied.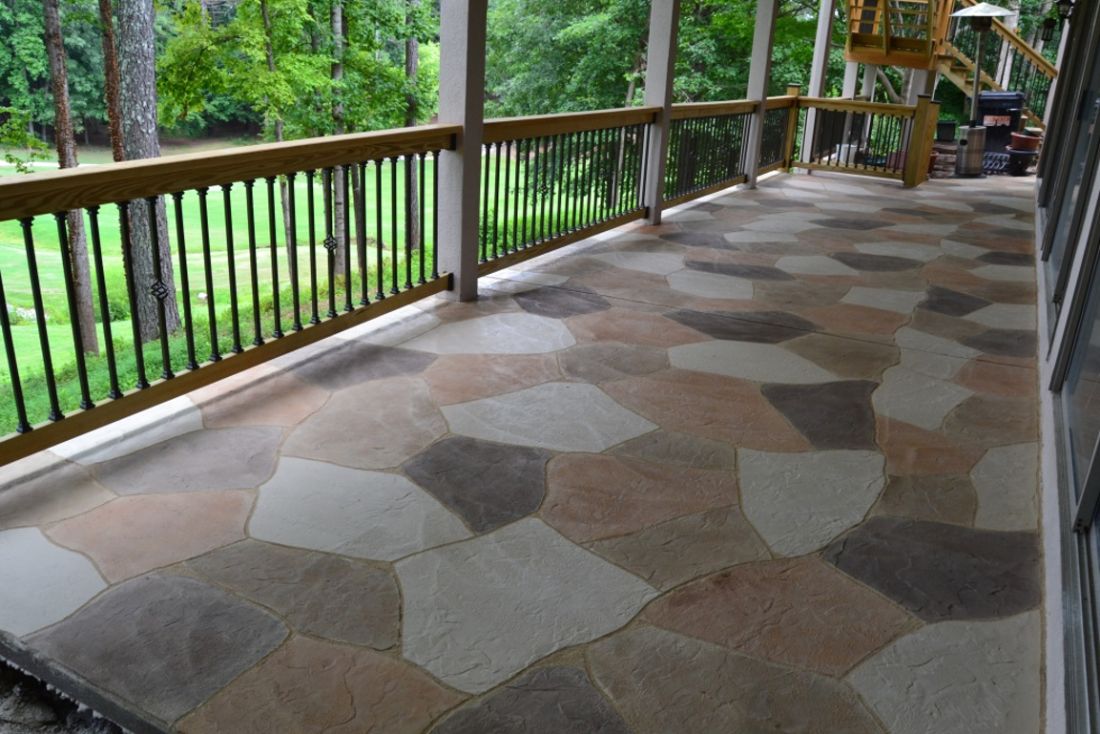 Step seven: The finishing top coat sealer
Two coats of a durable, protective sealer are applied, ensuring an even coating over the entire surface. There will be no missed sections, thin spots, bubbles, or puddles as can happen with a sprayer. Edges and borders receive special attention to make sure that the sealer gets into every nook and cranny for a continuous, seamless coating. The heavy-duty sealer creates a brilliant shine, with UV-resistant properties to protect against colors fading and to create a durable surface that resists moisture, stains, chips, and cracks.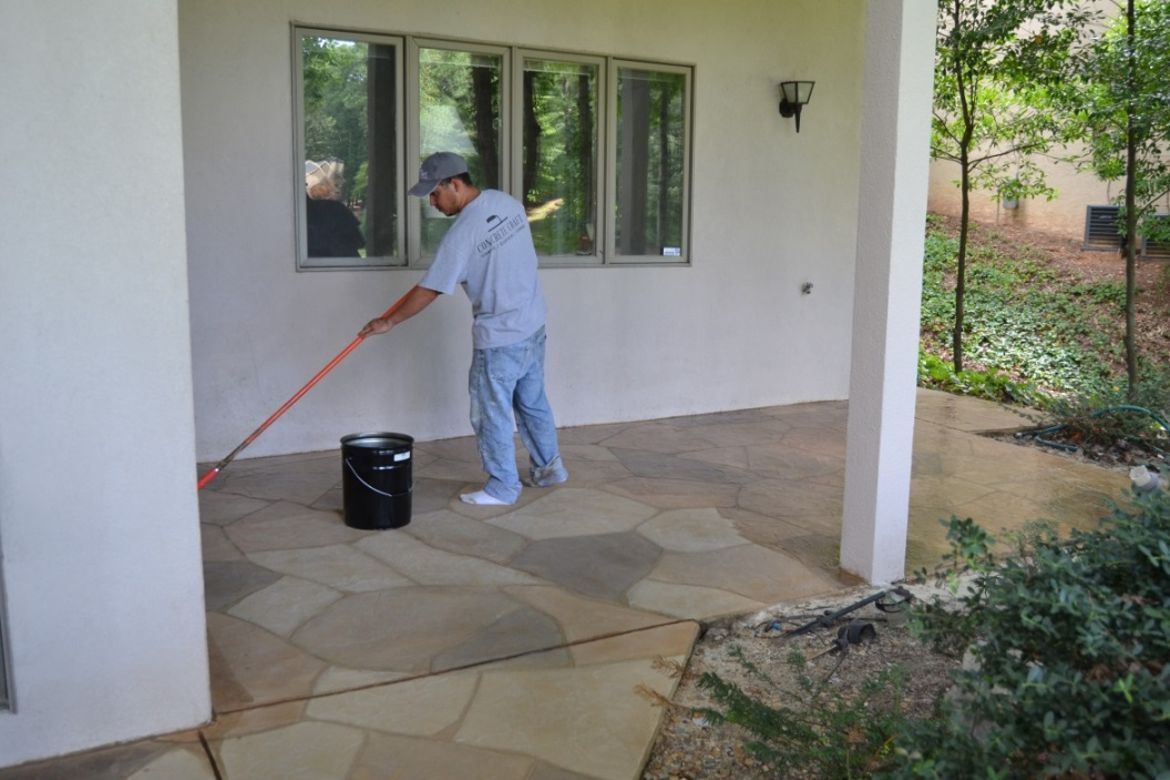 See how the colors come alive with shine!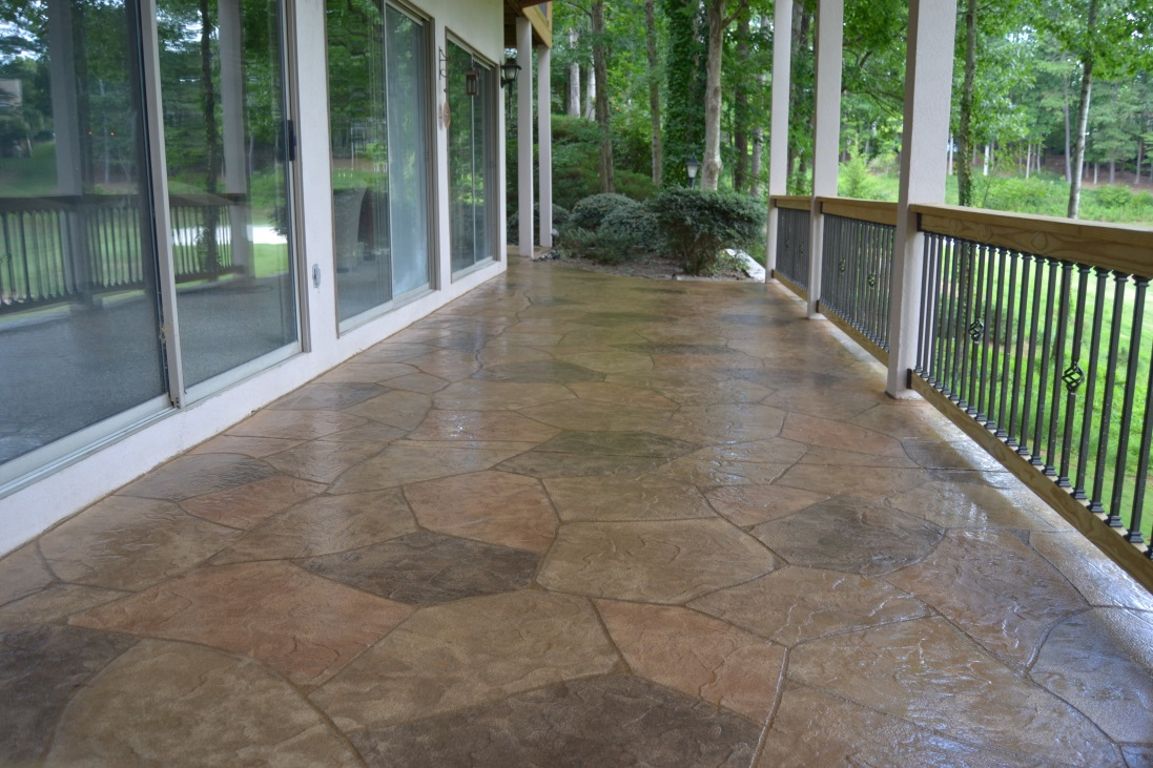 It's hard to believe this is the same patio. Decorative concrete overlays are the answer to worn-out concrete floors, both indoors and out. Concrete overlays can salvage interior floors where another flooring has been removed, leaving an unsightly mess. The durable surface will take whatever you can dish out, and cleanup is quick and easy with just a broom and damp mop if needed. You'll get years of worry-free enjoyment and beauty from a custom Concrete Craft resurfaced concrete overlay.
Contact Us today or go online to ConcreteCraft.com to find the Concrete Craft nearest you and schedule a free, onsite consultation to discuss all of your concrete surfaces that need help. From repair and restoration to stained concrete and resurfaced stamped and hand-carved concrete overlays we can transform your home or business, including vertical concrete surfaces as well. Check out our MasterproTM product catalog for all the possibilities, including patios, walkways, driveways, pool decks, garage floors, interior floors, vertical surfaces, courtyards, and more.