Get That New Home Feeling with a Resurfaced Decorative Concrete Driveway
If you find yourself checking out new home websites when moving really isn't an option, maybe you just need to look at your home with new eyes. You once loved it enough to buy it, so a little refresh and some updating could bring back the magic of that new home feeling. For a start, replace a boring gray concrete driveway with a resurfaced decorative concrete overlay in a custom flagstone design and you'll feel like you're coming home to a new house.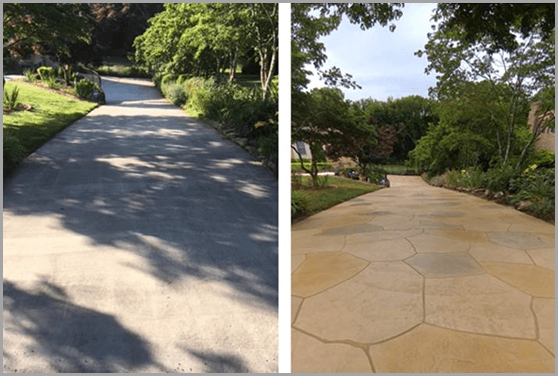 The artisans of Concrete Craft® can transform any driveway into a work of art with stained, stamped, and resurfaced concrete overlays to enhance your home's curb appeal and give you renewed pride of ownership. Whether you choose a vibrant stain, realistic stamped stone or brick patterns, or a hand-carved and custom colored high-end finish like flagstone, cobblestone, Ashlar later, or Roman slate, you'll love the durable, easy-care finish that will beautify your home for years.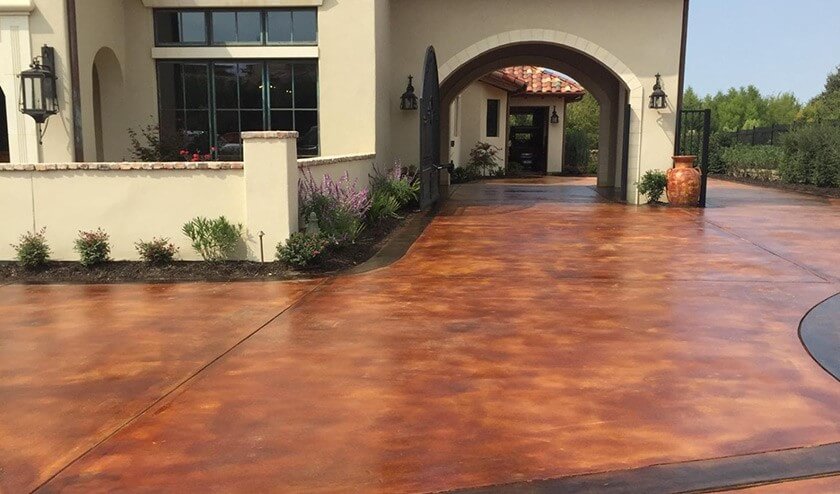 For a driveway in good condition, the stain can be applied directly over a prepped surface. But even if your driveway is stained, cracked, and pitted, a concrete overlay can restore the surface for a concrete stain without the need for demolition or replacement. This English Saddle acid-based stain, accented with dark brown stain borders, makes the existing concrete look like a brand-new driveway and gives the home a proper facelift.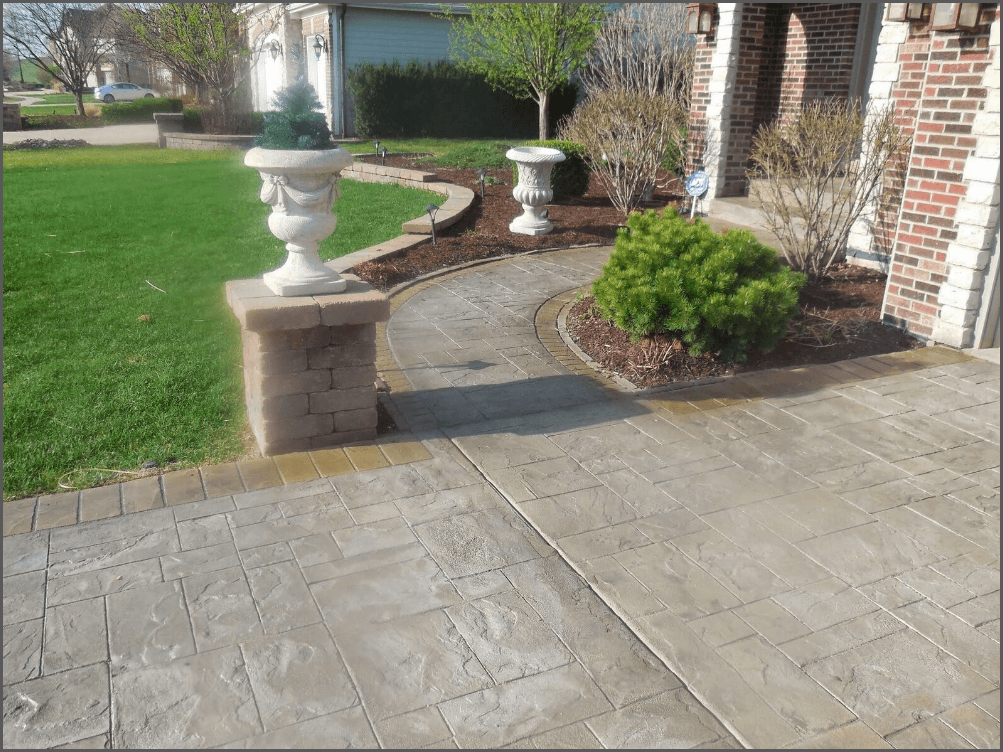 Create a stylish designer look by resurfacing the driveway, walkway, and front porch with a seamless decorative concrete design that wraps your house in the elegance of stone, like this Ashlar slate design. The continuous sealed surface is impervious to all kinds of weather and won't deteriorate from cold, hot, wet, or dry conditions. Our industry-tough sealers resist cracking, chipping, or peeling, and UV inhibitors in our stains ensure the color will stay true.
Take curb appeal to an inspired level
With a head-turning, envy-generating driveway, you're just steps away from extraordinary curb appeal to update your home with a fresh, new look. Let the driveway take center stage and go for a less-is-more, low-maintenance landscape design to save you time and energy.
Trim or remove overgrown ornamental plants that are crowding flower beds
Place stylish solar lights to highlight gardens and up-light trees
Enrich grass areas with fertilizer and reseeding in bare spots for a lush lawn
Paint the front door a rich color and replace the old entryway light with a new fixture
Install a new garage door for a completely different appearance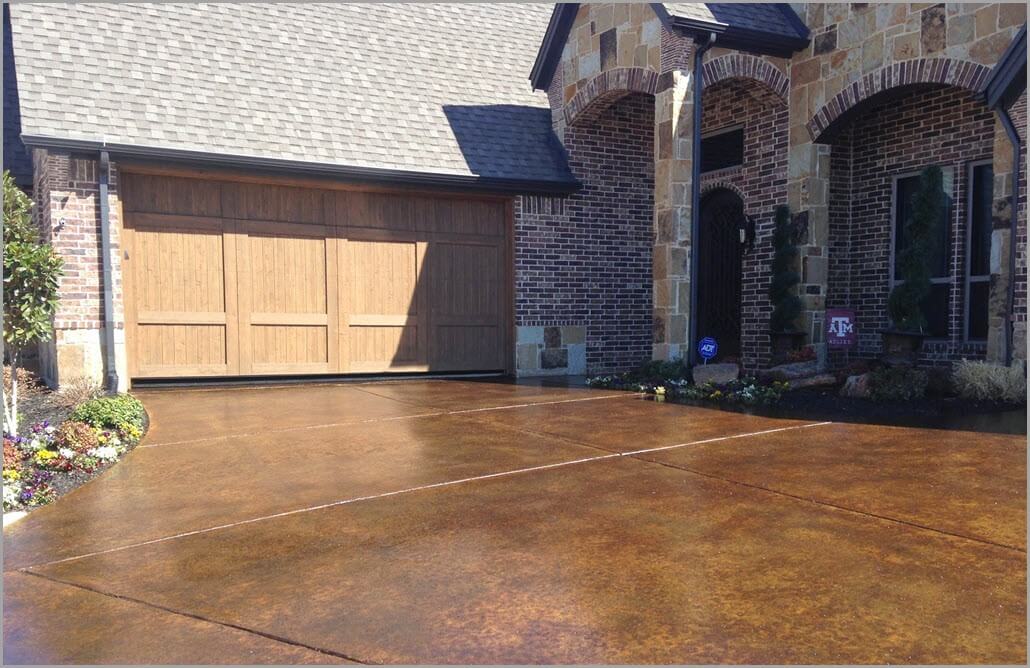 Transform the indoors with decorative concrete interior floors
With a beautiful, new outdoors, it's time to take the quest for that new-house-feel indoors too. Renovation is a lot less money and hassle than moving, so get rid of tired carpeting, out-of-date, cracked, chipped, or yesteryear's flooring colors for tile or linoleum. Decorative concrete interior floors can update your whole house with brilliant shine and color with stained floors or the look of authentic stone finishes and hardwood floors with decorative concrete overlays. And you'll find that decorative concrete is about half the cost of real stone or hardwood, so you can update all your floors.
Decorative concrete floors are moisture-resistant, repel dust and allergen buildup and keep your home cleaner
Easy care, all you need is a dust mop and occasional wet mopping to keep them looking like new
Area rugs can add softness where needed and they are easy to change out when you feel the need for a new look; check out How to Choose the Right Rug Size

If you've been in your home for years, chances are there have been some life changes that could open up new ways to Imagine your space.
A seldom-used formal dining room could transform into a library/reading room, a no-tech zone for quiet time and family interaction
Add mudroom capabilities to the laundry room to free up clutter from the main entryway
Turn the guest room into a home office with a sleeper couch or Murphy Bed so it can serve double-duty
Find new uses for old furniture—convert a hutch into a linen closet in the hallway, paint it to match the walls so it blends in
Update the color scheme throughout the house with fresh new wall finishes, including trending paint colors and eco-friendly natural grasscloth wallpapers
Get new window treatments like blinds or shutters and lose the curtains and drapes; or, add curtains and drapes to bare windows
Replace outdated windows with modern, energy-efficient ones
There's no need to move to get that new home feeling. Approach your home as a new buyer, make the changes and renovations you'd want to see, and live happily ever after. Let a new decorative concrete driveway can be the inspiration for transforming your whole home to fit your lifestyle today.
Contact us today or go online to www.concretecraft.com to find the Concrete Craft location nearest you and request a FREE design consultation and estimate. We can help to make your home feel like new with resurfaced patios, pool decks, walkways, interior floors, vertical surfaces like shower walls, fireplace surrounds, and more. You'll be amazed at the unlimited design potential, hand-crafted customization, professional installation, and two-year warranty* on everything we do.