Give The Gift Of Time This Mother's Day With Easy-Care Decorative Concrete Floors
Still searching for that perfect Mother's Day gift for your special mom? If trying to fit how much she is loved and appreciated into a fancy box is proving difficult, why not give an "out-of-the-box" gift that every mom craves … leisure time to spend any way she chooses. Easy-care decorative concrete floors from Concrete Craft® can give the gift of time, so she'll have time for herself to read, take up crafting, do Pilates and Yoga, or have a spa day with all the trimmings.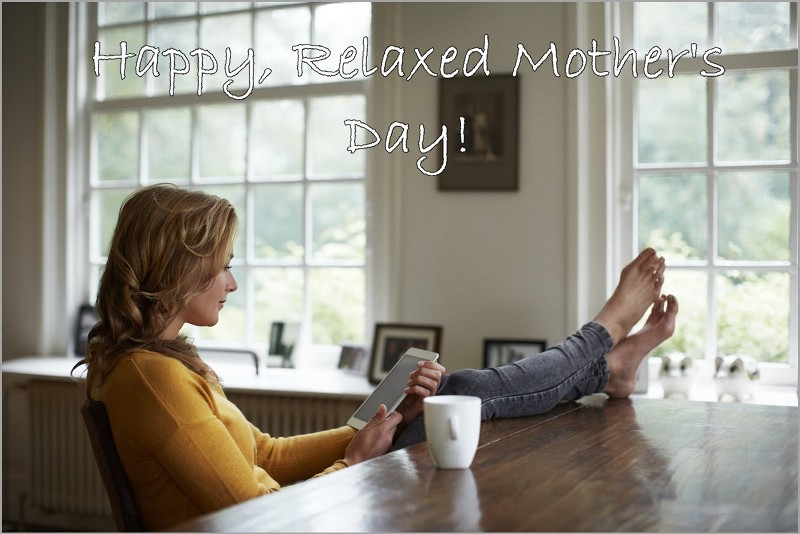 Converting cleaning time into leisure time is a gift that will keep on giving year after year and make you the favorite child
It is very true that the ease with which you can clean decorative concrete floors frees up time usually required for keeping indoor and outdoor floor surfaces clean. Replace carpet cleaning, hardwood floor maintenance, grouted tile scrubbing, and outdoor concrete stain removal with low-maintenance decorative concrete finishes that clean up quickly with soap and water. Plus, there's the additional benefit of not having a meltdown every time someone spills something on surfaces that can stain. (Red wine on the carpet, oh no!)
Easy-care decorative concrete interior floors
With decorative concrete, you're not limited to one or two looks or styles. You'll be able to find exactly what your mom loves. From the elegant look of marble for living rooms and kitchens to faux stone and wood patterns for basements and entryways, you have a world of design possibilities. We can emulate any other flooring like tile, wood, stone, marble, and brick, with stained concrete, stamped concrete, and resurfaced concrete, including specialty coatings like MarbleKoat by Concrete CraftTM. You can enjoy the appearance of high-end flooring every day but without the time-consuming, complicated cleaning requirements for the real materials. With decorative concrete, there's only one cleaning regime to keep all your floors looking new.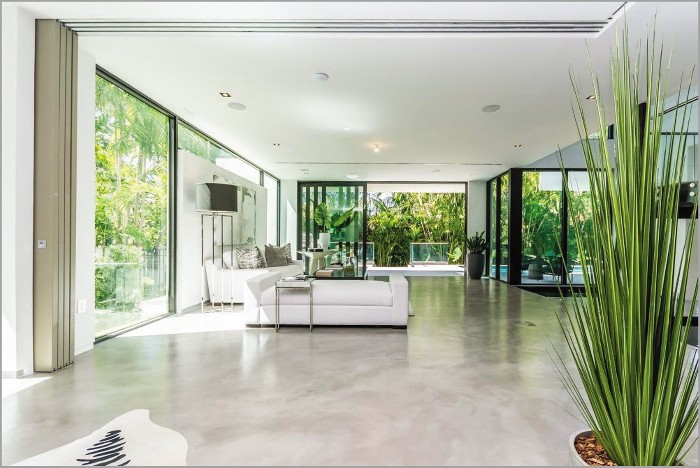 The elegance of marble floors without all the fuss with Concrete Craft's exclusive MarbleKoat decorative concrete overlay
Five minutes with a dust mop will keep floors shining and free of dust and debris since nothing sticks to the surface.
No hands-and-knees scrubbing in corners since the non-porous, moisture-resistant surface resists stains and inhibits the growth of mold and bacteria even in rooms where humidity and moisture abound.
Swiffers are great for all decorative concrete floors with quickly disposable dry sweeper pads or microfiber covers (fuzzy socks work too!) you just toss in the wash.
Occasional wet mopping with a neutral-pH cleaner like mild dish soap in warm water gives a deep clean and no rinsing required.
Practically self-cleaning exterior floors
Bare concrete patios, driveways, and walkways can be difficult to keep clean. Hours can be dedicated to getting stains out with special cleaners for rust, mildew, and ground in dirt. Decorative concrete overlays for your outdoor surfaces will eliminate all that cleaning time as well as create finishes that look remarkable. Outdoor living areas with stained concrete or stamped concrete faux stone and wood finishes have the same non-stick qualities as described above so they just don't get as dirty! Patios, driveways, walkways, and pool decks can be enhanced with custom designs that are resistant to weather, moisture, cracking, peeling, staining, and UV fading so your mom (chief cook and bottle washer) and the whole family can enjoy the great outdoors without constantly cleaning.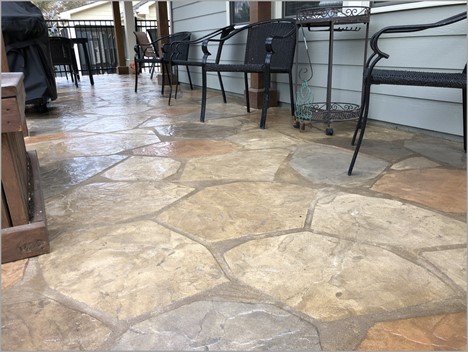 Decorative concrete outdoor surfaces are so easy to clean the task can be delegated to the kids and still have a great result
Decorative concrete patios and walkways sweep clean of dust, dirt, and debris without clinging in cracks and corners like with regular concrete or stone.
Industrial-size dust mops or brooms (18" to 36") are ideal for driveways, patios, and garages to make quick work of cleaning.
Safely wash especially dirty surfaces with a medium bristle push broom with a mild detergent, or pressure wash to keep them spotless.
The moisture-resistant surface prevents mold and bacteria growth from taking hold under outdoor furniture, planters, and rugs.
Never use bleach, ammonia, or harsh detergents on outside decorative concrete finishes.
A memorable day to last all year
Make this Mother's Day the start of something great with easy-care decorative concrete floors that save time and energy, so mom has more time for family fun. Whether stained concrete or resurfaced and stamped concrete, decorative concrete floors will provide years of beauty, durability, and very low maintenance so Mother's Day and every day is less demanding. Call 888-852-9244 today or go to www.concretecraft.com to find the Concrete Craft location nearest you and request a free in-home or virtual* consultation and give your mom (or yourself) the gift of time. Check out our online catalogs to learn about more options for decorative concrete for all your spaces, including vertical concrete resurfacing and concrete repair:
And finally, it wouldn't be Mother's Day without The Mom Song by Anita Renfro. Two breathless minutes of everything moms say in a day that made you who you are today. Crank up the volume and, if you get lost, get the lyrics here.
Happy Mother's Day!
*Virtual consultation may not be available at all locations.
Follow us on Instagram and like us on Facebook for more concrete ideas.