Realize Your Dream Of A New Driveway
Does spending more time at home have you making to-do lists for selective shopping trips, activities to keep the kids occupied and happy, and home improvements you'd like to see when life returns to our old, familiar normal? Research shows that anticipation is important to life satisfaction and that we feel really good thinking about positive things to come (Journal of Experimental Psychology), so planning for a new driveway may be just what you need! Concrete Craft® is ready to fulfill that dream by creating the perfect decorative concrete driveway to add value and beauty to your home while accommodating your unique style, color preference, and budget.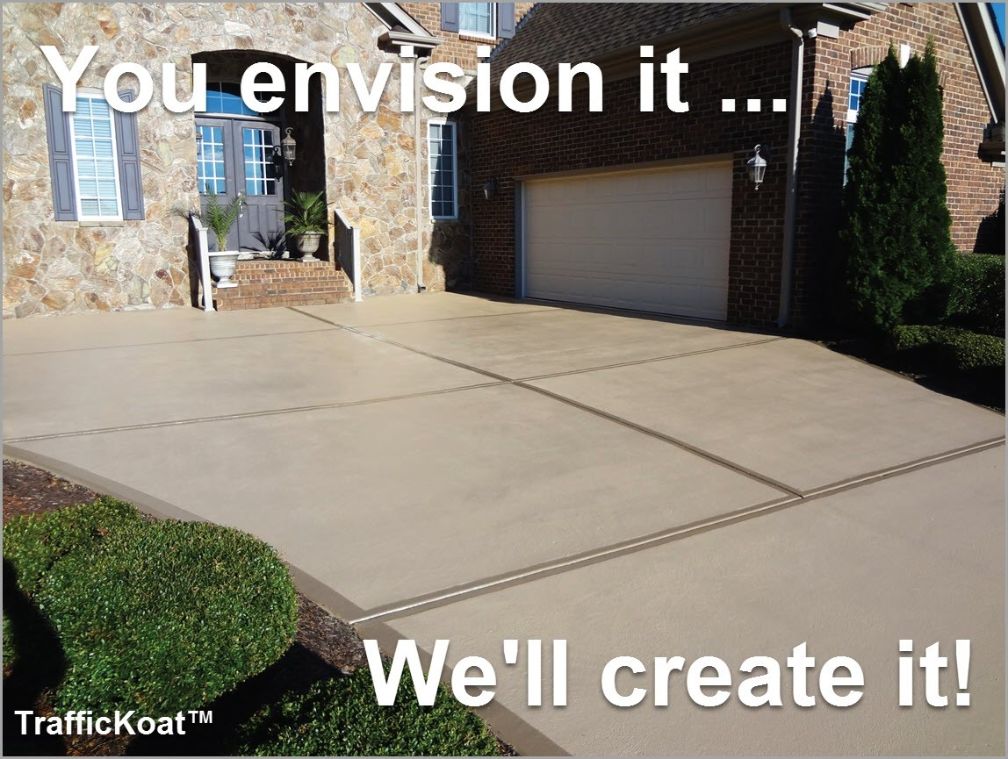 Decorative concrete provides several options for repairing and restoring a damaged driveway without the need for tearing out the old and replacing it with a whole new driveway. Our exclusive MasterProTM product line with repair mortars, concrete stain, stain/sealers, resurfaced concrete overlays, and a real-stone river rock overlay, means there's no limit to the design options for your new driveway. We can transform your ordinary, dull concrete driveway into a one-of-a-kind masterpiece in a matter of days.
Budget-friendly stained concrete
One of the most economical driveway makeovers for a concrete driveway in good shape is with stained concrete. Without a concrete overlay, this puts renovation in reach for even very large driveways, like circular drives or an RV parking space. With either water-based acrylic or acid-based chemical concrete stains, your plain gray driveway can become a vibrant, welcoming entrance to your home. Acid-based stains create a mottled effect due to chemical reaction with the concrete for a marble-like appearance, while water-based stains create a more consistent color overall. Use two or more stain colors and create highlights, borders, and stenciled designs. If your driveway's surface is pitted or badly discolored, a concrete overlay can be applied to create a fresh surface for concrete stain or imprinted concrete stamp designs prior to staining.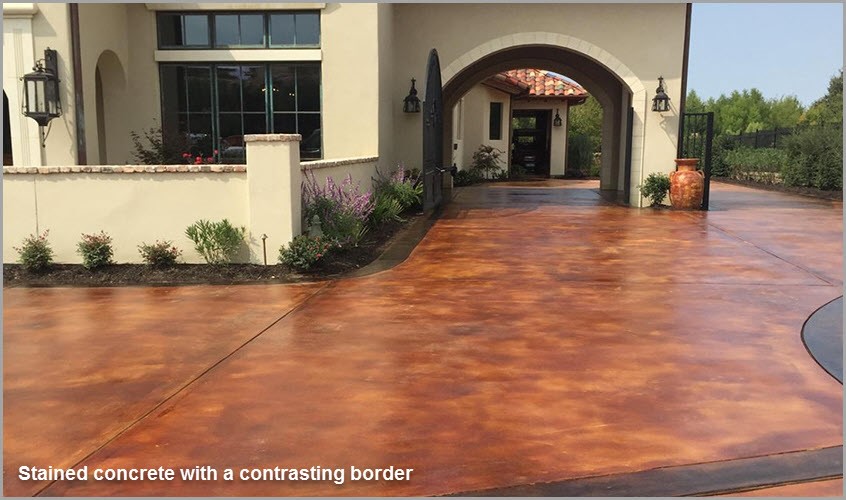 The variety of neutral and earth tone concrete stain colors are compatible with any home's exterior or existing hardscape designs. (Note the roof tile colors—they match!)
Either a gray or white base adds subtleties to impact the stain's appearance and depth of color.
Staining can create continuity where driveway extensions have resulted in miss-matched areas.
Quick return to service with TrafficKoatTM, RenewKoatTM, and River Rock
Old concrete can be made to look like new again with varied styles that hide imperfections with permanent, industry-tough finishes. Application is quick, with very little dust or mess and the fast cure times mean minimal inconvenience before your driveway is back in service.
TrafficKoat
New-generation, water-based exterior stain/seal system formulated to rejuvenate colored surfaces or plain gray concrete by covering minor imperfections.
Produces a solid, opaque color and a breathable finish for a more consistent natural finish.
Low-maintenance, continuous sealed surface resists spills from auto fluids like oil, gas, transmission fluid, and brake fluid.
RenewKoat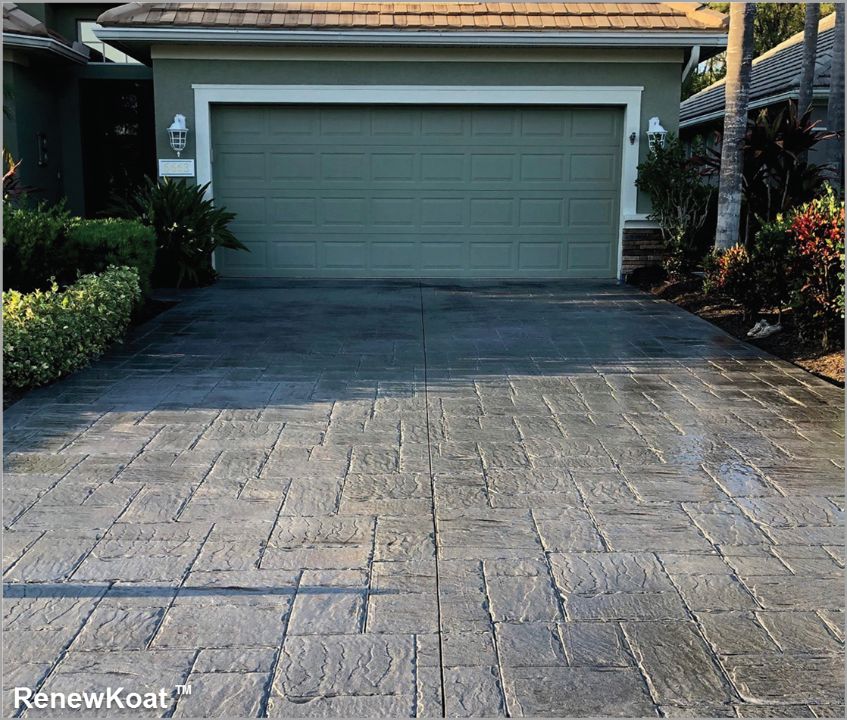 Cementitious overlay system applied to restore faded and discolored stamped or regular concrete to restore the finish to its original beauty.
Made with real cement and rolled on like paint, it preserves the integrity of the original design.
Match the original color, or you can safely choose a different color with no worry of show-through.
River Rock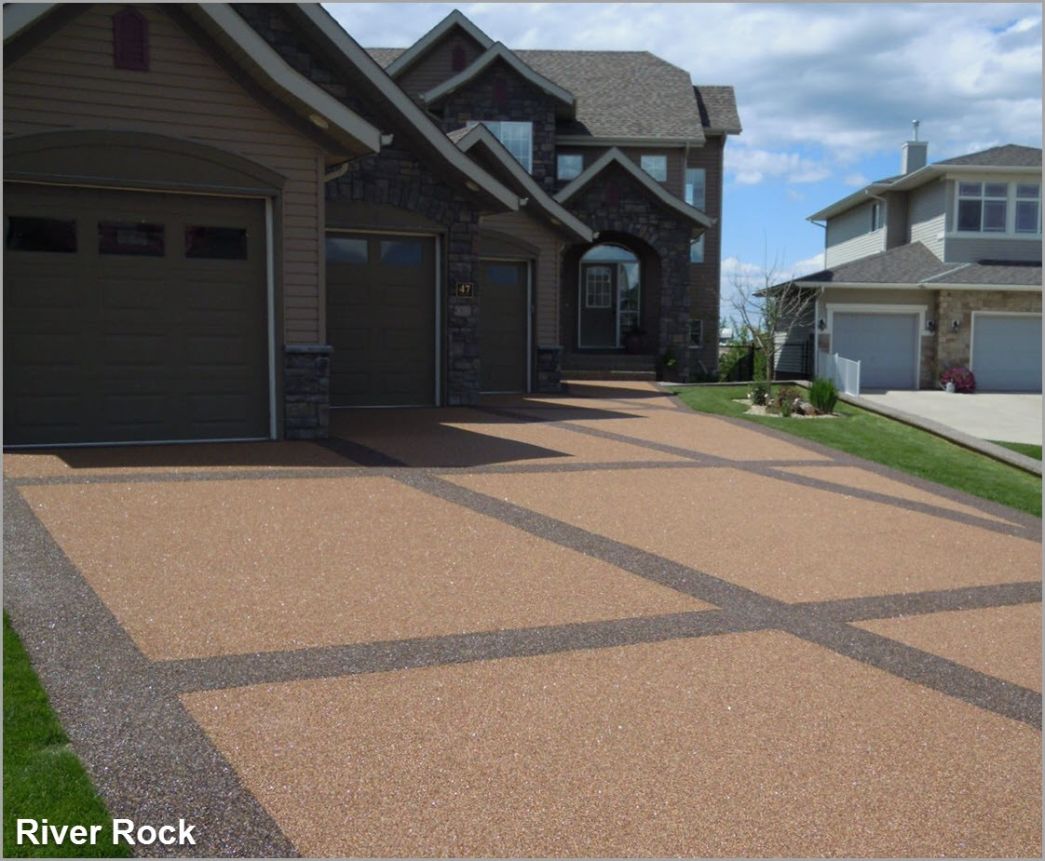 The natural beauty of colorful river rock in an exclusive non-epoxy-based concrete overlay that can fill cracks, cover damage, and even out irregular surfaces.
Resistant to freeze/thaw, salt scaling, UV light, abrasion, impact, and mechanical damage.
Textured surface repels stains, moisture, and mildew so it's easy to keep your driveway looking like new.
Resurfaced concrete overlays: stamped and hand-cut designs
Resurfaced concrete overlays come to the rescue of driveways that have truly seen better days. Commonly referred to as a concrete overlay, concrete coating, or imprinted concrete, our overlays cover up imperfections like cracks, chips, exposed aggregate, and discoloration. The overlay creates a new surface, ready for the custom design of your choice. Dreaming of a stone driveway? For half the cost of other materials, you can have the look of real stone with stamped concrete patterns and hand-cut designs to emulate flagstone, cobblestone, slate, tile, and brick. Our exclusive MasterProTM concrete resurfacing overlay system includes a performance-grade polymer and aggregate mixes for a superior product, so you get a smoother and stronger long-lasting bond to your concrete driveway.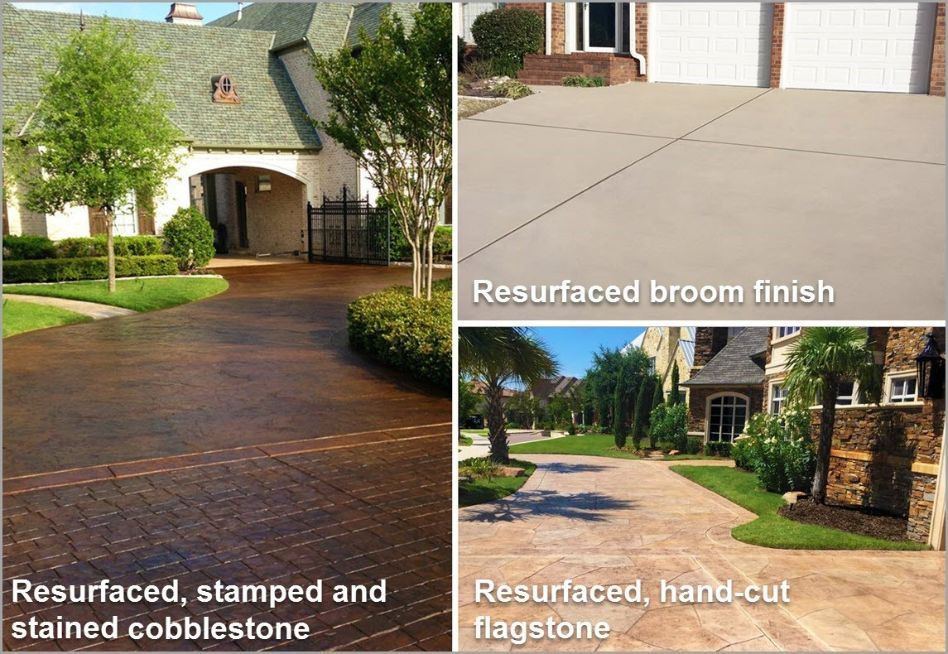 Unsurpassed attention to detail in our concrete stain colors and stamped patterns produce authentic-looking faux stone designs.
Unlimited style and design options from a minimalist broom finish to hand-cut and custom-colored faux stone, with each stone cut and shaped to have the look and feel of natural stone.
The continuous, sealed surface makes your driveway better than new; grass and weeds won't intrude in the grout lines, and the finish resists spills and stains, dirt and grime, and UV fading.
Repair and restoration with RestoreKoatTM
You may have reached the conclusion that your driveway is beyond the above-mentioned upgrades due to its age, deep cracks, and severely damaged surface. Rather than resign yourself to eventual demolition and replacement, talk to the experts at Concrete Craft about RestoreKoat, a unique and versatile repair mortar that can be used for spall repairs, deep cracks, and complete resurfacing to restore your driveway to the look of freshly poured concrete. Especially economical for big projects, this versatile repair mortar can repair the damage of years of wear embedded in your driveway, instantly adding value to your home and enhancing your home's curb appeal in just one day.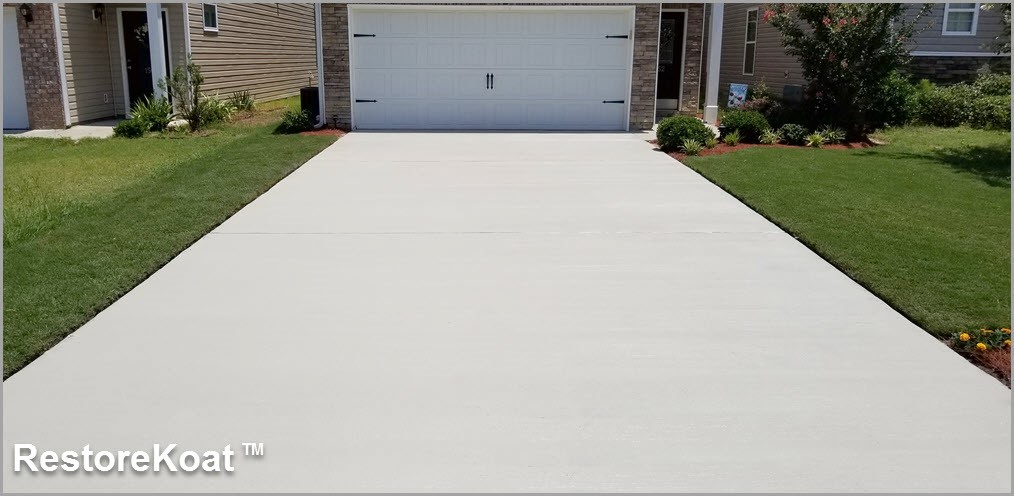 A stand-alone overlay for complete repair and restoration, eliminating the need for the replacement of an ugly driveway.
The sealed surface will retain its fresh-concrete look for years of easy-care enjoyment.
Cures in excess of 7000 PSI (pounds per square inch) and can safely support cars, trucks, motorcycles, skateboards, and RVs without damage.
Make your new driveway a reality
A new decorative concrete driveway is an investment in your home that you and your family will enjoy every day. Contact us today or go online to www.concretecraft.com to find the Concrete Craft location nearest you and request a free in-home or virtual consultation.* We can evaluate your driveway and talk you through the best options for your desired result, from repair and restoration to a fabulous faux stone design in stained, stamped, or hand-carved concrete. Check out other spaces where decorative concrete can create new and exciting finishes for interior floors, patios, walkways, pool decks, and even vertical surfaces.
At Concrete Craft, we want to reassure you that the well-being and safety of our customers is always a top priority. We're committed to following all guidance and updates suggested by the CDC and local departments of public health, including adhering to sanitation and cleaning procedures and practicing social distancing.
*Virtual consultation may not be available at all locations.