Reduce In-Home Winter Allergens with Easy-Care Concrete Flooring
Just as it seems perverse to have a cold in summer when days are balmy and warm, having allergies in winter when the world is encased in cold weather seems wrong. But allergies know no boundaries, they can affect sufferers all year long. Pollen and other classic outdoor warm-weather allergens create havoc half of the year, and winter indoor allergens, including mold, dust mites, and pet dander, impact the other half!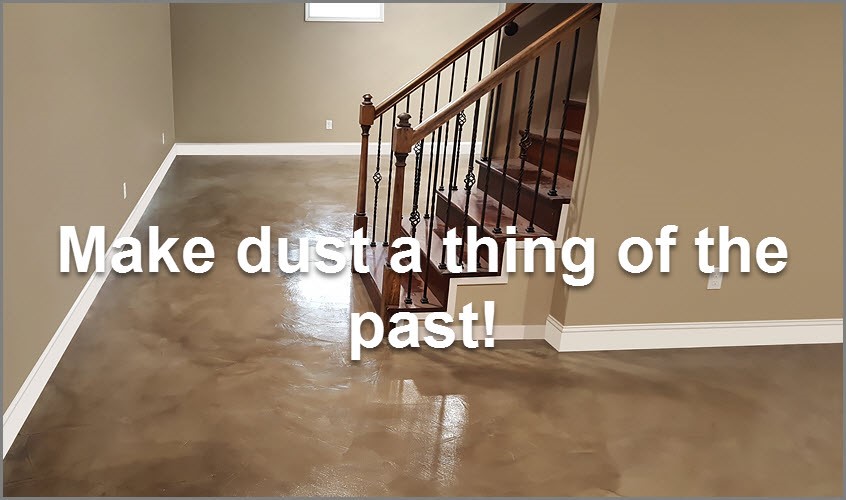 There are some common causes of winter allergies that you might not have considered:
Closed windows seal in stale air
Heavy window drapes or curtains can collect dust and absorb smoke odors from a fireplace
Furnaces expel dust, mold spores, and insect parts along with warm air
Extra decorations and displays provide more surfaces to accumulate dust
Pets may spend more time indoors, obliging with pet dander, saliva, and (oops!) urine
Dampness inside and out encourages the growth of mold and bacteria on surfaces that don't dry out
Fresh Christmas trees and pine wreaths can bring in mold, chemicals, and strong odors
Floor coverings that trap dust and dirt in fibers, grout lines, and on rough surfaces
You'll notice that the recurring culprit is dust and, according to emedicinehealth.com, house dust--a mixture of everything in your home from food to clothes to furniture, including human, pet, and plant residuals--is the main element for setting off indoor allergies. In the wintertime, homes are sealed against the cold, keeping everything inside where house dust coats every surface, including floors, the largest surface throughout the entire house.
Therefore, it makes perfect sense that one of the best ways to eliminate a great portion of allergens from your home is by replacing dust-grabbing carpet and flooring with decorative concrete interior floors that help create a cleaner, dust-free environment.
Easy-care, allergen-reducing concrete floors
Concrete Craft® can help to make your home more allergen-free by replacing carpet and other flooring with decorative concrete overlays in stained, stamped or hand-crafted resurfaced concrete designs that emulate real stone and hardwood floors. Decorative concrete floors can enhance your entire home with beauty, added value, and health benefits.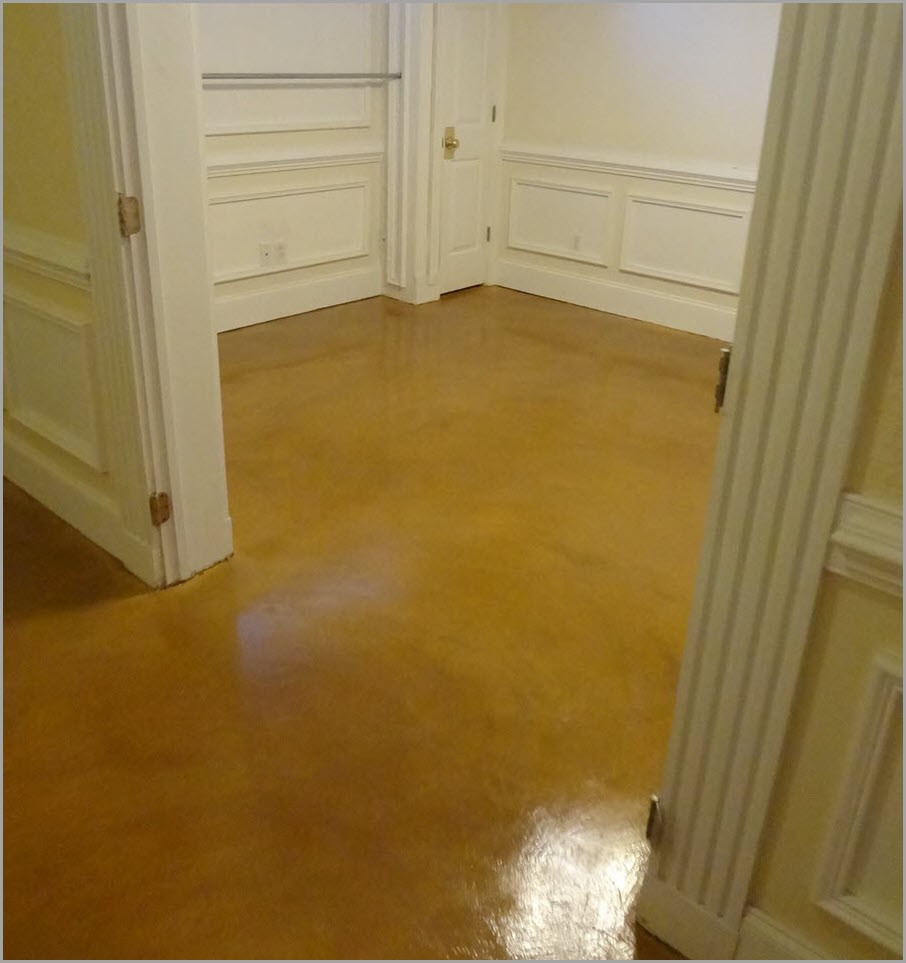 Decorative concrete inhibits the growth of mold and mildew in rooms where moisture can be a problem, like kitchens, laundry rooms, and bathrooms.
The non-porous sealed surface resists moisture and stains; spills and messes wipe right up with no lingering residue or odor.
In bedrooms, allergy sufferers will sleep more soundly with less dust and allergens in the room.
Where softness and warmth are needed, use throw rugs that are washable.
Interior decorative concrete floors are easy and quick to keep clean: dry dust mopping and occasional wet mopping are all you need to avoid dust and dirt buildup.
Additional benefits of interior concrete floors
A concrete floor also offers benefits and value beyond the health protections for your family. You can create unique environments with "hardwood" in any room, brightly stained kitchen and bathroom floors, and faux stone finishes in the living room, hallway, or great room. You are only limited by your imagination!

The durability of decorative concrete gives years of worry-free performance and you won't need to replace your floors every few years like other floor coverings, saving you money.
In most cases, a concrete subfloor already exists beneath whatever flooring is in place, so replacing an existing floor is relatively simple with a concrete overlay to repair and hide any damage.
Unlimited design potential with our wide range of colors and patterns to suit any style and décor preference with stained concrete or stamped and hand-cut and custom-colored faux stone floor designs like flagstone, cobblestone, brick, Roman slate, real wood plank, and more.
Decorative concrete designs look authentic, emulating natural stone, brick, and wood, for a fraction of the cost of the real thing.
Decorative concrete "hardwood" floors can be installed in rooms where real wood doesn't work because of moisture, including laundry rooms and basements.
Concrete flooring can improve your homes' energy efficiency by keeping rooms warm in winter by absorbing heat and slowly releasing it.
While winter allergies don't bring the fever, chills, aches, and pains of a cold or flu, you still want to do whatever you can to make your home more allergen-free for healthy living and the comfort of family and friends. Here are some tips for further eliminating wintertime allergy attacks.
Clean the air of pollens, dust, mold spores, and smoke by using an air purification system with HEPA filters that remove at least 99.97% of 0.3 micrometers airborne pollutants for cleaner air.
Protect mattresses, box springs, and pillows with washable, allergy-proof removable covers. (Check Allergy Guard Direct for 100% cotton covers.)
Use window blinds and shutters instead of fabric window coverings that trap dust and dirt in the folds. Vacuum window coverings once a week to eliminate dust buildup. Choose washable fabrics for curtains or drapes so you can keep them clean.
Replace air filters as recommended for your heating and cooling system, using filters with a high range MERV rating (12-13) for the best filtration.
Dust all surfaces regularly with a microfiber cloth, and vacuum with a HEPA filter for maximum removal of allergens. Brush and groom pets outside or in the garage to reduce hair and pet dander inside.
Prevent mold by controlling moisture throughout your home, such as in bathrooms, kitchen, laundry room, etc. Dry off surfaces where water collects, like shower walls and around bathtubs and kitchen sinks.
Ventilate windowless rooms (including attics) with exhaust fans that circulate to the outside.
Periodically check under sinks for any leaks that could create a moist environment for mold to grow.
Invest in a dehumidifier to remove excess moisture from the air.
Make bedrooms pet-free zones to eliminate pet dander as an allergy trigger.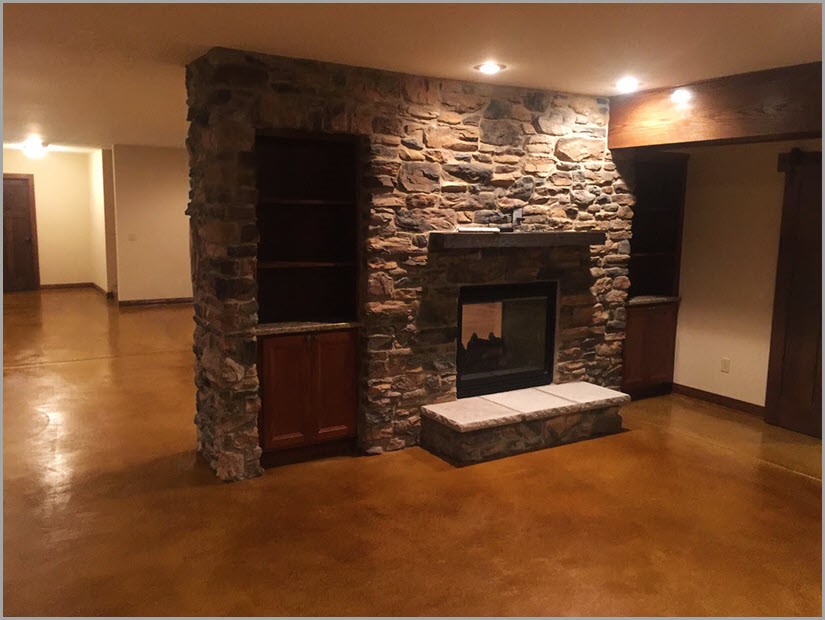 Your whole family will breathe easier this winter with decorative concrete floors that repel dust buildup and free you from chasing dust bunnies under beds and furniture. Contact us today or go to www.concretecraft.com to find the Concrete Craft location nearest you and request a FREE estimate to make your home more allergen-free. We can also update your fireplace, replacing dusty, soot-covered surfaces with vertical concrete resurfacing faux stone designs with a sealed surface to repel dust and soot buildup. Concrete Craft can help you win the war on indoor winter allergens!