Replace Worn Out Flooring For The Last Time With Versatile Decorative Concrete
How many times have you replaced the flooring in your home? Or how many times have you wished you could replace the flooring but resisted because you knew you'd just have to do it again in a few years so you continue to squeeze out every last day you can from worn out flooring?
It's sad, but true. Repetitive replacement of big-ticket items tends to encourage keeping some things longer than one should. Like worn out, ugly floors. So, you use a little more Mop & Glo® and buy new throw rugs to cover the worst spots on the carpet. But you can end this cycle once and for all by transforming your floors with decorative concrete finishes from Concrete Craft. Our concrete restoration systems, including stained concrete, stamped concrete, and more, can mimic high-end flooring for a fraction of the cost of the real thing. This could be the last flooring you buy for your home!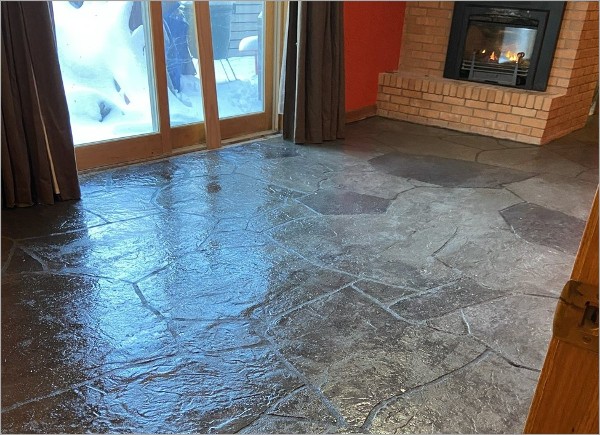 Enhance your indoor spaces with the natural beauty of flagstone with a hand-carved and custom stained faux stone concrete finish
Concrete Craft's MasterProTM line of concrete refinishing systems can handle all your flooring needs for interior or exterior spaces, beautifying your home and yard with long-lasting solutions you'll love. Decorative concrete finishes are durable, low-maintenance, and cost-efficient. You can dream your most beautiful floors, and we can create them for you!
Interior floors of distinction
These are the floors you live on every day. You see them constantly and you clean them regularly, so liking your floors is a big part of enjoying your home. If you've been disappointed with traditional floor coverings that have dulled and lost their zest, you can count on custom concrete floor designs to retain their vibrancy and brilliant shine for decades! With decorative concrete floors you can have authentic-looking designs of luxury tile, marble, brick, natural stone, and hardwood with custom stained, stamped, and resurfaced concrete overlays.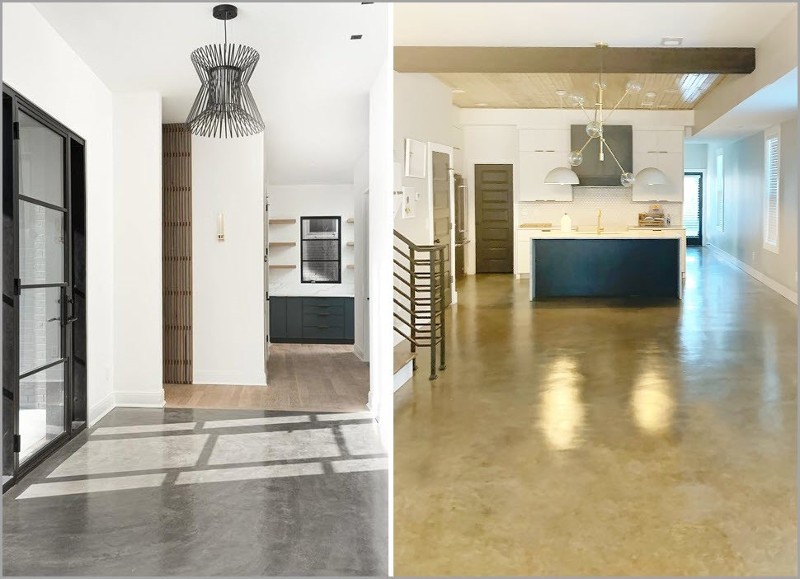 Install pure elegance with MarbleKoat by Concrete CraftTM or stained concrete designs in your very best colors
You have unlimited design potential for your indoor floors as to color, pattern, and texture with custom concrete stains, premium stamped concrete stone and wood molds, stencils, and resurfaced decorative concrete overlays.
The durability of decorative concrete gives decades of high-quality floor performance and you won't need to replace them periodically like other floor coverings, saving you money and inconvenience.
Removing existing flooring like carpet or tile can damage the concrete subfloor, but our repair and restoration systems can easily repair or cover the damage with a concrete overlay that presents a fresh new surface for a superb new look.
All our decorative concrete floors have an industry-tough sealer that protects the finishes from spills of all kinds, moisture, dust, dirt, mold, and bacteria growth, keeping your home cleaner and more allergen-free.
Cleaning is a breeze; regular dry dust mopping and occasional wet mopping with a gentle, neutral-pH cleaner like Dawn dish soap will keep your decorative concrete floors shining.
Lasting exterior finishes
Outdoor concrete floors like patios, pool decks, walkways, and driveways take even more of a beating than indoor floors due to unrelenting weather, all day every day. From scorching sun to freezing temperatures and damaging rainstorms, outdoor concrete surfaces deteriorate with cracks, scaling, exposed aggregate, and stains of all kinds. Although it might look like time and the elements have won and your concrete is done, Concrete Craft's premium repair, restoration, and resurfacing systems can revitalize damaged concrete without the necessity of demolition and replacement. Choose the look of new poured concrete, colorful stained concrete, or custom stone and wood faux designs for beautiful, durable outside concrete areas that will enhance your home and provide long-lasting functional spaces for your family.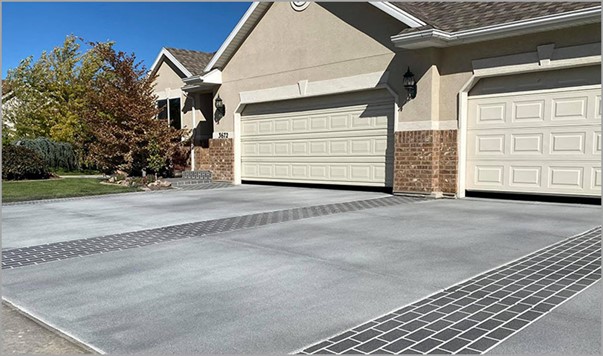 There's lots to love about a concrete driveway that stays looking like new for decades, with minimal maintenance and no costly repairs
Sealed finishes resist anything that can assault a driveway, including auto fluids, moisture, rust stains, rotted vegetation discoloration, pets, and skateboards.
Patios and pool decks can be stained, resurfaced, and stamped for energizing color, true-to-nature finishes like stone or wood that reflect authentic textures and colors, or mimic stylish tile designs.
Resurface walkways with the look of real grouted cobblestone or flagstone with integrated grout lines as part of the continuous, sealed surface that never chips or becomes a tripping hazard with stones lifting.
Outdoor spaces stay cleaner and healthier with moisture-resistant finishes that resist common outdoor problems like dirt buildup, mold, moss, bacteria growth, and stains.
Popular faux hardwood can enhance any outdoor space where real wood would deteriorate; enjoy the warmth of wood of patios, porches, and walkways with styles from a smooth, classic finish to textured reclaimed wood.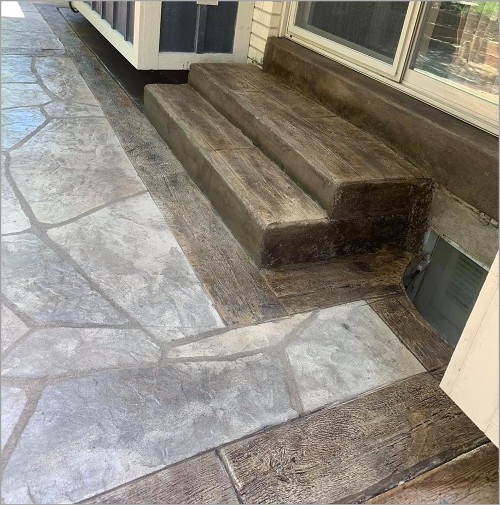 One medium, concrete, with two stamped faux finishes for an amazing result
If you've in the market for new floors either for indoors or outdoors, the professionals at Concrete Craft can offer unlimited design options to meet every need. Replacing indoor flooring or restoring and repairing damaged concrete surfaces outside, we are your one-stop-shop for repair, concrete staining, and concrete overlays. Check out our Interior Design Guide to see examples of the wide range of beautiful decorative concrete finishes available and then call 888-852-9244 or go to www.concretecraft.com to find the Concrete Craft location nearest you and request a free in-home or virtual* design consultation. There's no reason to wait, it only takes a few days to transform your floors and then you can relax knowing that this is the last floor replacement investment you'll ever make!
*Virtual consultations may not be available at every location
Like us on Facebook and follow us on Instagram for more design ideas.