Reward Your Hard-Working Driveway with Decorative Concrete Resurfacing
One of the busiest spots of your home is undoubtedly the concrete driveway. Every day vehicles come and go, taking for granted that splendid workhorse. In all kinds of weather, it serves without complaint, but one day you notice it's starting to show some wear and tear.
Surface cracks and chips
Worn spots where aggregate shows through
Stains from ground-in dirt, car fluids, and squished vegetation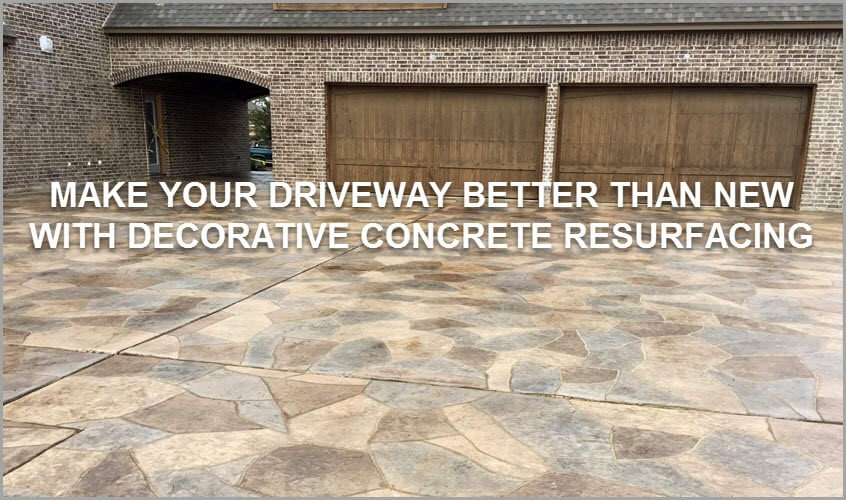 While it may be distressing, it's not the end of the world--or of your driveway. Concrete Craft® can restore your driveway to beauty and functionality with a decorative concrete overlay. There's no need for demolition or cement trucks to have a new, resurfaced driveway you can be proud of.
Concrete overlays save time and money
By resurfacing your existing driveway, you save the high cost of demolition and replacement, as well as the time involved. A newly-poured concrete driveway can take up to 30 days to cure and dry to its ultimate hardness, and that's after the time for demo and removal first. A resurfaced decorative concrete driveway can be back in service in a matter of days with a new finish that is stronger than bare concrete, curing to compression strength of just under 5000 PSI for the ultimate durability.
You don't have to settle for the time-worn appearance of old concrete, you can reward your driveway with a totally new look. A decorative concrete overlay can transform your driveway for a fraction of the cost of removal and replacement, with the added benefit that a concrete overlay gives the option of unlimited design potential. There's something for everyone with stained, stamped, and hand-carved faux stone designs, including flagstone, cobblestone, Roman slate, Ashlar slate, brick, and even wood plank patterns.
Stained concrete options and colors
Stained concrete is just one option for enhancing your driveway and it's the most economical treatment, especially for large areas. The colors are rich and vibrant and can completely transform the look of your home. Between water-based acrylic stains and acid-based chemical stains, Concrete Craft can mimic anything from polished marble to authentic-looking stone finishes. Knowledge of the concrete composition, color mixing, and antiquing techniques open up a whole world of possibilities for driveway restoration with concrete staining.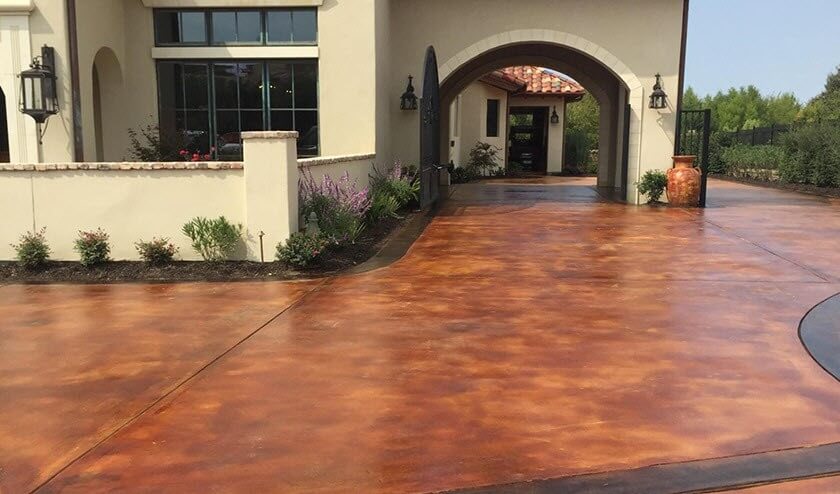 The new concrete overlay will hide chips, cracks, and discolorations in the driveway and present a fresh surface for design. Either a gray or white base adds subtleties that will impact the stain's appearance ensuring that you'll get exactly the depth of color you want. The variety of neutral and earth tone concrete stain colors are compatible with any home's exterior or existing hardscape designs for a cohesive look.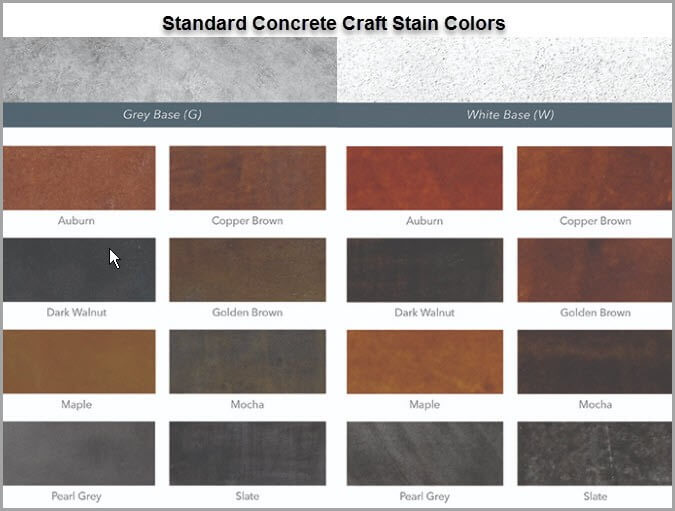 Stamped concrete's interesting textures
Slate, cobblestone, and brick are popular stamped concrete designs for driveways, adding interest and texture to ramp up your home's curb appeal. You can have the look of pavers or grouted stones without the hassle and expense of the real thing. Rubber stamps made from "real stone" molds imprint the concrete overlay with designs of natural slate, stone, brick, and cobblestone that are then stained to create authentic-looking stone surfaces, often using multiple colors for a more natural effect.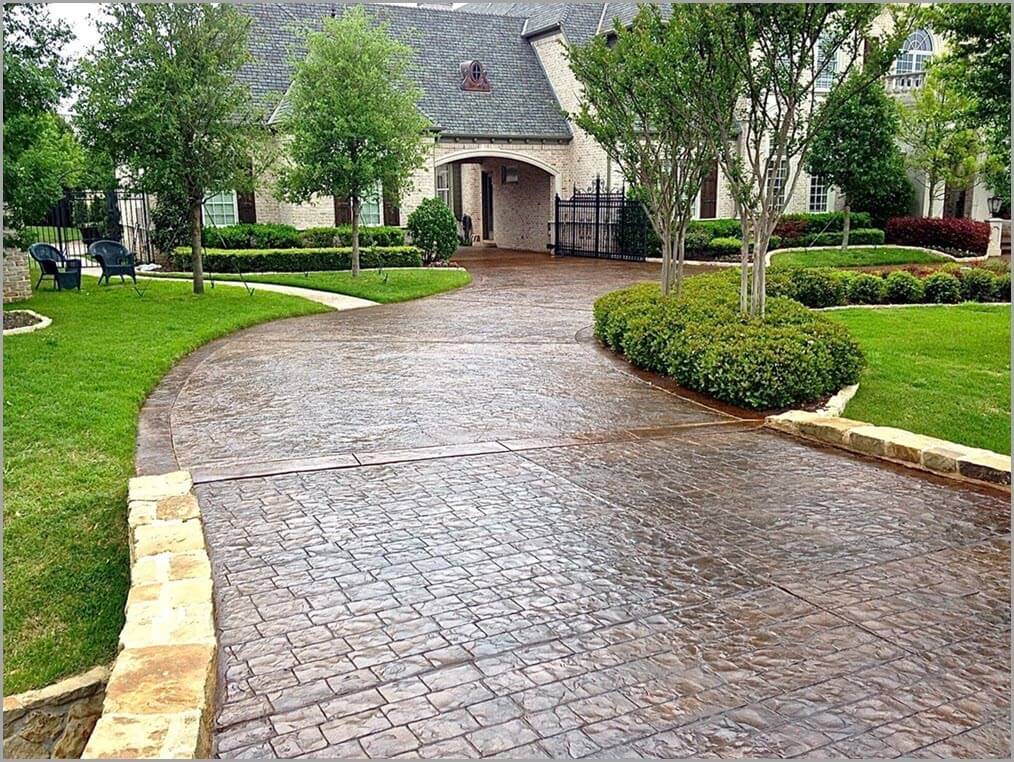 This faux cobblestone driveway looks like the real thing, but there are no joints or grout lines to loosen or crumble over time, and no weeds or grass can intrude on the driveway since it's one continuous, sealed surface. Maintenance is easy and installation is quick since it's not a stone-by-stone process. The durable finish is resistant to chips, cracks, color fading, stains, and moisture. Auto fluids and other spills wipe right up without damaging the surface, so you'll never have to worry about your driveway again.
Resurfaced hand-cut and custom-colored faux stone
This is where Concrete Craft's techniques place us above the competition in a big way with our craftsmanship, artistry, and authenticity of design for realistic rock and stone finishes. Flagstone driveways top the list of desired styles, but real flagstone is expensive and specific colors are not always available. Our resurfaced concrete overlays are hand-cut with attention to detail and careful execution of grout lines to ensure your design will be perfect. Color preference is no problem since we custom-blend stain colors for consistency so, no matter the size of the job, we'll never run out of your color as can happen with real stone.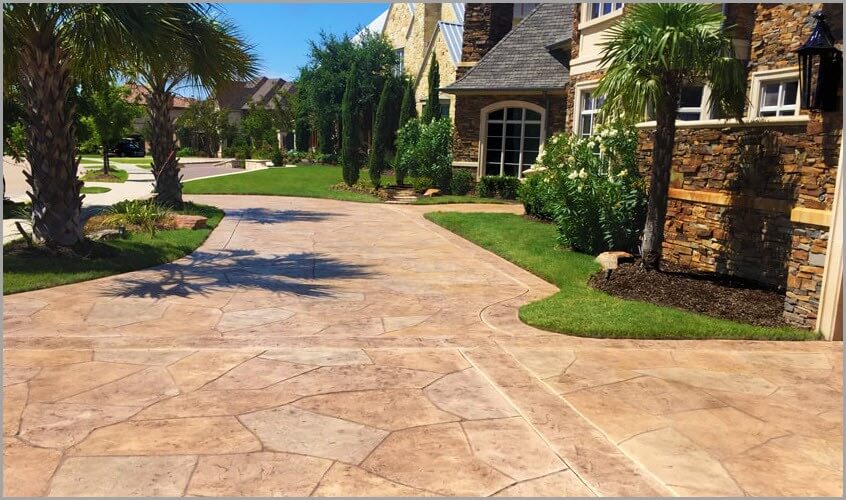 You may still be looking at the snow covering your driveway, hiding the inevitable moment of truth when your driveway emerges even more damaged after another harsh winter. It's still a good time to talk to your local Concrete Craft professional about formulating a plan to take care of your driveway as soon as weather permits. Get excited about Spring and the prospect of a new driveway! (This might be the ideal solution for how to spend your tax refund.)
Contact us today or go online to www.concretecraft.com to find the Concrete Craft location nearest you and request a FREE estimate. You can see samples of actual finishes and fine-tune your dreams for your driveway resurfacing and restoration. Check out our photo galleries for stained, stamped, and resurfaced driveways, as well as decorative concrete custom design for patios, walkways, pool decks, interior floors, commercial spaces, and vertical concrete resurfacing.
If you are still dealing with slippery ice and snow, check out heated, snow-melting mats for walkways, steps, and driveways, and never shovel snow again.