Save a Bundle with Resurfaced Concrete Instead of Demolition and Replacement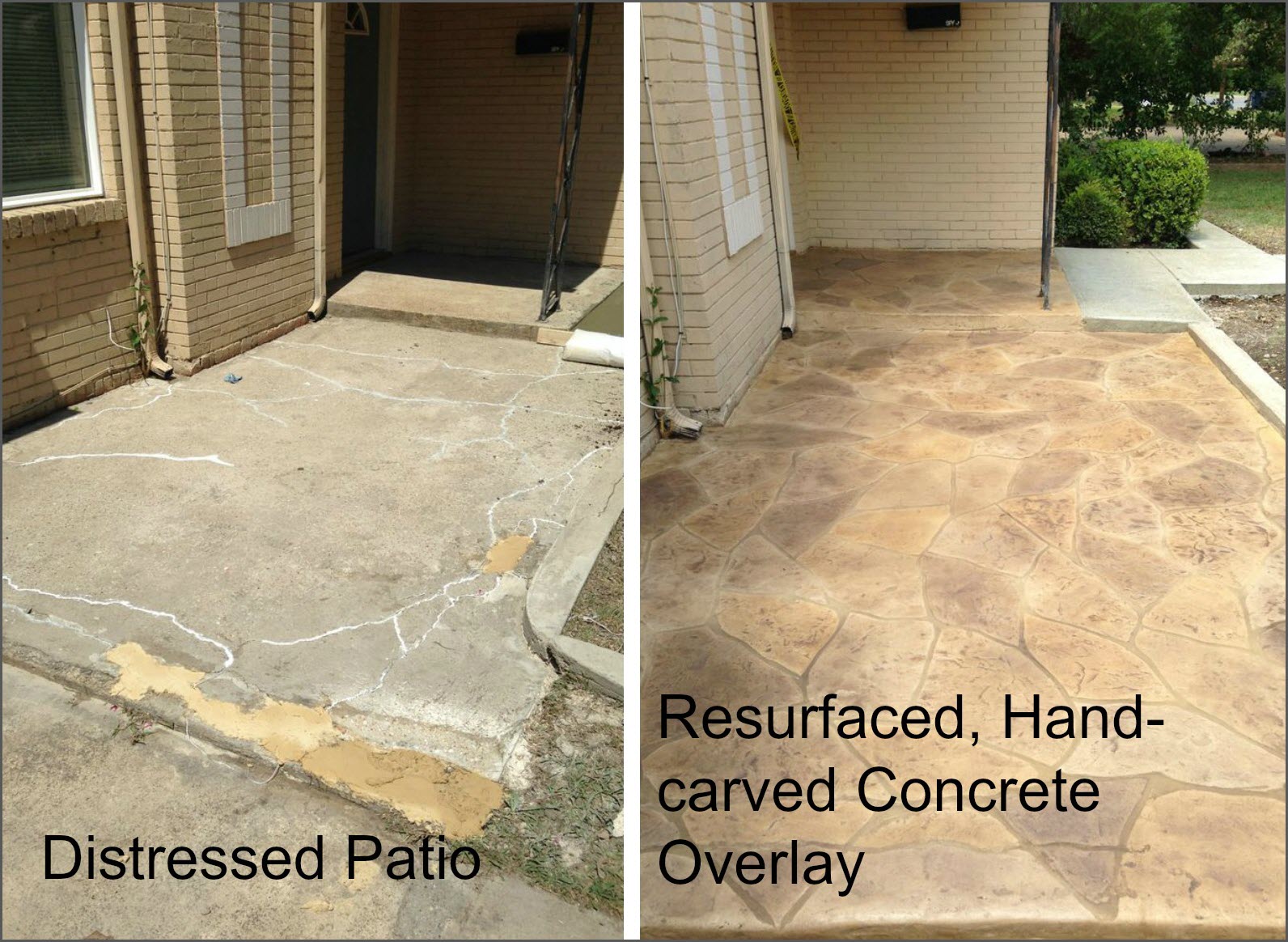 Is your patio or driveway starting to look so "lived on" that you're thinking you need a new one? The unrelenting activity of life and the changing seasons do eventually take a toll on concrete surfaces, leaving them stained, pitted and cracked. Imagine the stress of the concrete in Denver, Colorado, and Las Vegas, Nevada, where annual temperature fluctuations can vary 175°, from ultra-cold to surface-of-the-sun hot! Throw in Florida's steamy coastline and the rainfall in Alabama and it's no wonder that concrete surfaces everywhere are eventually in need of a facelift.
But before you start worrying about the pain and expense of demolition and re-pouring new concrete, see what the artisans at Concrete Craft® can do for you with resurfaced, stamped, and stained decorative concrete overlays. A resurfaced concrete overlay is a coating that can revive an old slab and cover up imperfections in existing concrete so it looks like new again, and turn a plain slab into beautiful faux stone, brick or tile using hand-carved designs and stamped patterns from real stone molds--at a fraction of the cost of replacing your driveway or patio with these more expensive materials.
This patio looked terminally ill until a Concrete Craft professional applied a concrete overlay to restore the surface and then created this gorgeous, hand-cut and custom-colored decorative concrete faux Flagstone patio. No need for demolition and replacing the slab, saving time, money, and the inconvenience of cement trucks and days of curing time for new cement (which can take up to 30 days for a new driveway to develop ultimate hardness and strength).
Less mess, less fuss with Concrete Craft
It only takes a few days for us to completely transform your existing concrete into something to brag about. The benefits of resurfacing vs. demolition and replacement are significant:
No breaking up existing concrete and hauling away the debris
Resurfacing instead of replacement will save thousands of dollars
No cement trucks on your property and no jackhammers annoying the neighbors
You end up with a decorative, artistic finish of your choice, not just a new, plain concrete slab
Much less time is required and your new resurfaced area is quickly back in service
We can easily stain, stencil, engrave, or stamp the new overlay to improve its appearance, at half the cost of other materials such as real stone, brick, tile or wood planks
The concrete overlay creates a fresh, new surface that can be stamped, stained or hand-carved to replicate dozens of real stone looks, including Flagstone, Cobblestone, Roman Texture Slate, Ashlar Slate, and even wood planks! With so many custom colors, stamp patterns and hand-carved designs to choose from, you'll wonder why you ever lived with plain concrete for so long!
Rely on the experts
Concrete Craft is a premier concrete resurfacing company that has been beautifying concrete surfaces for many years. Using proprietary products and techniques, our craftspeople create stunning effects with stamped, resurfaced and stained concrete for your home or business, including interior floors and patios, pool decks, walkways, driveways and vertical upright surfaces, like fireplaces.
Our high-quality overlays will cover and conceal stains and cracks and make your concrete surfaces look like new. The finishing touch is an industrial-strength sealer that resists moisture, stains and abrasions, making the surface stronger and blocking penetration of dirt, chemicals, oil, grease and other substances so your new patio or driveway will remain beautiful for years. Resurfacing instead of replacing is the best decision you can make when it comes to concrete surfaces.

Save your back, save your money, and call the experts…you'll be glad you did!
Easy, quick installation by trained professionals
Practically unlimited design potential to coordinate with any landscape or decor
Durable finishes that resist fading, chipping, stains or peeling
Unsurpassed attention to detail and authenticity in the designs
Seamless design, no grout lines for weeds to take hold
Easy care and maintenance
Two-year warranty* on work and materials
Forget replacement and check out our online photo galleries and see what we can do for you to revive your distressed concrete with a fresh resurfaced concrete overlay. Our experienced craftsmen can help you select styles and colors for any flooring surfaces, interior and exterior, such as driveways, walkways, pool decks, basement floors and commercial properties. We also do vertical surfaces for the beautiful look of natural stone on exterior walls, fireplaces, and bathroom shower stalls and more. Call 866-813-3699 today to find the Concrete Craft location nearest you and request a FREE estimate.
Watch the transformation of a patio to a beautiful Flagstone design with a resurfaced concrete overlay.