The Affordable Elegance of Stone Hardscapes
If you've been to any Home Shows lately, you probably noticed the increased popularity of stone for siding, walkways, patios, pool decks and more. More and more homeowners are looking at stone enhancements to improve their home's exterior design, adding beauty, function, and value.
You also probably noticed the price tag. Natural stone can be very expensive, especially if you want custom design or rare colors. But while natural stone may price itself out of many budgets, the beauty and durability of natural stone is very affordable.
You just need to know where to look.
Concrete Craft, one-of-a-kind craftsmanship
Concrete Craft artisans can turn interior or exterior concrete floors into works of art, including replicating the look of natural stone for a fraction of the cost of real stone. This includes decks, pool, spa or hot tub surrounds, patios, walkways, and driveways.
Created from molds of "real stone," your resurfaced concrete floor will look like authentic flagstone, cobblestone, or slate, as in the examples below, plus any number of other natural stone patterns.
Concrete Craft's proprietary hand-cut and custom-colored approach to fabricating stone opens up a world of design, including brick and wood plank options as well. A Concrete Craft "stone" resurfaced concrete floor offers incredible value and convenience for both interior and exterior surfaces:
Concrete is the most durable flooring material
Does not wear down over time like some natural stone surfaces
Weather-resistant surface
Colors stay true
It's economical
Easy-care, slip-resistant finish
Installs over existing floor
Hides imperfections in original concrete
Solid surface, no space between "pavers" for weeds to grow
And…resurfaced concrete floors are absolutely beautiful!
Stamped, stained, and resurfaced concrete
Concrete Craft also offers stained and stamped concrete floors, making your options for design truly limitless for both interior and exterior floors, including basements, garages, bathrooms, kitchens, and more. Commercial spaces, too, can greatly benefit from the value and durability of stamped, stained, and resurfaced concrete. Not only do concrete floors withstand more abuse than other flooring materials, but adding decorative treatments and graphics can promote your brand.
Stamped concrete can emulate brick, tile, wood planks, and natural stone, as well as imprinting additional popular artistic touches like medallions, Geckos, and Sea Turtles, or a fully custom design that's all your own.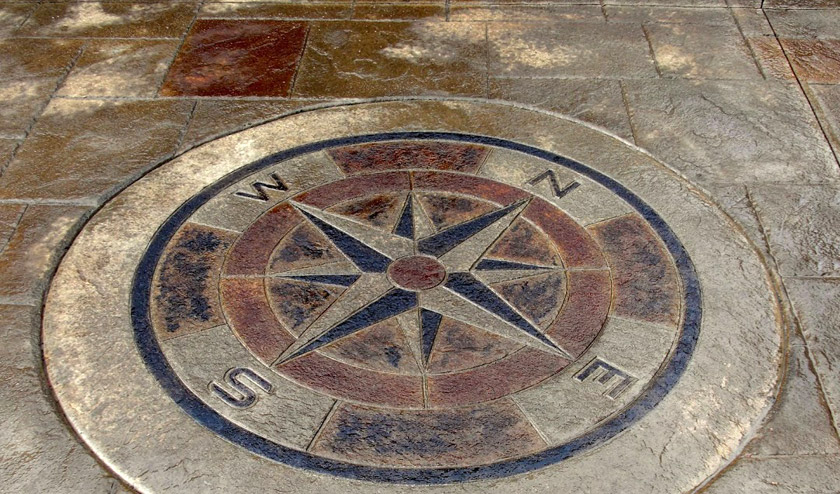 Stained concrete can mimic anything from polished marble to natural stone. The stain penetrates into the concrete surface, producing fade-resistant, permanent color that won't flake or peel. With multiple finish options and color effects, you can have a truly unique floor.
To learn more about how you can transform your home or business through the beauty of concrete flooring, contact us today or go to www.concretecraft.com to find the Concrete Craft location nearest you and request a FREE estimate. Your local craftsman will help you pick the best design for your needs, complementing your surrounding landscape and architectural style, and delighting your budget!