Three Ways to Use Concrete Indoors
Traditionally, concrete was primarily used for exterior purposes including foundations, walkways, and patios. Recent developments have introduced new forms of concrete, like stamped and stained variations. These new techniques allow the durable compound to mimic different patterns and colors. From stamped wood to a palette of colors through staining, recent trends have seen a rise in concrete floors, countertops, and more. With so many options, the possibilities are endless.
Stained concrete beautifully enhances the aesthetics of a room. With the option of an acid-based stain or water-based acrylic, the design results that can be achieved with this are limited only by your imagination.
Compared to other options, it offers the best value as it's impervious to water, mold, and tearing. Stained concrete floors are durable and require little maintenance. Water-based stained concrete is eco-friendly and UV resistant. They can also reduce in-home allergens and can have multiple stained color designs and finish options.
Commonly known as imprinted or patterned concrete, stamped concrete uses rubber stamps made from "real stone'' molds to imprint the concrete to resemble cobblestones, tiles, wood planks, natural brick, slates, and more.
Stamped concrete is also a perfect option for indoor vertical walling installations. Stamped concrete is low maintenance and because of its design, there are no cracks for mold to grow. Cleaning is easy, as sweeping and washing the surfaces to prevent dirt buildup will do.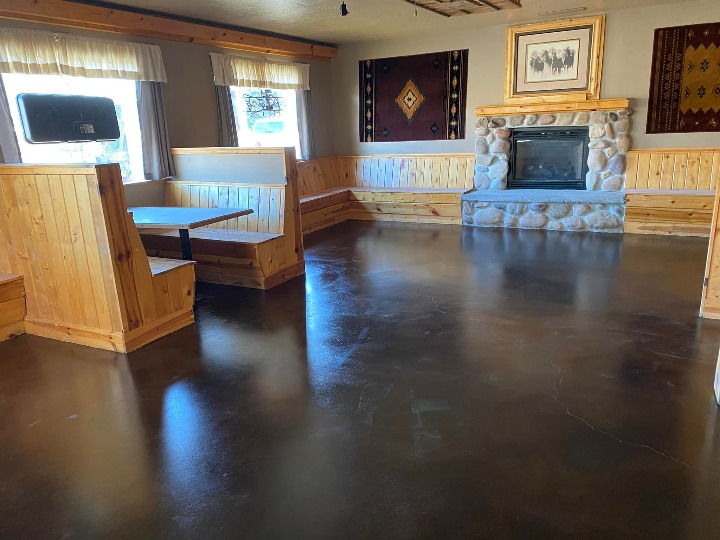 Why concrete is a good interior design choice
There are many reasons why concrete is a great option for indoor use. Along with being durable, waterproof, and stain-proof, it's also resistant to fire, bacteria, and odor. Concrete can be an inexpensive option due to low installation and maintenance costs while helping reduce energy bills. Its ubiquitous grey/bland hue can be a neutral base for colorful and textural infusions of all kinds when you incorporate various stamping or staining concrete designs. It's perfect for pet owners especially, as it is resistant to scratches, pet messes, and does not absorb any odors.
This can give your space that sleek contemporary look. There is a myriad of ways in which you can use custom concrete designs for your interior décor.
Flooring
Using concrete for your flooring solution is the first obvious way to bring the durable material indoors. Using stained concrete designs, you have an array of designs, colors, and special effects, such as variegated, mottled, antiqued options to choose from. For a more natural, authentic look, stamped concrete offers patterns like tile, hardwood, and even cobblestone.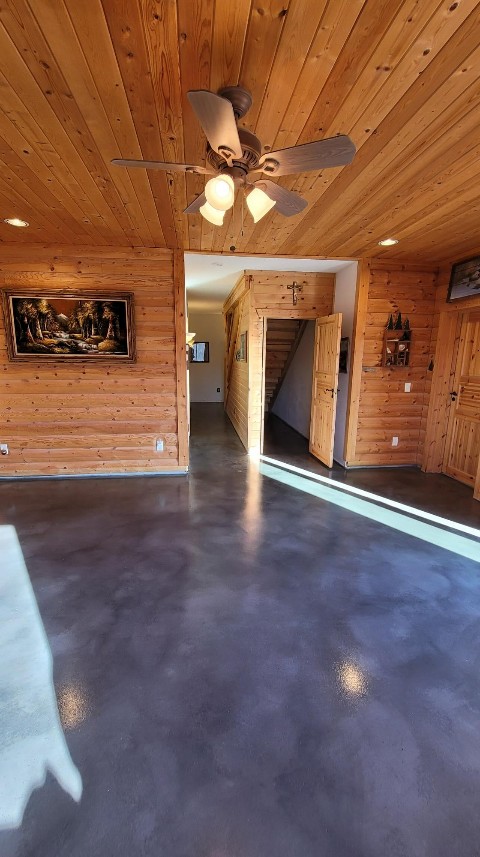 Vertically
Using concrete indoors can go beyond the floor. You can use stamped concrete vertically as wall panels. The hand-carved stone is perfect for any vertical surface in your home, while the random sandstone can be grouted for a natural-looking wall. You can use concrete as an accent wall in various rooms in your house, such as the living room, bedroom, or even around your fireplace.
Kitchen and bathroom fixtures
Its heat and scratch-resistant qualities make it the best material for kitchen countertops, built-in sinks, and kitchen islands. This stalwart material is also a great option for use in the bathroom as bathroom dividers, bathroom sinks, and backsplashes. You can even opt for a bathtub rendered in concrete. It will bring a luxurious feel to your bathroom and is a timeless fixture that you can enjoy for years to come. Generally, the water and stain-resistant qualities of concrete seals make them suitable for use in wet spaces.
The use of concrete in indoor spaces is ingenious because of its adaptable and versatile nature. The ever-evolving landscape of concrete technology makes it ideal for use in interior décor due to the development of new mixes that come in a variety of finishes. Whether you're looking for that sense of utilitarian chic, streamlined modernism, or industrial minimalism, its intrinsic qualities will give you the aesthetics you're going for.
If you're looking for an authentic, natural-looking yet durable quality for your project, then you should contact Concrete Craft. Our design professionals will evaluate your project during the free in-home/on-site consultation and recommend the best applications for concrete to meet your needs.