Update Your Home with Exciting 2019 Colors of the Year
Every year, major paint companies and the Pantone Color Institute each pick a color of the year that they believe will set the tone for the new year in home decorating. Historically, this has provided a range of colors to choose from, giving homeowners plenty of room for personal preference while keeping pace with trending styles. As we investigate this year's top design colors, we'll look at ways these colors can enhance your home, including with decorative concrete from Concrete Craft® for interior and exterior concrete floors.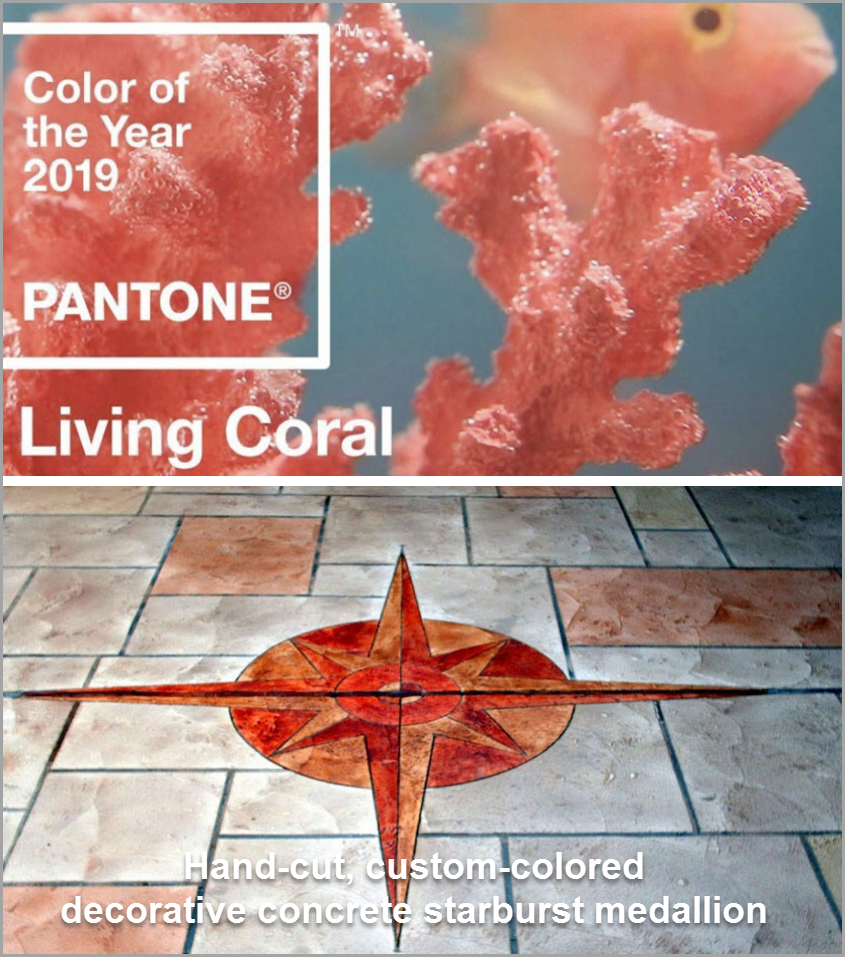 Pantone's Color of the Year is Living Coral, a color they describe as an "animating and life-affirming coral hue with a golden undertone that energizes and enlivens with a softer edge." Shades of Living Coral definitely bring liveliness to this custom, resurfaced concrete Ashlar slate patio. There will never be a dull gathering on this patio! For both indoor and outdoor floors, vibrant concrete stains bring durable, lasting color to enliven any space.
Behr's Color of the Year, Blueprint
Behr's Blueprint made Color of the Year for 2019 with the expectation that the appealing shade of blue, "warmer than denim and softer than navy," will be an instant classic for years to come. Shades of blue have long been popular for home décor, and this deep, rich Blueprint will work well with other colors such as neutrals and pastels to create beautiful, soothing surroundings. This resurfaced pool deck is stunning with the combination of gray and blue concrete stains that make this backyard look like a five-star resort!
Sherwin-Williams' Color of the Year, Cavern Clay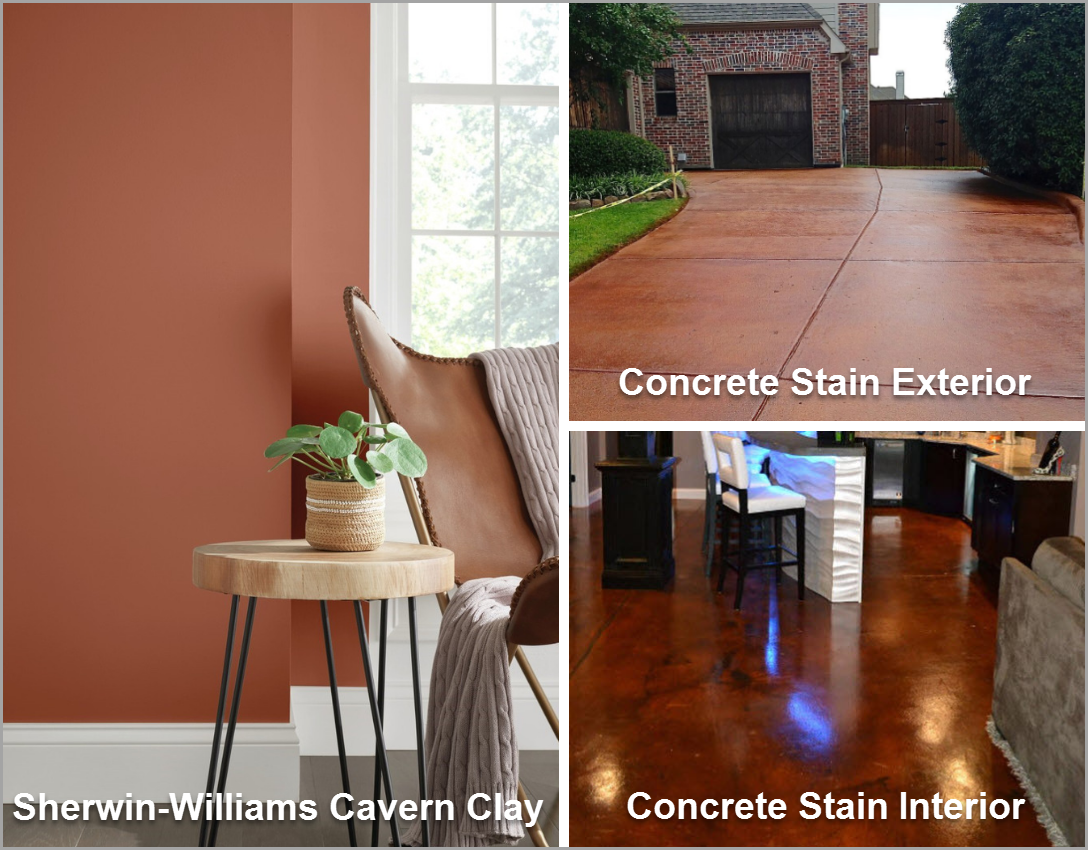 Sherwin-Williams' warm terracotta shade, Cavern Clay, took Color of the Year for its "nod to midcentury modern style, but with the soul of the American Southwest, embodying renewal, simplicity, and free-spirited, bohemian flair." For interior and exterior concrete surfaces, this color and its close relatives can create amazing, richly-colored finishes with stained concrete finishes.
Benjamin Moore's Color of the Year, Metropolitan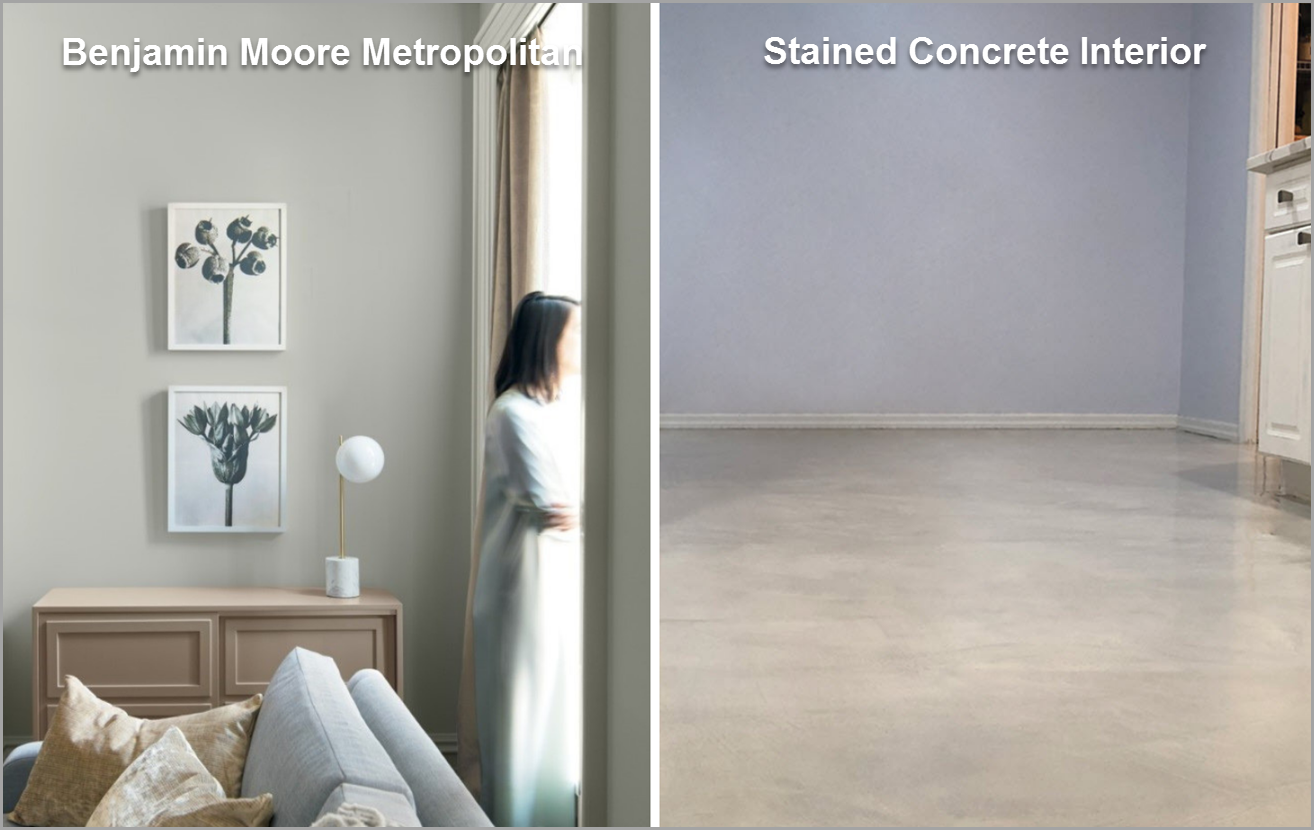 Benjamin Moore's Metropolitan is a "stylish gray with cool undertones," to create an understated, yet glamorous, soothing setting. The neutral background can be harmonized with different shades of gray, like this gray stained concrete floor for a monochromatic palette. To enliven this neutral setting, bring in brighter pops of color with furniture pieces, rugs, and decorative items.
PPG's Color of the Year, Night Watch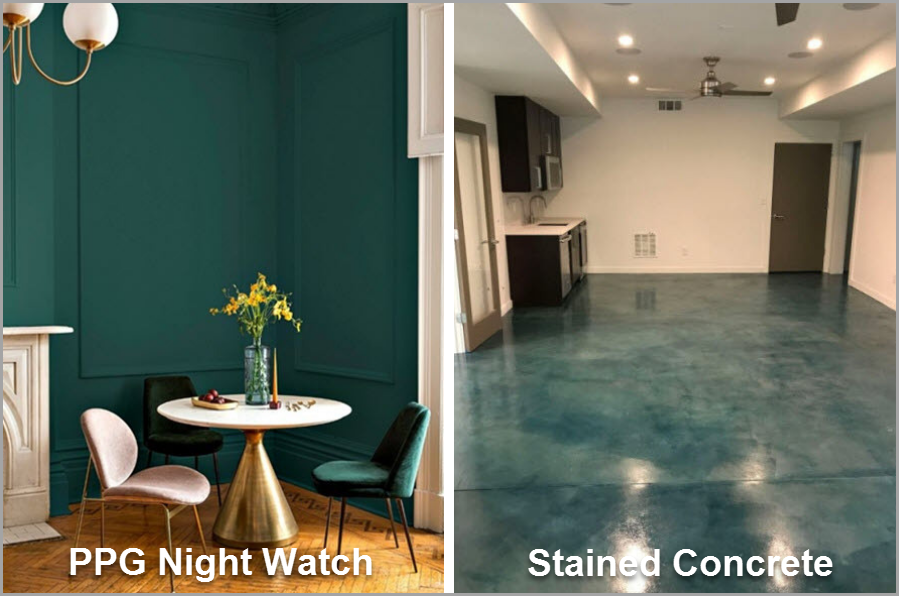 PPG chose a dark, rich color for its Color of the Year, a stunning deep green, Night Watch. Truly a statement color, it is ideal for accent walls, cabinetry, doors, and trim, and for beautifully stained decorative concrete floors. Vibrantly-colored floors set the stage for exciting rooms and decorative concrete finishes are tough enough to withstand any activities.
Other ways to incorporate the Colors of the Year
Embrace color! Custom decorative concrete is only one way to bring the Colors of the Year into your home. Furniture, accessories, window coverings, and rugs present endless options for adding color in small or large doses.
Accent walls and window coverings
If the colors are too intense for an entire room, do just one accent wall or bring in your favorite Color of the Year with window treatments. Drapes, curtains, and fabric shades are an ideal way to add color to any room. Choose solids or patterns to wake up a sleepy room with color. And, it's easy to change up the colors as your mood or the seasons shift.

Furniture and cabinets
Colorful furniture and cabinetry are other ways to bring in pops of color to update your home. Get creative with classic, traditional, and mid-century modern pieces for a fresh look. Repurpose tired furniture by repainting tables or cabinets with lively colors. It's amazing what a little paint can do!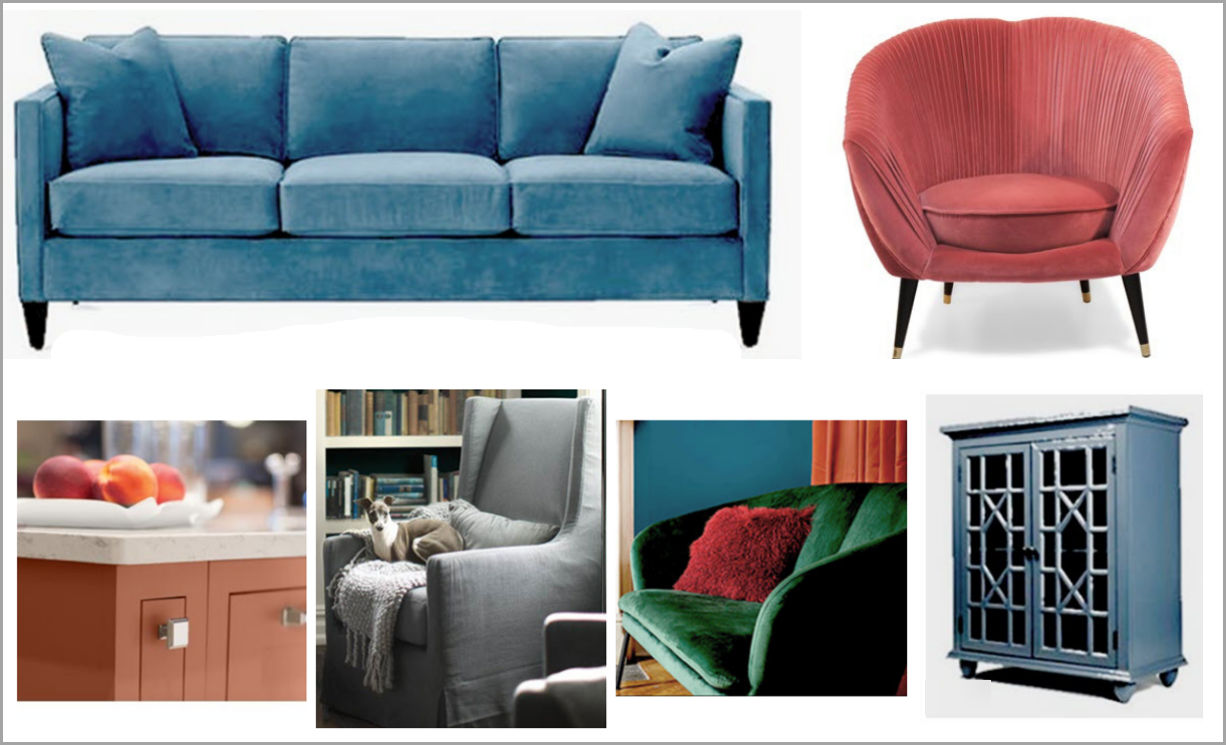 Rugs, pillows, and accessories
Just as accessories can dress an outfit up or down, you can change the feeling of a room with accessories in eye-catching colors. Art décor pieces, decorator pillows, rugs, lamps, and pictures can breathe new life into a space. Bring in different textures like glazed pieces, woven rugs, velvet pillows, and throws and mixed metals for an interesting, eclectic effect.
Concrete Craft is ready to help you integrate any of the colors of the year into your home with decorative concrete overlays for flooring and vertical surfaces, indoors and out. Vibrant stains instantly transform interior floors, and overlays create a fresh surface for stamped concrete and hand-carved finishes like flagstone, cobblestone, Ashlar slate, Roman slate, brick, tile, and more, in unlimited color selections. Vertical concrete resurfacing can transform accent walls, backsplashes, fireplace surrounds, and entryways with faux stone finishes that look like the real thing at a fraction of the cost of real rock and stone.
If you're looking to upgrade your home in 2019, we can transform your spaces, bringing color and texture to flooring and vertical surfaces with durability and beauty you just won't believe! Our custom concrete overlays can transform existing or damaged concrete into a new surface for staining, stamping, and hand-cut custom designs without the need for demolition and replacement. Contact us today or go online to www.concretecraft.com to find the Concrete Craft location nearest you and request a consultation and FREE estimate. Also, check out our Spaces gallery to see the many ways decorative concrete can enhance your home.
Happy New Year from Concrete Craft!