Why Indoor Concrete Floors Beat Carpet Hands Down
Have you ever considered your plain gray driveway as a blank canvas for artistic expression? That may sound a bit grand, but a driveway is a big part of a home's appearance and should contribute to the overall appeal of your home. Rather than letting the driveway serve merely as utilitarian space, decorative concrete enhancements can add some very grand curb appeal to your home with the beauty of stone. Concrete Craft® can bring realistic stone finishes to your driveway with stamped concrete designs that emulate slate, cobblestone, flagstone, brick, and tile, for about half the cost of the real materials.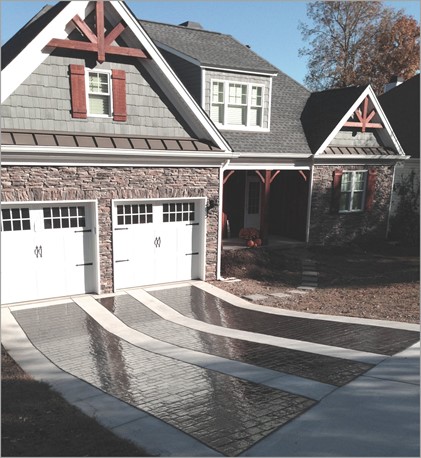 Create a one-of-a-kind driveway combining multiple finish options like stamped cobblestone with "broom-swept" concrete
Dress up your driveway with fabulous faux flagstone
Flagstone driveways top the list of desired styles for homeowners who want their homes to stand out. Individual flagstones have unique patterns with subtle colors and textural variances, so no two flagstones look alike, letting you create exclusive, elegant driveways and courtyards. But real flagstone comes with its own set of challenges, starting with the high price and installation costs. Getting a level surface when laying flagstones of varying thicknesses can involve extensive site prep. Other factors include securing enough of the right sizes and colors to complete a large driveway, or the extra work of cutting large natural flagstones down to size to fit the proportions of a small driveway. With Concrete Craft, applying a resurfacing concrete overlay to an existing driveway is all that's needed to set the stage for a hand-carved and custom colored faux flagstone finish to rival real flagstone materials such as sandstone, quartzite, bluestone, and limestone.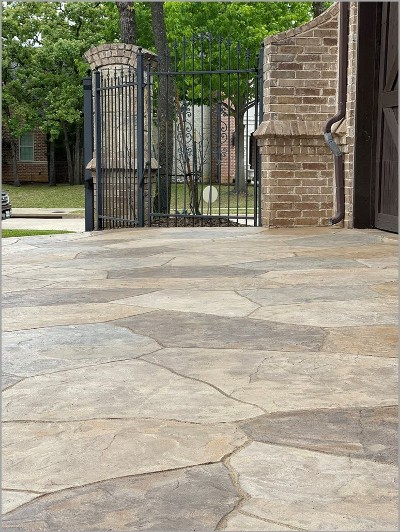 Authentic looking decorative concrete faux flagstone driveway done to perfection by Concrete Craft of Dallas/Fort Worth
You can pick from a variety of

stained concrete

combinations to achieve a very distinctive look to match your home's siding or other hardscape elements in your yard.
The perfectly level concrete design is a continuous sealed surface that eliminates any possibility of chipped or cracked stones, deteriorating grout, and lifting stones.
Never a concern about stone availability, size, proportion, or color since each stone is individually carved and hand-stained to recreate the natural color variations of real stone.
The industry-tough finish is impervious to auto fluids like oil and anti-freeze, moisture and mold, rust, and tire marks so you'll never have a stained driveway again.
Easily keep your driveway looking like new with sweeping and hosing off; if especially dirty, use mild soapy water and a push broom or power washer.
Make a statement with fast and affordable texture
Textured slate is another favorite look for driveway excellence. As with flagstone, slate can be quite expensive yet without the durability to warrant the cost. Slate-stamped decorative concrete delivers the look of slate with its patterns and natural color variations, as well as the option to go Mother Nature one better with a personal take on driveway color. Stamped concrete molds lay down realistic slate texture that can be an enticing standalone design, or add stamp designs like Ashlar slate, herringbone, hexagon Roman slate, or custom saw cuts to create the look of over-sized tiles or other designs. Stamped concrete can be installed on a new pour before it hardens or added to an existing concrete driveway with a resurfaced concrete overlay to cover any damage or discoloration.
Beautifully textured slate driveway courtesy of Concrete Craft of N. Indianapolis and Concrete Craft of Hamilton County
Our concrete stain colors can replicate the earthy tones of natural slate's marbled grays, browns, blues, greens, purples, and red tones.
Unlike the tendency of natural slate to change color or weather over time, our UV-resistant, sealed stains will keep your driveway color true.
Real slate tiles will wear down over time and possibly not be able to support all vehicles on a driveway, but our decorative concrete finishes can support up to 5000 psi.
Enjoy the timeless beauty of slate with the cost-effective alternative of decorative concrete finishes that replicate real slate but with the rock-solid durability of concrete.
Invoke some "old world" charm in your front yard
Add some international flavor to your landscape with a cobblestone driveway that mirrors a village square. Gray is the most common color for cobblestone designs and our stamped concrete patterns and custom concrete stains can deliver the look of authentic cobblestone pavers in your favorite shade of gray or other earth tones. Unlike real grouted stones, the integrated grout lines will never crumble, necessitating regrouting, and the continuous sealed surface stays clear of intruding grass and weeds, reducing tedious maintenance.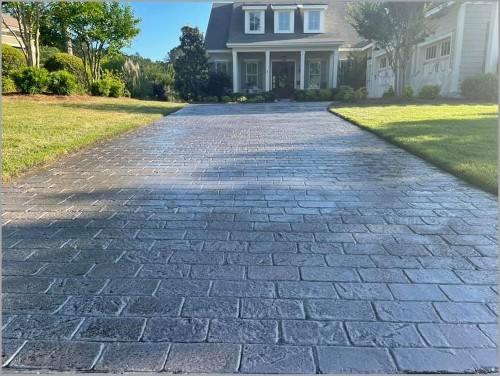 Stamped concrete cobblestones stay where they are, no shifting, lifting, or sinking for years of care-free functionality and elegant style on your driveway
Stamped and hand-carved concrete overlays reflect some of the newest trends in decorative concrete, meeting the demand for the elegance of stone at an affordable price.
Have the look of cobblestone or pavers in a stamped concrete design that looks like real grouted stone, but without the inherent problems of real stone.
Decorative concrete can give you unlimited design options of pavers, like intricate patterns, the look of real stone, natural colors, and custom finishes for much less cost than pavers.
You don't need to demo the existing driveway or deal with grading and bedding layers for the look of cobbles or pavers; decorative concrete overlays install quicker with less mess and more cost savings.
A stone driveway can be the "wow" in your future
If you've put off refurbishing or updating your driveway because you were holding out for stone, you don't have to wait or save any longer. With decorative concrete overlays, you can indulge your love of stone with a beautiful, durable faux stone concrete driveway. Whether flagstone, cobblestone, slate, brick, or pavers, you can have the driveway of your dreams in just a few days! Even if your driveway seems damaged beyond hope, don't despair. We have exclusive repair and restore products designed specifically to rescue bad concrete with overlay systems that extend the life of your concrete for a long, long time.
RestoreKoatTM: A very versatile repair mortar that will fill deep cracks, even out low spots, hide discoloration and stains, and create a fresh-poured, new concrete finish.
RenewKoatTM

:

Colored cementitious overlay that rolls on like paint, providing a more natural concrete appearance over an existing concrete surface.
AggreKoatTM: Spray-applied coating for the look of a textured, small aggregate finish that has your driveway back in service 24 hours after installation.
PebbleKoatTM: Real river rock pebbles in a non-epoxy concrete overlay that can fill cracks and level out uneven surfaces in a singular overlay.
Call 888-852-9244 today or go online to www.concretecraft.com to find the Concrete Craft location nearest you and request an in-home or virtual* design consultation. You'll find that we have the perfect solution for whatever ails your driveway.