Why Indoor Concrete Floors Beat Carpet Hands Down
Concrete floors have come into their own over the last decade, now offering a nearly infinite variety of colors, patterns, stains, and acid etching. Techniques for stamping concrete can provide floors that resemble brick, or stone, or even hardwood floors. Concrete's versatility is high, and because it is much easier to maintain, clean, and sanitize, it is making it a material of choice in a world that is more sensitive to keeping our environments cleaner and healthier.
Are concrete floors a good idea?
Everyone has seen indoor concrete floors at some point, but the vast majority have experienced them in garages or basements, or in commercial applications like warehouses. Over the last few years, however, as concrete stains and stamping have developed, concrete flooring has far exceeded the utility of your parents' garage floor and has become a design focal point in homes. However, like those garage and basement floors of years gone by, concrete has held onto its deserved reputation for longevity. An indoor concrete floor can and should last the life of your home.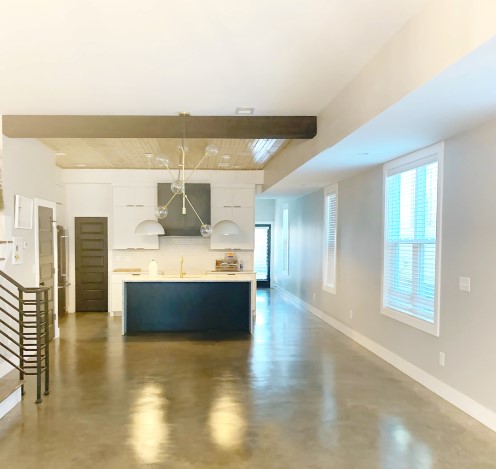 Does concrete flooring look like concrete?
The short answer is that concrete flooring looks however you want it to look. The color ranges of concrete stains are nearly infinite, and when you take the concrete floor styles into consideration, you have significant options. You can have an entry hall that looks like the finest palazzo in Venice, with the look of inlaid marquetry floors, or you can have the modern gray industrial tones that match the modern furnishings you've placed throughout your home. You can have the hardwood floor look that matches your rustic decor or a jewel-toned floor that is the focal point of the room. Concrete flooring is versatile to match every style in every home.
What kind of concrete styles are available or common?
The flat-floor styles available for your concrete floors run the gamut from stencils to stains, with translucent, glowing colors giving way to muted polished, professional flooring for your home office. Acid staining can also provide a marbled look to your home and your floors. As the end process is affected by everything from the age of the floor to the composition of the concrete, creating a marbled, natural-looking surface, staining concrete will present a beautifully completed floor that is unique to your home.
Textured-floor styles are created of stamped concrete, and range from the look of wood planks to brick, flagstone, and more. There is even the ability to install concrete vertically, transforming fireplaces or shower walls with hand-carved stone or beautiful overlays of existing brick or stone.
Is a concrete floor easy to maintain?
Once in place, concrete flooring requires a dust mop and damp mop to maintain and shines like new with very little effort. The ability to keep allergens in check is one of the many selling points of concrete floors, helping keep your indoor air quality significantly cleaner than with carpeted flooring.
Why are concrete floors better than carpeting?
There are many reasons why indoor concrete flooring is a better option than carpeting. For starters, when it comes to stains and spills, you can easily wipe away any type of liquid or mess. With concrete flooring, you eliminate the need for regular professional carpet cleaning services which can be costly.
Along with stain removal, carpets can become a breeding ground for germs, mold, and bacteria. This can affect the overall air quality in your home and pose many health risks unknown to you. While vacuuming on a consistent basis can help, your carpet will still require a thorough deep clean every six months. Concrete can easily be sanitized by simply dry and damp mopping the surface area. You may need to eventually reseal your concrete floor, but that is only necessary every three to five years.
Another issue that accompanies carpets is wear and tear. In high-traffic areas, carpets tend to wear, showing their age and use quickly. Concrete, on the other hand, is durable enough to handle the same amount of foot traffic and more.
The biggest advantage of concrete is how easily you can resurface your floor with a different pattern or color to match your future renovation. Carpet, on the other hand, would have to be ripped up and entirely removed if you choose to update the color of your flooring.
Finding out more
At Concrete Craft, we pride ourselves on being craftspeople and artists. We use proprietary products that set our business apart and make sure that your project takes priority. We know your need is unique, and we can help you achieve the vision of the perfect floor for your home. Whether it's for the new home you're building, or resurfacing your existing floors, contact us today for your free consultation!