Flooring as Your Design Foundation for Interior Renovation
We've been spending a lot of time indoors recently to get out of the southern summer heat. As you look around your interior environment you might be envisioning how you want it to look and feel come next year, and now is the perfect time to plan out your winter interior improvement projects. Large inside projects are perfect to work on in the colder months, and a solid design foundation to start with are decorative concrete floors from Concrete Craft.
Flooring is the foundation of your room design because it's the largest surface area. In the past several years technology in concrete applications has advanced the popularity of this material choice because it offers so many colors, patterns, textures and finishes. Concrete is the most adaptable surface choice because it is beautiful on its own, can be stained any hue, stamped in multiple patterns and it can mimic other surfaces like wood or stone. This versatility can lead to creativity beyond the floors. Before choosing the colors and patterns of your walls, furniture, window treatments and accessories, establish your flooring first.
Stained concrete can add visual depth to a room with shades and tints, and rich color because the color is mixed in with the raw concrete material. It is fade-resistant unlike paint or other coatings and won't flake off or peel away. Have a particular color in mind to match your favorite furniture? Stained concrete provides the color you need.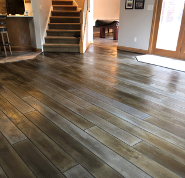 Wanting to mimic the warm wood tone found in cut lumber in your own Flat Rock cabin? The beautiful patterns of natural stone in your business' Arden showroom? The texture of slate in your Tryon location? Stamped concrete can offer all of these at a fraction of the cost. There's no need to dismiss the effect of natural materials when Concrete Craft can apply the correct color mix and stamped pattern to concrete floors in your spaces.
Already have concrete floors in your Brevard home or Black Mountain business? Resurfaced concrete breathes new life into your updated design ideas. Yes, concrete is durable and lasts a long time, but styles change, and spaces can need re-purposing over the life of the floor. There's no need to start from scratch when you already have materials you can work with. Our craftsmen can apply new treatments to your concrete floors for you to appreciate for decades to come.
Your rooms are as unique as you are, and our artisans at Concrete Craft work with you in developing the flooring style that reflects your personality. We are gearing up for a busy winter and don't want you to miss out on working with our experienced professionals who can guide you through choosing the right design foundation for years and styles to come.