10 businesses that can benefit from concrete floors
For many years, concrete floors have been the staple for industrial spaces. The grey slabs are common in outdoor areas or on garages and car parks floors. Recently, people have realized the many benefits of using concrete flooring, and it has started to gain popularity in other settings.
Concrete floors are incredibly hard and robust, thus a viable material for areas where harsh operations occur. They remain intact, and their chances of denting or scratching are low. Besides, concrete floors can make a strong design statement and serve as attractive flooring finishes after polishing, etching, or staining. These two, among other features, make concrete floors suitable for many different types of commercial facilities.
Types of concrete floors
Stamped concrete
Stamped concrete is an embossed, patterned, or textured concrete designed to resemble wood, bricks, or slate. You can find the material in different finishes and acts as a cheaper alternative to brick and natural stone. Concrete stamps have a great compressive strength thus last for many years. What makes stamped concrete so appealing is the ability to mimic other patterns and textures such as wood, cobblestones and sandstones, without the involved maintenance and care that comes with these types of materials.
Stained Concrete
Stained concrete is a unique variant of concrete flooring achieved through staining a new or existing slab. The stain is permanent, does not flake off, and provides a spectacular appearance.
Resurfaced Concrete Floor
Resurfaced concrete is a renovated slab surface obtained by applying a coating to get a variety of color, texture, and pattern options. Resurfacing covers surface imperfections and also allows you to stencil or engrave an existing surface.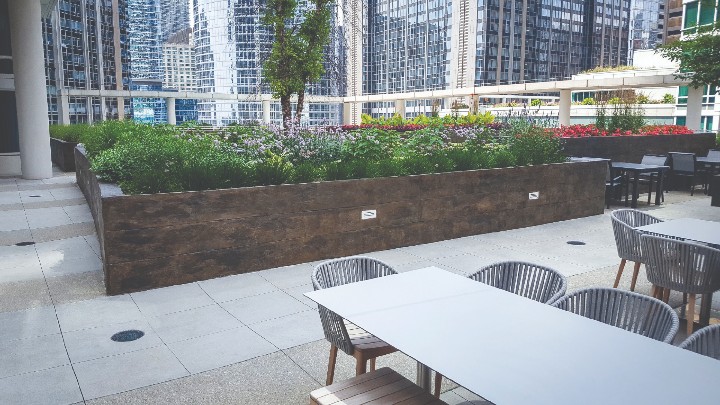 Why concrete floors
They are durable
Regardless of the concrete design you choose, you can rest assured that the material will last for a long time.
They require little maintenance
Provided the concrete is properly sealed, a little sweeping and damp mopping is adequate to remove stains, grit, spills, and dirt and leave the surface looking new.
They are versatile
One of the most superior characteristics of concrete floors is their adaptability to various purposes. Even when you reach a point of needing an upgrade, you can apply the new work on the existing surface.
10 businesses that can benefit from concrete floors
Restaurants
When designing and fitting out a restaurant, there are multiple things to consider, the floor being one of them. A restaurant floor must be easy to maintain and clean, durable to bear heavy foot traffic, and safe for both customers and employees.
You also need to provide the right appearance and feel to reflect your brand and complement the theme and style of your restaurant. Because of concrete's versatility, they can easily offer a beautiful aesthetic touch, regardless of the theme. This makes them extremely suitable for every part of a restaurant, including the kitchen.
Health and wellness
Health and wellness facilities must meet numerous safety requirements to ensure those who visit and professionals working there are safe. Concrete can be ideal for these facilities due to its characteristic of withstanding heavy foot traffic and equipment. Additionally, their low maintenance makes them very easy to clean and sterilize, preventing contaminants such as mold.
Cafes
Unlike restaurants where you can find different food varieties, cafes are small spaces mainly offering beverages and limited menu food. Choosing the right flooring is still important though, as cafes are prone to consistent foot traffic throughout the day. Concrete is a suitable option since it is cost-effective and easy to install, even in small spaces. It also allows you to display creativity and paint based on your preferences and needs.
Farm stables
When constructing farm stables, flooring and its maintenance are two important factors to consider. A durable, hard to damage, and easy to clean solution is ideal. Another consideration also has to be on the texture. A slippery fall can lead to injuries for both the animal or person. Concrete is ideal for farm stables due to its properties, which allow customizing to the preferred texture.
Showrooms
While you may have a team of friendly and knowledgeable salespeople, the floor can limit your sales potential. Customers appreciate an attractive and clean floor that enhances the products you are selling.
Additionally, it must be slip-resistant, durable, and easy to maintain. Concrete flooring is a great option for showrooms. In fact, its surface light-reflectance and shine can really enhance the products you sell.
Retail stores
Although a floor may not be among the first things to spring in a customer's mind when they enter your retail space, it is among the most crucial aspects of the property. Right flooring acts as a calling card for your business. Considering the current competitive business landscape, everyone wants to stand out. Installing a concrete floor with unique attributes such as staining or stamping is a significant differentiator.
Supermarket
Supermarket flooring needs to fulfill a number of quality requirements. It must be strong enough to handle heavy foot traffic, safe to use, cost-effective to install, and attractive to customers. Concrete floors, especially polished concrete, are suitable for supermarkets. You can adjust the gloss level to ensure it looks attractive, modern and reflects the business brand while improving the shopping experience.
Industrial
The flooring in any industrial facility is the heart of the business. Its uninterrupted use and serviceability are crucial for the profitability of an enterprise. Industrial environments have mechanical and corrosive materials or processes that can significantly damage the floor. Consequently, the enterprises incur large sums in replacement or maintenance. Fortunately, industries that use concrete floors have overcome those challenges due to the superior properties of the material.
Salons
A salon business has to consider both aesthetics and functionality when choosing a floor. How a salon's interior appears is a matter of credibility; otherwise, customers can lose interest at first sight. Unlike most industrial applications where priority goes to strength and longevity, a salon's flooring must look good.
Fortunately, concrete floors can do one better. They are not only strong and durable but, thanks to their decorative properties, are customizable to match or complement the salon's interior. You can also go a step further and enhance it by applying an epoxy coating to create a pampering experience for customers.
Warehouses
Floor quality is a critical element of any warehouse. Depending on the stocked product, the quality becomes even more important as stacks increase. The floor serves as the ultimate support, meaning it must be stable and strong. It has to be able to withstand any damage by chemical reactions from potential corrosive products or the heavy machinery used to stock the warehouses. The properties of the concrete floor, including durability, make it ideal to withstand the harsh conditions of a warehouse.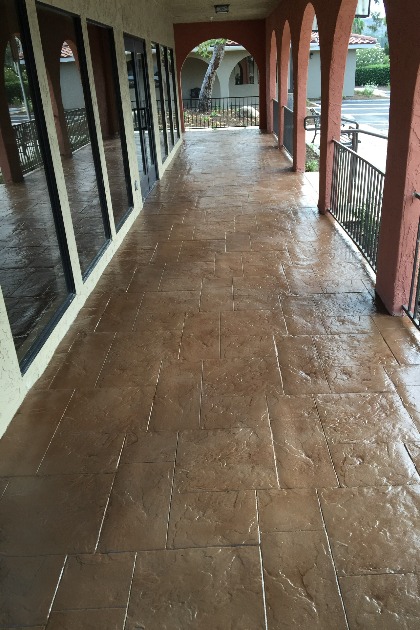 Any business looking for a great flooring material should consider concrete. Its versatility properties allow customization and applicability in different spaces from industries to restaurants. If you plan to install concrete in your business, contact us for a free consultation today.