Refresh Your Business For Spring With Decorative Concrete Enhancements
Spring is a time of renewal, and while we generally think of spring cleaning and refurbishing as a homeowner's ritual, businesses can benefit from some springtime sprucing up too. As people say goodbye to the confines of winter and spend more time enjoying outdoor activities, they're going to be frequenting businesses of all kinds, bringing more activity in and around your business. Concrete Craft® can help you get your facilities updated, renovated, and beautified for the busy months ahead with decorative concrete renovations that take less time and far less money than you'd imagine!
Update outdoor areas with vertical faux wood decorative concrete finishes that won't deteriorate like real wood
For sprucing up your business on the inside and the outside, decorative concrete can be your secret weapon for beautiful, lasting design for floors, walls, or other hardscape elements like the planter above. Talk to the artisans at Concrete Craft about what stained and stamped decorative concrete could do to improve, rescue, and restyle your business for spring depending on what your pain points are:
Restaurant patios where friends congregate to leisurely enjoy the outdoors
Pool decks need to be ready for sun-loving tenants of apartment and condo complexes
Outside eating areas in office buildings will host brown-baggers for lunch breaks
Worn out flooring in offices and communal areas like breakrooms needs replacing
Hotels and bed-and-breakfast resorts welcome spring and summer travelers
Competing for shoppers who linger on sidewalks and walkways in malls and shopping centers
Concrete Craft can provide low-maintenance, extremely durable floors in a variety of colors, finishes and design options for indoor and outdoor spaces. Vertical concrete overlay systems can renew and restore interior walls, retaining walls, seat walls, fire pits, entryways, chimneys, fireplaces, and more, to give your business a competitive edge wherever you need it. Change can be beautiful!
Install new flooring for the last time
Commercial flooring can take a real beating, requiring replacement of traditional floor styles every few years. This can result in flooring consistently taking a big bite out of a facilities budget. Decorative concrete floors are remarkably durable and will outlast other flooring materials like carpet, tile, wood, or vinyl. You can expect concrete floors to last for decades, making them ideal for both interior and exterior floors. You have virtually unlimited design options with our exclusive MasterPro FinishTM products, including stained concrete, stamped concrete, polished concrete, DiamondKoat, MarbleKoat, and RubberKoat. Along with our repair and restoration systems, you can be assured that we have styles for restaurants, retail spaces, manufacturing plants, office buildings, condos, apartments, gyms, schools, and hospitals.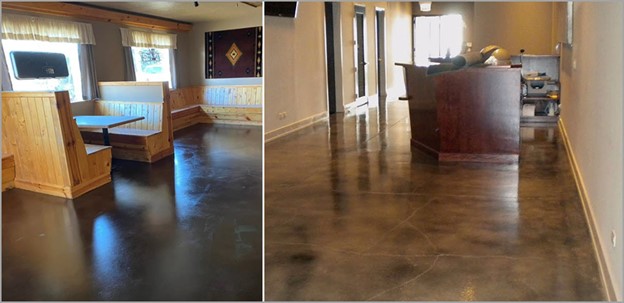 There's no sacrificing style and beauty with decorative concrete designs for every area of your business (pictured are DiamondKoat and stained concrete)
Repair floors damaged from heavy use or removing old flooring with a concrete overlay that can be stained, stamped, or polished for any look you desire.
Decorative concrete's moisture-resistant finishes make it appropriate for areas were water or humidity can be a problem, such as kitchens, breakrooms, restrooms, and outdoor spaces.
Commercial spaces like warehouses, driveways, courtyards, and walkways that get lots of use and abuse can be repaired and restored eliminating the need for demolition and replacement.
Maintenance costs are reduced, and environments stay cleaner and healthier since decorative concrete finishes resist moisture, spills of all kinds, dust buildup, and mold or bacteria growth.
Installation by trained professionals is a quick process, letting you get back to business as usual, only better.
Upgrade outdoor spaces with faux stone and wood designs
Exterior spaces require the durability of concrete, but they don't have to look like concrete. Our resurfacing concrete overlays and stamped concrete processes can transform plain concrete into works of art with the high-end look of authentic flagstone, cobblestone, slate, brick, tile, or wood plank. Dress up entryways, patios, courtyards, driveways, and walkways with realistic stone and wood faux finishes in custom stain colors that are true to nature or customize stain colors for a unique look. Our concrete overlays cure to just over 5000 psi, meaning they are tough enough to support any activity from work trucks and heavy equipment to alfresco dining on patios and revelers pool side.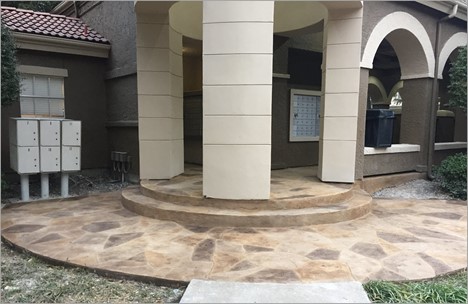 Although this faux flagstone looks like grouted stone, the seamless, sealed surface will never present a tripping hazard as can happen with real stones that lift
Outdoor maintenance becomes extremely cost effective, just a sweep or power wash keeps decorative concrete finishes like new. Stones never lift, weeds and grass don't grow in between, and grout doesn't deteriorate.
Dress up a storefront entryway with stained concrete and a stenciled design for dramatic impact with a unique colorful pattern or your own company logo.
Stamped wood plank designs can create a boardwalk for a patio or pool side setting.
Decorative concrete finishes can stand up to any weather from freezing to scorching sun without deteriorating; season to season your outdoor areas will thrive.
Refresh vertical surfaces with modern finishes
The beauty and durability of decorative concrete is not limited to flooring. Vertical surfaces like accent walls, siding, patio retaining walls, fireplaces, benches, and more, can be modernized with versatile decorative concrete overlays. Create stunning accent walls of fabulous faux stone or wood plank overlays for reception areas and conference rooms. MarbleKoat can give the coveted look of marble to vertical surfaces like walls and fireplace surrounds for a fraction of the cost of real marble. Outside, faux stone siding can completely transform a professional office entryway or give a blasé patio a garden vibe with seat walls and planters. Our overlays are quicker than setting real stone and there's never the weight problem of installing vertical stone.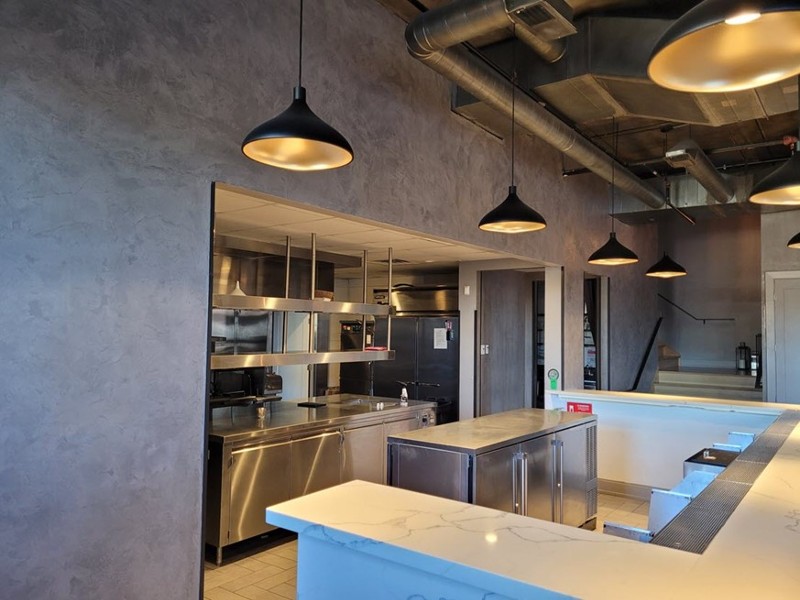 MarbleKoat walls make this commercial kitchen look very modern and industrial chic
Our high-strength, flexible polymer overlay products can be applied over brick, drywall, plaster, and wood with 100% contact, eliminating air pockets like other veneers.
The continuous sealed surface prevents dust and dirt buildup, is stain- and moisture-resistant, creating a durable, long-lasting surface that is easy to keep clean.
Up the ambiance of any space with three-dimensional textures of faux stone designs and wood finishes from smooth, polished oak to rustic timber and reclaimed wood.
Amazing transformations can be accomplished without demolition and replacement.
Concrete Craft is ready to help you get your business ready for spring with enhancements that will draw customers in or just give your spaces some fresh energy. If your business has multiple locations, our nationwide network of Concrete Craft franchise owners makes it easy to have consistent branding at all locations, with identical decorative concrete installations. Call 888-852-9244 today or go online to www.concretecraft.com to find the Concrete Craft location nearest you and request an onsite or virtual* design consultation to discover the unlimited options for updating your business with very versatile decorative concrete.
*Virtual consultations may not be available at every location
Follow us on Instagram and like us on Facebook.