Basement Remodel Ideas To Expand Your Living Space
It's back-to-school time when life shifts around a bit, and this may be the perfect time to revitalize that unused basement with a decorative concrete overlay for the floor. Turning your basement into a functional living space can help alleviate the growing pains of a busy family:
Pre-teens becoming teenagers and needing space to entertain friends
Kids wanting their own bedrooms as they get older
Dad wants a man cave or mom wants an office retreat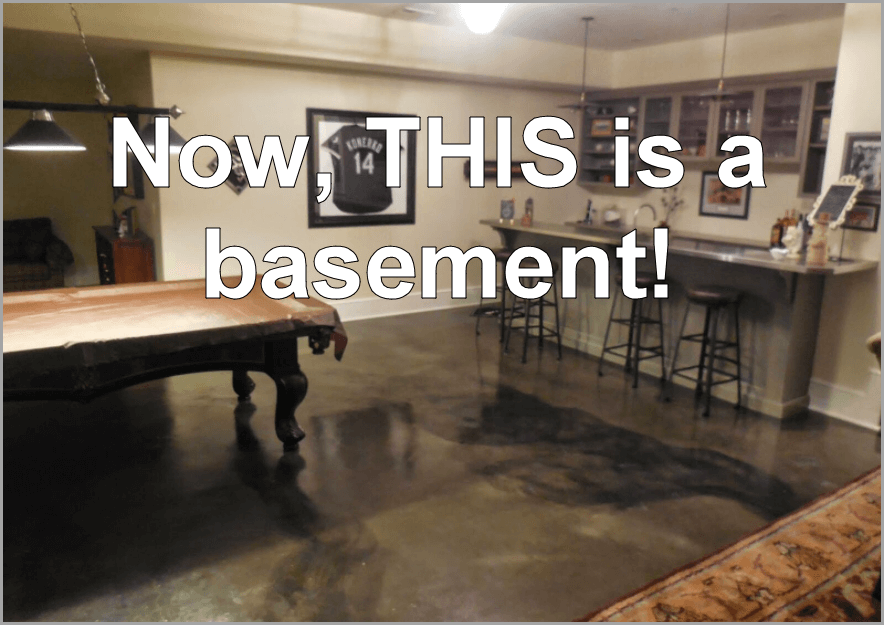 If you're feeling a space crunch as family needs change, remodeling the basement can create more living space right in your home. Concrete Craft® can help get your remodel underway with a new decorative concrete floor in stained concrete, stamped concrete, or resurfaced concrete that can handle any activity, any time. From smooth stains to hand-cut, textured faux stone concrete overlays, you can have any style floor you want.
Define your greatest space need
A basement can become anything: game room, office, spare bedroom, wine cellar, playroom, man cave. The options are endless. How you remodel will obviously depend on how the space will be used and how the remodel will impact overall home space use.
The family room feels too small as more entertainment space is needed so adults, teens, and kids can have space for varied activities so a game room/home theater may be the answer.
Mom's office in a spare bedroom may have to go if the spare bedroom is no longer spare but needed for a bedroom. Creating an office in the basement makes perfect sense.
A man cave for dad where he can indulge in sports viewing and action movies would free up the family room for the kids to have friends over for their style of entertainment.
A playroom for the kids could have space for indoor slides, trampolines, and craft tables, eliminating excess in the TV room or bedrooms. With plenty of play space, the weather outside will never interfere with having a good time.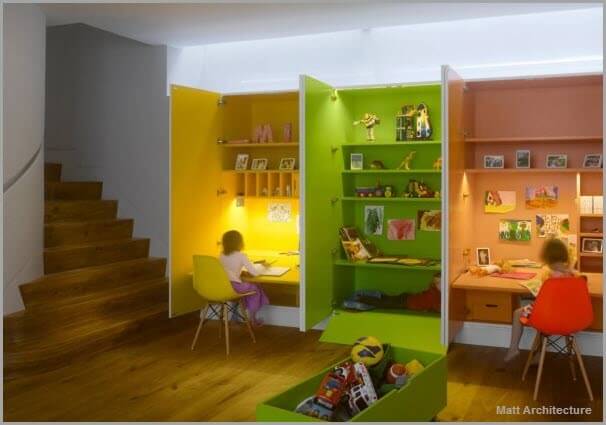 Make a style statement with a decorative concrete floor
Decorative concrete can replicate natural materials like stone, rock, and wood, so you're not limited in creating any floor style you want. Additionally, if your existing floor is cracked or discolored, a concrete overlay resurfaces a damaged floor and creates a fresh finish for any new design. Custom concrete overlays can be stamped to create flagstone, cobblestone, slate, tile, brick, and numerous wood plank designs. Our wide range of MasterProTM concrete stains ensures exactly the look you want for your new basement space with vibrant colors, nature's neutrals, or combining multiple colors.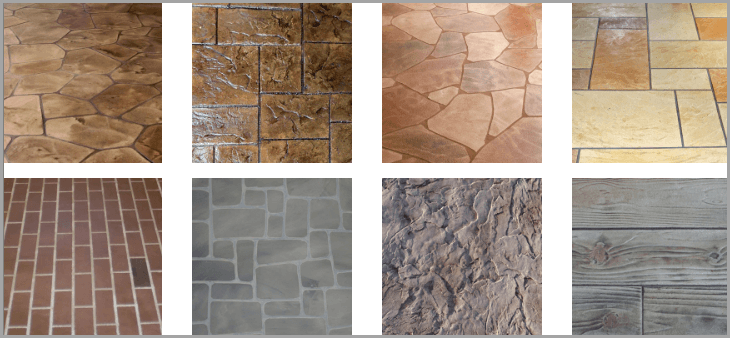 "Real stone" molds create authentic-looking faux stone floors.
Wood plank stamp patterns range from smooth, sanded finishes to reclaimed and rustic textures.
Every floor is sealed for extra protection against chips, cracks, spills, and moisture.
A highly productive basement home office
A new floor may only be the beginning of a basement remodel. Depending on your basement's degree of finished or unfinished areas, you'll address walls, ceiling, lighting, and electric wiring. Ambiance and functionality will need to be built into any basement renovation so the time spent there will be enjoyable, functional, and safe.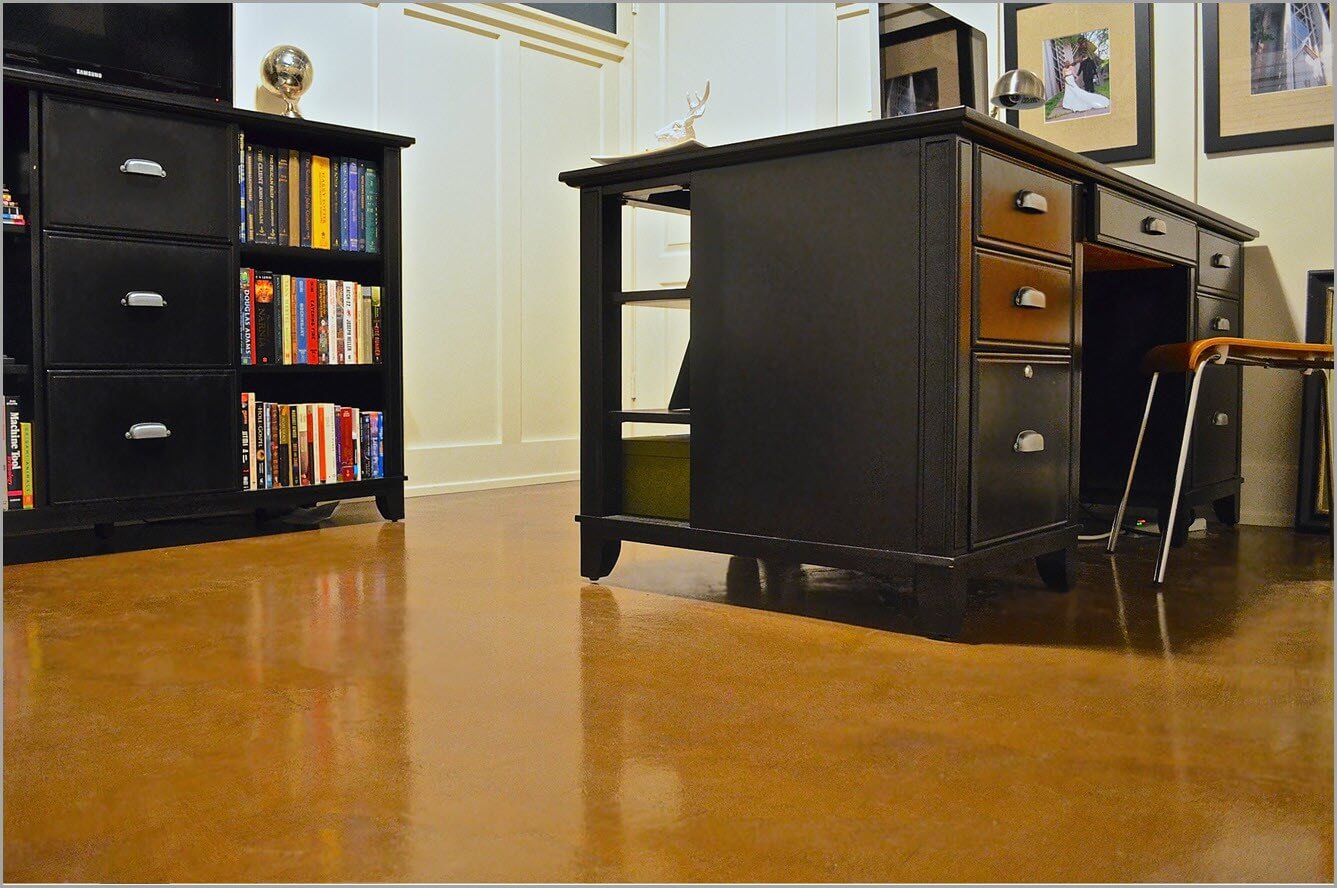 Refinishing walls to mirror your home's décor will make the space feel more connected or you can create a one-of-a-kind retreat with a style all your own.
Add a comfy reading corner for breaks and time-out afternoon tea.
Nothing sticks to the sealed finish, so your office stays clean with very little effort.
The entertainment hub man cave
A man cave in the basement is a way for dad to have space for himself as well as a place to entertain his friends. The stained concrete floor can stand up to anything, including game tables, pool sharks, darts, and spilled food and drink. Incorporating a wet bar and TV area with a superb sound system, couches, and tables creates the ideal place for a weekend of sports viewing. Or, put on some mood music and the man cave quickly transforms into a trendy venue for an intimate dinner or a wine tasting party.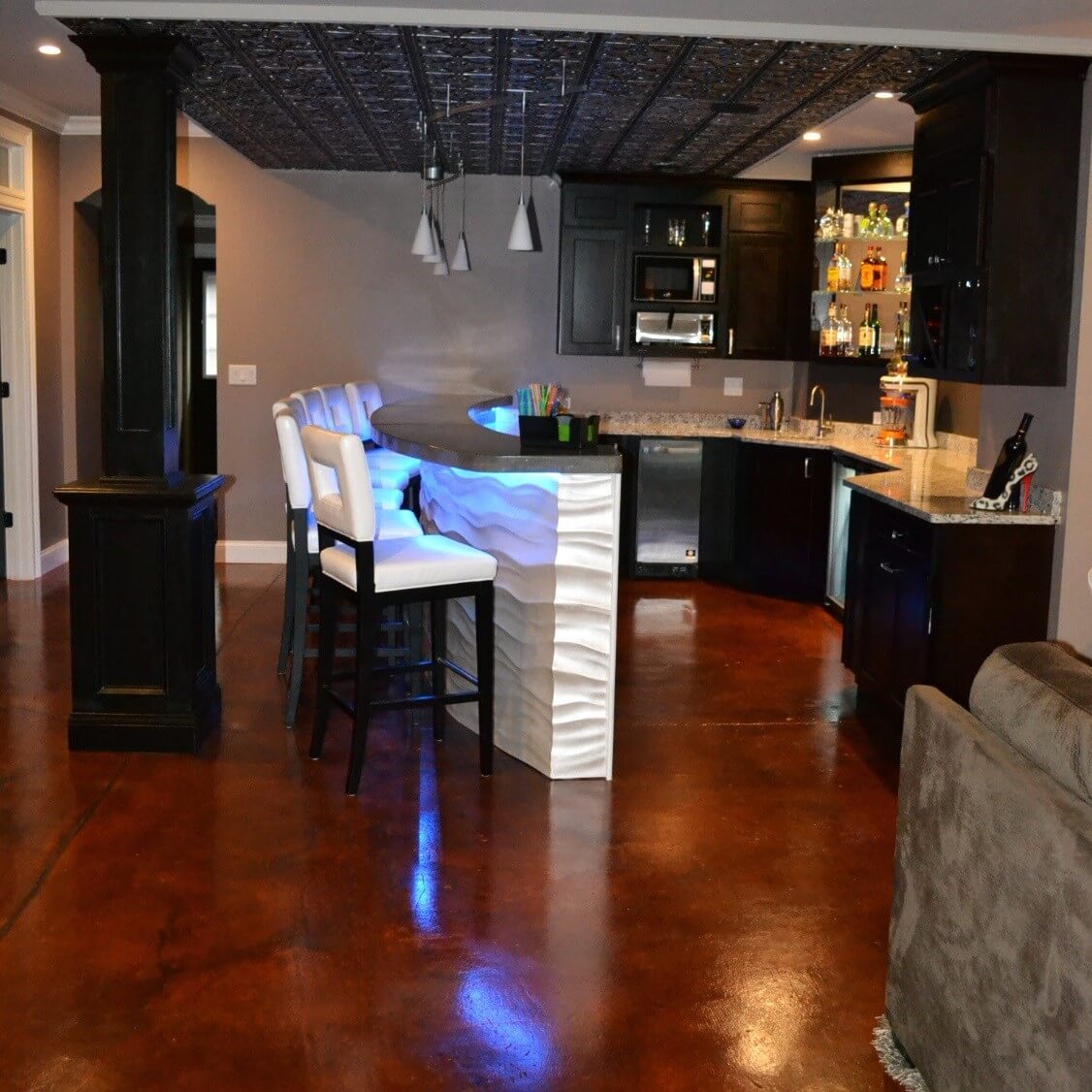 Layered lighting allows for bright lights when required or low lights for ambiance.
The mini kitchen makes the space self-sufficient for any entertaining.
The wine is always properly chilled in a wine refrigerator built into the lower cabinets.
A convenient basement home gym
A home gym is a fabulous way to remodel the basement so that the entire family can enjoy the space. A decorative concrete floor can withstand the weight and pressure of exercise machines without becoming damaged. Installing a big-screen TV allows for workout instructors or favorite movies to enhance the experience.
A great way for quality family time and a little healthy competition.
A play area for younger children can be defined with an area rug and some shelves for toys and games so they can participate while the rest of the family works out.
A home gym is convenient and private, eliminating monthly membership fees and pricey, show-off spandex, travel time, and gas expense.
Make every space count with decorative concrete floors
Concrete Craft can help you turn your underused, drab basement into a beautiful living space to benefit the whole family!
Teenagers will love a space to hang out with their friends in a new media and game room.
Conserve valuable basement storage with custom enclosed cabinets in conjunction with the planned living space.
Build a wine cellar or incorporate a wine cellar into the man cave.
A basement bedroom remodel can be the solution for older kids who no longer want to share bedrooms, or guests will love the comfort and privacy of a master bedroom suite.
Resistant to dust and dirt buildup and mold or bacteria growth, decorative concrete floors are low maintenance and easy to keep clean.
However you choose to update your basement, a new, decorative concrete floor is a great starting place. You can get creative with the flooring, and also incorporate faux stone or wood texture walls with vertical concrete resurfacing for amazing results. Contact us today or go online to www.concretecraft.com to find the Concrete Craft location nearest you and request a FREE consultation. Stained, stamped, and resurfaced concrete can update all your interior floors as well as outdoor concrete surfaces like patios, walkways, driveways, and pool decks.