Step Up Your Modern Entryway With Durable, Decorative Concrete Floors
This is the time of year when attention turns to the humble entryway. As weather challenges like rain, mud, and snow make it through the front door and wreak havoc throughout the whole house, it can be a constant battle to keep the floor clean and present a welcoming space for family and friends. Modern entryways focus on function and form so that your entryway is not only pretty, but convenient, efficient, and easy to maintain. One way to immediately elevate the entryway to fully fabulous is with a decorative concrete floor from Concrete Craft®, the perfect foundation for a stylish entryway you'll love coming home to!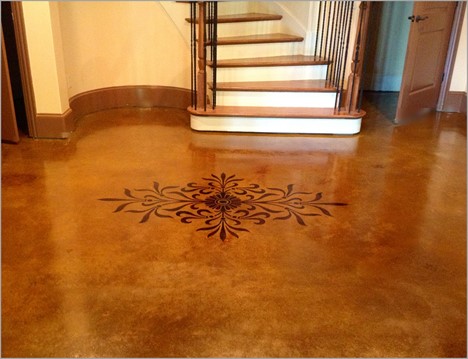 This stained concrete floor with a custom stencil design makes this entryway unique and memorable
Entryway design incorporates all the space from the floor to the ceiling (stylish chandeliers!), utilizing storage and organization elements as well as furniture and home décor pieces to create a beautiful entrance to your home. Whatever your decorating style, Concrete Craft can install a custom concrete floor that will embrace and enhance exactly the look you want!
Decorative concrete for any style of flooring
While decorative concrete is the singularly most durable floor you can have in your entryway, it is not singular in design. The many options Concrete Craft offers with our MasterProTM finishes let you have any style of flooring you desire. Our concrete resurfacing and restoration processes can replicate finishes like marble, wood plank, flagstone, cobblestone, slate, tile, and brick with stained concrete and stamped concrete designs. Concrete stains can be customized to coordinate with any color scheme you have in your home. And, with the thin microtopping concrete overlay applied to your existing concrete floor, you can have three-dimensional faux finishes like wood and stone without adding inches to the floor height as can happen if you attempt to lay wood plank, tile, or brick where the entryway floor connects to another flooring type.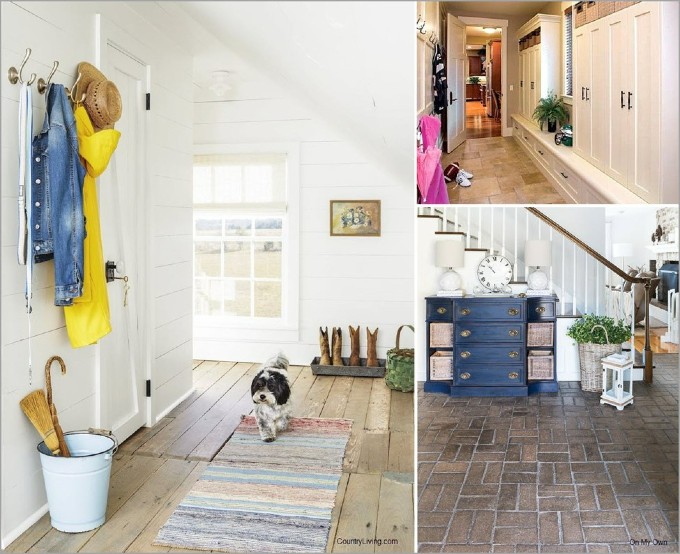 Decorative concrete can emulate any type of flooring you choose to set the stage for your preferred design style
No fear of moisture damage or deterioration of grout lines or wood seams with the continuous, sealed surface of decorative concrete finishes.
Custom concrete stains let you have any color you desire, from one solid stain to layered colors to create realistic stone and wood looks.
Maintenance consists of dry dust mopping and occasional wet mopping to keep the floors clean, which makes it easy to combat any outside mess that makes it through the front door.
Go for exquisite shine
Make the floor the star of the show with brilliant shine, including stained concrete, MarbleKoatTM, or polished concrete. Each is a different process but with a durable shine that will last, season after season. Concrete stain can be applied directly on a prepped floor adding vibrant color from palest gray to deep, rich mahogany. MarbleKoat is a one-coat overlay that transforms your entryway with the stunning look of polished marble. A polished concrete finish is accomplished by grinding the surface of the concrete to a refined hardness and shine, as well as in conjunction with sealers or concrete stain colors.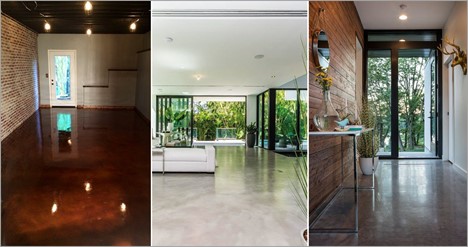 For brilliant, lasting shine you have multiple options of decorative concrete finishes to create a statement entryway in your home
A shiny floor increases the effects of lighting, bouncing light around to make the space feel bigger.
Depending on the furnishings you choose, your style can range from rustic to traditional or modern.
Impervious to moisture and dirt, your entryway is easy to clean, and the addition of rugs will halt any mess at the door.
Add authentic-looking stone and wood textures
Especially in wet climates, having wood, grouted stone, or tile at an entryway can become problematic over time as moisture seeps in. Grout breaks down and discolors, and wood can warp and darken. Decorative concrete resurfacing overlays with stamped concrete patterns of wood plank and real stone molds are the solution to having a textured, worry-free entryway floor. Our authentic stamp and stencil patterns create realistic wood and stone finishes but with moisture-resistant sealed finishes that can stand up to any weather challenges.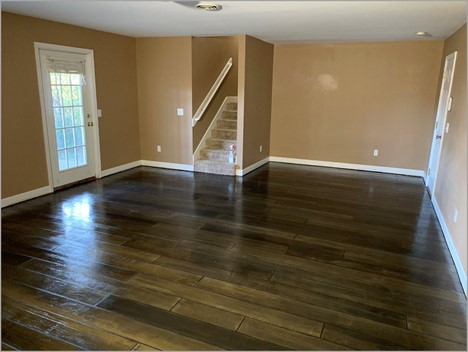 For entryways or entire rooms, enjoy authentic wood or stone textures and designs without the maintenance headaches of real wood and stone
Real stone molds replicate flagstone, slate, and high-end stone tiles like porcelain, terrazzo, and ceramic designs.
Wood stamps range from smooth narrow planks to gnarly extra wide for a rustic, farmhouse look in light to dark wood tones.
Concrete overlays cover damage from the removal of the old flooring and create a fresh surface for new and exciting decorative concrete finishes.
Have an entryway to boast about
Don't let your entryway be an afterthought! With purposeful design, your entryway can be impressive, interesting, and functional for your family all year long. Here are some design tips that can help you create an entryway that not only proves highly useful but is a delight every day as you come and go.
High- and low-level hooks will make it easy for the tall and the small to hang up their things.
Cabinets, cubbies, drawers, and shelves provide storage space for depositing hats, coats, gloves, purses, backpacks, and more, eliminating clutter.
A bench or chair lets you sit to remove muddy shoes or download packages so you can hang your coat.
Trays or containers on a side table corral often-misplaced items like keys, sunglasses, charger cords, and pens and keep them easy to find.
Add light fixtures or lamps, if needed, and favorite décor pieces and seasonal items will keep your entryway bright and fresh.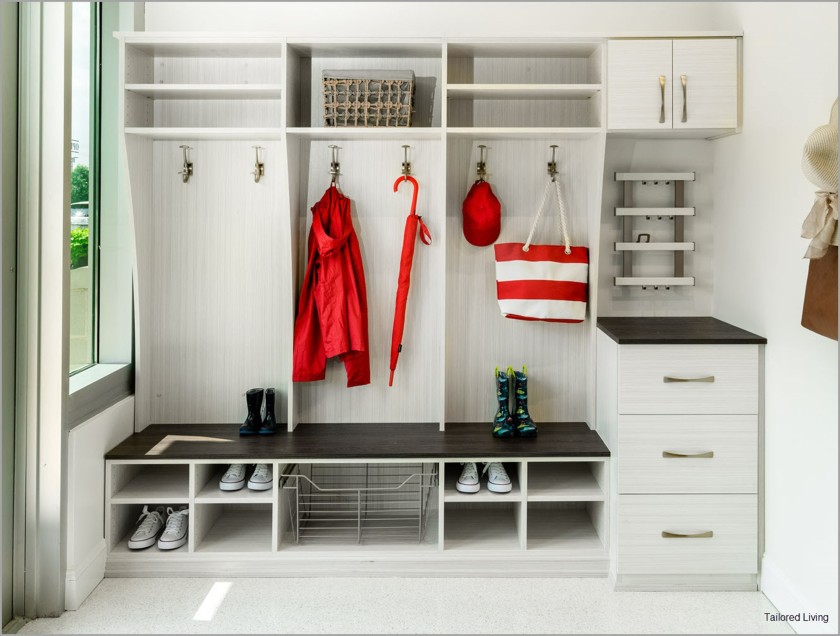 Maximizing your entryway can help take the bite out of winter, starting with a low-maintenance floor and adding convenience (entryway courtesy of sister-brand, Tailored Closet)
Your entryway is a preview of the rest of your home and should reflect your personality and unique style. Family and guests will appreciate a space that is welcoming and helpful when entering and leaving, keeping hats and coats accessible and easy to find. If you're ready to upgrade your entryway or any other indoor flooring now, contact us today or go online to www.concretecraft.com to find the Concrete Craft location nearest you and request a free in-home or virtual* consultation. For inspiration, check out our latest Interior Design Guide for more decorative concrete flooring possibilities!
*Virtual consultations may not be available at every location