Benefits of Decorative Concrete for Carefree Living
May is National Home Improvement Month. Have you been to any home shows that inspired you to spruce up your home and yard? Every Spring, from Kentucky's bluegrass region to the Las Vegas desert, homeowners attend events like the Annual Central Kentucky Home & Garden show that brings the latest and greatest in outdoor living right into your own backyard. As the trend to combining indoor and outdoor living continues to grow, backyard landscaping and design adopts the same terms as indoor styles: Tuscan, Modern, Ranch, Coastal, Craftsman, English, French and Southwest, just to name a few, differentiated by architecture, colors and plant choices.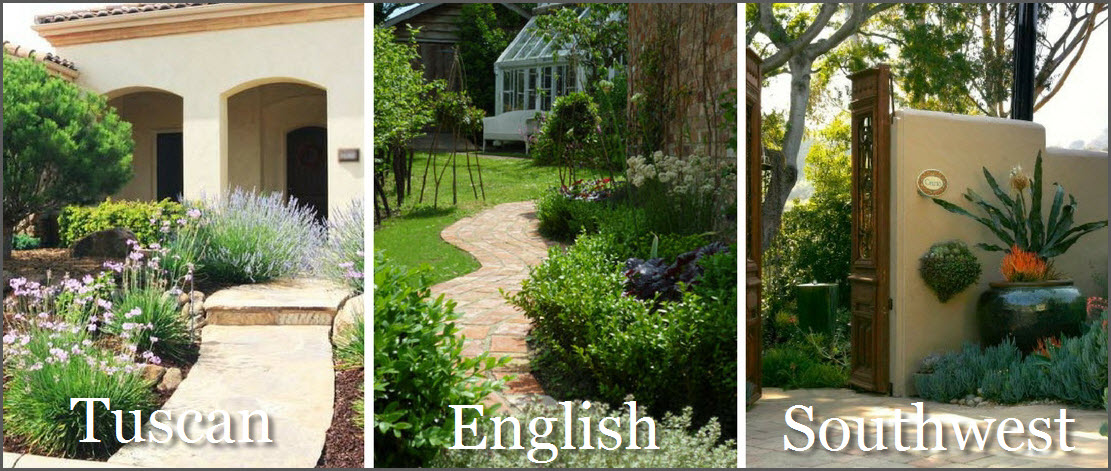 Create your own personal oasis
Maybe you want to duplicate a favorite vacation spot or just create your own little heaven on earth. Do you know all the elements of your chosen style to achieve the ultimate look? Can you even get authentic English cobblestone if you live in Charlotte, South Carolina, without mortgaging your home? Consider:
Ranch style calls for flagstone and stone paving
Craftsman and English use cobblestone and cut limestone
French and Tuscan call for marble and tiles like porcelain and Travertine
Modern landscapes pop with the clean lines of freshly poured concrete
With Concrete Craft's® decorate concrete overlays you don't have to worry whether or not a stone mason can procure and lay the particular stones that you want, nor do you have to pay the premium price for genuine rock or stone. Our processes for stained, stamped and resurfaced concrete can convert any concrete overlay into a realistic looking rock or stone surface of your choice, including Travertine tile for a Tuscan landscape, flagstone for Ranch style, red clay pavers for Southwest, or cobblestone for an authentic English garden.
You'll be amazed at how un-concrete concrete overlays can look! Check out these samples of hand-cut and custom-colored flagstone, Ashlar slate, brick, European cobblestone, Roman texture slate and wood plank. Your design choices are practically limitless.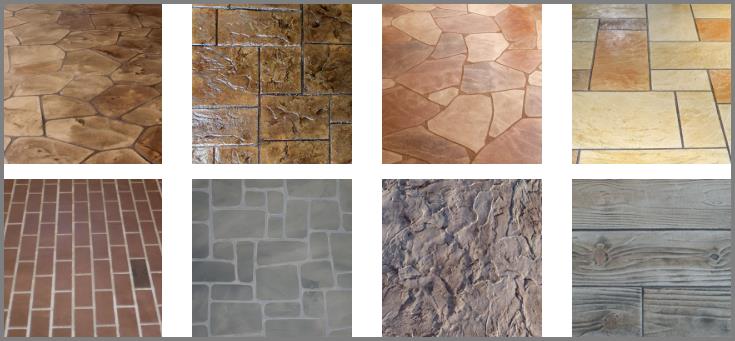 The beautiful benefits of concrete
Concrete has been a building material for as long as men have been erecting buildings (even the ancient Romans used concrete in 37 B.C.) It's more durable than any other surface and appropriate for anything from a warehouse floor or hard-working driveway to an elegant foyer or pool deck of a luxury resort. Concrete Craft is dedicated to turning concrete surfaces into works of art with the same elegance and durability available to homeowners and business owners alike.
Decorative concrete overlays are economical
They can replicate the look of natural stone for a fraction of the cost of real stone, especially if you want custom design or rare colors.
Designs install over existing floors, so there's no need for demo and replacement.
Installation takes just a few days; even your time is not wasted.
Emulates expensive natural stone, wood planks, brick and high-polish finishes like marble.
Interior concrete floors help keep rooms cool in summer and warm in winter by holding temperature and slowly releasing heat or coolness, saving utility costs.
This pool deck area is all decorative concrete in an authentic-looking Ashlar slate pattern, accented with flagstone borders, matching steps and knee walls dividing the pool area and adjoining patio, creating the ideal setting for a party or summertime fun with the family.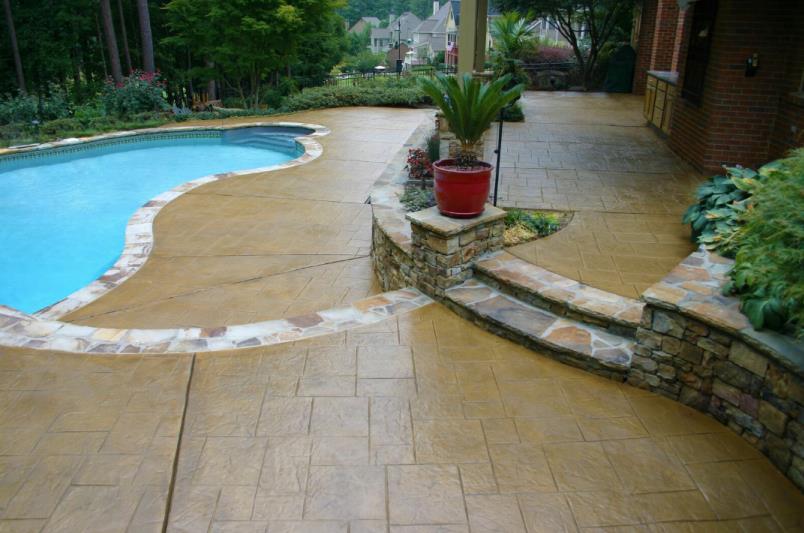 Concrete is the most durable flooring material
Does not wear down over time like some natural stone or grouted surfaces.
Sealed concrete overlays are weather-resistant.
Colors are fade-resistant with UV protection built right in.
Not easily damaged from foot traffic, weather, vehicles, tools or chemical spills.
Outlasts most other interior flooring options like carpet, tile, linoleum and wood.
This hand-cut and custom-colored flagstone patio will give years of enjoyment without any concern for "stones" lifting, chipping or cracking. Bring on the patio furniture; the sealed surface will stand up to any activities, including barbeques, friends gathering for wine tasting and dancing in the moonlight, or kids roasting marshmallows in the fireplace.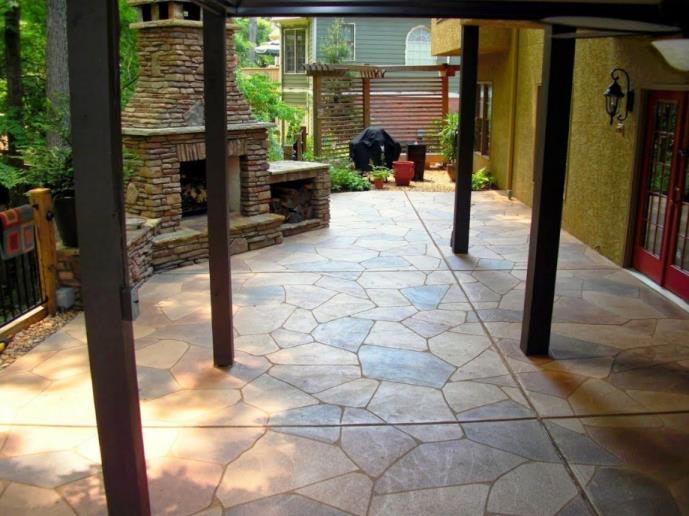 Concrete surfaces are easy to maintain
The sealed concrete floor resists stains, spills and dust, so a quick sweep and damp mop is generally all it takes to keep interior and exterior floors in good condition.
Non-porous surface will not trap mold, mildew, bacteria, allergens or moisture.
Slip-resistant surfaces provide safety, especially in inclement weather or around water.
Seamless, continuous surface means no space between "pavers" for weeds or grass to grow so walkways stay clean, saving hours of gardening maintenance.
This walkway is always ready for a leisurely stroll in the garden. The sealed finish resists dirt, scratches and pesky weeds. You can spend your time enjoying your garden, not digging out unwanted growth from the pathway.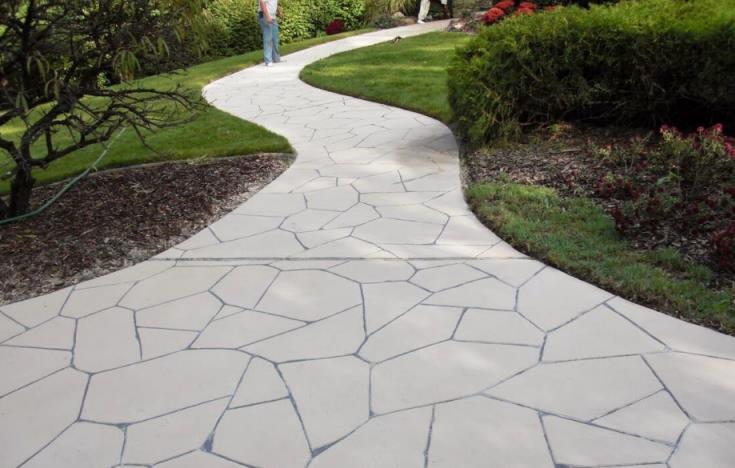 Additional benefits of working with Concrete Craft
Concrete Craft is the only decorative concrete franchise in the U.S. with craftsmen who take pride in bringing artistry to your home or business with the beauty of stained, stamped and resurfaced concrete overlays. We can give any concrete surface a custom makeover with colors, designs and finishes that are virtually limitless.
Match any décor or landscape architecture with beautifully individual designs.
Seat wall and fire pit systems can create entertaining spaces anywhere outside, including knee-height walls to define or divide space.
Concrete overlays hide imperfections in original concrete.
Vertical concrete overlays to transform surfaces like fireplaces, chimneys, accent walls, backsplashes, entryways, siding and more.
Guaranteed for two years* against any defects in workmanship or materials.
Commercial spaces can greatly benefit from concrete floors that withstand more abuse than other flooring materials, and you can stretch your advertising budget by adding graphics or logos to promote your brand.
So if you have a case of home and garden show fever and want to spruce up your home, now is the perfect time during National Home Improvement Month. Call 866-813-3699 today or go online to www.concretecraft.com to find the Concrete Craft location nearest you and request a FREE design consultation and estimate. You'll see how easy it is to make those dreams a reality with the authentic look you want at a price you'll love.