How To Care For Stained And Stamped Concrete Finishes Indoors And Out
Installation of stained and stamped concrete floors is one of the nicest things you can do for yourself. Not only do you get to enjoy beautiful custom finishes in colors, styles, and patterns that you choose, you'll also appreciate the low-maintenance demands of these floors for both interior floors and exterior spaces like patios, driveways, and pool decks.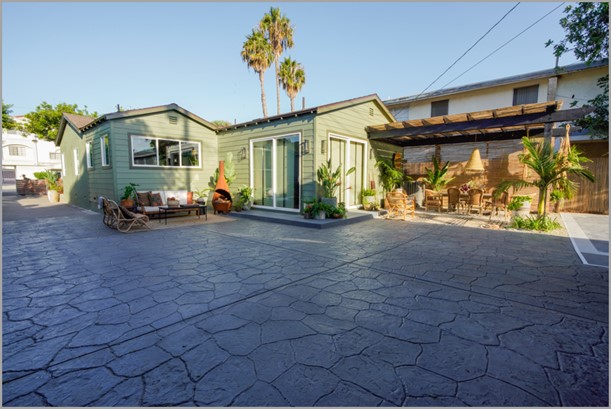 Even large outdoor spaces are worry-free with easy-care stamped concrete finishes like this flagstone design for the driveway/courtyard
Concrete floors are the toughest floors you can have
Starting with the extremely durable foundation of a concrete floor, Concrete Craft's® stained concrete and stamped concrete finishes create floors that are practically indestructible. For indoor and outdoor surfaces, our decorative concrete floors have qualities in common that make them the lowest maintenance flooring you can have:
Finishes repel moisture and spills of all kinds, including food, drink, auto fluids, chemicals, and pet accidents.
Sealed surfaces don't trap dust, dirt, mold, bacteria, and allergens so floors stay cleaner.
Finishes are stain-resistant so nothing will stain or mar the concrete floor.
No need for bleach, ammonia, or harsh detergents to clean stained or stamped decorative concrete floors.
The continuous, sealed surfaces will not chip, crack, peel, or fade from UV damage.
Grouted designs like tile, brick, flagstone, or cobblestone have faux grout lines that are part of the sealed surface so common problems with real grout, like staining or crumbling, don't ever happen.
Stained and stamped interior concrete floors
Stained and stamped concrete designs let you have the look of high-end finishes like marble and faux wood or stone, with the durability of concrete, anywhere in your home. You can have different styles in various rooms but with only one cleaning regimen, unlike the requirements of wood flooring, grouted tile, or carpet, all of which require special attention. All you need to keep decorative concrete interior floors like new is regular dry dust mopping and occasional wet mopping as needed.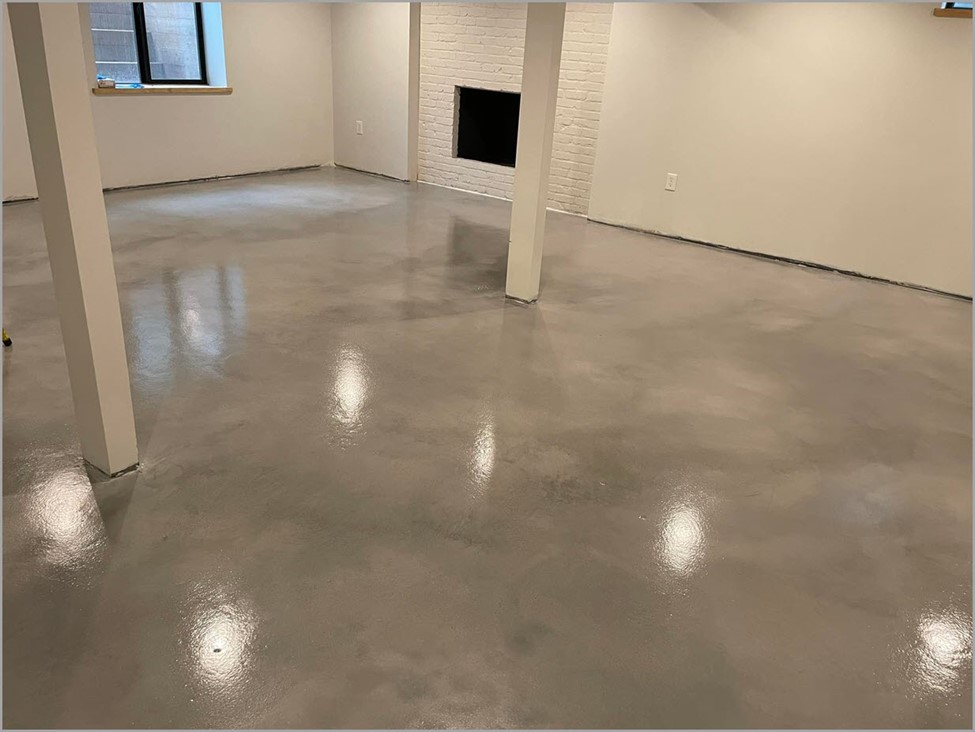 Stained concrete floors that resist dust and dirt buildup make cleaning your floors almost effortless
Microfiber dust mops create static electricity to grab dust and dirt. Also, Swiffers are great with disposable dry sweeper pads or washable microfiber covers. For an inexpensive and effective DIY, pull fuzzy socks over the Swiffer pad to dust.
Never spray the dust mop with cleaners or oils, these can create a very slick surface or dull the shine.
Get behind and under furniture with a dust mop that flattens out to keep your floors dust-free even where you can't see.
Robotic vacuums are excellent for keeping concrete floors free of all debris, including dust, pet hair, and crumbs while you do something more fun.
Wet mop a dust-free floor with a microfiber or cotton mop, mopping in sections, rinsing the mop as you go.
Only use neutral-pH cleaners like Simple Green® or mild dish soap (pH 7 to 8). If it says "mild, gentle or great for hands," it should be safe to use. Castile soap is another great option, it only takes a few drops in a gallon of warm water.
If you use a commercial cleaner, you may need to do an overall clear water rinse so check the label. Neutral-pH cleaners leave behind little to no residue and may not require rinsing.
Exterior floors are equally easy to keep clean
Although exterior stained and stamped concrete surfaces have the additional threats of extreme weather and enthusiastic activities to impact their finishes, cleaning and maintenance are not labor intensive. The durable, sealed surfaces resist chips, cracks, and peeling, and nothing sticks to the surface or gets ground in so they're as easy to clean as interior floors.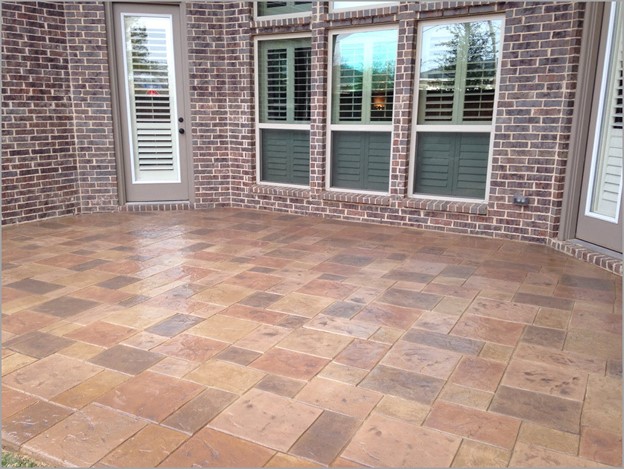 Stamped concrete patios stay cleaner in any season in any weather, making them more inviting places to spend quality time
A broom or leaf blower will keep your outdoor floors and walkways free of dirt and debris.
If heavily soiled, use a neutral-pH cleaner with a medium-bristle push broom or a pressure washer to keep your outside surfaces spotless.
Safely use a mild, biodegradable detergent that won't harm your lawn and plants from water runoff.
After heavy rain or hosing off, brush away excess water so the surface can dry quickly.
Make quick work of cleaning large areas like driveways, patios, or pool decks with Industrial-size dust mops or brooms (18" to 36").
No mold or mildew can take hold in shade or under outdoor furniture, planters, and rugs due to the moisture-resistant surface that prevents water seeping into the concrete.
If the finish in highly trafficked areas starts to dull or show wear after a few years, resealing will restore it to like-new condition.
You never have the backbreaking task of removing grass or weeds from the faux grout lines of decorative concrete stone or tile designs.
Protective measures for all your concrete floors
Although easy to clean, there are some things you can do to improve performance as well as protect your stained and stamped decorative concrete floors, ensuring a long and happy relationship with your floors, indoors and out.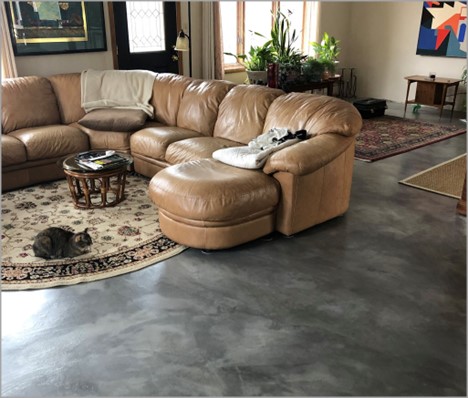 Decorative concrete floors let you invest less time in cleaning and more time just enjoying your home
When spills occur, including food and drink, oils, pet messes, and sticky substances, a quick swipe with an absorbent cloth is all you need to preserve the floor's integrity.
Protect entryway, kitchen, bathroom, and laundry room floors with area rugs that absorb impact, dirt, and moisture throughout the house.
Interior stained or stamped concrete floors can get added protection from a good floor wax.
If either your indoor or outdoor concrete floors start to dull or show wear in highly trafficked areas, resealing every 18 to 24 months will restore a like-new condition.
To see how your favorite cleaners stack up as safe to use for decorative concrete finishes, check out Average pH Levels of Common Cleaning Supplies

.
Make life easier all year long with easy-care stained and stamped concrete floors that keep all your spaces cleaner and healthier. Call 888-852-9244 today or go to www.concretecraft.com to find the Concrete Craft location nearest you and request a free in-home or virtual* design consultation. You'll love all the design options for vibrant colors and faux stone and wood textures to upgrade your home indoors and out. Check out our online MasterProTM Product Catalog for even more easy-care, durable concrete styles and finishes.
*Virtual consultation may not be available at all locations.