Best Summer Projects for Your Concrete Patio
Are you considering a patio makeover this summer? If you have a concrete patio, you are lucky to have a wide range of options for outdoor summer projects. Concrete patios are a great foundation for any outdoor project you're thinking of. The result of these outdoor projects can easily improve the appearance or value of your home.
Since concrete patios are typically versatile and easy to develop, you can choose any project from a simple patterning to a complete rebuild.
The best part about projects on concrete patios is that they are durable and fairly inexpensive. When a qualified contractor does the job, the results will be more presentable and ultimately more cost-efficient than a DIY project.
1. Build an outdoor bar
The summer is a time for spending time outdoors, entertaining and having fun. Nothing makes the summer more enjoyable and memorable than being able to entertain friends and family right on your outdoor bar.
It is not overly complicated to build an outdoor bar on your patio. Admittedly, it takes a bit of planning and preparation to build it right. Most homeowners choose to hire an experienced construction company to plan and set up the project from the early stages for this reason.
The process of building the bar may take anywhere from a few days to a few weeks depending on the complexity of the design, budget, and state of your patio.
2. Resurrect your patio by resurfacing
Because the patio is constantly exposed to the elements, it is not uncommon for surface paint and finishing to wear out faster than the rest of the home. Concrete is the most durable construction material, but it may become discolored over time, flake on the surface, and even develop cracks.
Before you begin to resurface your patio, first understand what problems it has and the best solutions to use. For instance, a patio that looks dull and drab due to exposure to rain and sun will need a different treatment than another with cracks on the surface.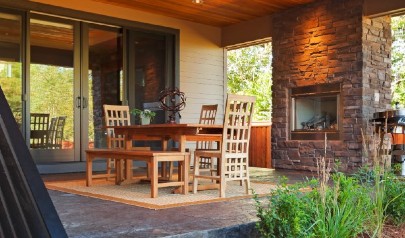 Ultimately, you may need to get a professional to build your resurfaced concrete patio and give it a new look. To get the best and longest-lasting results, consult a professional on how best to prepare the surface and rejuvenate the concrete patio.
3. Install a stamped concrete patio
A patio is typically destined to last for most homeowners, perhaps even as long as the home. However, there is no harm in shaking up the house's appearance every now and then by giving the outdoors of the house a new look. One simple way to improve the appearance of your backyard is to stamp the patio and give it a new look.
Stamping a concrete patio is an affordable and impressive way to upgrade the outdoor space. Stamping involves creating beautiful designs on a concrete patio, making it look like cobblestone, flagstone, or brick. Having a professional coordinate this project often delivers more impressive results as special stamping tools are used in the process.
This summer project is particularly ideal for homeowners with a backyard or a front garden. A stamped concrete patio can go a long way in raising the home's overall value when the job is done by a professional.
4. Add life to your patio with a fire pit
A functional concrete fire pit would be an attractive addition to your property and one more option for how to spend a fun evening. What's more, you can always use the fire pit for cooking or an alternative for making outdoor brunches or roasting marshmallows on a moonlit night.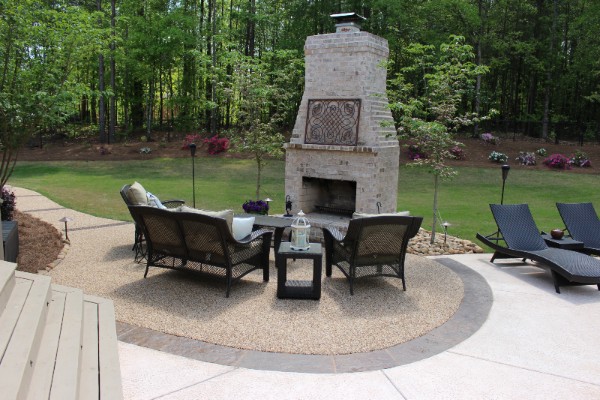 The construction of a fire pit can be quite cumbersome. The contractor may have to excavate a few inches of soil then form a strong foundation with sand and gravel. They may then use fire bricks or concrete blocks to build an attractive, functional, and durable fireplace. In some cases, a stained patio design can complement a fire pit to give the patio a rustic, homely appearance.
Conclusion
Your patio may be the most undervalued part of your home and should get some love every now and then, especially in the summer. If you plan on repairing, maintaining, or improving your patio, there is a world of options available to you. These simple concrete patio ideas should guide you to find the right outdoor summer projects to plan. When it comes time to execute your summer project, be sure to contact Concrete Craft today to get a free estimate.