Five Concrete Ideas To Dress Up Your Walkways, Steps, And Entryway
The approach and entrance to your home are a large part of your home's curb appeal. Along with flowers and plants, the walkways, steps, and entryway porch set the tone for your home. If your entryway is sad or drab from damaged concrete or old-fashioned colors and materials, Concrete Craft® can help boost your home's curb appeal with five decorative concrete enhancements that give a whole new look to your home and property.
A real stone overlay of colorful river rock.
Enhance concrete with stains and decorative concrete finishes.
Restore worn and discolored finishes.
Create realistic faux stone and wood finishes with stamped and hand-carved decorative concrete overlays.
Repair cracked and damaged surfaces.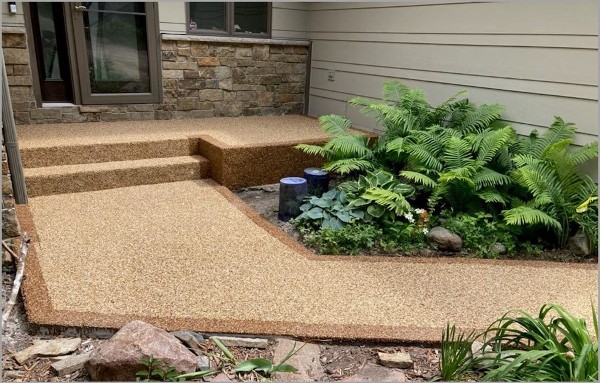 Have a designer-look entryway with PebbleKoat transforming your walkway, steps, and front porch
One: Transform with a real stone overlay
PebbleKoatTM is a vibrant real stone finish that can restore practically any concrete surface that isn't in pieces. The singular overlay can fill cracks and level out uneven surfaces, creating a strong, durable finish that you can count on for years of beauty and functionality. Seven standard color blends from light to dark include Frost, Pebble, Sandcastle, Brownstone, Espresso, Comet, and Midnight or you can create a custom blend for a signature look. Create borders or patterns with multiple colors or combine with other decorative concrete finishes for one-of-a-kind designs.
A non-epoxy, cement-based overlay of real river rock with a fast cure time of 24 hours.
Installation takes one to three days depending on project size.
The durable surface resists cracking, abrasion, and impact as well as spills and stains.
Two: Restore a faded finish with color
Our MasterPro FinishTM product line has several economical options for refreshing and restoring the finish on concrete in good condition but discolored or faded. Stained concrete adds vibrant color and shine to the existing surface with a durable sealer that resists moisture, chips, cracks, and UV fading. RenewKoatTM adds a cementitious overlay that rolls on like paint, restoring faded finishes or textured designs. Color RestoreTM and TrafficKoatTM are water-based stain systems that form opaque, breathable finishes to rejuvenate concrete surfaces to look like colored concrete.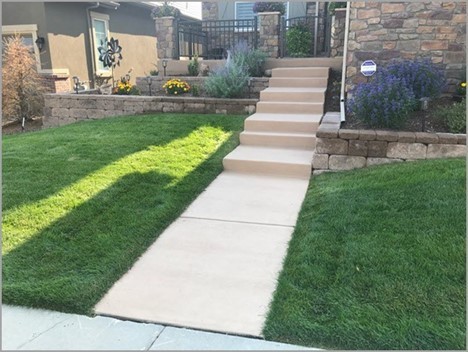 Color Restore brings new life and beauty to this walkway and front porch entrance giving a facelift to the whole front yard
Choose solid colors, multiple-color patterns, or stenciled designs and borders for unique effects.
Stained concrete applications can cover damage and discoloration and provide seamless, durable finishes that protect against future damage.
Resistance to moisture, mold, and mildew makes stained concrete finishes the perfect enhancement for entryways and walkways.
Three: Choose authentic looking faux stone and wood designs
If your dream entryway is the elegance of stone or wood, decorative concrete lets you achieve this dream without all the hassles and cost associated with laying real stone and wood. A resurfaced concrete overlay can be applied to present a fresh new concrete surface that can stamped or imprinted with a stone or wood design you love. Custom staining gives the perfect color effects to complement your unique home.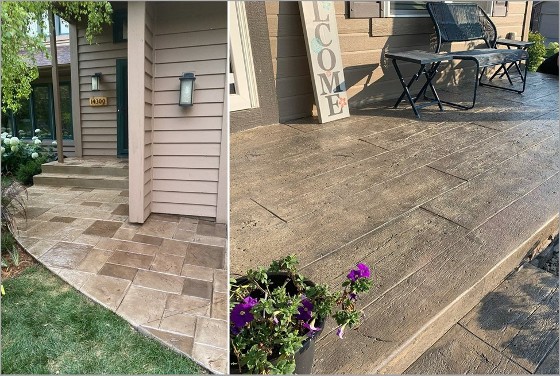 With custom stamped concrete you're not limited in either style or color for natural looking stone and wood finishes
Stamp patterns are made from real stone and wood molds for realistic finishes, including flagstone, cobblestone, slate, and wood plank designs.
At half the cost of other materials, you can have the look of more expensive materials.
The continuous, sealed surface will not crack or peel and is resistant to moisture, stains, and dirt buildup so your entryway stays cleaner with very little effort.
Four: Boast a united front with a matching driveway
If your home's entrance is a really big part of your front yard with a walkway attached to the driveway, the idea of refurbishing all that might be a little overwhelming. Can you just do the entryway, or will that just make the driveway look worse? Concrete Craft can help you transform all your space without breaking the bank while creating an amazing show-stopping driveway and entryway. Our revolutionary AggreKoatTM coating can give your concrete the look of a textured, small aggregate finish that can be adorned with stenciled borders that can carry over to the walkway and entryway for a cohesive look.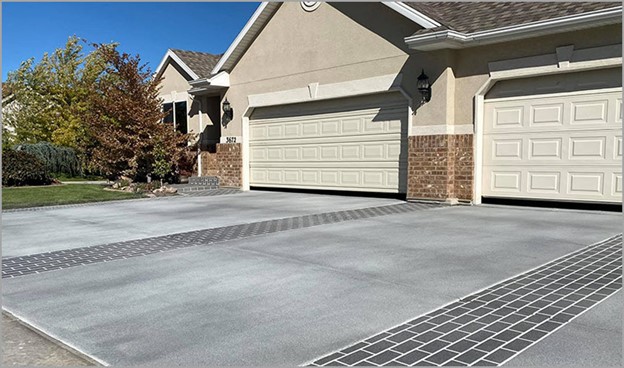 Beautiful, budget-friendly solution to a very large driveway and entryway with distinctive stenciled brick enhancements
AggreKoat can cover damaged or repaired concrete while adding color and durability with a seamless, consistent finish that resists moisture, impact, stains, and weather of all kinds.
Spray-applied, the coating goes on in thin layers of colors for depth and dimension, the final tough sealer with a sparkle additive to give the finish a subtle reflection.
Only 24 hours after installation, your driveway is back in service.
Five: Repair damaged concrete, no demolition required
It's old-school thinking that demolition and replacement of damaged concrete is the only viable option when faced with ugly, damaged concrete walkways, steps, and porch. Our MasterPro Repair and Restore™ products are designed specifically to repair and extend the life of your concrete for a long, long time. You'll be amazed at the results that can be achieved to rescue bad concrete with overlay systems that repair and restore floor surfaces and vertical surfaces like steps and retaining walls. RestoreKoat by Concrete Craft™ is a heavy-duty versatile repair mortar for spall repairs, filling in cracks, and complete resurfacing when damaged concrete needs more than a little help.
Enjoy the look of fresh poured concrete that will resist damage and keep its like-new look for years.
RestoreKoat creates a permanent bond so the new surface will not fade, chip, or peel.
Economical solution with excellent long-term wear resistance and low maintenance requirements.
Don't let a tired entryway be a stumbling block to your plans for a beautiful spring and summer at your house. It only takes a few days to transform your worn concrete spaces into stylish and modern finishes that add beauty and value to your home. Call 888-852-9244 today or go online to www.concretecraft.com to find the Concrete Craft location nearest you and request a free in-home or virtual* consultation. Check out our MasterProTM Product Catalog online for even more options to revitalize your concrete spaces indoors and out.
*Virtual consultation may not be available at all locations.