Boost Your Home's Curb Appeal During National Home Improvement Month
May is National Home Improvement Month, the perfect time to get some of those warm-weather projects done in the yard. Winter can take a toll on gardens, trees, landscape designs, and hardscapes like concrete driveways, walkways, patios, pool decks, and vertical surfaces, making your home look older and distressed. A spring facelift like this resurfaced and stained driveway is just one way to boost your home's curb appeal and give you renewed pride in your home.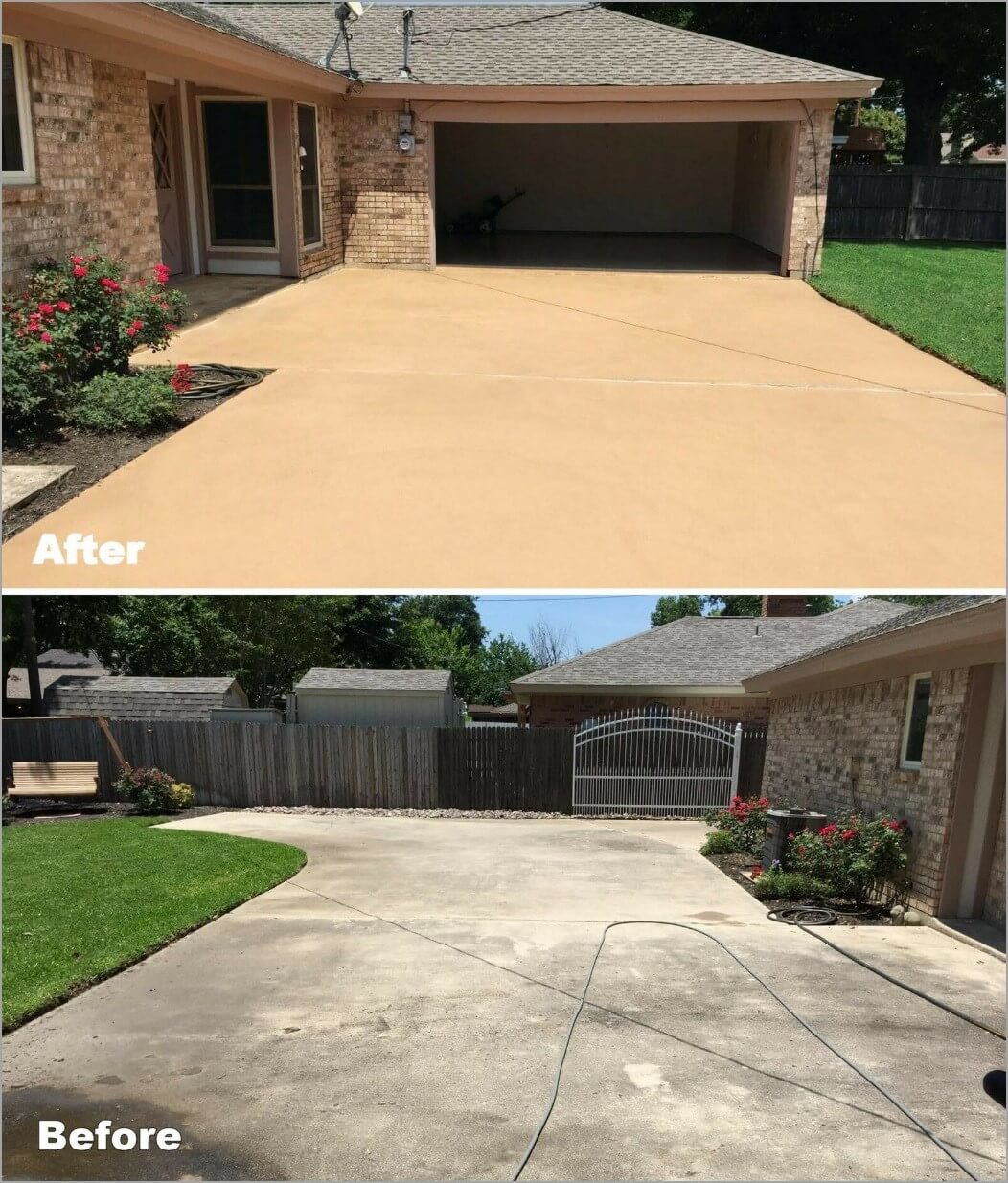 Concrete Craft®can help you quickly transform your yard with custom decorative concrete overlays to revive concrete surfaces that are dull, cracked, pitted, or stained from weather and wear. Our micro-topping overlays can take your concrete from ordinary to extraordinary, eliminating the need for demolition and replacement of damaged concrete. In less time than you would imagine, you'll have beautiful, decorative concrete surfaces without breaking the bank.
Real stone designs add texture, color, and style
Concrete Craft's artisans can give you the look of real stone with our proprietary processes for staining, stamping, and resurfacing concrete. Using "real stone" molds and penetrating stain colors we create finishes that look natural and authentic. This front porch is exquisite with a hand-cut and custom-colored Ashlar slate pattern that beautifies and elevates the whole property. If you've always wanted a stylish stone porch, the wait is over.
You're not limited to locally available rock or stone
We can mimic rare or expensive materials to give you the appearance of high-end stonework
Choose from flagstone, cobblestone, Ashlar slate, Roman Texture slate, random sandstone, and more
Vertical concrete resurfacing can transform retaining walls, pillars, seat walls and home siding with realistic faux stone finishes like Mountain Drystack and Castle Rock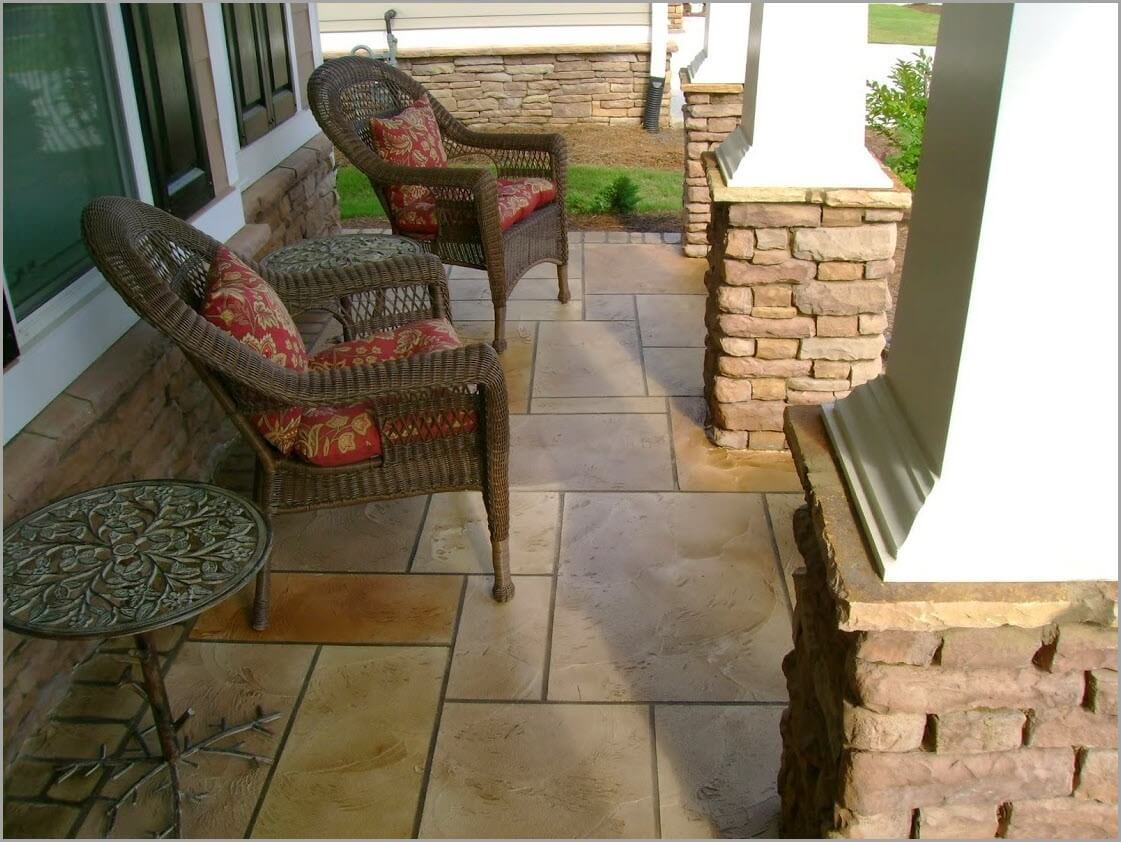 Make your walkways memorable
Concrete walkways are generally considered a means to an end -- the curb to the front door, the front yard to the backyard, the driveway to the porch -- and sometimes they get overlooked as a functional design element. For a dramatic change in your yard, let decorative concrete overlays turn all your walkways into artistic additions to your property with gorgeous concrete stain or stonework.
Match porch and front walkway with one continuous design
Harmonize front, side, and backyards in style with beautiful resurfaced walkways that enhance gardens and lawns
Create a seamless pattern connecting the driveway and walkway
Walkways stay cleaner, the sealed surface means no more chips, cracks, or staining
The faux grout lines prevent pesky grass or weeds from appearing between "stones"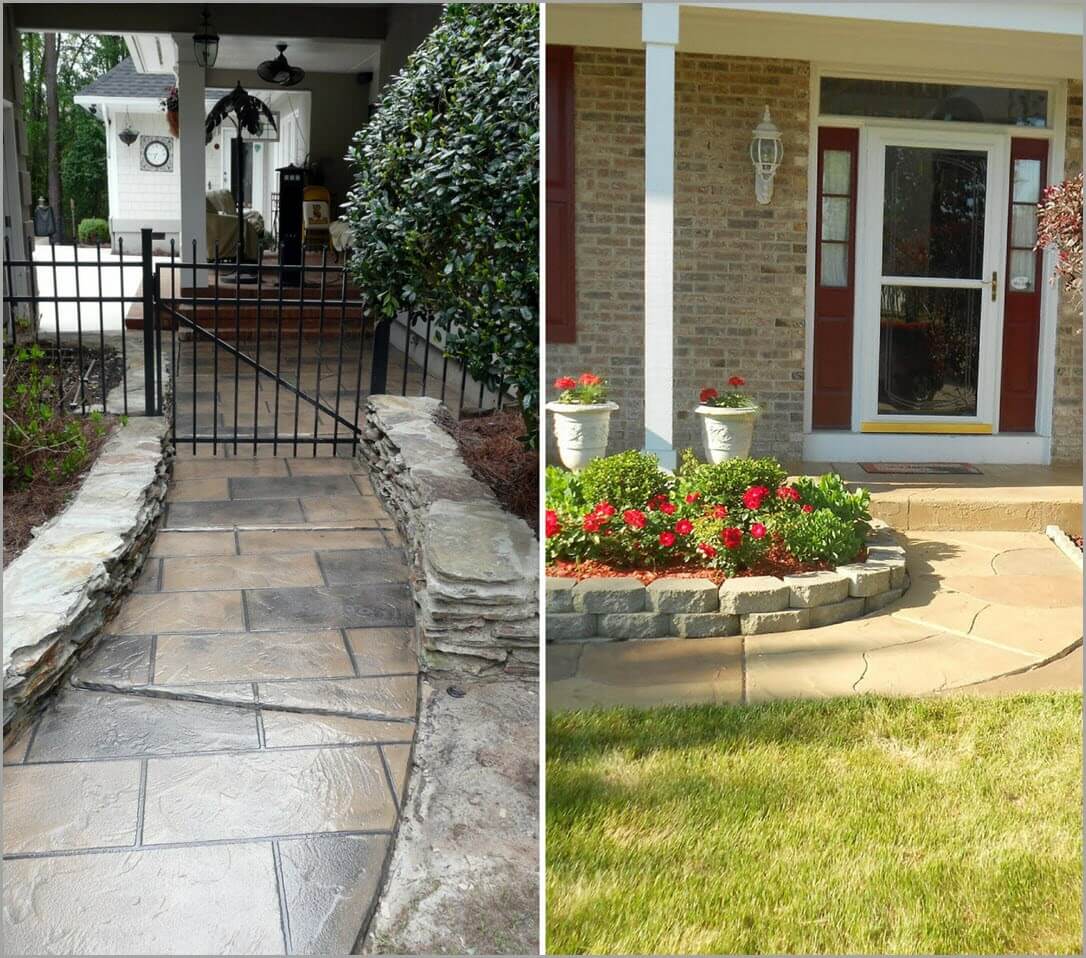 Love your new, star-quality driveway
Driveways are a big part of a home's first impression. Transforming your weathered and stained driveway to a like-new surface will make you the envy of the neighborhood. Decorative concrete overlays can cover imperfections in existing concrete and present a fresh surface for staining or stamped and hand-carved designs. The many benefits of a decorative concrete driveway from Concrete Craft means it's the last driveway you'll ever need!
Concrete is the most durable driveway you can have
Unlimited design potential comes with our wide range of styles and colors, including contrasting borders, multiple designs, stencils, and custom imprinted logos
Sealed, the continuous surface is moisture resistant and resists spills, stains, and mold growth
Guaranteed not to chip, fade or peel
Can withstand any weather, hot and cold and wet and dry
Easy care, stays clean by sweeping and hosing off, no strong cleaners needed
At half the cost of other materials, you can have the look of more expensive finishes
Quick, professional installation with a two-year warranty*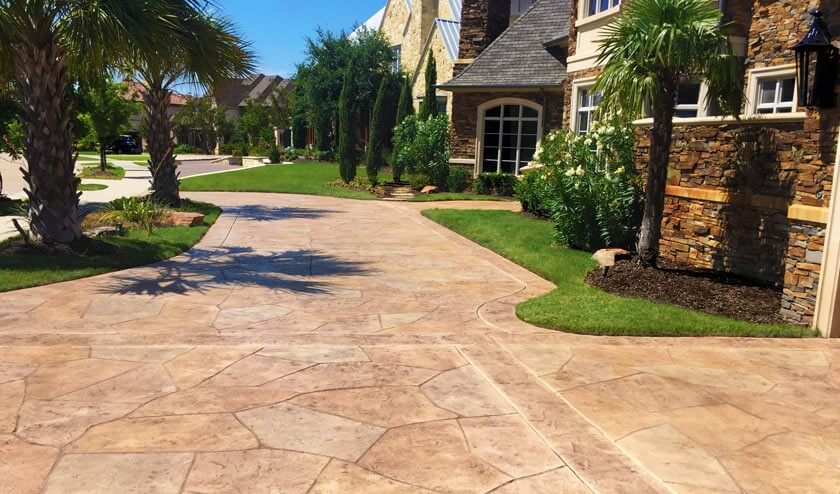 Enhance your new decorative concrete landscape with additional touches that bring individuality and personality to your front yard for show-stopping curb appeal.
Paint the front door an inviting color or refresh a wood finish; add new hardware
Use solar-powered lights to light walkways and to up-light trees
Get a new mailbox in trending black or bronze with metallic trim
Plant colorful annuals; trim trees and shrubs
Add decorative pots by the front door or as hanging plants
Upgrade outside light fixtures
Power wash the exterior of the house to remove dust, cobwebs, and dirt buildup
During National Home Improvement Month or any time during the year, we can help with transforming entryways and driveways, upgrading outdoor entertainment areas like patios and pool decks, creating dramatic interior floors custom finishes, and renewing vertical surfaces with faux stone, hand-crafted overlays. Banish boring concrete forever with durable, affordable decorative concrete that will give years of worry-free functionality both inside and out and add real value to your home. Contact us today or go online to https://www.concretecraft.com to find the Concrete Craft location nearest you and request a FREE design consultation and estimate. Check out our digital brochure to see even more options with versatile, beautiful decorative concrete.