Breathe Easier This Spring in An Allergen-Free Home
Do you have allergy suffers in your family? Chances are you do since in the U.S. about 30% of adults and 40% of children have allergies. (webmd.com) That's a whole lot of sneezing, snuffling, and blowing going on!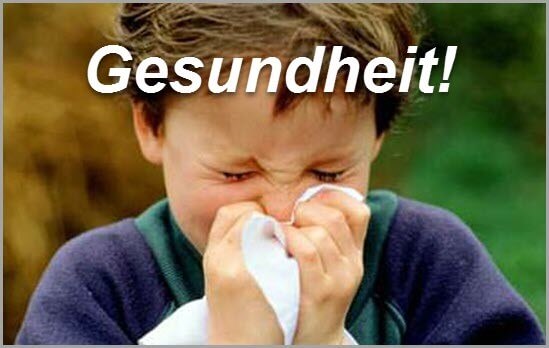 With almost half the population sneezing, the other half is responding to the sneezing. Ever watched YouTube videos of babies sneezing? Tiny ones generally sneeze and fall over, older ones giggle and try to sneeze again, and parents proudly keep those cameras going! All around the world we respond to sneezing, even with perfect strangers:
Bless you, God bless you -- English
Gesundheit(health) -- German and English
Be healthy-- Russian
Live long(sneeze one), live healthy (sneeze two) -- Turkish
Salud(health, sneeze one), dinero (money, sneeze two), amor (love, sneeze three) -- Spanish
Cover your mouth! -- Moms everywhere
Make your home more allergen-free with concrete floors
There are many things you can do to have a more allergen-free and healthy home. Concrete Craft® offers seven ways to reduce allergens in your home so your family can breathe easier and sneeze less, starting with concrete floors to eliminate dust and dirt buildup.
One: Concrete floors in stained, stamped, and resurfaced concrete designs
Your home will immediately be more allergen-free by replacing dust-and-allergen-laden carpet with decorative concrete overlays in stained, stamped or hand-crafted resurfaced concrete designs. Interior decorative concrete floors are easy to keep clean and the sealed, moisture-resistant surface repels dust buildup and eliminates the growth of mold and bacteria.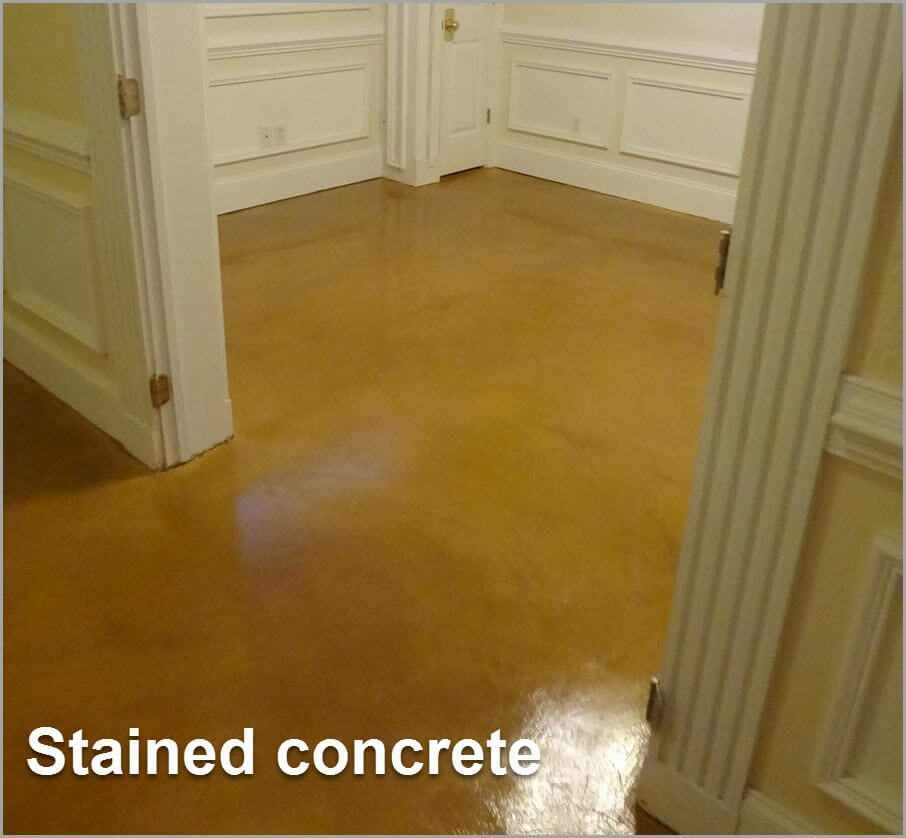 Two: Reduce allergens in bedrooms
Bedrooms harbor more dust mites than any other room Protect mattresses, box springs, and pillows with washable, allergy-proof removable covers. (Check Allergy Guard Direct for 100% cotton covers.)
Make bedrooms pet-free zones to eliminate pet dander as an allergy trigger.
Buy washable stuffed animals for the kids and store them on shelves or in nets off the bed.
Where softness to the feet is needed, use throw rugs that are washable.
Three: Clean the air in your home
Replace air filters every three months, or as recommended for your heating and cooling system.
Use filters with a high range MERV rating (12-13) for the best filtration or electrostatic filters with charged fibers to trap allergens.
Clean the air of pollens, dust, mold spores, and smoke (cigarettes, fireplaces, cooking odors) by using an air purification system with HEPA filters that remove at least 99.97% of 0.3 micrometers airborne pollutants for cleaner air.
Four: Eliminate dust-grabbing window coverings
Use wood, vinyl, and faux wood window blinds and shutters instead of fabric window coverings that trap dust and dirt in the folds.
Vacuum or dust blinds and shutters once a week to eliminate dust buildup.
If you do prefer curtains or drapes, choose washable fabrics so you can keep them clean.
Vacuum non-washable drapes regularly.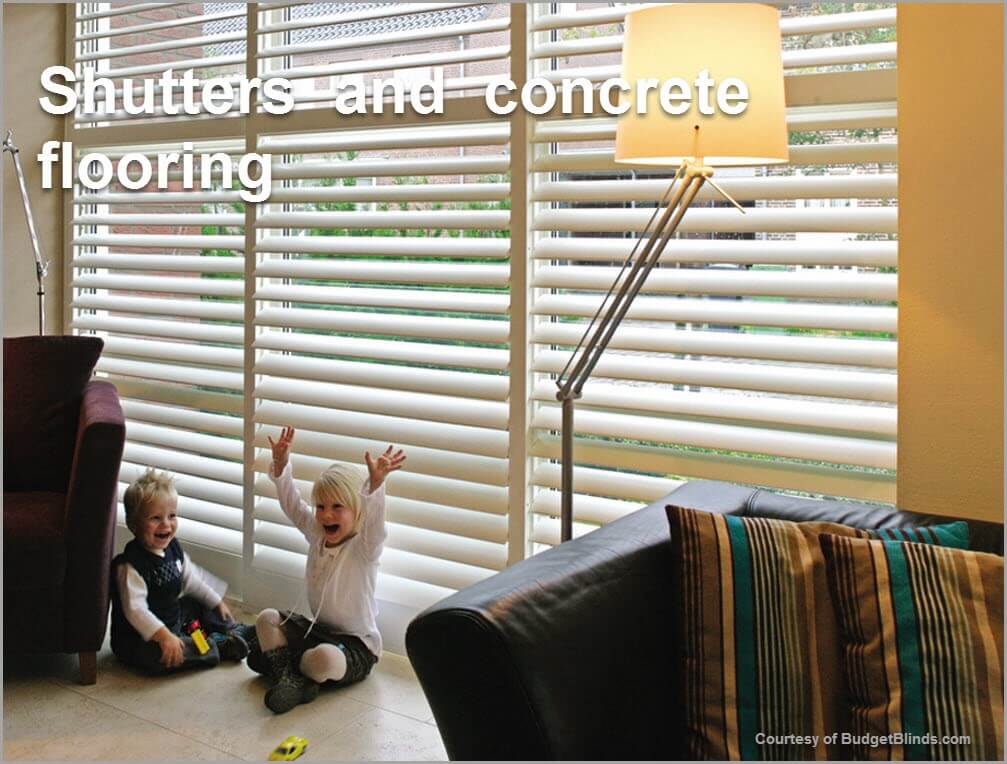 Five: Control moisture
Prevent mold by controlling moisture throughout your home, such as in bathrooms, kitchen, laundry room, etc. Dry off surfaces where water collects, like shower walls and around bathtubs and kitchen sinks.
Ventilate windowless rooms (including attics) with exhaust fans that circulate to the outside.
Periodically check under sinks for any leaks that could create a moist environment.
Keep indoor humidity low, between 30% and 50%, and invest in a dehumidifier to remove excess moisture from the air, and don't overlook a damp basement.
If you suspect you have a mold problem, contact AdvantaClean for accurate mold testing and removal and preventive solutions.
Six: Regularly dust and vacuum
According to emedicinehealth.com, house dust is the main culprit for setting off indoor allergies.
Dust all surfaces regularly with a microfiber cloth that you can toss in the wash.
Use a dust mop that lets you get behind and under furniture to keep your floors free of debris and hidden dust bunnies.
Vacuum once a week with a HEPA filter for maximum removal of allergens or double-bag your vacuum. Don't forget to vacuum upholstered furniture and cushions.
Seven: Pets and personal protections
Pet dander can be a major problem. Brush and groom pets outside or in the garage to reduce hair and pet dander in the house. Bathe pets regularly and wash their bedding.
Houseplants can harbor mold in the soil but there are ways to prevent it. Check out gardeningknowhow.com for five tips for mold-free plants.
Place a welcome mat for people to wipe their feet before entering the house or have them leave their shoes at the door to avoid tracking in pollen and outdoor allergens.
Use masks and gloves for housework and yardwork. Mold grows in grass and mulch so mold spores can be inhaled by raking leaves or other gardening activities.
Clear out wasp nests under the eaves or elsewhere in the yard especially if a family member is allergic to insect stings. Be pro-active against mosquitoes.
Breather easier with Concrete Craft
Since your floors are the largest surface in your home, converting them to a more dust-free finish with concrete flooring will make your entire home healthier. Additionally, the easy maintenance of decorative concrete floors as compared to other floor coverings will save you hours of cleaning time that you can spend on more enjoyable pursuits.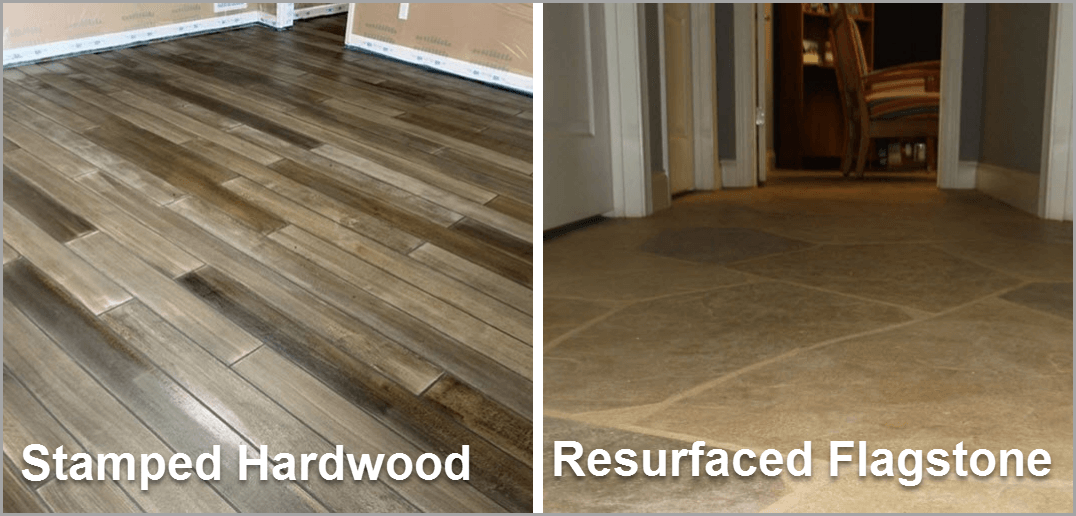 Decorative concrete floors offer more than just health benefits for you and your family. They add beauty and value to your home with durable flooring that is engineered to last.
Unlimited design potential from the look of polished marble to realistic stone and hardwood patterns.
Enjoy the look of authentic stone and wood for a fraction of the cost of real materials.
Concrete overlays and our professional installers make transforming your floors a quick process.
Floors stay clean with a dust mop and occasional wet mopping to keep the surfaces like new.
Make your home a haven of beauty and healthful living. Contact us today or go online to www.concretecraft.com to find the Concrete Craft location nearest you and request a FREE estimate for allergen-free concrete flooring. We are the experts with decorative concrete for not only interior floors, but also for your outside concrete surfaces like patios, driveways, walkways, pool decks, and vertical resurfacing for retaining walls, chimneys, and fireplaces. Check out our spaces image galleries to see what we can do for all your concrete needs.