Celebrate Back To School With A Basement Or Rec Room Renovation
Anyone who has kids knows that when they become teenagers there is suddenly a need for more space. There are more friends coming over, more activities and more noise. If this back-to-school year means you now have a teenager in residence, this can open up all kinds of challenges.
They want more time with friends, less time with family.
Privacy becomes an issue and, chances are, you don't want a teen's bedroom as the focal point of their entertaining.
The living room or family room includes people that teens won't want their friends to mix with, like siblings and parents.
Parents and siblings have every right to be in the living room or family room.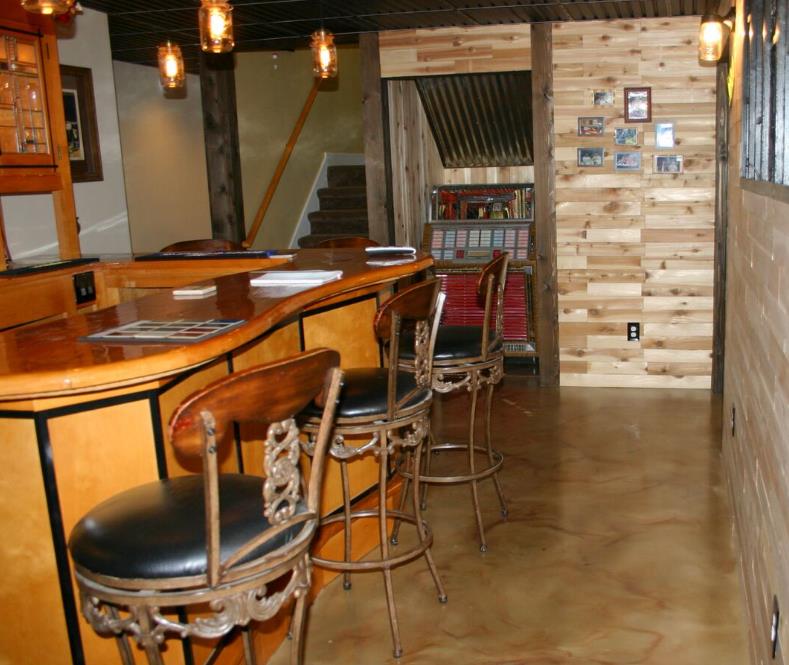 So, do you have a basement or rec room that could use a makeover? The above example is a basement Man Cave makeover (extremely popular for dads) with a stained decorative concrete floor from Concrete Craft® that transformed this basement into highly functional living space.
But rather than a Man Cave, consider creating a Teen Den where they can hang out with all the comforts of "teendom" with TV, movies, books, game equipment, tables, comfy seating and headphones to contain the late-night noise (teenagers stay up all hours). Consider the benefits:
Having them home so you can keep an eye on them is a comfort, and you'll get to know their friends.
When a Tennessee thunderstorm hits in Spring and Summer or black ice is on the roads in Lexington, KY, in the dead of winter, you can know your teen is safe and dry at home.
Stocking the pantry with snacks and drinks will keep them interacting with the family as they regularly come out for sustenance.
Teen-approved personal space
If at first glance the basement isn't appealing, a decorative concrete overlay can renovate any interior concrete floor, turning it into a beautiful space. A concrete overlay can revitalize even a damaged or stained concrete floor, installing a fresh surface to create a totally new look. Stained, stamped and custom-cut and custom-colored decorative concrete floors can mimic real stone, brick and wood plank for a fraction of the cost of the real thing.
You have unlimited design potential as to style and colors, and all our concrete floors are sealed with an industry-tough sealer to provide years of carefree use and low maintenance. Even active teenagers can't dance away the beautiful finish and the inevitable spills will wipe right up from the stain-resistant surface.

Your basement may need some additional touches before it's completely habitable for teens.
Do some painting, paneling or drywall and add additional lighting.
If the A/C doesn't service the basement, get fans and a space heater.
Instead of a bar like in the Man Cave, bring in a TV, media equipment, tables, shelves and comfortable lounging furniture for watching movies and endless phone use for texting, games, Facebook, Twitter and Instagram.
Non-traditional seating like bean bags, futons and inflatable chairs can be economical as well as create an atmosphere your teen will enjoy. Let them do the decorating once the space is ready, but shy away from the "cuddle-size, room-for-two" chairs and supply lots of individual seating. (Just sayin'… )
Bright colored rugs will energize the room, absorb noise and be a treat for bare feet or sitting on the floor.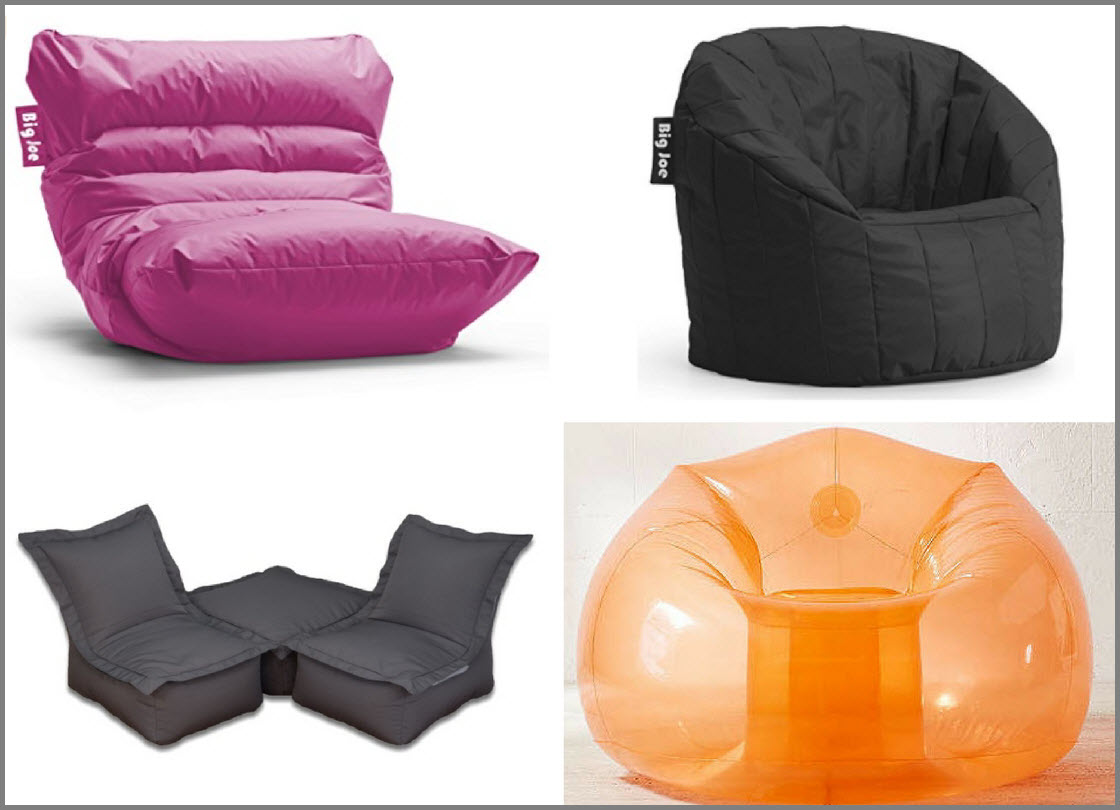 Concrete floors for any room, for any reason
Even if you don't have teenagers who need space, a room makeover for a kids' playroom or a personal retreat for yourself may be just what you need. Remove old carpeting or other flooring material and replace it with a stylish decorative concrete floor that resists moisture, mildew, dust and dirt, creating a cleaner, allergen-free environment. Choose a stained, stamped or resurfaced concrete overlay and create your own dream space.
Stained concrete application techniques and finishes can create a rich, vibrant colored floor. Unlike paint that produces an opaque finish, stain allows the nature and texture of the concrete to show through.
Stamped concrete uses rubber stamps designed from real stone molds to imprint the concrete overlay to resemble natural brick, slate, stone, tile and wood planks. You can have any style you want, from rustic wood or brick to elegant, realistic stone patterns.
Resurfaced concrete covers up imperfections in the existing floor and presents a fresh concrete overlay just waiting for creative design, including hand-cut and custom-colored realistic-looking Flagstone, cobblestone or Roman Texture slate to match your home's décor.
This basement renovation with a stained concrete floor and mini kitchen is transformed into beautifully usable space and can become anything you want it to be.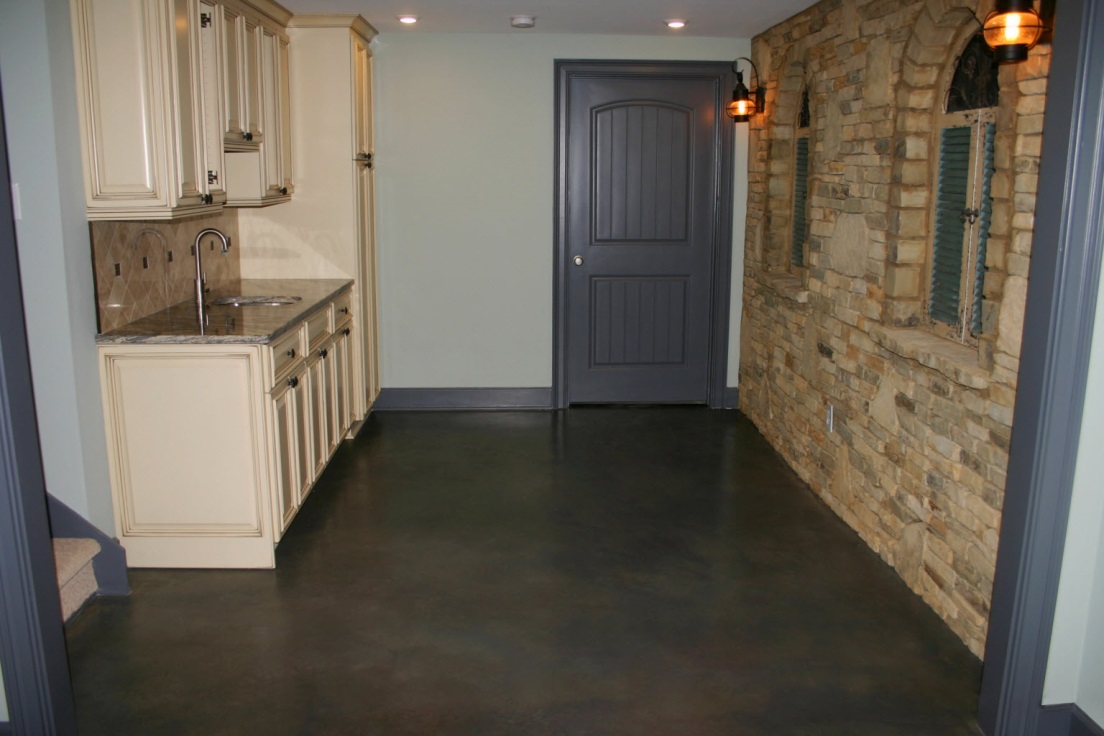 Life evolves and family needs change and Concrete Craft can help you upgrade your home for the way you live today. We are the experts with decorative concrete overlays for interior and exterior surfaces, including patios, walkways, driveways, pool decks, vertical concrete resurfacing, seat walls and fire pits, and more, to make your entire home and yard absolutely beautiful.
Call 866-813-3699 today to find the Concrete Craft location nearest you and request a FREE estimate. Check out the photo galleries for all our spaces, including commercial flooring for interior and exterior applications.