Celebrate Labor Day In Style In Your Own Backyard
Are you ready for the last big summertime bash … the three-day Labor Day weekend? It's a time to celebrate and honor American workers, like you, who work hard supporting their families, contributing to the strength, prosperity, and well-being of our great country.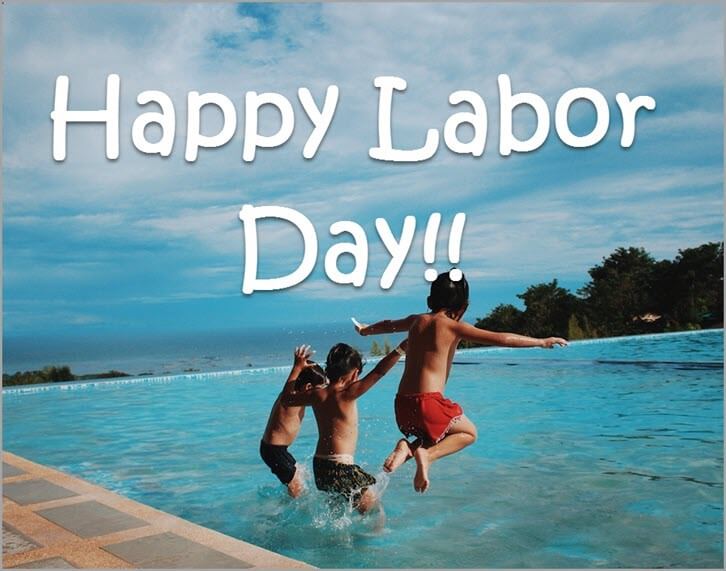 So, forget the everyday demands for a few days and have some family fun before the back-to-school schedules kick in for another year. Join the millions of working Americans that celebrate Labor Day with favorite pastimes that include:
Picnics and patio barbeques with family and friends
Fun in the sun around a home pool or at a lake or beach
Local parades, street fairs, and festivals with food, games, and rides
Hanging out with friends at favorite coffee houses, restaurants, and clubs
Amusement parks for the rambunctious activity to burn energy
Outdoor concerts at night, relaxing under the stars
Quiet time with a good book you've been trying to read for weeks
If your Labor Day festivities keep you close to home, Concrete Craft can help to have all your outdoor spaces ready, at a moment's notice, for peaceful "me" time or a great big party.
An easy-care patio becomes a popular destination
If your patio isn't used for family living space anymore but has become a catch-all for random stuff because it's showing age with cracks, stains, and ugly surfaces, it's time to talk with your local Concrete Craft decorative concrete specialists. They can transform your tired and worn patio into a delightful spot, with a decorative concrete overlay that covers cracks and imperfections, and then they'll finish the new surface in stained or stamped concrete or hand-cut authentic-looking stone. You can have the look of flagstone, cobblestone, tile, brick, Ashlar slate, Roman slate, wood plank, and more, in place of plain, gray concrete. A beautiful, durable floor will be the catalyst to make your patio live again!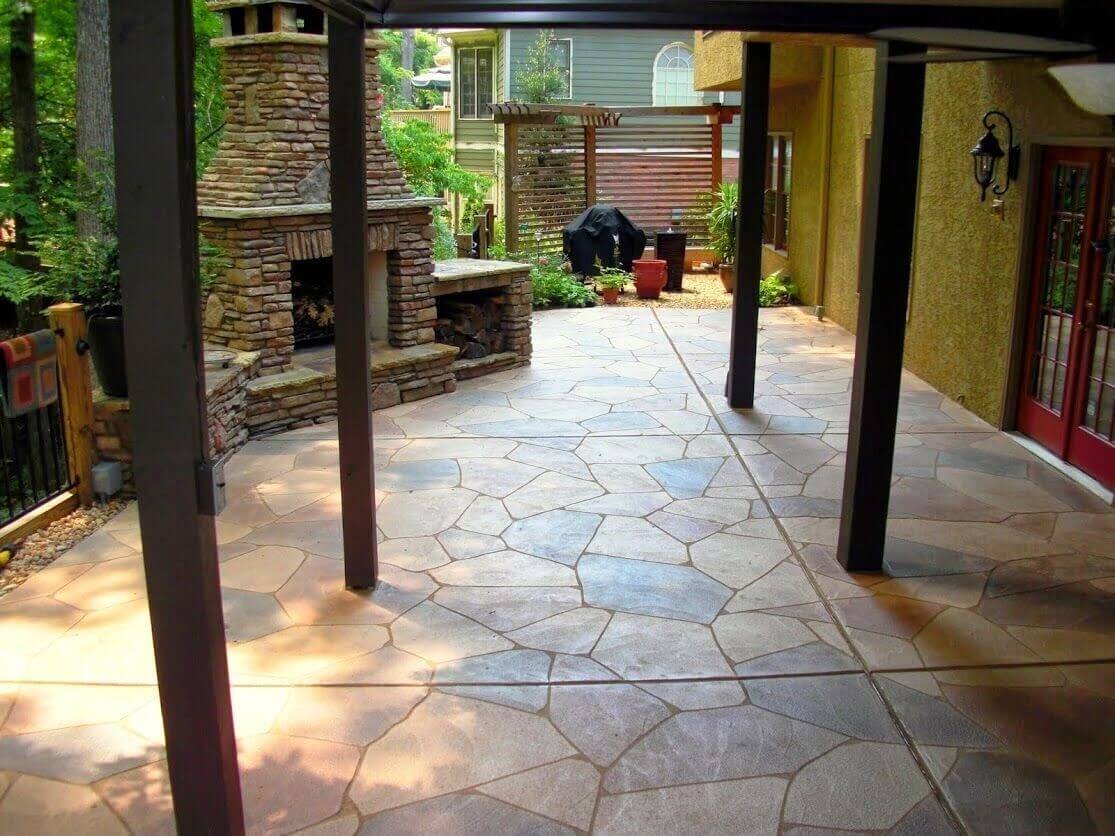 This shaded patio in hand-cut and custom-colored flagstone is the perfect place for kids to play, even if it's hot and sunny out.
The flagstone floor resists stains, chips, and peeling for years of carefree enjoyment.
The sealed surface resists common concrete problems of moisture, bacteria, and mold for a cleaner, safer environment.
This decorative concrete floor is tough enough to withstand patio furniture, potted plants, games, picnics, and dining alfresco.
The outdoor fireplace will once again be a gathering place for family fun.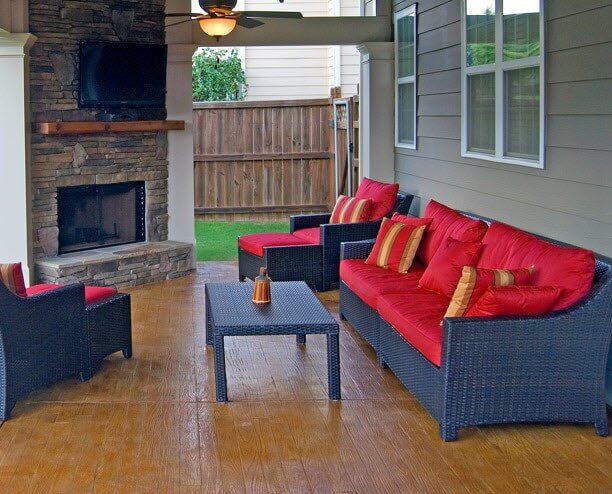 The stamped wood plank pattern gives the look of real hardwood for this patio, extending the indoor living space to the outside.
Comfortable outdoor furniture makes this renewed patio a haven for a peaceful afternoon of reading or napping and sipping iced tea or Mimosas.
Cool evenings can be warmed by a welcoming fire, making the patio a place for nighttime activities as well.
The continuous, sealed surface can stand up to all kinds of weather, from hot to cold and rainy to dry without damage.
Your backyard and pool deck will look like a resort
Concrete pool decks can become unsightly after years of activity, including pool chemicals that stain and discolor, spilled food and drinks, foot traffic, ground-in dirt, and suntan lotions and oils. Everything leaves a mark on untreated concrete and, eventually, your pool area is rough on bare feet, pitted and cracked, and it detracts from the beauty of your home. Concrete Craft can make your pool deck better than new, with a decorative concrete surface to rival any resort's stone or brickwork. Your entire backyard will be rejuvenated with an attractive, new pool deck, and spending holidays at home will become more appealing.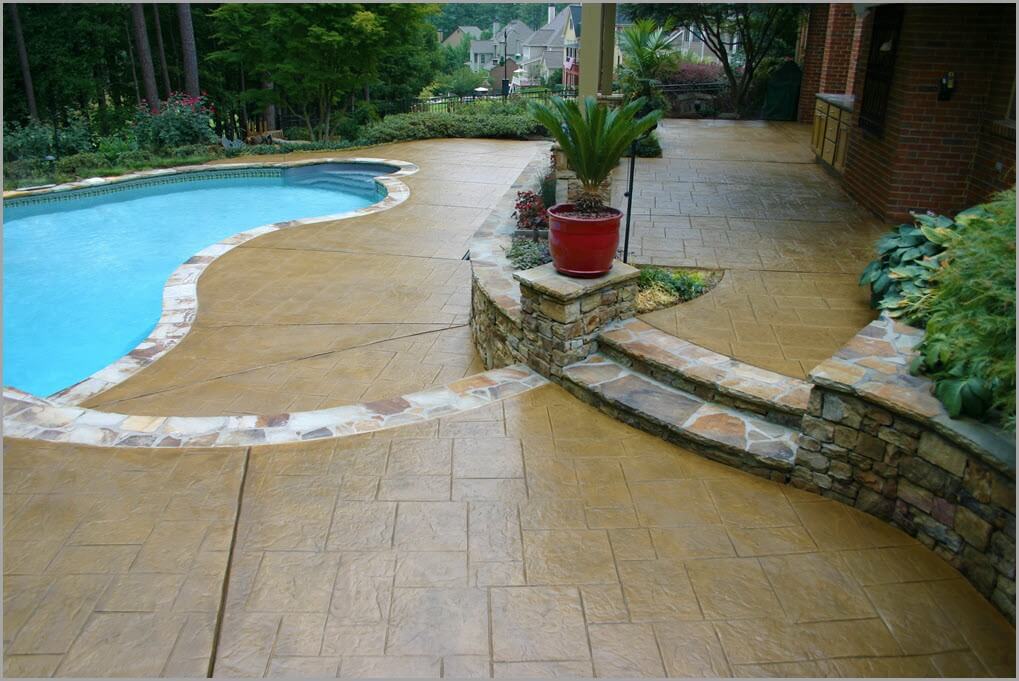 Combination pool deck and patio in the same Ashlar slate pattern makes this yard look like a fancy resort.
The flagstone borders, steps, and seat wall caps add an artistic touch along with additional color interest.
The spaces all tie together, making the whole yard usable for entertaining and enjoying the outdoors.
Set up multiple areas with tables, umbrellas, chairs, and lounges for different conversation areas; kids, teens, and adults can have personal space.
Stock up on colorful, fluffy beach towels and set up a towel cabana, just like a hotel.
Sit back, relax, and watch us work
Transforming your concrete surfaces is easier than you may think. Our free, in-home consultations are the ultimate convenience, saving you time from running all over town to shop for what's available.
Concrete Craft's artisans come to you with live samples and brochures to help you decide the very best styles, colors, and designs for your home.
They evaluate your existing concrete, determine if an overlay is necessary, and talk with you about all your options.
For about half the cost of the real thing, you can have beautiful faux stone finishes with an authentic look and texture.
You'll get a written quote, a time frame for getting the job done, and a two-year warranty* on work and materials.
Then, sit back and relax and watch us work! We pride ourselves on high-quality workmanship and proprietary materials so you'll be completely satisfied with the finished product. Along with patios and pool decks, we can restore walkways, driveways, porches, interior floors, commercial interiors and exteriors, and vertical concrete resurfacing for accent walls, seat walls, shower stalls, kitchen backsplashes, entryway siding, fireplace surrounds, and more.
Contact us today or go online to www.concretecraft.com to find the Concrete Craft location nearest you and request a consultation and FREE estimate. Check out our digital brochure to see more spaces, finishes, and colors for the many ways decorative concrete can transform your home. Click the links below for information on different styles of decorative concrete.
Have a great labor-free Labor Day weekend!