Celebrate Memorial Day In Style With A New Decorative Concrete Pool Deck
Memorial Day is a time to remember. Initiated after the Civil War, it was originally called Decoration Day, honoring fallen soldiers by decorating their graves with flowers and flags. After WWI, the holiday changed to include all veterans who died serving their country in any war, and, in 1971, the last Monday in May officially became newly-named Memorial Day.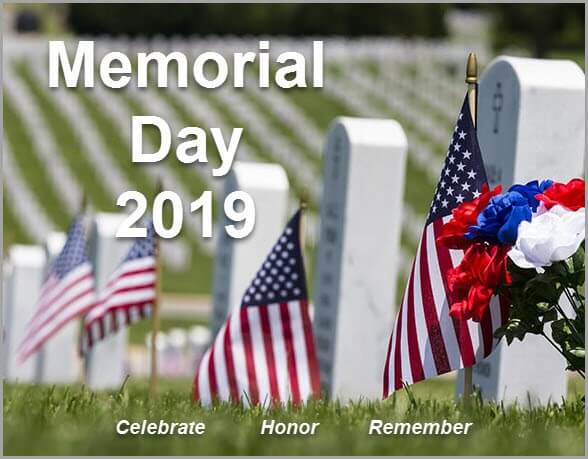 Pause and remember those who purchased the precious freedoms we enjoy today.
Memorial Day remembrances take many forms, including family gatherings, neighborhood events, and national and local ceremonies. Local communities host parades, carnivals, and festivals bringing people together to enjoy our freedoms so dearly won, while at the same time focusing on the true meaning of Memorial Day, honoring those who lost their lives in military service. If you're wondering how your family can both celebrate and honor, here are some suggestions for the day from Concrete Craft® :
Attend a Memorial Day parade or ceremony and visit a local war memorial and pay tribute by placing flowers or flags on the graves.
Thank a veteran or military family for their service and sacrifice; invite them to lunch or pick up the tab for their meal in a restaurant.
At home, fly the stars and stripes at half-staff until noon and then raise to full-staff.
Observe the National Moment of Remembrance: at 3 p.m. locally, pause and remember those who gave their lives for our freedoms.
Host Memorial Day activities at home
Memorial Day is part of a three-day weekend that also celebrates the unofficial beginning of summer, a long weekend for travel and family fun, and a day off work. If you're spending the weekend at home, you can make the most of family time with outdoor fun, such as a barbeque, picnic, or pool party. If your pool deck is not party-ready, Concrete Craft can transform your tired-looking pool deck into the ideal entertainment spot for all the things your family loves to do — swimming, water volleyball, sunbathing, inviting friends over, or just enjoying family.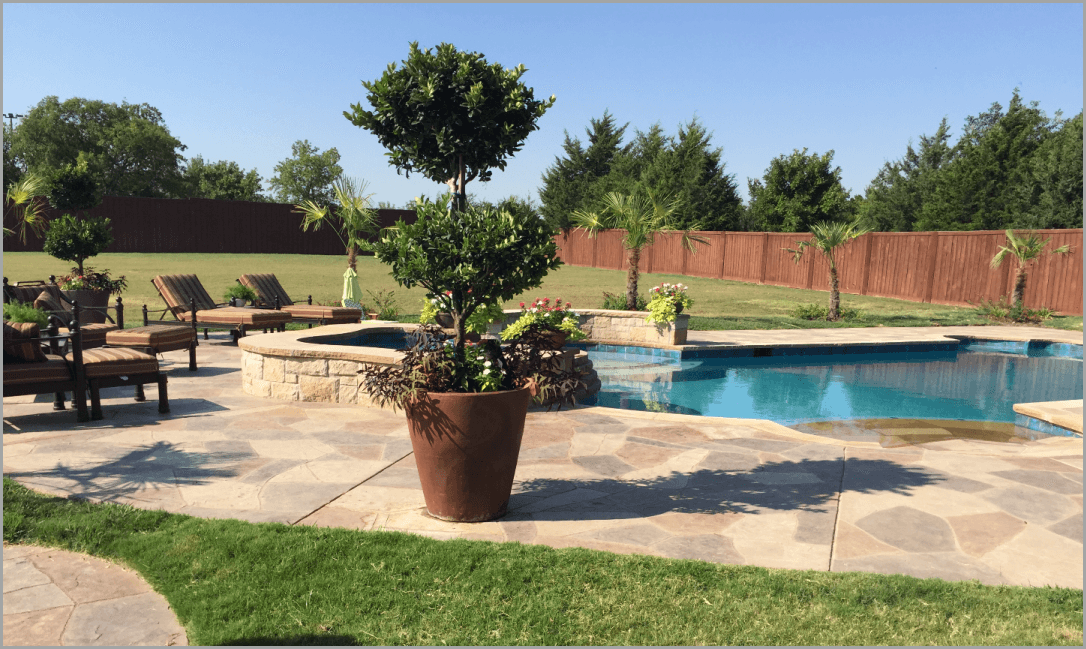 Decorative concrete overlays can cover a damaged concrete surface, hiding stains, chips, and cracks, creating a fresh surface that can be hand-carved and custom-colored into fabulous faux stone, like the flagstone pattern in the image above. Additionally, vertical concrete resurfacing can transform steps and surrounding seat walls for a cohesive and real stone appearance for all your backyard areas, including pool, patio, and spa for the perfect Memorial Day weekend hangout.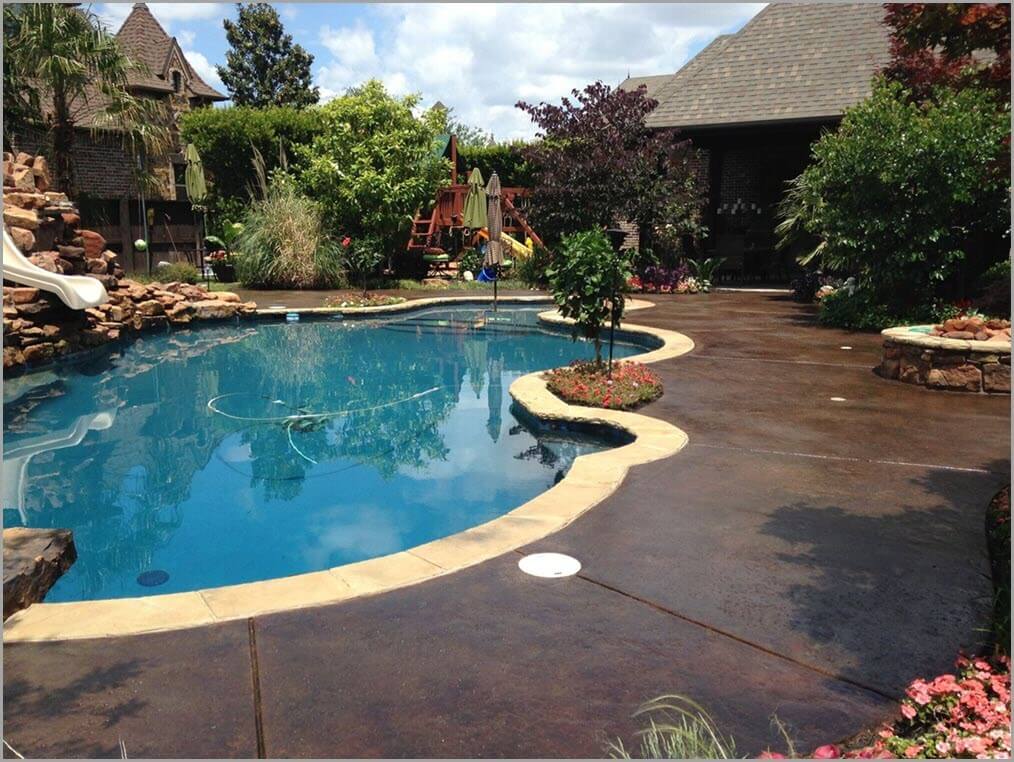 Another option to restore a pool deck that's in good condition, but needs a facelift, is a concrete stain. The cleaned and prepped concrete directly receives the stain that penetrates below the surface for a vibrant, permanent, and UV-protected color. Stained concrete is the most economical way to transform large areas with a durable surface that won't fade, chip or peel. The seamless, industry-tough sealed surface is moisture-resistant and won't be impacted by the harsh chemicals in pool water, so your pool is always ready when you're in the mood for a quick dip or full day of fun.
Decorative concrete benefits
One of the most amazing things about decorative concrete is that you can restore damaged concrete surfaces to like-new condition without demolition and replacement. Concrete Craft can handle all your concrete needs from repair and restoration to concrete overlays for a new surface to our RenewKoatTM system that restores stained or faded stamped concrete designs to their original brilliance – or better.
So, don't discount your ugly pool deck, it can live again with Concrete Craft!
No need to demo and replace damaged concrete, restoration and renewal is cheaper, quicker, and less messy.
Unlimited design potential with our extensive styles, patterns, colors, and finishes.
Replicate real rock or stone, including flagstone, brick, European cobblestone, Roman slate, sandstone, and Ashlar slate for a fraction of the cost of real stone.
Optional slip-resistant finish for added pool safety.
The durable surface withstands any weather and is tough enough to handle tables, umbrellas, lounge chairs, potted plants, and flowers … whatever your heart desires … without worry.
The sealed surface resists spills, stains, and cracks, and eliminates outdoor moisture problems like mold and bacteria growth.
Clean-up is easy with a quick hosing off to keep your pool deck like new.

This patio/pool deck is beautifully transformed with a stamped concrete tile design along with a contrasting broom swept concrete overlay border directly around the pool. Multiple styles or colors can easily be incorporated into your design since it's all done by hand, on-site.
If your patio or pool deck isn't all you want it to be for summertime entertaining, call the experts at Concrete Craft to discuss the many options available to upgrade and enhance your backyard. Contact us today or go online to www.concretecraft.com to find the Concrete Craft location nearest you and request a FREE estimate. We're ready to help with driveways, walkways, patios, entryways, interior floors, and vertical surfaces like fireplaces and retaining walls, with incredible, beautiful faux stone concrete finishes. Check out our image galleries to see all that can be done with stained, stamped, and resurfaced concrete overlays to beautify your home.
At Arlington National Cemetery, the "Flags In" ceremony is still carried out by The Old Guard (the 3rd U.S. Infantry Regiment) every Memorial Day by placing an American flag on each of the almost 300,000 graves before Memorial Day. The flags remain in place throughout the remembrance ceremonies on Memorial Day.