Combine Indoor and Outdoor Living for the Perfect Fourth of July Party
Summertime get-togethers always mean outdoor fun. The weather's inviting and combining indoor and outdoor gives plenty of space for guests to spread out and be comfortable. If you're hosting a Fourth of July party, you'll want an easy flow from indoors to outside so that the fun never stops.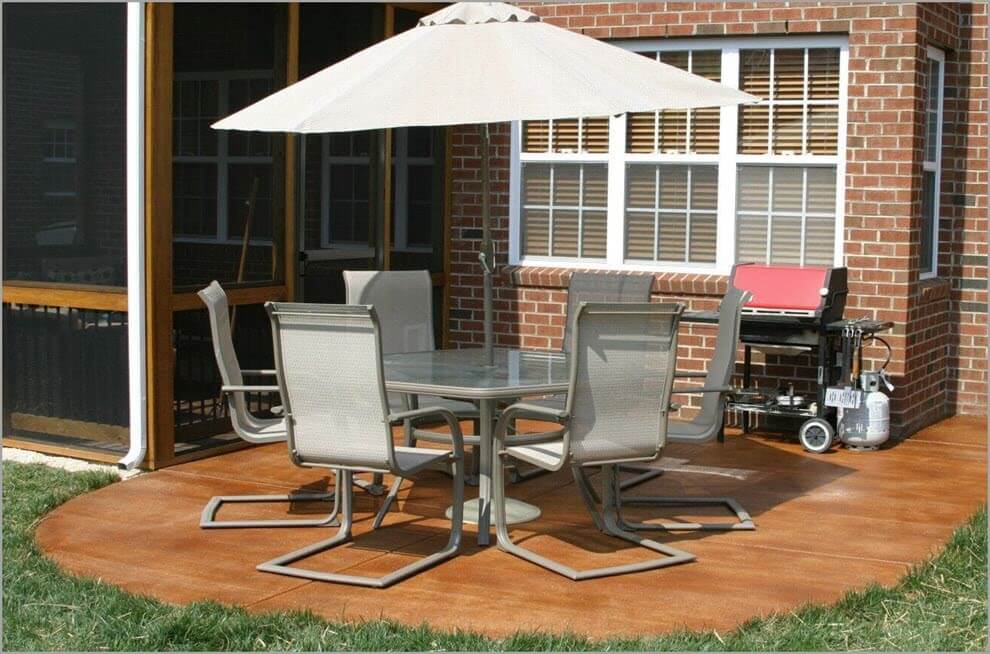 This stained concrete patio off the sunroom is a logical extension of the entertaining space. People can stay connected as they move back and forth between indoors and out. The kitchen, where people naturally congregate, connects to the sunroom which connects to the patio and out to the whole backyard. Outdoor living is at its peak in the summer months, so you'll want a seamless transition between inside and out, and Concrete Craft® can help with surfaces that take the worry out of summer entertaining.
Decorative concrete to match up interior and exterior floors
One way to combine your indoor and outdoor spaces is with consistent flooring. You've seen home renovation shows where they pull up the flooring and replace it with a one-floor style from the entryway to the back door. No more mixes of a tile kitchen, carpeted family room, and hardwood hallway that break up the space and make it seem smaller. With decorative concrete, you can easily have the same flooring to unify your indoor and outdoor spaces. Custom stained, stamped, and hand-cut stone and wood plank designs are ideal for both indoor and outdoor floors and will give that streamlined look to blur the lines and extend the connection between the indoors and the outdoors.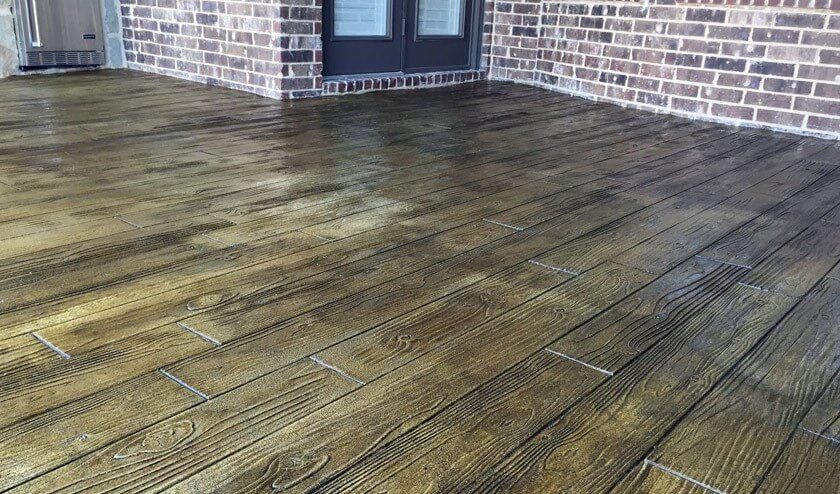 Even the look of hardwood floors can extend from indoors to an outside patio. With resurfaced decorative concrete you can have authentic-looking interior hardwood floors and carry the same design out to the patio in various wood plank patterns from smooth to rustic and the ever-popular wide planks. The same is true for stained concrete and faux stone designs like flagstone, cobblestone, Ashlar slate, and Roman slate. You get the look of high-end materials for all your floors at about half the cost of the real thing. Plus, the invincibility of decorative concrete floors can stand up to dropped plates and spilled drinks, letting everyone relax.
Take indoor comfort outside
Now that you have the party flow figured out with beautiful custom decorative concrete floors, you'll want to be sure that all your guests have what they need. While indoor furnishings like sofas, chairs, rugs, and lighting are all geared to comfort, the outdoor spaces should also provide all the comforts of home.
Provide plenty of lounging and comfortable relaxing with patio furniture, umbrellas, and tables.
Carry the inside design outside with coordinating colors and textures, like colorful outdoor cushions that match your inside décor.
Natural fiber outdoor rugs provide comfort for bare feet on the patio.
Screen in the porch or patio if insects are a problem (Tip: the moving air from a fan can help discourage mosquitoes).
Strike the right balance of sun and shade with awnings or shade umbrellas to ensure comfort all day long.
Electric or solar power LED lighting banishes dark corners when the sun goes down, and lanterns or strings of decorative outdoor lights add flair.
Be sure the pool is sparkling clean, and make the pool area appealing with lounges, chairs, side tables, and umbrellas.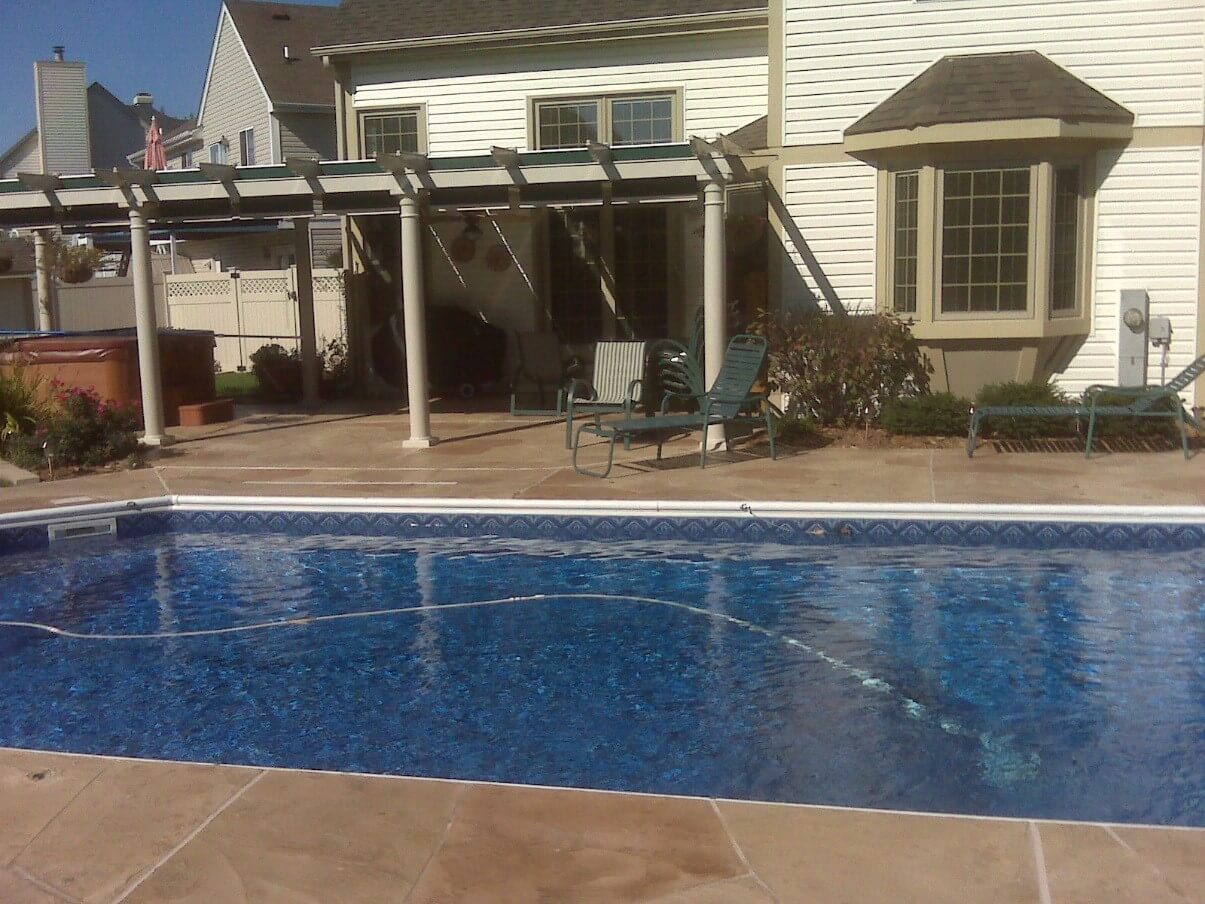 Other important elements to a successful party are activities for all ages and the food. Lots of food and drinks so no one goes hungry or thirsty. Consider the likes and dislikes of your guests and serve a menu to accommodate meat-eaters, vegetarians, carbophobics, and sugar-free friends.
Serve fresh fruit, salads, and feel-good foods for a varied menu. Fire up the grill for BBQ chicken, ribs, beef, and turkey burgers, grilled double cheese sandwiches, hot dogs, and roasted corn and vegetables.
Sparkling waters, iced tea, wine coolers, beer, lemonade, and sodas of all kinds will keep kids and adults hydrated. Frosty blender drinks, including smoothies, Daiquiris, and Pina Coladas can be a special treat.
Honor the sweet-and-salty rule with bowls of salty snacks like trail mixes, chips, and nuts alongside traditional sweets--red, white, and blue desserts and platters of cookies, brownies, and lemon bars.
Have board games set up on card tables, and lawn games like Bocce ball, croquet, and horseshoes. Ask your guests to bring their favorite outdoor games.
If you have a pool, swimming will be the main attraction, especially for the kids. Keep safety in mind and have at least one adult keeping an eye on the pool at all times. Extra beach towels, sunscreen, and pool toys will come in handy.
During the long, hot summertime, your patio is a big part of combining indoor and outdoor living. It becomes the connector between your home and your backyard, allowing indoor life to seamlessly flow outdoors. Concrete Craft can help you create beautiful, easy-care spaces that will impress your guests, including patios, interior floors, pool decks, walkways, driveways, and more. Contact us today or go online to ConcreteCraft.com to find the Concrete Craft location nearest you and request a FREE estimate.
So nothing will bug you at your Fourth of July party, check out How to Get Rid of Mosquitoes Indoors and Out.
Concrete Craft wishes you a fabulous Fourth of July!