Compare Decorative Concrete Flooring Costs with Other Materials and Save Money
Cost comparisons can sometimes be tricky. With home improvement projects, rarely does a cost comparison only involve the material and labor alone. Especially with replacement flooring, concerns like tearing up the old floor, prepping the surface, hauling away discarded flooring, and any custom tweaks like contrasting borders have to be factored in to what will become the final cost.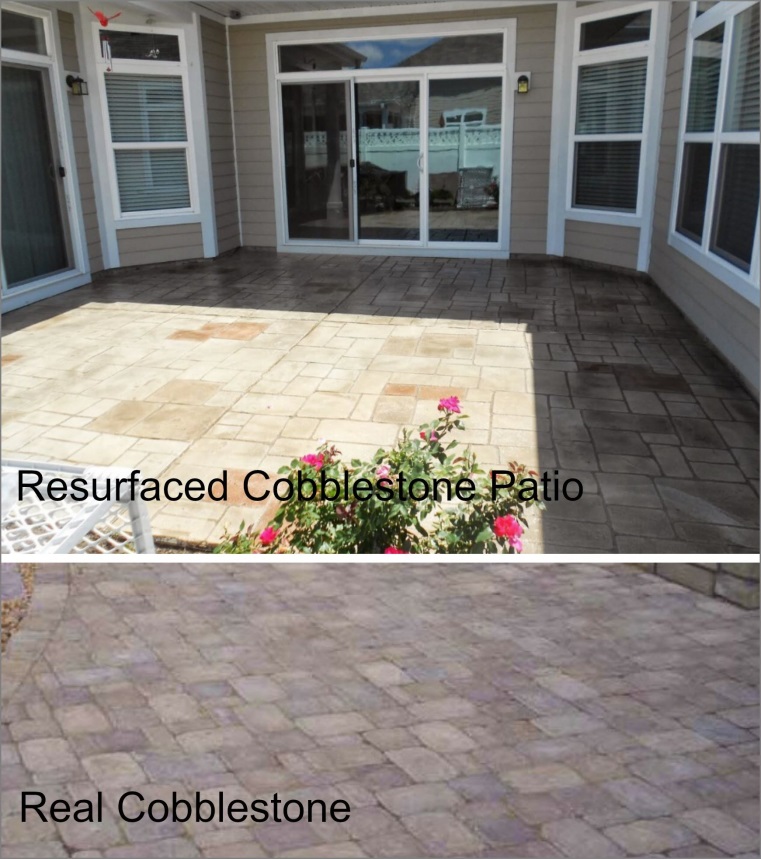 For example, if the floors in the Greenville County Museum of Art needed redoing, you'd certainly want the quote to include disposal of all the old flooring. Imagine trying to haul away so much trash yourself! So aside from the material and installation costs, when comparing prices you need to define exactly what is included to be sure you're comparing apples to apples, not apples to oranges.
This comparison of real cobblestone and a resurfaced, hand-cut and colored cobblestone design demonstrate the authenticity available with decorative concrete. Why spend more than you have to? You can enjoy the beauty of natural stone in unlimited patterns and designs with decorative concrete for a fraction of the cost of real.
Apples to apples (cost per square foot)
Stamped, stained and resurfaced concrete floors by Concrete Craft® really do provide maximum value and ROI (return on investment). The best cost comparisons are, of course, multiple quotes on an identical job so all factors are accounted for. In general, though, custom-cut stamped and stained concrete faux stone patterns will give the high-end look of real stone, brick, tile, and wood at about half the cost of real materials. Here is an average cost-per-square-foot breakdown based on industry standards:
Stained Concrete: $2 to $15
Stamped Concrete: $8 to $20
Natural Stone (like Flagstone, Slate): $25 and up
Precast Pavers: $4 to $20
Ceramic Tile: $11 to $22
Granite: $14 to $20
Hardwood: $8 to $10
Aside from the obvious dollars and cents savings, here are other limitations of natural wood and stone as compared to resurfaced, stamped and stained concrete.
Concrete floors don't trap mold, mildew, dust mites, bacteria, allergens, or moisture like hardwood floors or sand and grouting between stones will
Concrete floors can save an average of a $1 per square foot per year in maintenance
Real stone and wood are natural products so you are limited by their nature-created colors, patterns and shapes
Price variations in natural stone are based on the product location and color (rare colors cost more and trucking in a load of stone can be expensive)
Flagstone is a sedimentary rock, meaning that it's composed of many different layers that can deteriorate with time and use
Depending on the color you want, there may be additional lead time in terms of when your selection will be available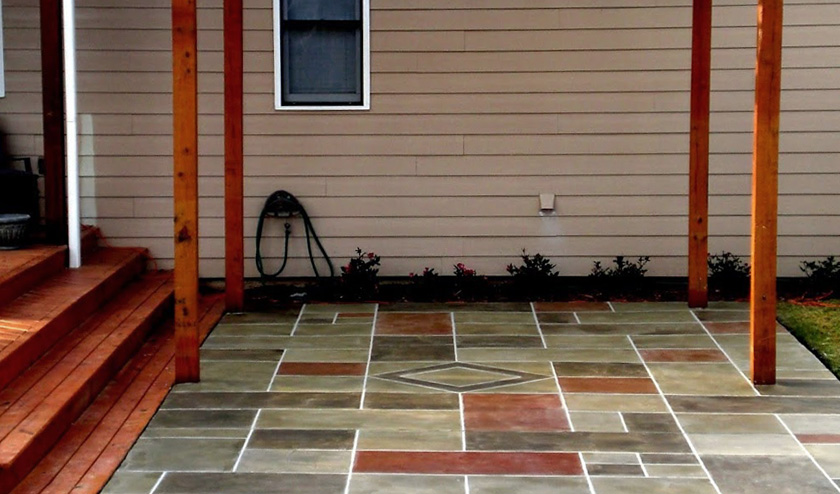 You can one-up Mother Nature with any colors you want! Design is limited only by your imagination. The artisans at Concrete Craft can custom blend stain colors to create any effect, like this colorful, fun patio.
For more information on comparing costs and characteristics of stained, stamped and resurfaced concrete floors with other options, click on the links below.
Concrete flooring is (almost) worth its weight in gold
Aside from materials and installation costing much less than traditional and natural stone materials, other benefits of resurfaced concrete floors make the cost differentials even more pronounced.
Durability: outlasts most other types of flooring, interior and exterior
Unlimited design potential: designs are not limited to colors and substances found in nature; custom colors and sizing are easy with decorative concrete floors
Low maintenance: no special care; sweeping and occasional washing keeps surfaces like new
Installation is quicker and cleaner than natural stone and pavers
Customize any surface with stamped patterns like medallions, a family crest, or a company logo
Never any weeding and uneven, shifting stones: faux grout lines are part of a continuous, non-porous surface, so no weeds and grass will intrude on your design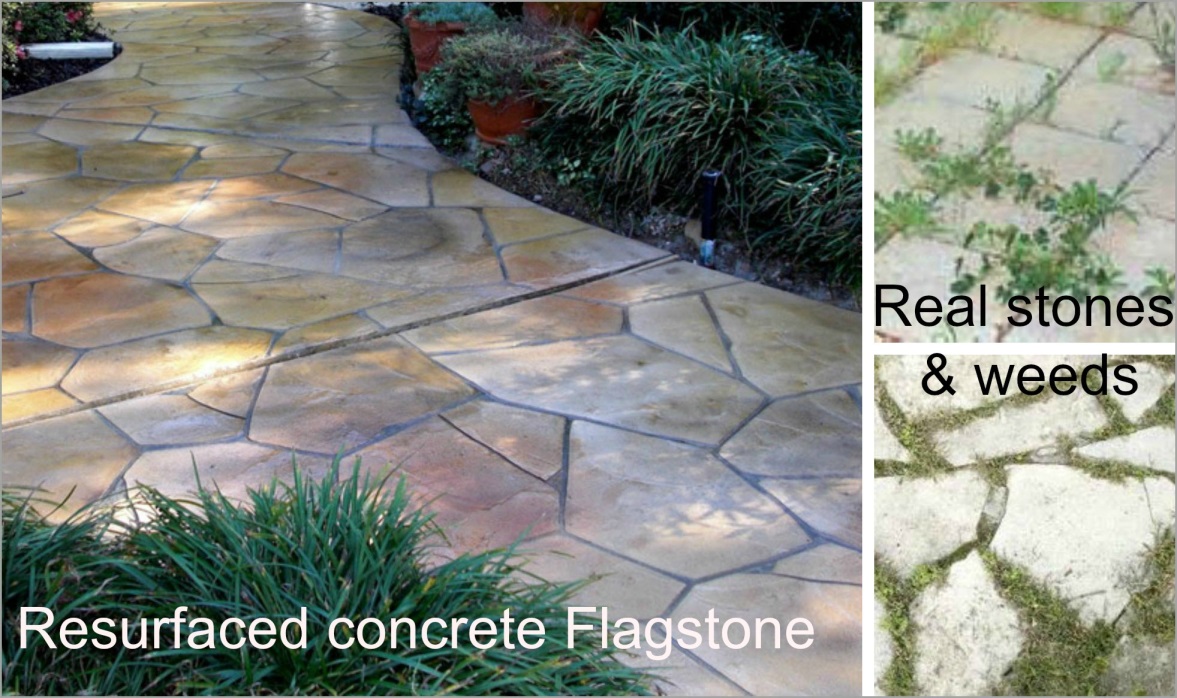 Don't wait any longer to upgrade your home's interior and exterior surfaces! With Concrete Craft, you can stay on budget and quickly improve your surroundings with custom decorative concrete, including driveways, walkways, garages, patios, pool decks, interior floors and even vertical surfaces, replicating real stone, brick, tile and wood plank designs. Call 866-813-3699 today or go online to www.concretecraft.com to find the Concrete Craft location nearest you and request a consultation and FREE estimate. Scroll through the online photo galleries, including commercial flooring, and be inspired. Your dream of a new patio or pool deck for summer can still be realized!