Concrete Craft Can Repair and Restore Your Ugly Concrete Floors
With Spring a month away, you may be anticipating all the outdoor adventures you'll have in your own backyard. But then you take a good, hard look at your concrete patio and realize it's really not ready for entertaining or family fun. As a matter of fact, neither are the driveway and walkways the best welcome to your home. When did this happen? Ugly concrete is killing your fun and your home's curb appeal and the thought of concrete replacement is mind-boggling! Is it even possible to restore concrete that's gone bad?
With Concrete Craft®, the answer is yes.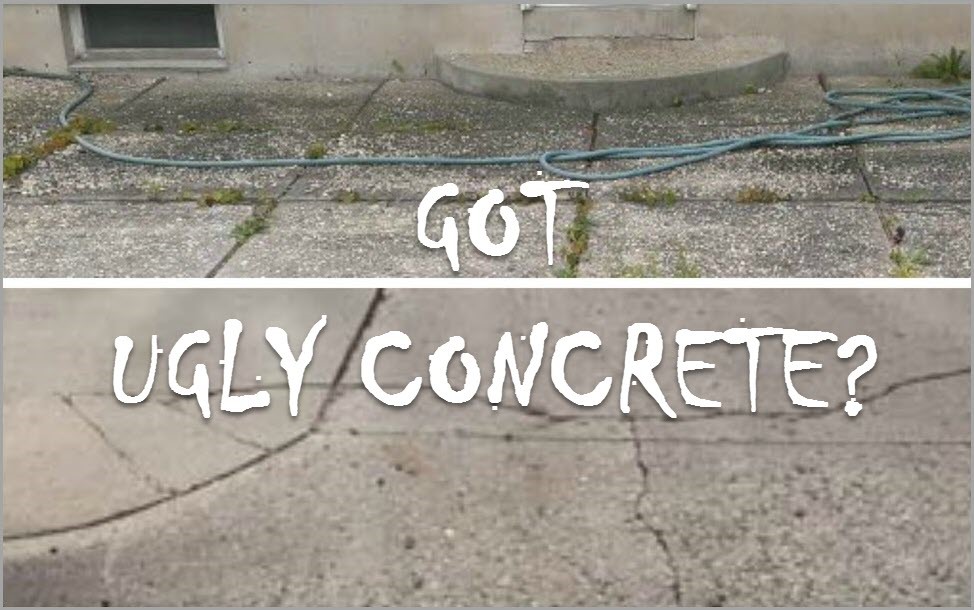 Concrete restoration to the rescue
Concrete Craft is the largest decorative concrete franchise in the U.S. with the capability of returning even your damaged concrete to "like-new" with proprietary products and processes for concrete repair and restoration--without demolition and replacement. From stained, chipped, and cracked concrete to severe spalling and finishes that need complete resurfacing, Concrete Craft has you covered!
RestoreKoat for major repairs
RestoreKoat is a versatile repair mortar that can repair severely-damaged concrete slabs, including spall repairs, deep cracks, and complete resurfacing for small to large structural rebuilds. Especially economical for big projects like driveways, pool decks, and walkways, you will have like-new concrete for a fraction of the cost of replacement. A RestoreKoat facelift for your driveway can strip away years from the appearance of your home and add beauty and value.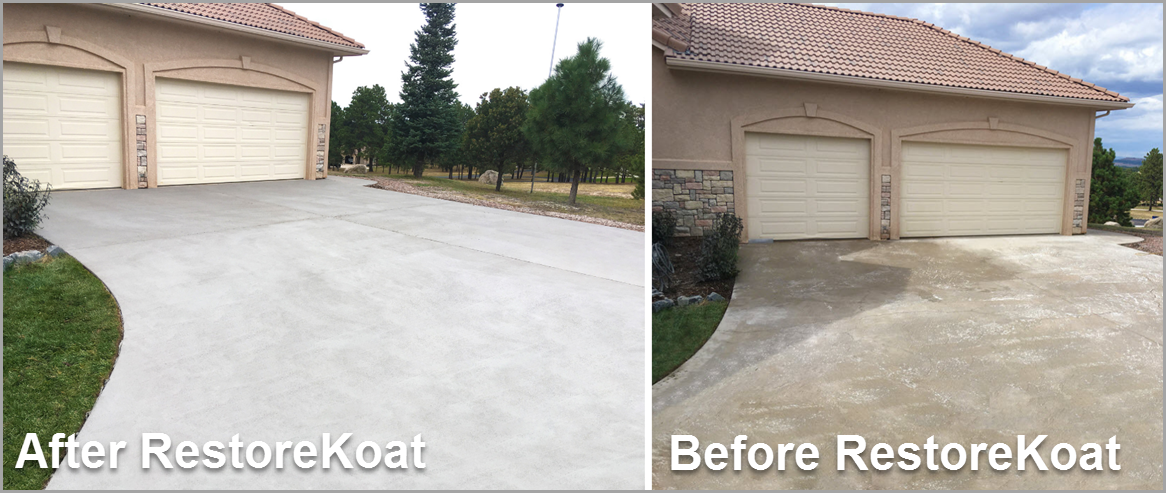 No need for demolition and replacement of severely-damaged concrete
Permanent adhesion to a properly-prepared surface means no chipping, peeling, or cracks
Quick cure time, with some jobs approximately eight hours from start to finish
Resistant to extreme weather, including freeze/thaw, rain, and blistering sun
Tough surface resists abrasion, impact, de-icing salts, auto fluids, and other chemicals
Cures in excess of 7000 PSI, making the surface stronger than before
Easy to clean and maintain, repels dirt and dust buildup
Can be applied in vertical applications like retaining walls, pillars, and garden surrounds
Concrete overlays restore distressed concrete surfaces
Our high-quality overlays will cover and conceal stains, cracks, and imperfections, creating a fresh surface for decorative concrete stain, stamped or stencil designs, or hand-cut and custom-colored faux stone finishes. Unlimited design potential means you can go from ugly concrete to the patio, driveway, or pool deck that you've always dreamed of, making your outdoor spaces a beautiful extension of your indoor style. Decorative concrete overlays are ideal for upgrading interior floors, too, replacing worn carpet, chipped tile, and damaged hardwood flooring.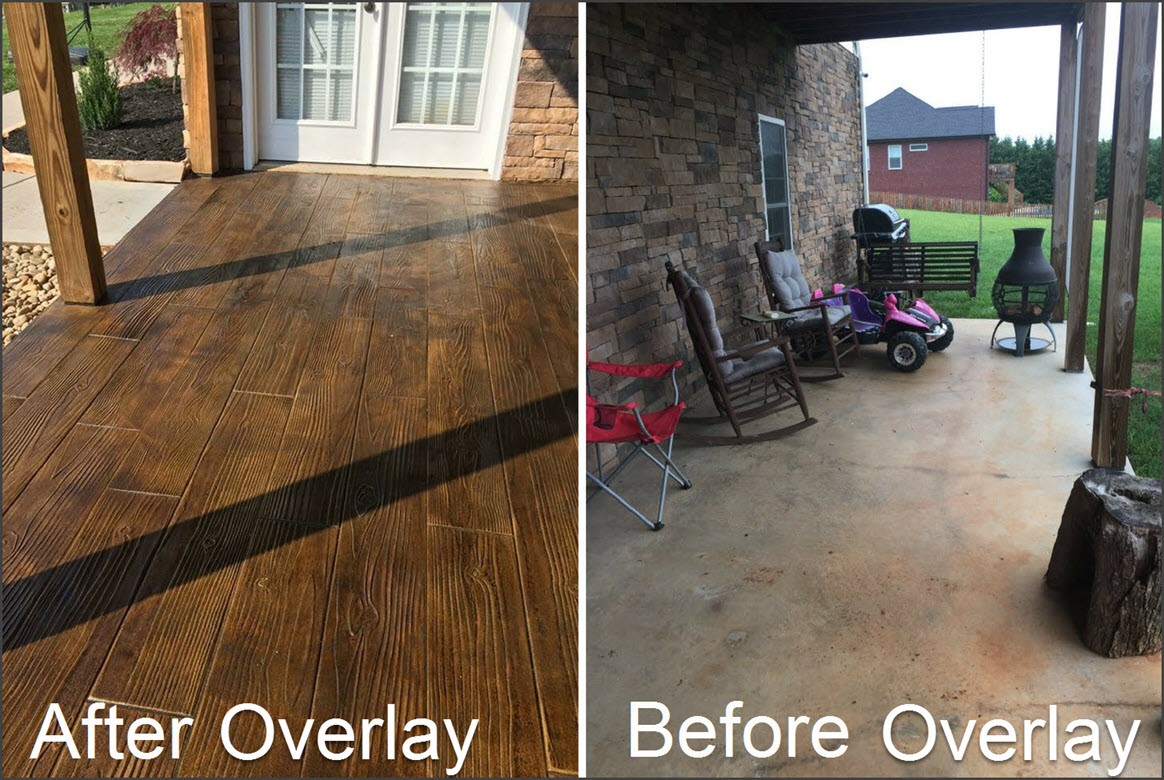 Stained concrete can mimic anything from polished marble to natural stone
Stamped concrete uses lifelike stamps to duplicate cobblestone, slate, brick, sandstone, tile, and wood plank designs
Hand-cut overlays include flagstone, Ashlar slate, European cobblestone, and more
The continuous, sealed surface blocks penetration of dirt, chemicals, oil, and grease
UV protection in our stain colors ensures no color fading
A finishing sealer gives added protection against chips, cracks, or stains
Survives all kinds of weather, including hot and cold and wet and dry conditions
Can withstand family life, pets, and parties
RenewKoat revitalizes faded concrete
Maybe your concrete isn't in bad shape, it's just lost its previous luster, becoming faded or discolored with time and use. RenewKoat is all you need to restore it to its former brilliance, or even better, with a fresh new color. A revolutionary overlay made with real cement and rolled on like paint will keep the design or character of the existing concrete, giving the surface a fresh finish. Choose a completely new color for a different look or refresh and renew its original beauty.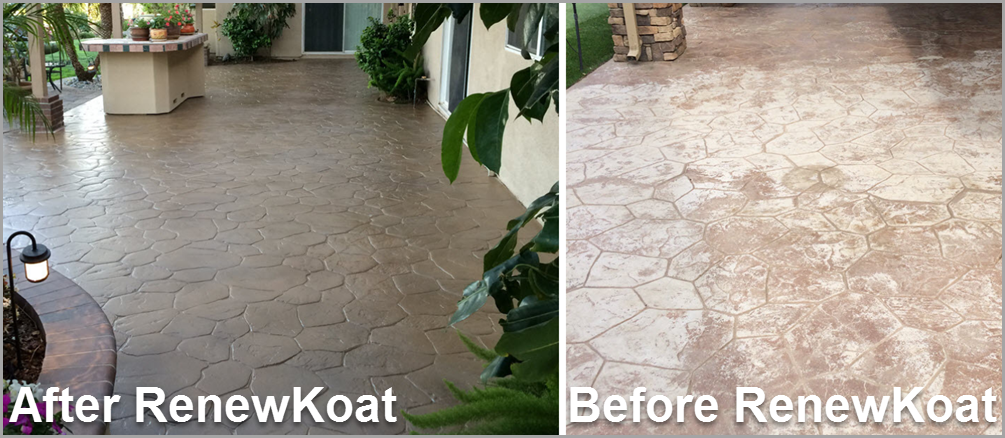 A complete transformation with little to no dust or mess
Fast cure time so your patio, driveway, or walkways are back in service quickly
10 color choices let you match any landscape or home design color scheme
Gives a more natural concrete appearance than painting the concrete
Highly resistant to weather, abrasion, impact, freeze/thaw, spills, and auto fluids
Built-in UV protection means the color will stay true
Concrete Craft for all your concrete needs
The artisans at Concrete Craft are ready to assist you with any concrete needs you have:
Unlike many concrete companies who specialize in one type of decorative concrete, such as stained or stamped concrete, Concrete Craft provides concrete restoration services, stained, stamped, hand-carved resurfaced concrete overlays, and vertical concrete resurfacing. We can replicate the look of flagstone, cobblestone, Roman slate, Ashlar slate, brick, tile, natural stone, wood plank, and more, with a precision that produces authentic-looking results.
Our exclusive MasterProTM products line for concrete repair and resurfacing is the result of over 12 years of testing and perfecting our performance-grade resurfacing mixes for a superior product. When compared side by side, the quality of our concrete mixes is simply better than anything else on the market. In fact, we stand behind all that we do, with workmanship and materials covered by a two-year warranty*.
Contact us today or go online to www.concretecraft.com to find the Concrete Craft location nearest you and request a FREE estimate. You can trust Concrete Craft for all your concrete needs. Check out our digital brochure and see what we can do for you to get ready for a beautiful Spring.