Concrete Craft is the Answer to Commercial Flooring Blues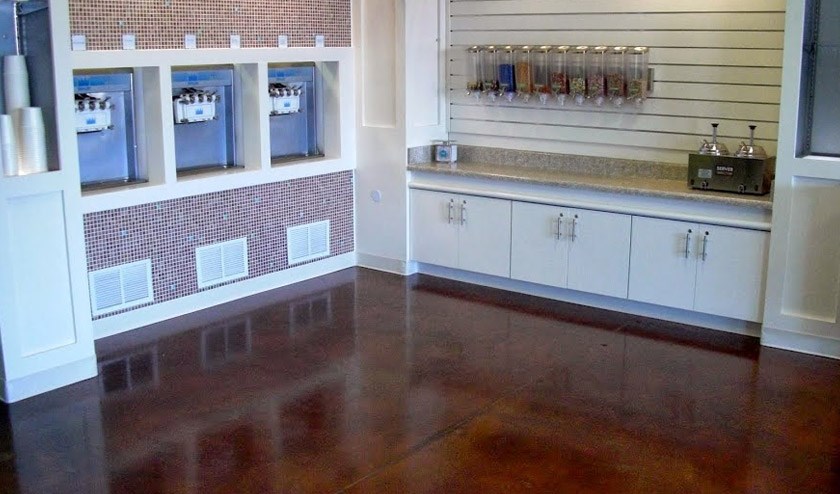 As much of a beating as your home's floors take with people and pet feet running in and out all day, imagine if you had the responsibility to maintain the floor of say, a movie theatre or a restaurant in downtown Atlanta. With winter in full swing, imagine all the rain, snow, and mud getting tracked in, as well as the spills--popcorn, sodas, coffee, nacho cheese, and sugary candies.
It's true that commercial flooring generally gets more abuse than home floors, so it makes good business sense to have the toughest floor you can get. Concrete Craft has been serving commercial clients for years with specialty stamped, resurfaced, and stained concrete floors, providing affordable and extremely durable custom floors that are both easy to keep clean and aesthetically enhancing for any business.
This yogurt shop's beautiful stained concrete floor will resist any sticky spills, toffee toppings, or muddy footprints that are all part of a day's work. Click here to view our gallery of interior commercial floors and see if they wouldn't be a great improvement to the floors you have now.
Exceptional interior and exterior concrete flooring
For any commercial business, both interior and exterior floors and concrete surfaces can benefit from concrete flooring by Concrete Craft's professional artisans.
Stained concrete designs allow any look, including polished marble and natural stone, with water- or acid-stain treatments producing stunning effects
Custom graphics and logos can be added to stained floors for fun and unique results
Stamped concrete can emulate classic patterns like brick, slate, random stone, and wood plank designs
Resurfaced concrete can "save a wounded floor," by overlaying a new surface that can then be finished in any number of ways, including hand-cut flagstone and cobblestone designs for a natural textured floor
Concrete Craft serving Northwest Atlanta transformed the Courtyard Anniston Oxford by Marriott in Alabama with a stamped pattern for the exterior patios to add a touch of class. The durability and low maintenance will help keep the grounds attractive and pleasing for guests, as well as worry-free for years, saving time and money.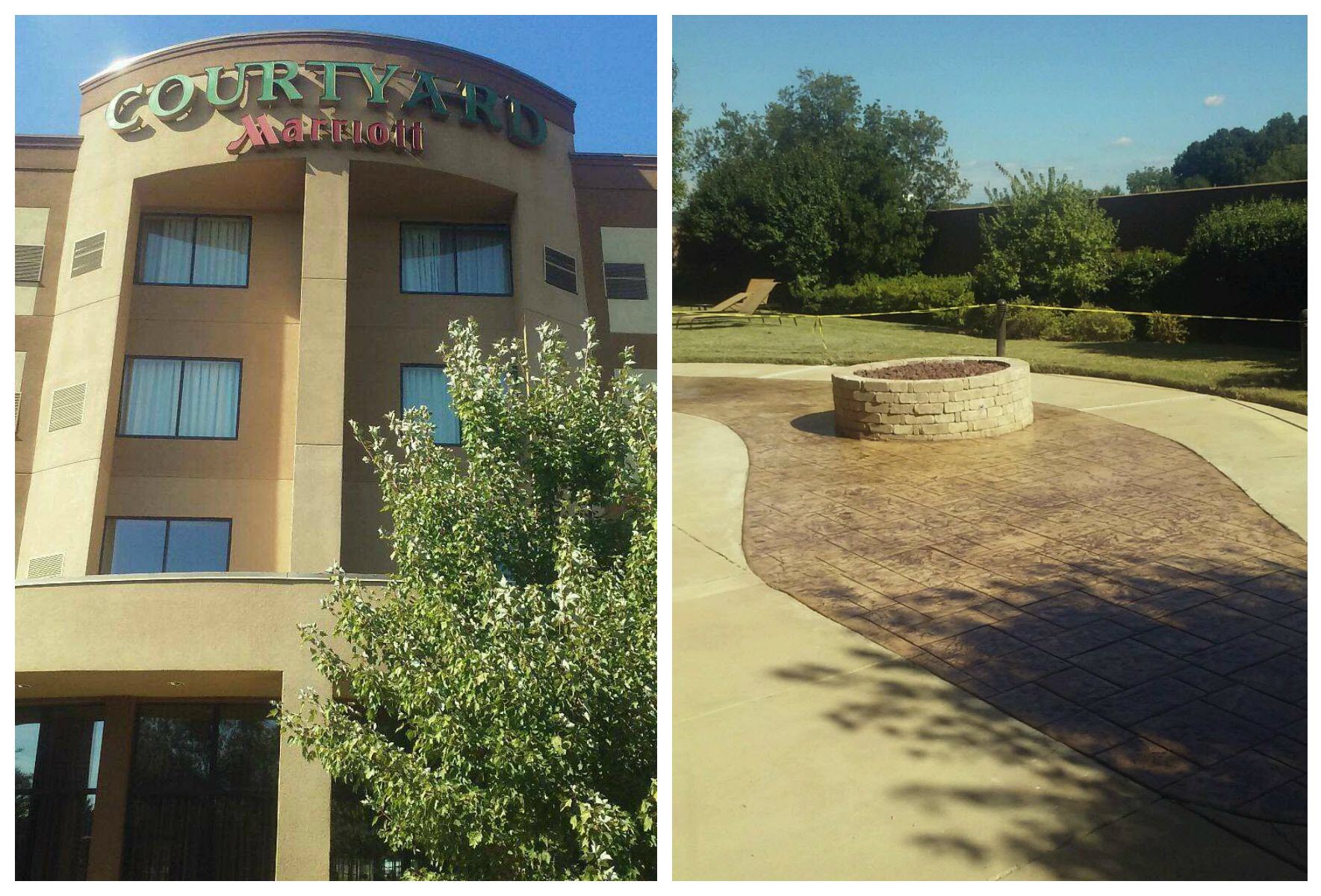 Start the New Year with new, durable, easy-care floors! Now is a great time to focus on getting new interior concrete floors in your office, salon, retail store, warehouse, or any other place of business. The craftsmen at Concrete Craft can turn your interior floors into works of art with less downtime and cost than you would have with other materials, while still giving you the look of other popular flooring options, including hardwood floors.
The perfect solution for home or business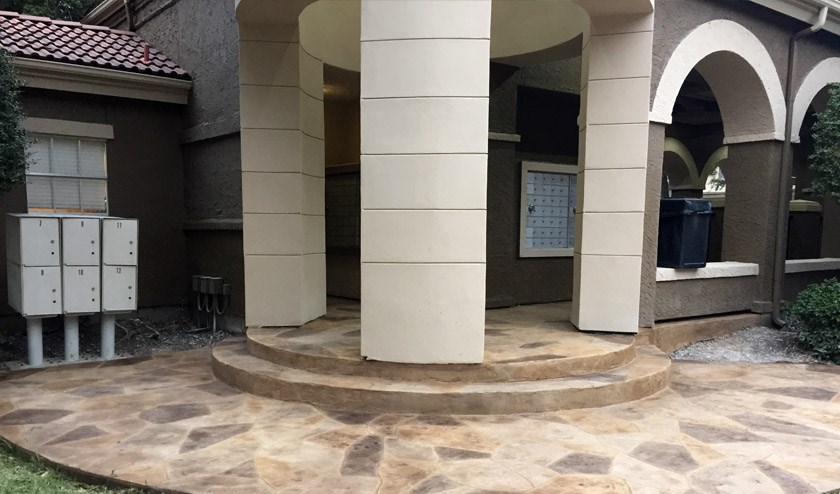 The same answer to commercial flooring blues—stained, stamped, or resurfaced concrete floors from Concrete Craft—can resolve any flooring issues you may have at home. As a homeowner, you can experience the same durability, affordability, and low maintenance that benefits commercial businesses. In addition to interior floors, Concrete Craft transforms patios, driveways, walkways, pool decks, porches, garages, basements, and more.
This resurfaced Flagstone entryway of a commercial business would also present an elegant option for any home's front porch and walkway. With Concrete Craft, the same industrial-grade, high-quality products are available for both business and residential.
Call 866-813-3699 today, or go to www.concretecraft.com to find the Concrete Craft location nearest you to schedule a FREE consultation and see how Concrete Craft can help you maximize the beauty and functionality of all your concrete.
Stroll through our photo galleries to see the innovative designs and color options available with custom stained, stamped, and resurfaced concrete. You will be truly amazed!