Concrete Floors Can Handle Holiday Guests, Kids and Pets
With the holidays coming, there's certainly a lot to worry about. The endless shopping, cooking and baking, decorating, cleaning, parties, overnight guests, kids home on school break, and visits from invited friends and relatives who bring their uninvited pets. With all that going on, there are bound to be problems!
Food and drinks spilled
Pets have accidents
Rain, mud, and snow tracked in
It makes one think, "Oh, my floors!"
But if you have concrete floors, some of those worries can be greatly reduced due to concrete's durability, easy maintenance, and enduring beauty. You can practically take floors off your "to-do" list when company's coming with stained decorative concrete floors like this one that makes the home bar look like a nightclub.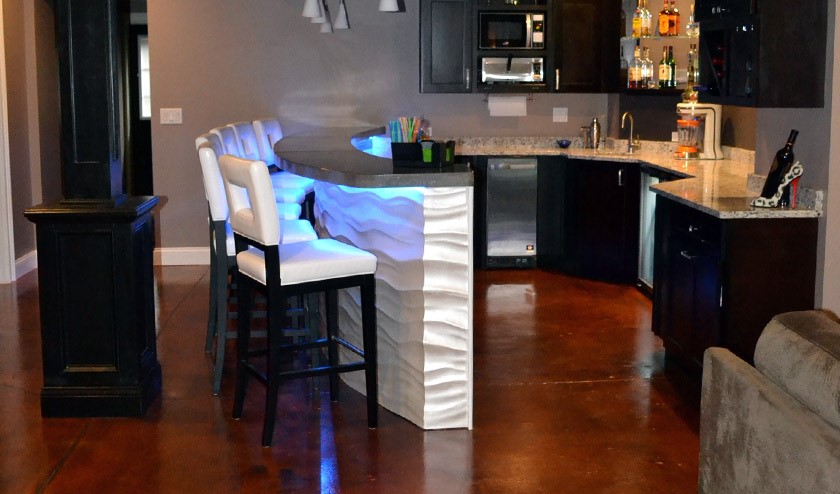 Concrete is the most durable floor you can have
Concrete is, without a doubt, the most durable floor you can have. Raw or unfinished concrete is not a floor you would want in your home, and that's not the kind of concrete floor we're talking about. Concrete Craft® can transform ordinary concrete floors into extraordinary with our decorative concrete finishes and microtopping overlays, with stained, stamped, and hand-carved designs.
Stained and decorative concrete floors have become the stylish option for any home space, including great rooms, kitchens, bedrooms, bathrooms, laundry rooms, and living rooms. Where life happens, concrete floors are highly valued for their rock-hard durability, organic vibes, and eco-friendly nature.
The most economical decorative concrete floor is stained concrete, especially on an existing floor that is in good shape. The surface is prepped and stained to create a vibrant, new look for any room. The stains permeate the surface of the concrete for permanent color that will not chip, peel or fade. Concrete stains are not opaque like paint and allow the character of the concrete to show through, keeping the textured look of concrete. A final sealer protects the stained surface and makes the floor resistant to moisture, allergens, mold, and bacteria for a cleaner, safer environment.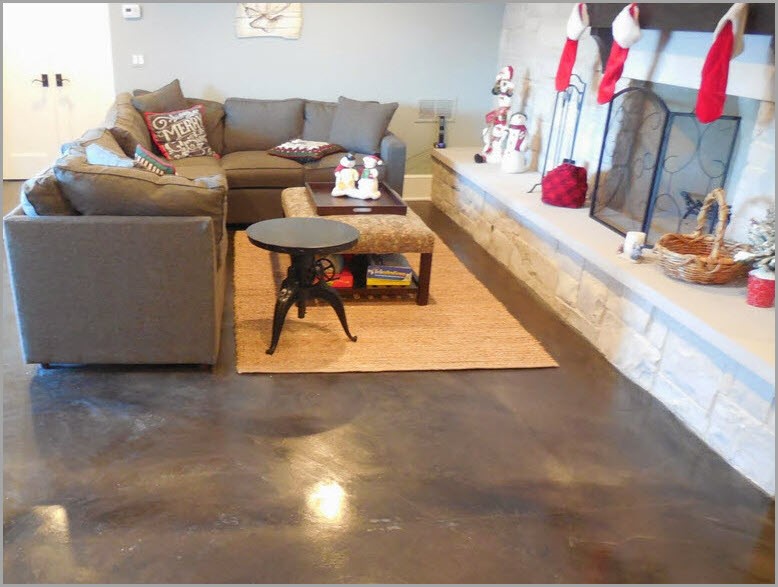 On damaged concrete or where old flooring has been removed, concrete overlays can create a new surface, retaining the indestructible nature of concrete, but with the option now of stamped concrete or hand-carved unique designs, including flagstone, cobblestone, hardwood plank patterns, brick or tile. Tough polymer sealers provide UV protection and fade-resistant qualities that provide years of worry-free beauty and functionality, able to withstand anything the holidays can dish out--without a scratch!
Heavy foot traffic
Kids coming and going
Baking and cooking marathons
Pets claws can't mar the surface
Spills and pet messes clean right up
The surface won't absorb odors
The durability of decorative concrete gives years of high-quality floor performance and you won't need to replace them every few years like other floor coverings, saving you money and aggravation.
Beauty and versatility of concrete floors
There is no limit to the design options you'll have for upgrading your floors with stained, stamped, and hand-cut, and custom-colored decorative concrete finishes. From stains that look like polished marble to the look of natural stone such as flagstone, cobblestone, and slate to stamped wood plank, tile, and brick, you can have one-of-a-kind concrete floors that reflect from casual to classic looks.
The distinction of stone can be yours for half the cost of the real thing, with decorative concrete "real stone" molds that create authentic-looking floors. Have a European cobblestone entryway, flagstone hallways, and living room or brick or Ashlar slate kitchen. You can choose from a range of earth-tone stain colors that reflect nature or go outside the box with bright colors, like the bathroom below.
Hardwood floors are extremely popular, but not practical in rooms with high humidity. A decorative concrete "hardwood" floor can withstand moisture so that even bathrooms, kitchens, and laundry rooms can sport the look of wood. Our life-like wood stamps and custom-color system allow the look and luxury of hardwood floors from darkest walnut to the new "greige," a combination of brown, beige, and gray for unique, lighter wood tones. You can pick from stamp patterns for smooth finishes, distressed wood, wider planks, stronger graining, reclaimed wood, or textured finishes to match your home's décor.
Low-maintenance, easy-care concrete floors
The easy-care of concrete floors also makes them amazing. Especially when juggling busy holiday schedules and activities, you'll love knowing that keeping the floors clean isn't a major effort anymore. In fact, floor maintenance can be done by the kids while you're putting the finishing touches on a holiday meal.
Regular dry dust mopping is all it takes to keep your floors clean and shining. Depending on how busy your household is and the number of pets or small children who live on the floors, you may choose to dust every day, every few days, or once a week.
Microfiber dust mops create static electricity to grab dust and dirt so that as you dust, you're quickly removing any debris from the floor's surface.
You'll not need to rent or buy carpet cleaners or stock harsh chemical cleaners or specialty products.
Your main tools will be a dust mop, a wet mop and a neutral-pH cleaner.
Swiffers are great for cleaning concrete floors with the choice of disposable dry or wet sweeper pads and washable microfiber covers.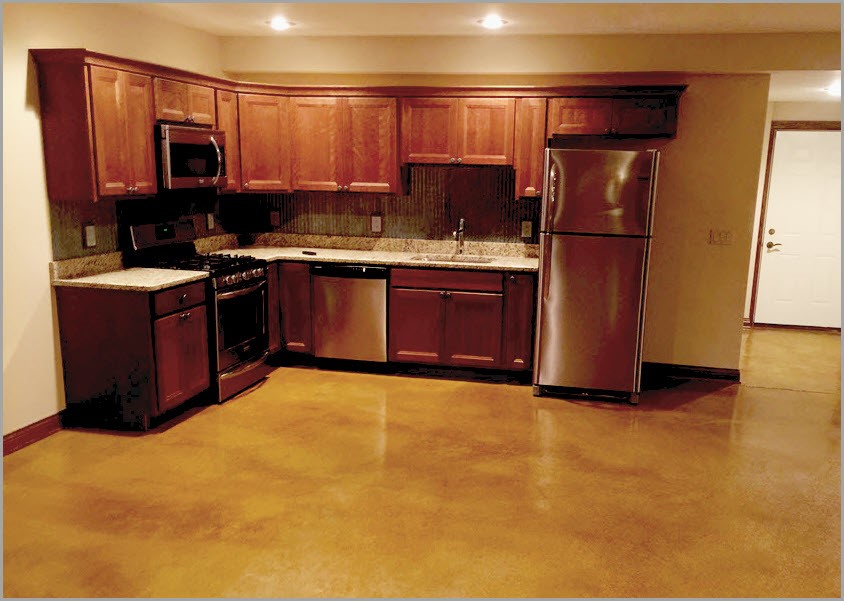 Decorative concrete floors will let you spend less time cleaning, giving you more time to enjoy your home, family, and guests. Here are some additional tips to prevent becoming overwhelmed by holiday stress:
Take calm-down or relaxation breaks during the day like meditation or deep breathing.
Regular physical exercise boosts feel-good endorphins, improving your fitness and energy levels and reducing tension and fatigue.
Focus on healthy eating, minimize sugar, caffeine, alcohol, and calorie-laden comfort foods.
Take care of your needs like enough sleep and personal time, so you can be at your best for others.
Don't overspend; that stress can go on for months! Plan a budget and stick with it.
Be grateful for the family, friends, and love that fill the holiday season.
If it's time to make life a little easier with low-maintenance decorative concrete floors, talk with the professionals at Concrete Craft about stained, stamped, and resurfaced concrete floor options for your home or business. You'll love the look, quality, and incredible cost savings that can be yours. Contact us today or go online to www.concretecraft.com to find the Concrete Craft location nearest you and request a FREE design consultation and estimate. With decorative concrete floors, you'll discover that your home never looked lovelier!