Concrete Floors – the Allergist's Friend
If you suffer from allergies, the more soft surfaces in your home that can collect dust, the more your allergies will act up. Carpeting is a wall-to-wall allergen magnet, including dirt, dust mites, pet dander and hair, pollen, and bug infestations (fleas and silverfish). According to the experts, carpeting requires frequent vacuuming and regular hot water extraction deep cleaning to lessen the impact. Additionally, moisture can cause mold and mildew to grow in both the carpet fibers and the padding underneath.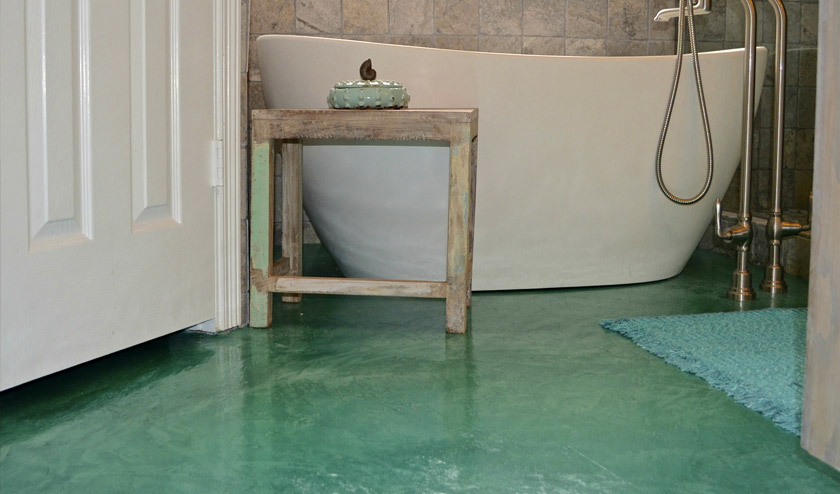 For someone with mild to severe allergies or asthma, this can become a daily nightmare. A healthier flooring option is a gorgeous stained concrete floor like in this bathroom, keeping it allergen and mold free. (And, as you can see, trending colors are no challenge so you can have totally stylish rooms!)
Yes, this subject of carpet vs. hard surface flooring is controversial and carpet manufacturers will roar, but studies have proven that "hard-surfaced flooring is a much better option for people with allergies." (Dr. Patricia Gomez Dinger, Advanced Allergy, Asthma and Immunology Center) The Mayo Clinic recommends removing carpeting as one step in allergy-proofing a home.
So while carpeting is a viable floor covering in some circumstances, for someone battling allergies, a smooth surface concrete floor is definitely a healthier alternative.
Benefits of interior concrete floors
Sealed concrete flooring has much to offer in regards to creating a clean and allergy-free environment.
Inhibits mildew and mold growth
Is waterproof and stain-proof; spills and messes wipe right up
Easy to keep clean with sweeping and mopping, preventing a buildup of any allergens
Can be softened with washable throw rugs
Wide range of colors and designs available to suit any décor
A concrete floor also offers benefits and value beyond the health protections for your family.
It's extremely durable; not easily damaged from foot traffic
Can be stained, resurfaced or stamped to create beautifully individual designs emulating natural stone, brick and wood, at a much reduced cost of "real"
A concrete floor outlasts most other flooring options like carpet, tile, linoleum and wood
In most cases, a concrete subfloor already exists beneath whatever flooring is in place, so replacing an existing floor is a relatively simple process
Concrete flooring can improve your homes' energy efficiency by keeping rooms cool in summer and warm in winter by holding temperature and slowly releasing heat or coolness
Limitless design options
The artisans of Concrete Craft can create the perfect floor for any room in your home. From basement to attic loft, our proprietary methods for staining, resurfacing and stamping concrete open up myriad color and style options with stained, stamped and resurfaced concrete.
Stained concrete floors offer rich, vibrant colors that stay true over time. It's one of the most economical ways to have a truly unique floor with limitless design capabilities. This beautiful, easy-care floor is perfect for family rooms, kitchens and bedrooms, to keep dust and allergens to a minimum.
Stamped concrete is also called patterned or imprinted concrete, and can give the appearance of brick, slate, random stone, tile, and wood plank patterns that resemble hardwood floors. Great for both interior and exterior surfaces, this durable floor will stay beautiful for years.
Resurfaced concrete can easily cover up any imperfections in your existing concrete with a decorative overlay that can emulate authentic Flagstone, cobblestone, or custom tile, with the additional option of custom designs. This basement converted to entertainment central is resplendent with a realistic-looking flagstone concrete floor.

If you're considering new floors in your home for either health or aesthetic reasons, don't do anything until you talk with the professionals at Concrete Craft about stamped, stained and resurfaced concrete floors. In terms of cost and design options, a new concrete floor can't be beat!
Call 866-813-3699 or go to www.concretecraft.com to find the Concrete Craft location nearest you and request a FREE estimate. Check out the photo galleries for patios, driveways, walkways, pool decks, garages, basements, commercial floors and more. You will be amazed at the diversity and beauty that awaits your interior and exterior concrete surfaces.