Create A Show-Stopper Driveway With Versatile, Durable AggreKoat
When concrete driveways go bad, it can be a really big problem. Especially if you have a very large driveway and the idea of refinishing it makes you see dollar signs before your eyes. Concrete Craft® has many decorative concrete options for restoring damaged driveways, and AggreKoat is one of our more budget-friendly finishes that delivers exceptional beauty and quality when your driveway needs some TLC.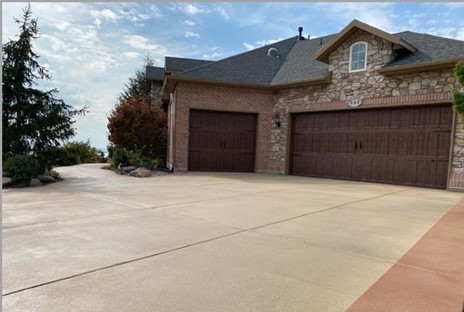 AggreKoat can transform your driveway with the superlative look of a small aggregate textured finish in colors to complement your home
When concrete driveways go bad
Although concrete is the most durable driveway you can have, time, life, and the elements will eventually cause the surface to show wear. The natural porosity of concrete makes it susceptible to many factors, like moisture and temperature. And if your driveway is au 'natural—a bare, untreated surface—a surprising number of things can contribute to its deterioration:
Normal wear and tear from heavy vehicles can create uneven spots and wear away the surface by sheer weight and ground-in dirt and gravel.
Heavy rains can erode concrete slabs and ruin the surface with cracks, chips, and exposed aggregate.
Untreated concrete absorbs water and stains from anything that touches the surface, including mud, soggy decomposing leaves, auto fluids, tire marks, cleaning products, paint, and the Starbucks coffee that upended on the driveway.
Concrete cleaners that remove stains can create bleached-out sections that are lighter than the rest of the concrete.
Holding moisture promotes the growth of mold and mildew on concrete that never gets to dry out in shaded or covered areas.
Repeated freeze/thaw cycles in winter cause cracks from the concrete contracting and expanding.
Salt and chemical deicing products can destroy the surface of a concrete driveway and weaken its structure.
In snow country, shovels, pushers, and rakes can scratch and chip the surface of concrete when removing snow and ice.
The good news is that you don't have to settle for a dingy looking driveway. Concrete Craft's decorative concrete systems and products, including stained concrete, stamped concrete, and resurfacing overlays can repair and restore just about any driveway damage without demolition and replacement, saving you time, aggravation, and money.
AggreKoat beautifies and protects your driveway
AggreKoat by Concrete CraftTM can quickly transform your damaged driveway into a beautiful entrance to your home. Even if your driveway is discolored or has visible repairs, AggreKoat will cover the surface with a seamless finish that hides damage and adds color and shine for a whole new look. Available in eight standard color blends from light to dark grays and a range of earth tones, you'll be able to find your perfect new driveway for enhanced curb appeal and enormous pride!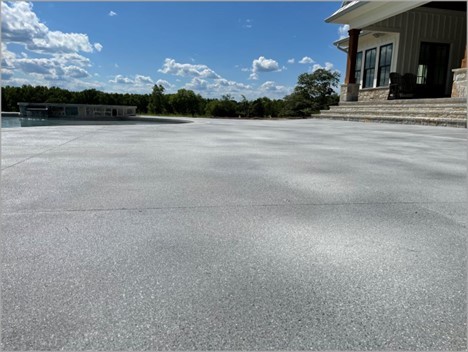 Beautiful, economic solution to a very large driveway with the high-end look of textured stone
The sealed finish resists moisture, UV fading, impact, stains, and weather of all kinds so your driveway will stay intact for years.
Spills like auto oil, gas, and antifreeze can't penetrate the surface and wipe up with a clean, damp cloth, leaving no residue behind.
Your new driveway is easy-care and low maintenance, sweeping and hosing off will keep the finish like new.
Quick application and cure time
Believe it or not, with AggreKoat you can have a new driveway in a weekend. We prep and clean the old driveway to assure permanent adhesion. AggreKoat is spray-applied in multiple thin layers of color for depth and dimension. The final layer is a tough sealer with a sparkle additive to give the finish a subtle reflection that enhances the textured coating. Only 24 hours after installation, your driveway is back in service with a brand-new look!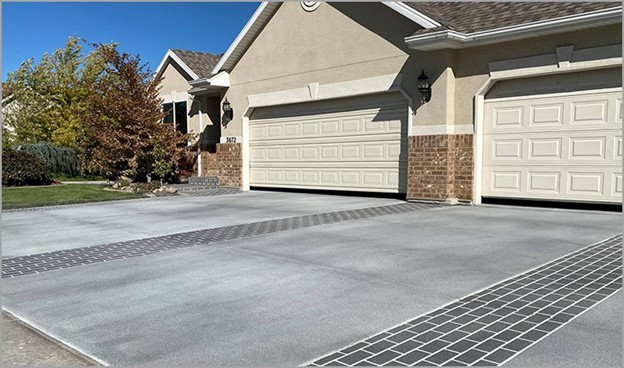 Customize your driveway with two colors and stenciled brick borders for dramatic impact
Combine AggreKoat with other decorative concrete finishes
The economy of AggreKoat makes it the ideal solution for large driveways and it pairs beautifully with other finishes for even more design options. Adding borders or sections of stamped concrete faux stone patterns like flagstone, cobblestone, brick, and slate keep overall costs down while letting you enjoy the look of authentic stone. Another option is combining AggreKoat with PebbleKoat by Concrete CraftTM, our real river rock concrete overlay, for endless pebble designs.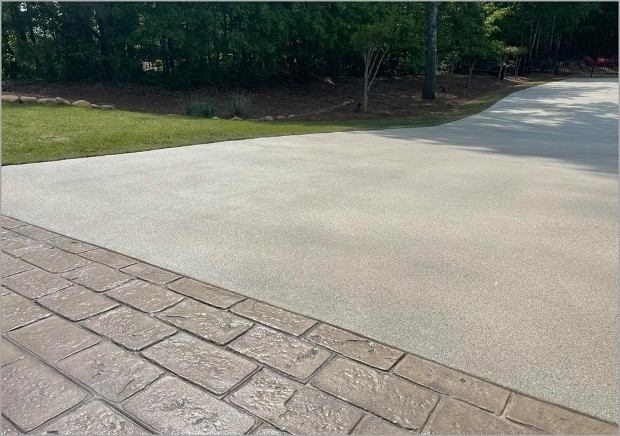 An AggreKoat driveway with a stamped concrete brick apron creates a one-of-a-kind, show-stopping approach to your home
Having a beautiful, well-maintained driveway makes coming home each day a more pleasant experience as well as boosting curb appeal and self-esteem. So, if your driveway has become impossible to tolerate, we have decorative concrete options to repair and restore your concrete driveway that will spare you and your wallet the pain and inconvenience of demolition and replacement. AggreKoat is just one of the decorative concrete options available in our MasterProTM products line to transform your driveway or any other outdoor spaces like patio, pool deck, porch, and walkways. Call 888-852-9244 or go online to www.concretecraft.com to find the Concrete Craft location nearest you and request an in-home or virtual* design consultation.
*Virtual consultations may not be available at every location
Follow us on Instagram and like us on Facebook for more concrete design inspiration.