Create Curb Appeal Envy With Decorative Concrete and Outside Decor
Even if you're not planning on selling your home, why not take a buyer's look at your surroundings and see what changes could elevate your home's curb appeal? Having the nicest house on the block could boost your ego and your home's value, and think of the fun you'll have coming home to a beautiful front yard every single day. In sunny Florida, bright yellow Adirondack chairs on the porch are a great welcome home, and in Dallas you might see horseshoes decorating a mailbox or a wheelbarrow overflowing with flowers.
Concrete Craft® is ready to help you upgrade all your concrete surfaces with decorative concrete overlays to enhance the entrance to your home, including walkways, front porches, entryways, steps, retaining walls and even siding. Here are some tips for enhancing curb appeal by upgrading your entire space or just by adding a few creative, charming touches.
Durable, beautiful stonework
Our vertical concrete overlays can be applied over wood, drywall, brick and concrete to create beautiful faux stone siding, giving your entrance regal beauty. With the built-in UV protection of our coloring system and the sealed surface, your new stone siding will last for decades. Add charm with a stylish pendant light, decorative plants and an inviting bench. A colorful welcome mat or outdoor fabric pillows would up the curb appeal even more!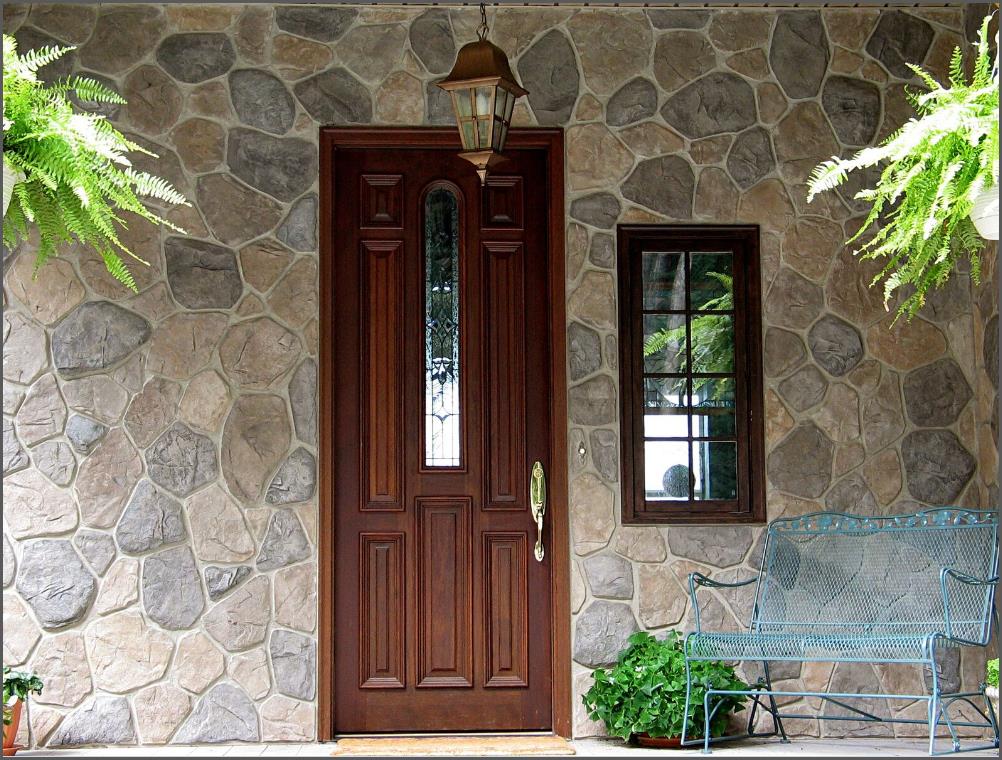 Vertical concrete overlays can also dress up retaining walls and steps. Retaining walls add variety and texture, giving your landscape structure. They are the perfect complement to colorful gardens, especially with tiered or sloping landscapes. Styles for concrete resurfacing vertical options include Castle Rock, Mountain Drystack, European Fan, Orchard Stone, Hand-scored Limestone, English Cobblestone and more.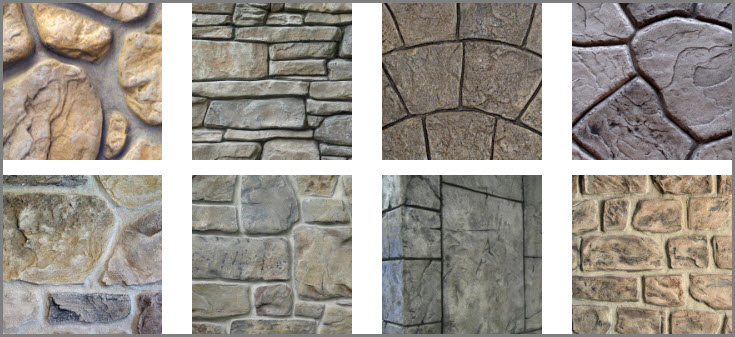 Make old concrete like new again
Concrete walkways and driveways take a lot of abuse and eventually show wear in the form of small cracks, discoloration and surface erosion. A concrete overlay can repair the surface, hiding all imperfections, and be hand-cut and custom-colored to replicate real stone for an upscale look to your front yard. Resurfaced with a Roman Texture slate pattern, this driveway and walkway completely transform this home's entrance. When the urns and freshly-tilled ground are planted with bright spring flowers, this home will definitely be the envy of the neighborhood.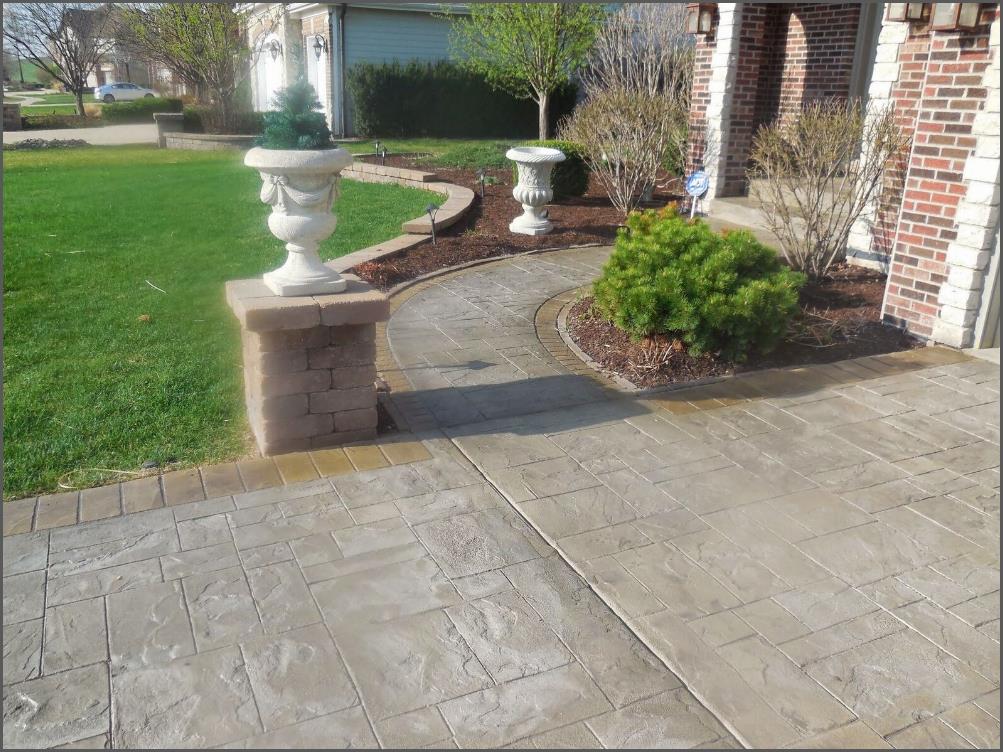 Make your porch a showplace
If you have more than just an entryway, a porch provides a great opportunity to add some instant charm to your home. Quick and easy curb appeal boosts could include:
Decorative house numbers
New fancy mailbox
Unique potted plants or a window box with flowers
Creative lighting
Patio chairs, table and outdoor rug
A statue of your favorite furry friend or other whimsical touch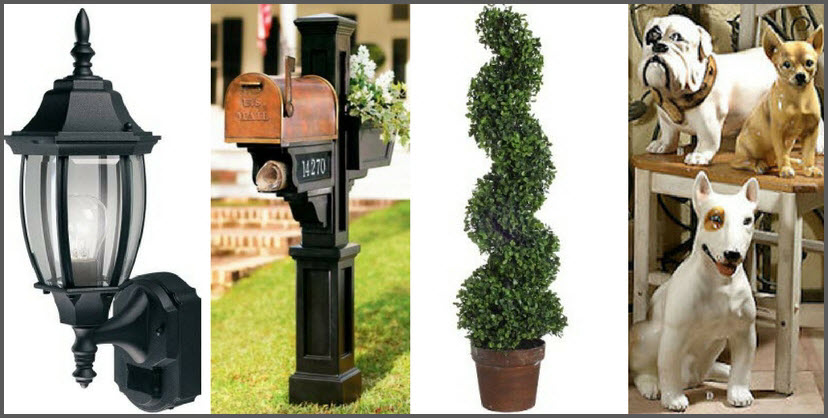 A walkway and porch in a seamless, authentic stone pattern are very upscale, tying your whole landscape together. This pathway is stunning in a hand-cut, custom-colored large flagstone pattern. Imagine the walkway lined with solar lights so your guests can easily traverse the distance from the street to the front door after dark. Make the most of your investment with landscape lighting that adds definitive evening curb appeal.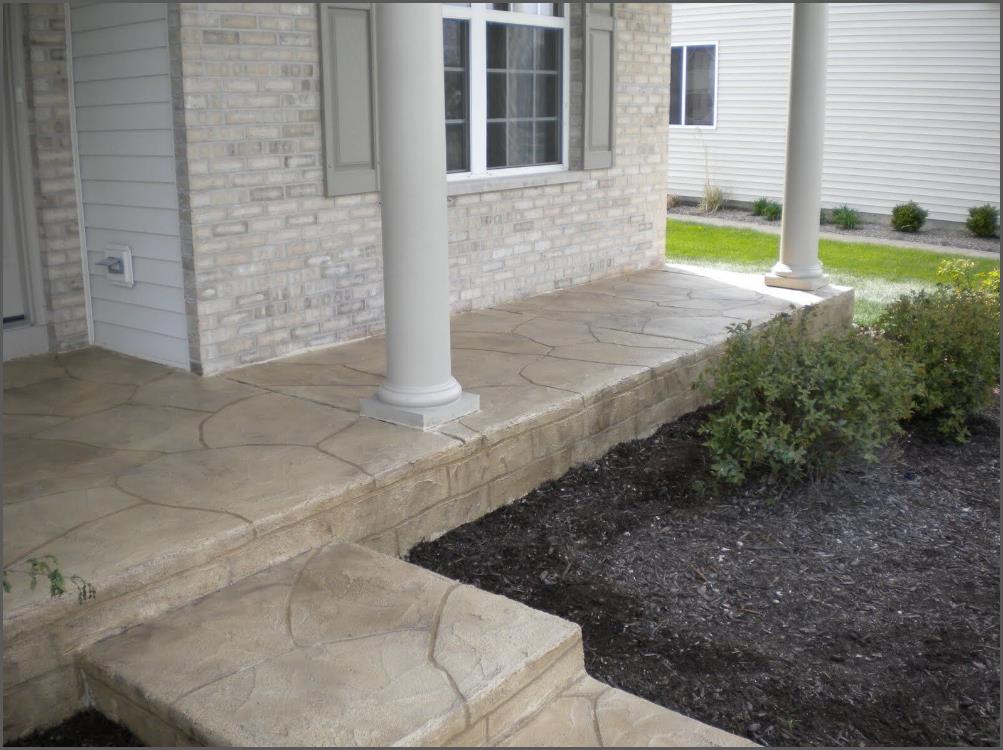 Even a small porch can have a big impact on curb appeal when decorated with furnishings that create a welcoming space. This flagstone concrete overlay with color-coordinated stone pillars presents a comfortable setting for relaxing, reading or watching a sunrise or sunset. The sealed surface resists moisture, dust and dirt buildup so keeping it clean (also important for curb appeal) is as easy as a quick sweep.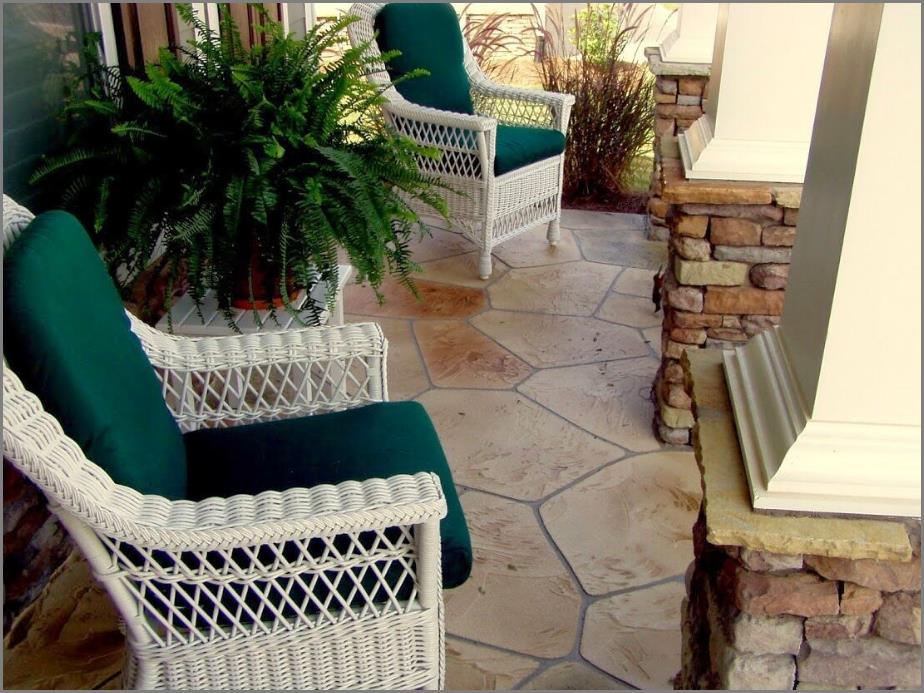 Have a presentation-worthy driveway
A driveway is a big part of a home's "face," and no amount of flowers can disguise an ugly concrete driveway. If cracks and discoloration have appeared on your hard-working driveway, a concrete overlay can hide the damage and present a fresh surface to stain or renew with a custom, hand-cut design. This driveway and walkway have been revitalized with our ColorReStore™ system and present a beautiful face for this home and its carefully manicured gardens and lawns.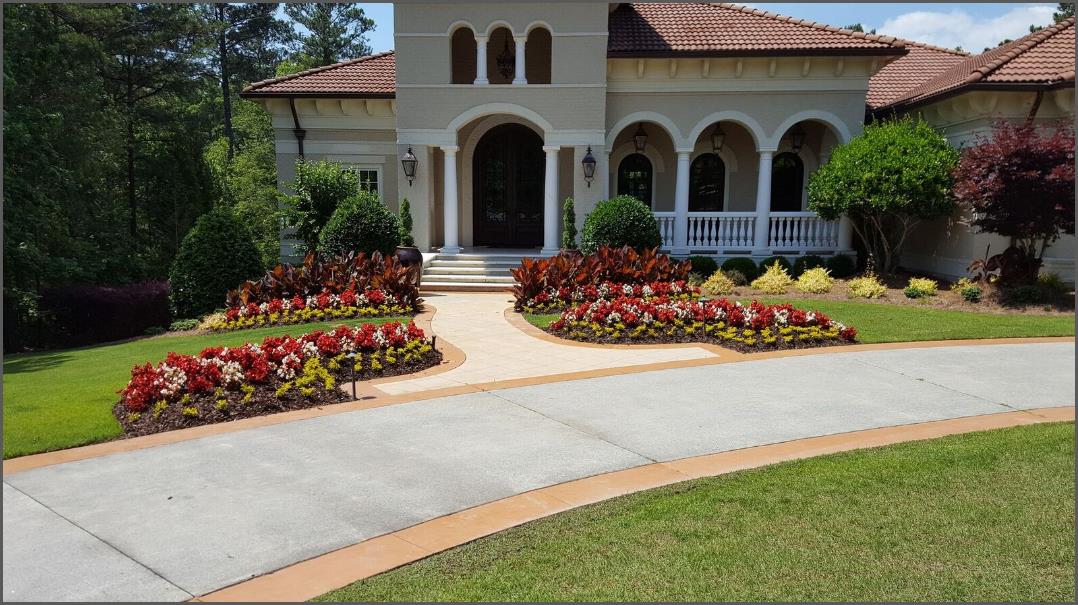 If you want your home to set the new standard for the neighborhood or you just want to improve your surroundings to impress no one but yourself, the artisans at Concrete Craft are ready to help. Call 866-813-3699 today or go online to www.concretecraft.com to find the Concrete Craft location nearest you. We also improve patios, pool decks, interior floors, and commercial properties. Check out our digital brochure and see how many unique ways there are to enhance your life with beautiful, decorative concrete.
Driveway Resurfacing System
Vertical concrete resurfacing
Stamped concrete
Resurfaced concrete
Stained concrete
Color ReStore and Color Koat™ Systems
Seat wall and fire pit system