Create Elegant Floors And Walls With Custom Faux Stone Finishes
"Natural stone has been popular for use on floors for centuries. Stone tile brings the colors and texture of nature to our homes and adds a quality and warmth to a room that's not possible with any other material." (Houzz contributor)
As authoritative as that statement sounds, only half of it is true. One can't argue the popularity of stone as a decorating medium, but the "not possible with any other material," is definitely not true! The professional artisans of Concrete Craft® can replicate any stone for a realistic finish on your floors and vertical surfaces with stamped, hand-cut, and custom-stained decorative concrete overlays. We believe everyone should be able to enjoy the majesty of rock and stone enhancements in and around their homes at a cost they can afford.
Have the look of a natural slate patio with the durability of stamped decorative concrete
If you've been pricing flagstone, cobblestone, slate, marble, granite, or Travertine, dreaming of decorating with stone, you may be a bit discouraged. However, with Concrete Craft, it's no longer cost-prohibitive to enhance any area of your home, indoors and out, with the natural beauty of realistic faux stone for floors, patios, driveways, walkways, seat walls, fireplaces, and more. See how our custom approach to fabricating stone allows us to create authentic-looking stone finishes for about half the cost of the real materials, and you'll be able to fulfill your dreams of stone.
Exterior floors that last and last
With warmer weather, much of life has moved outside, and having attractive outdoor areas to spend quality time is important. In the spring and summer, even driveways become activity areas for washing cars, skateboarding, basketball, and visiting with the neighbors over gardening. Patios and pool decks host lunches, barbeques, and endless hours of playtime and relaxation. Enhancing these areas with beautiful, faux stone finishes adds to the enjoyment, especially knowing that the stonework looks authentic and beautiful, and is extremely easy to keep clean.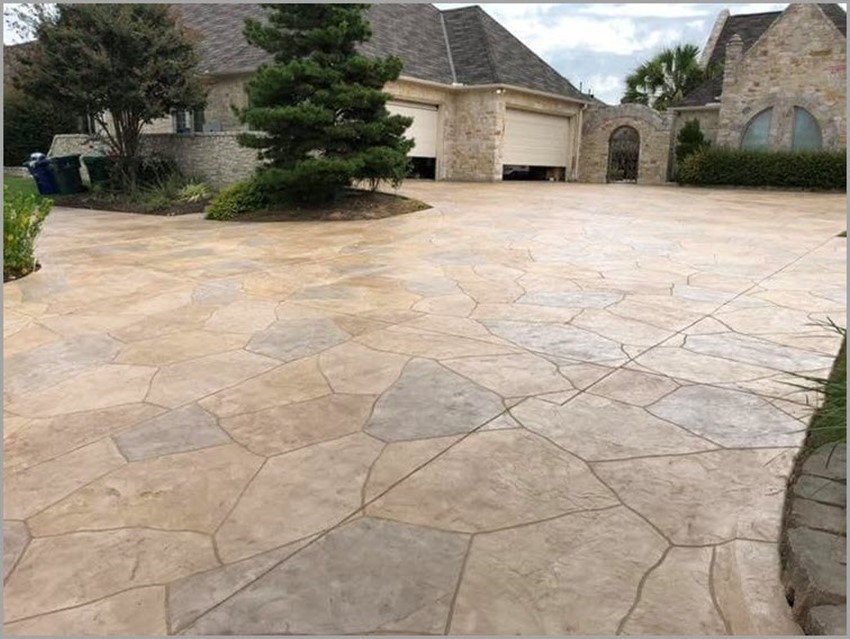 This decorative concrete faux flagstone driveway will never have problems of stones lifting or grass and weeds intruding between the stones
Decorative concrete overlays cover imperfections with a continuous sealed surface that resists spills from auto fluids like oil, gas, transmission fluid, and brake fluid.
Multiple colors can be used within the same project for realistic coloration of stamped and hand-carved faux stone patterns.
Decorative concrete overlays cure in excess of 5000 PSI (pounds per square inch) and can safely support cars, trucks, motorcycles, and RVs without damage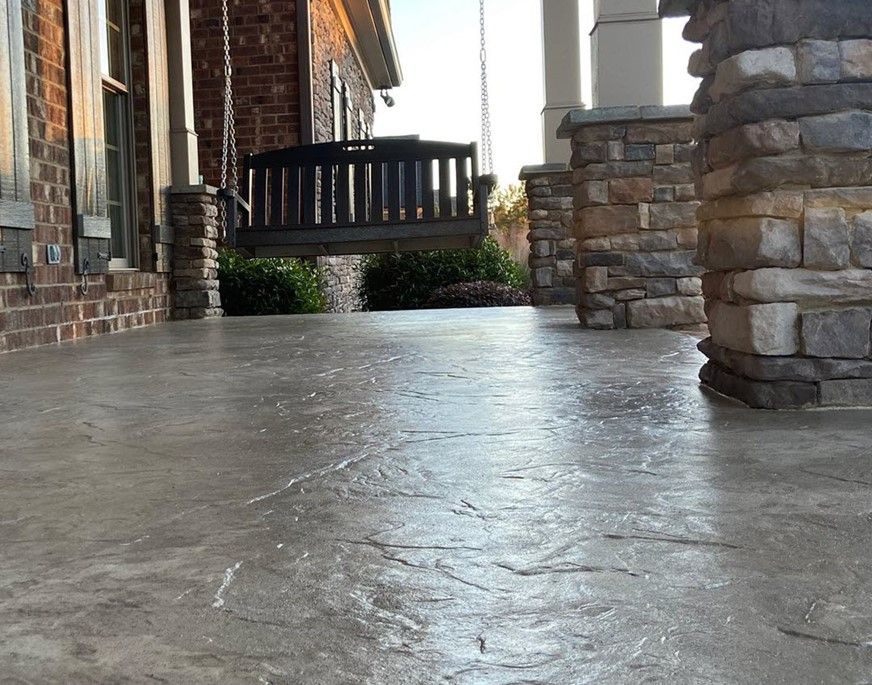 The industry-tough sealer will keep this slate faux stone patio intact for years with unblemished beauty
Rubber stamps designed from real stone molds offer realistic-looking finish options, ranging from smooth to heavily textured surfaces.
Custom stained concrete brings the stamped impressions to life, combining or layering colors to create depth and dimension, intensifying texture and design.
Sealed stamped concrete surfaces are resistant to any weather, including freeze/thaw, rain, snow, and summer heat without chipping, cracking, or peeling.
Life is beautiful with faux stone Interior floors and walls
You can quickly change the dynamic of any space by introducing a three-dimensional faux stone surface on the floors or walls of your home. From rustic to glam, stone and rock will transform a room with natural style. If your carpet, tile, or wood floors need replacing, you can easily upgrade to decorative concrete faux stone floors in any style you choose. Reawaken your space with a faux stone accent wall, kitchen, or bath backsplash, or update a fireplace without demolition of the old structure with a resurfaced vertical concrete overlay.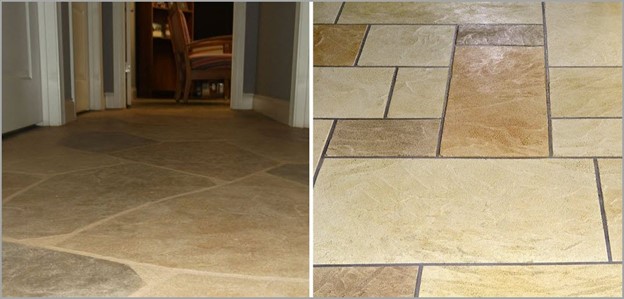 Flagstone and tile designs are popular faux stone options for interior floors where durability and easy-care are appreciated
Popular large format tile designs, typically 16 x 16 inches, are more expensive to install, but not with stamped concrete since "tiles" are created onsite.
Moisture-resistant, decorative concrete floors are safe in areas where humidity is a problem for real grouted stone and tile floors like kitchens, bathrooms, and laundry rooms.
Nothing sticks to the sealed surface so clean-up is quick and easy; just a dust mop and occasional wet mopping for interior floors.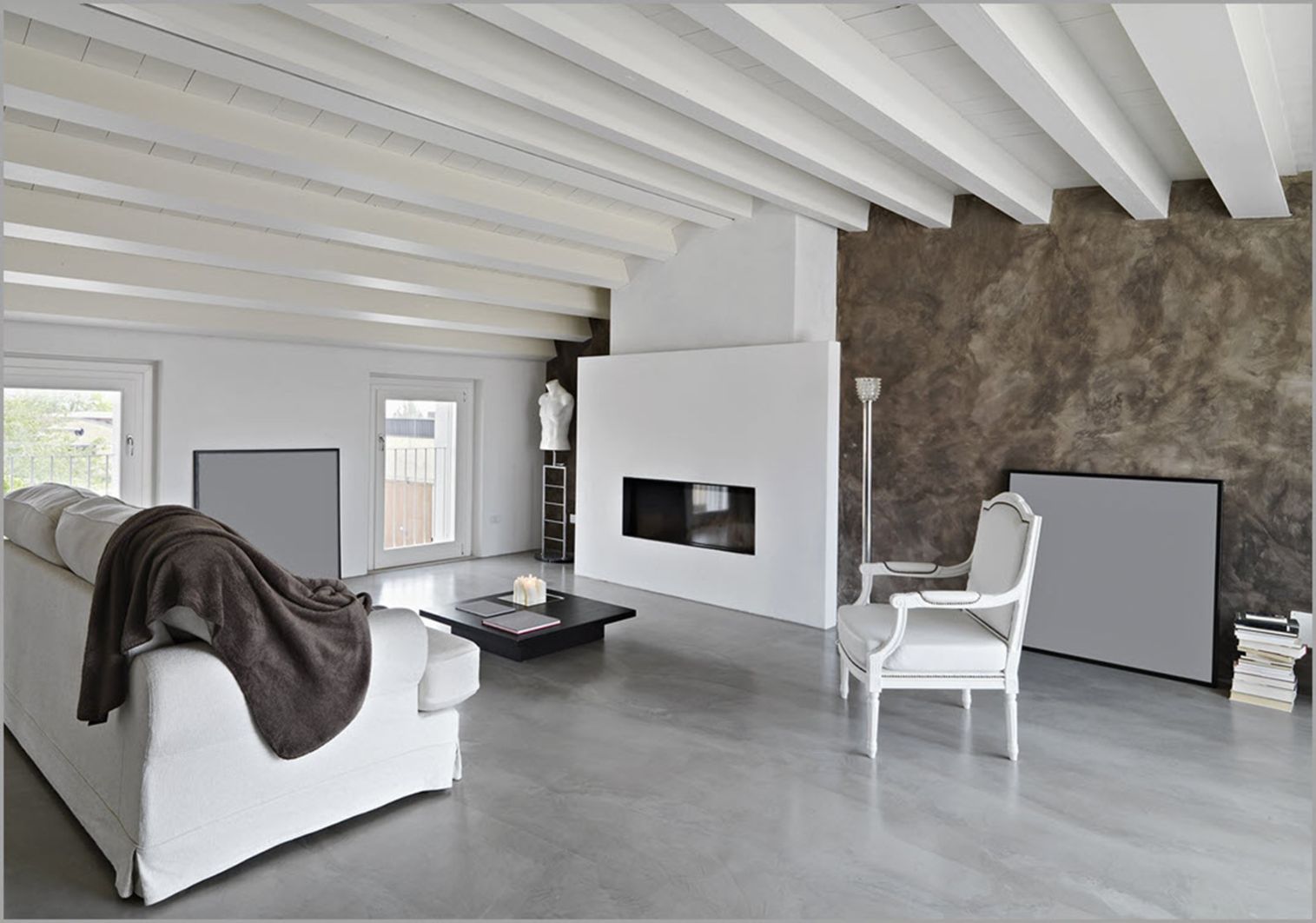 The exquisite look of marble can grace your floors and your walls with Concrete Craft's MarbleKoatTM decorative concrete finish
MarbleKoat is a unique finishing overlay for the elegance of polished marble but with a concrete-tough durable surface.
Transform an outdated brick fireplace to the sleek, modern look of marble with this one-to-three-day overlay.
No more dust and dirt build-up clinging to floors or walls with surfaces that resist mold, bacteria, and allergens, resulting in a healthier environment.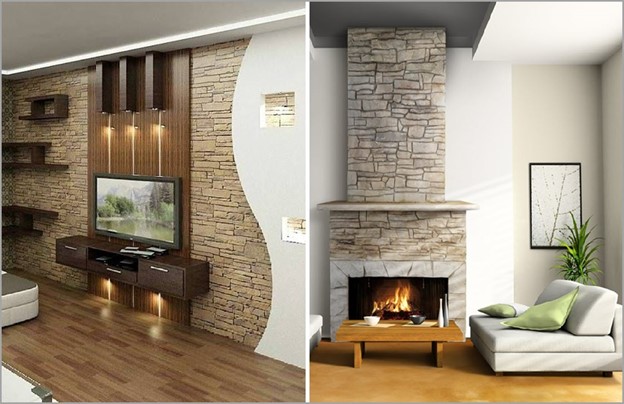 The natural beauty of stone can enhance your home with realistic-looking faux stone resurfacing overlays
High-strength, flexible polymer overlays give 100% contact on vertical surfaces, eliminating voids and gaps that can form behind other stone veneer applications.
Unlike real stone which can be very heavy, weight-bearing issues for faux stone walls are not a concern with a vertical concrete overlay.
Enjoy beautiful faux stone finishes year after year without concerns of grout deterioration, loose stones, and discoloration common to natural stone.
Enhance exterior walls and vertical surfaces
Outdoor vertical surfaces like siding, patio walls, seat walls, retaining walls, and steps can also be upgraded with beautiful faux stone finishes, in line with current design trends to add visual and physical connections to nature. Why settle for stucco when you can have a faux stone entryway of eye-catching flagstone or stacked stone? For front yard curb appeal and backyard aesthetics, you can have purposeful, authentic-looking faux stone architectural and landscape enhancements to be proud of.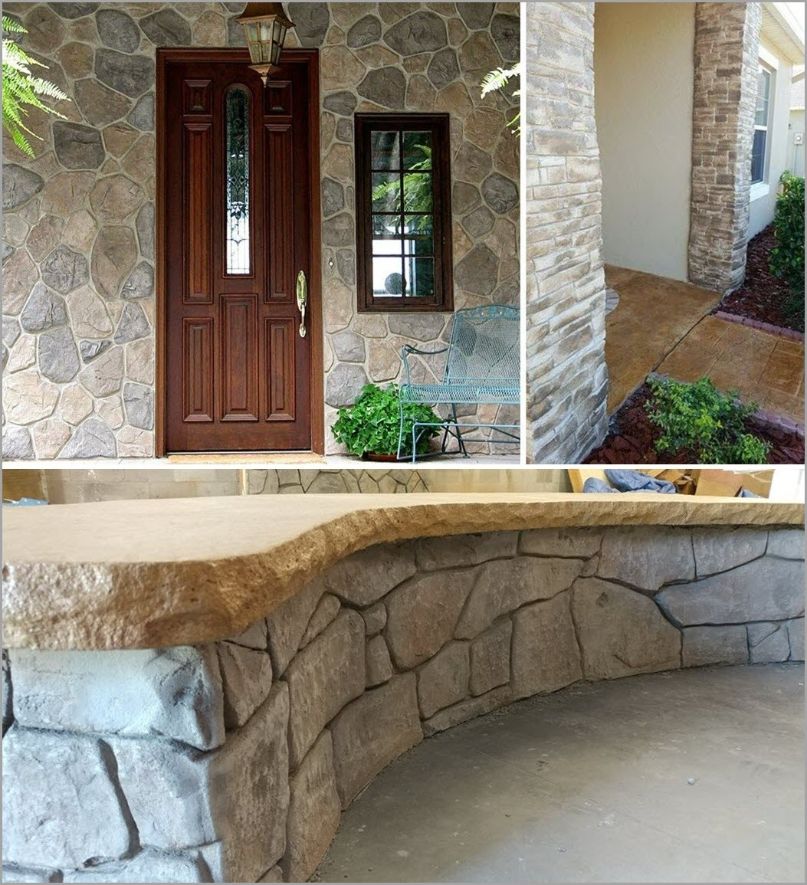 Elevate siding and seat walls with "back to nature" faux stone textures and colors that look like the real thing
The randomness of the colored "stones" gives authenticity to the design, mirroring nature's randomness of colors in natural stone and rock formations.
Vertical concrete overlays can be applied over wood, stucco, brick, and concrete to completely transform your spaces with the elegance of custom stone finishes.
Sealed surfaces are easy to clean and can stand up to extreme weather conditions without deteriorating.
Vertical concrete overlays from Concrete Craft® are the ideal way to enhance your home with the natural textures of rock and stone, inside and out, for large and small areas. Our custom-crafted overlays eliminate the headaches of real stone, including cost, availability of colors and styles, weight issues of stone on vertical walls or other than ground-level floors, and the time and inconvenience of installations. Contact us today or go to www.concretecraft.com to find the Concrete Craft location nearest you and request a free in-home or virtual* design consultation. Check out our online MasterProTM product catalog and discover the varied options for bringing the beauty of stone into your home.
*Virtual consultation may not be available at all locations.