Custom Decorative Concrete, the Gift That Keeps on Giving
The holiday season has arrived, and thoughts turn to gift-giving. Some people on your list are easy to buy for, while others keep you searching the malls and online stores for that "perfect something" that will delight a favorite person. With celebrations for Christmas, Kwanzaa, Hanukkah, Winter Solstice, and New Year's, there are lots of opportunities to say "you're special" or "I love you" with a well-chosen gift.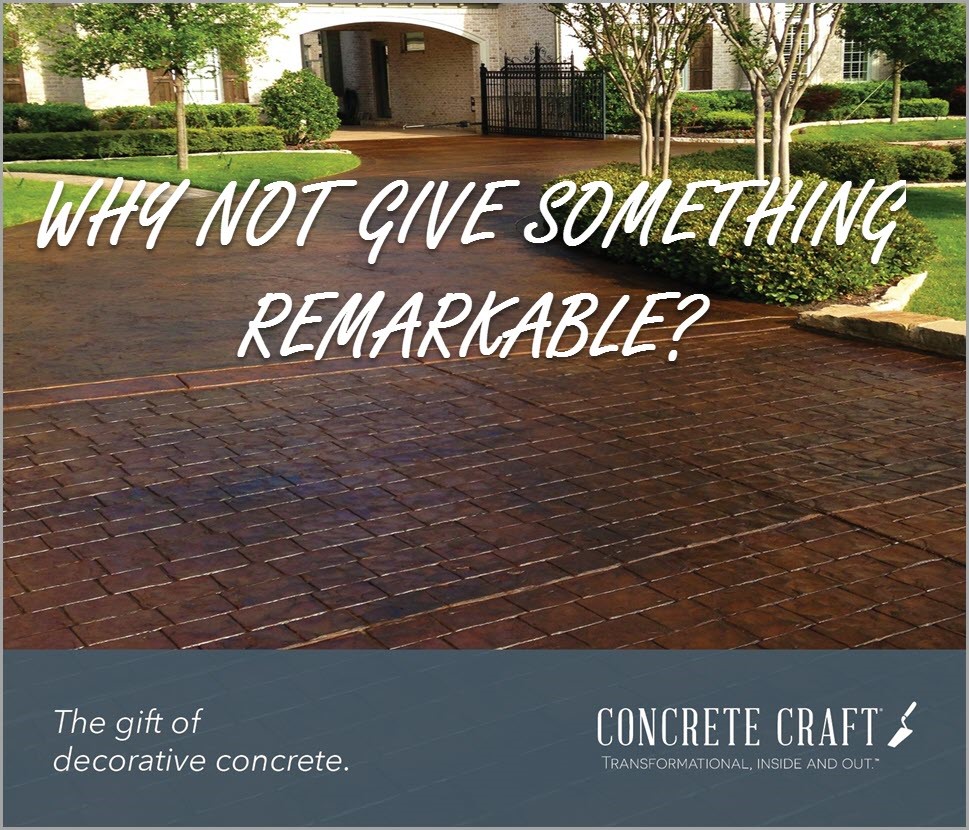 Concrete Craft® can help solve your gift-giving dilemma for that very special someone with the long-lasting gift of decorative concrete that will keep on giving year after year! How about a beautiful decorative concrete patio of stained, stamped, or resurfaced concrete, a new cobblestone driveway, flagstone walkway, and front porch, or a wood plank interior floor that looks like real hardwood? Those options and many more are all possible with Concrete Craft!
A Concrete Craft gift certificate is a license to dream
Transforming concrete floors, indoors and out, can be a dream come true for someone wishing to renovate or update their home. The gift of decorative concrete may be the perfect catalyst to jumpstart some incredible changes.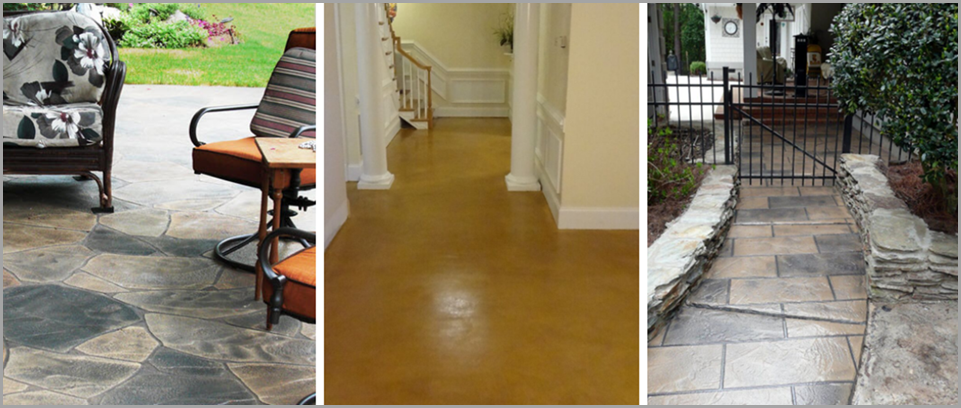 Parents who have been in their home forever would thrill to the prospect of beautiful, new stained concrete floors.
Convert the basement into a man cave or a comfortable reading/crafts/exercise room with a custom stamped real stone or wood plank design.
Rejuvenate the well-worn patio or pool deck for a new summer staycation destination with decorative concrete in any number of stone patterns and stain colors.
Enhance curb appeal and transform the front yard with concrete overlays on walkways and porch with hand-cut and custom-colored flagstone or slate patterns.
Add custom seat walls and garden enclosures to define and beautify outdoor spaces.
Resurface the old fireplace and bring it into the 21st century, design-wise, with the fresh new look of hand-carved faux stone or look-alike expensive tiles.
Decorative concrete keeps on giving
The beauty and durability of decorative concrete overlays will be a daily reminder to the recipient of just how much you care. Not only will they have the fun of working directly with their local Concrete Craft specialist, picking out the look, patterns and colors that they love, but they'll also never have to worry about that new floor.
The industry-tough sealed finish resists weather of all kinds
Our concrete stains have built-in UV protection to keep the colors true
The sealed surface resists stains and spills and will never chip, crack or peel
The finish repels moisture, mold, and bacteria growth for an allergen-free environment
Easy-care, a dust mop will keep the floor looking like new, giving the gift of time
"Grouted stone" patterns are one continuous sealed surface, so there's no grout to deteriorate over time and no intrusive weeds or grass to pull
"Hardwood" floors will stay as beautiful as the day they're installed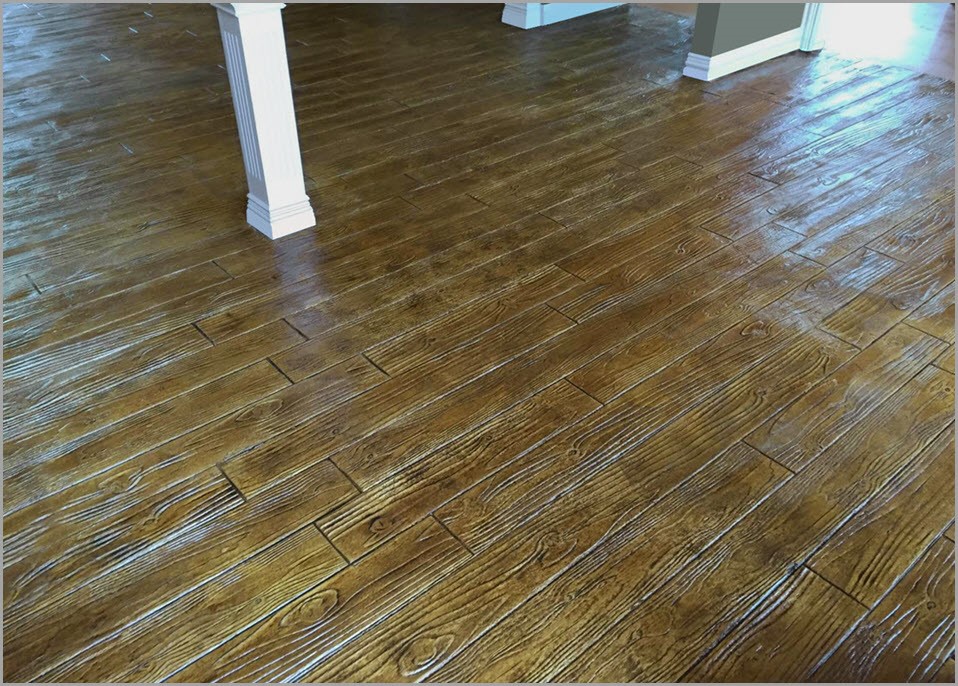 Gift certificates take the worry out of gift-giving
Last year's holiday season saw a 28 percent gift return rate (Small Business Trends). That means, on average, people guess wrong with one out of four gifts that they give! With a gift certificate from Concrete Craft, the final gift selection is up to the receiver, so you don't have to worry about choosing wrong. A gift certificate allows the recipient to choose exactly the decorative concrete gift they want. Our wide range of colors, stamp patterns, and custom, hand-cut designs offer something for everyone and are sure to please--even the most discriminating, hard-to-buy-for person who has everything! Who could resist a spa-like bathroom with a vibrant stained concrete floor or a dramatic vertical concrete overlay accent wall of faux stone?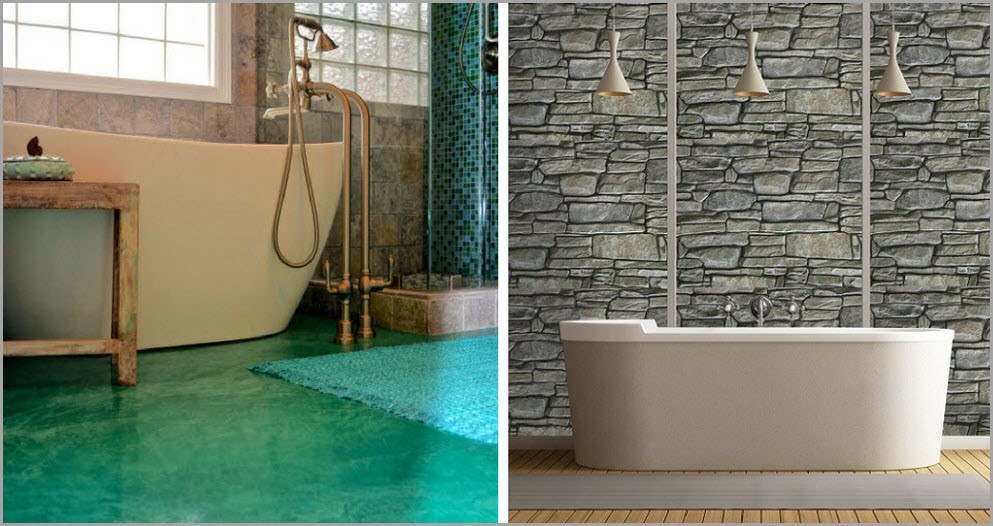 With Concrete Craft, you can rest assured that your gift is backed by integrity and high-quality products. We consider ourselves craftspeople who take pride in bringing artistry and beauty to every project we undertake. You can trust Concrete Craft for:
Easy, quick installation by trained professionals
Durable finishes that do not fade, chip, stain, or peel
Unsurpassed attention to detail and authenticity in the designs
Two-year warranty* on work and materials
If your gift recipient is distant, you can still give a Concrete Craft gift certificate. Do a ZIP Code search to find the Concrete Craft in their area and buy the gift certificate from that local business. Each location serves its surrounding area and that is the person your family member or friend will end up working with. Contact us today or go online to www.concretecraft.com to find the Concrete Craft location nearest you and ask about the ease of gift certificates for holiday gift-giving.
Check out our online photo galleries for more decorative concrete ideas for patios, driveways, walkways, entryways, interior floors, and vertical surfaces. Maybe you should consider the gift of decorative concrete for yourself this year. You'll be glad you did!