Custom Seat Walls Increase Your Patio's Entertainment Value
Did your last barbeque or patio party have people playing musical chairs to have a place to sit? Usually, patio tables and chairs are enough for the family--plus one or two--but with a party, you may find you're having to bring out the dining room chairs or plastic "stackables" to accommodate everyone. Both of those options have drawbacks.
The dining room chairs are probably not outdoor furniture and could be damaged
Those plastic chairs don't safely seat all adults
Wiggly kids can fall out of them or tip them over
A great way to expand your patio's seating is with custom seat walls from Concrete Craft®.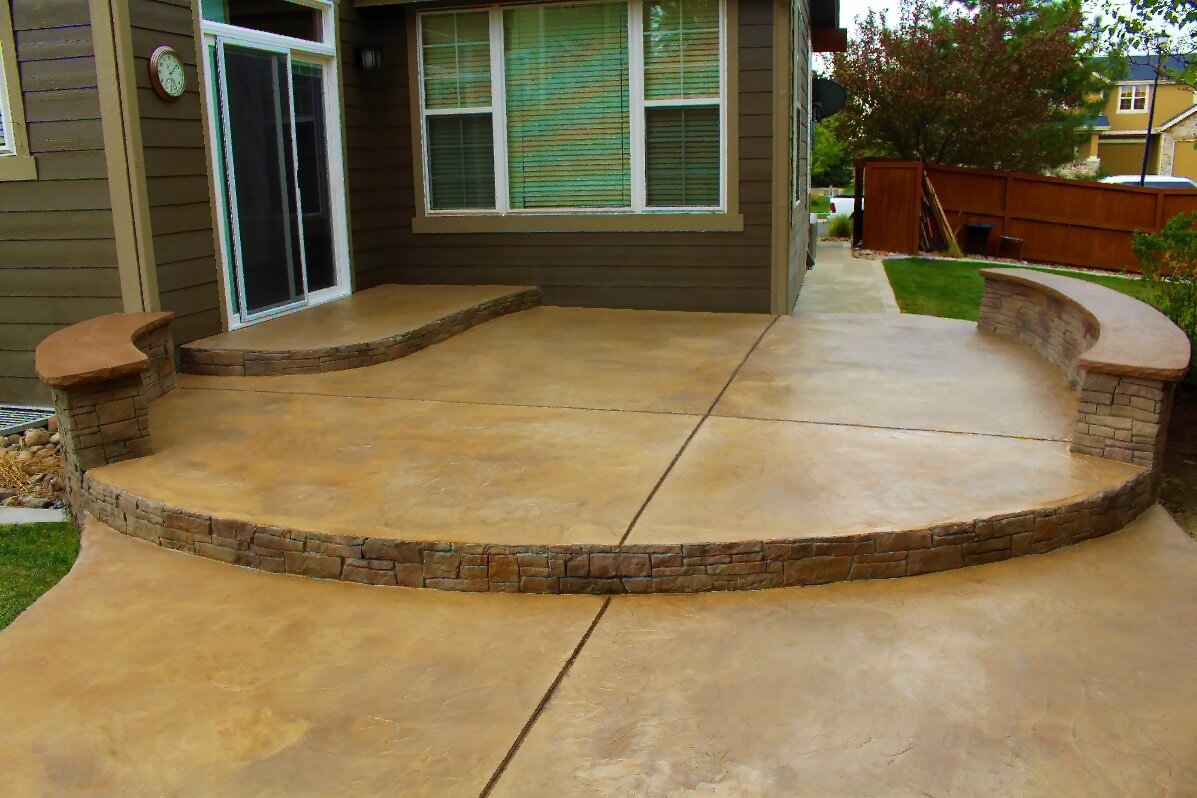 Seat walls for beauty and function
There's no need to invest in extra patio furniture that requires storage space when not in use. Seat walls are a permanent seating solution that adds beauty and year-round functionality to your stamped concrete patio. Our Seat Wall System is a fast and economical way to create faux stone retaining walls, seat walls, and walkways or raised garden enclosures.
A process used for years in "architectural concrete," Concrete Craft's system for creating custom wall seating uses a core of foam liners that is flexible, enabling the creation of unique curved designs. It can be cast in nearly any form or shape to accommodate any space and offers tremendous variety in stone type, color, and texture. Our proprietary-blend concrete overlay doesn't require complicated cutting like other materials or real stone. The realistic stone façade is created on-site, to an exact measurement, with custom-coloring to match or complement your existing hardscapes.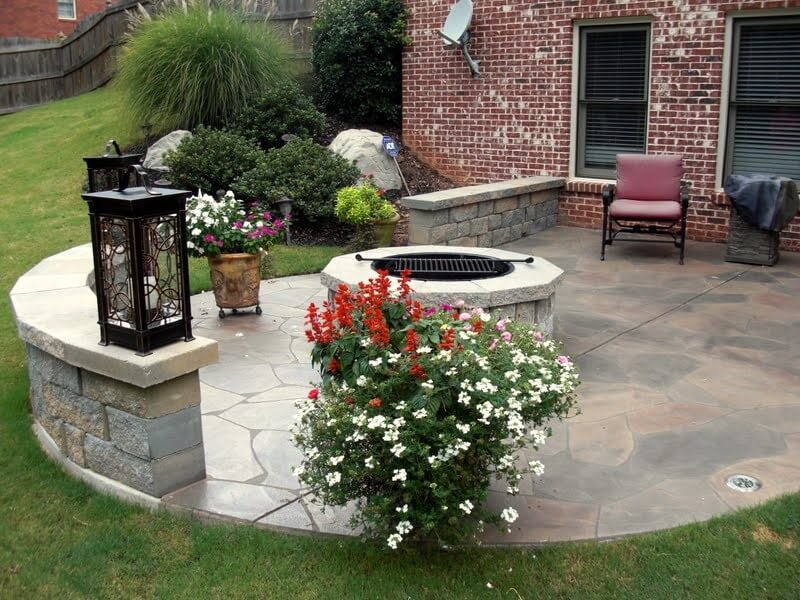 Seat wall caps should be at least 12 inches wide and two inches thick for safe and comfortable seating. Artistically, a lighter color seat wall cap on a dark wall or a dark color on a lighter wall gives an attractive visual contrast. The cap surface should be smooth to protect clothing and bare skin, especially in shorts and bathing suit weather. Our durable, sealed finish helps to make the surface more user-friendly. Colorful cushions are an added comfort for your family and guests when temperatures are uncomfortably hot or cold.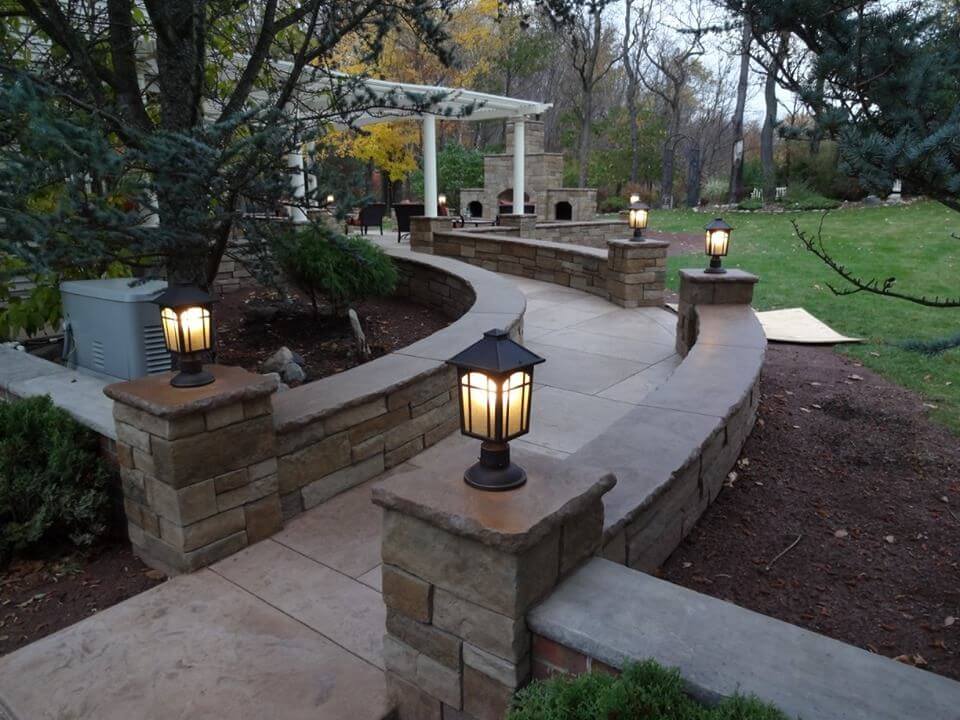 The continuous, seamless finish eliminates any long-term mortar issues like crumbling grout and shifting stones. A commercial-grade, industry-tough sealer protects your seat walls, providing lasting beauty and easy-care enjoyment for decades. Seat walls can connect patios, walkways, concrete pool decks, and different areas of a yard. You can incorporate lighted pillars for safety at night by illuminating the surrounding areas and banishing shadows.
Versatility and creative design
Seat walls can be used just about anywhere you need outdoor seating. Integrated with a patio or pergola, around a pool, under a shade tree, or in a garden. Seat walls can create intimate areas as well as maximize large entertainment spaces.
Seat walls integrate beautifully with fireplaces or outside ovens and can encircle a patio with functional seating and serving areas. Kids can sit on the seat walls with plates and drinks right beside them so it's easy for them to move around as they are prone to do. Parents and adults can opt for patio chairs and tables for leisurely comfort.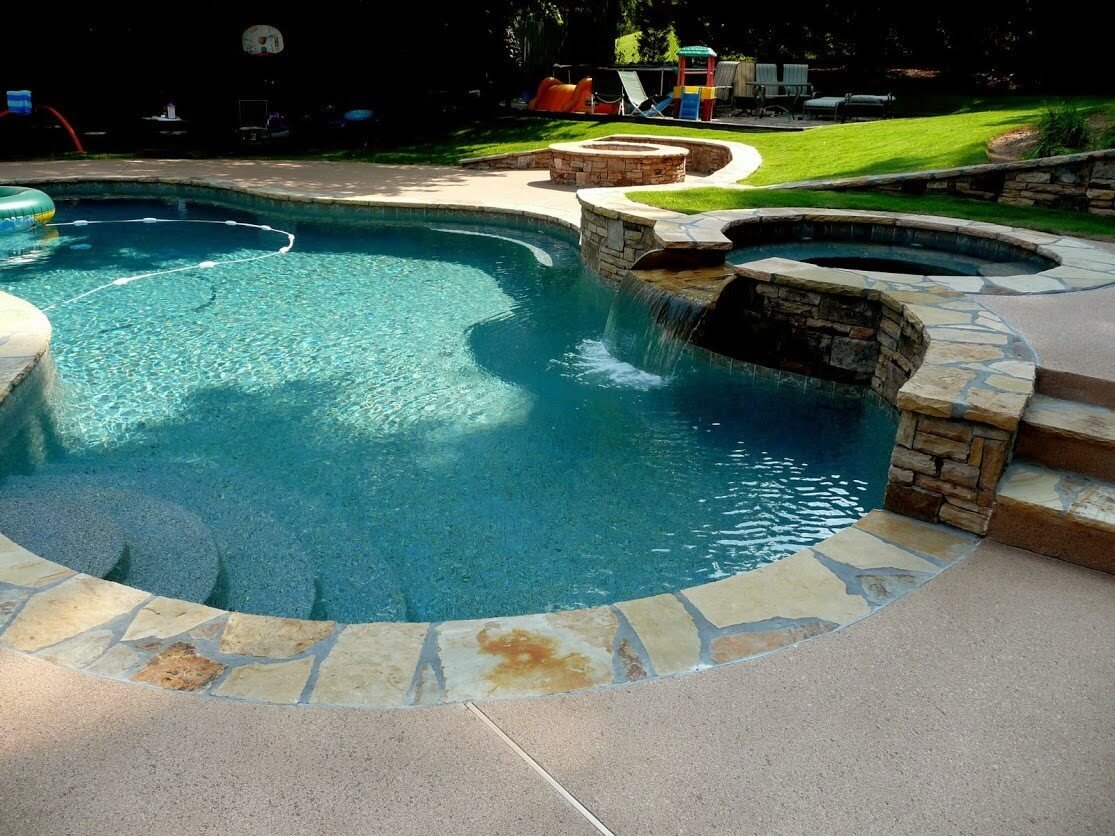 This multi-level yard shows how retaining walls and seat walls can serve to enhance and unify a big space. The pool and spa feature a decorative concrete pool deck with a custom stone border, incorporating a fire pit and seat wall area. The entire area gives full visibility of the playground so parents can swim and relax while keeping an eye on the kids.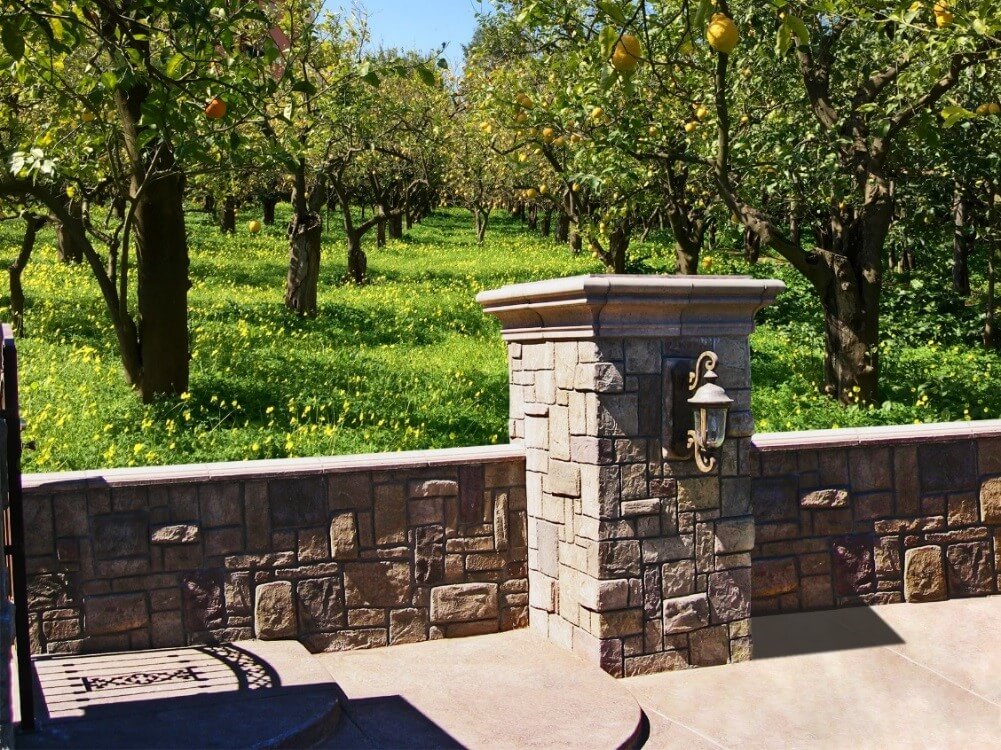 If you have existing retaining walls that are too tall for comfortable sitting, you can still capture that space for seating by installing a lower seat wall, flush to the retaining wall, creating a bench with a back. This way you greatly multiply seating space without having more patio furniture in limited space. Or, a raised patio at the level of a retaining wall can be enhanced by adding a seat wall of 18 to 24 inches on top of the retaining wall. You'll gain valuable seating space as well as provide a safe barrier around the edge of the raised patio.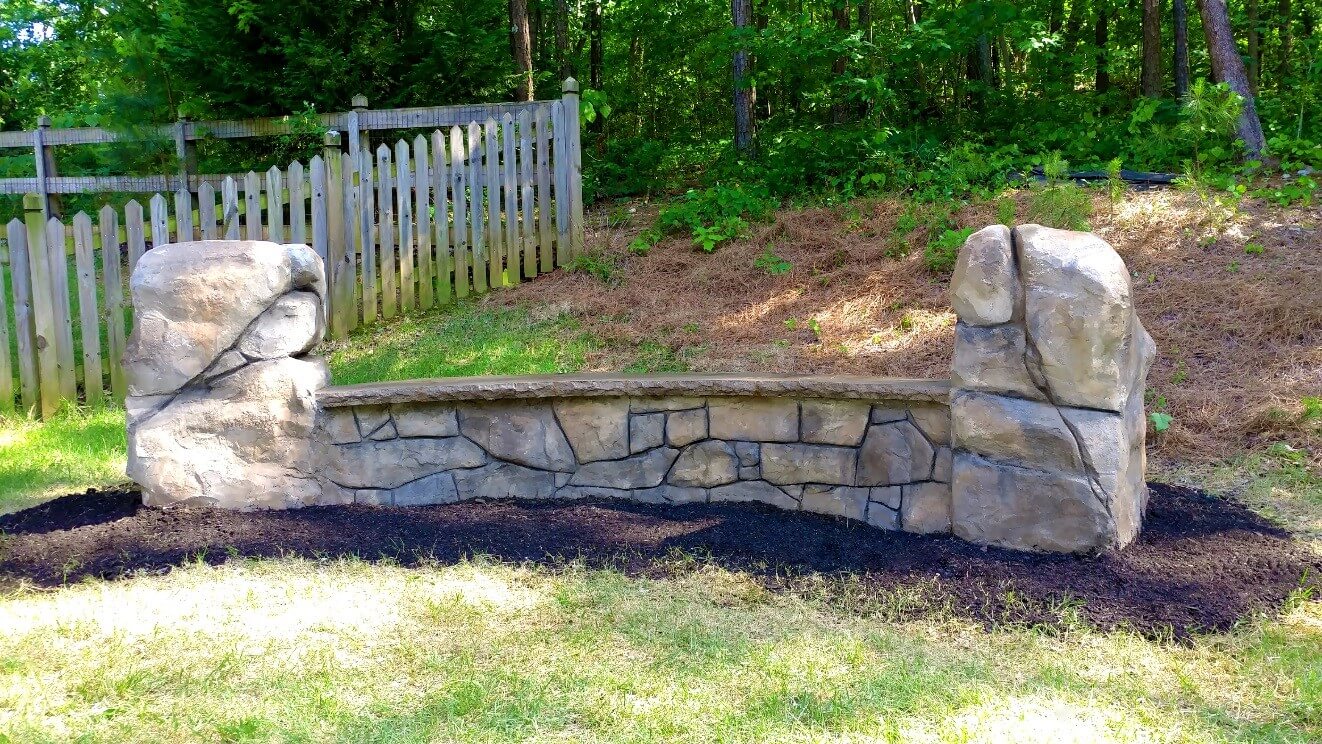 Boulders are popular in yardscapes as retaining walls or merely ornamental. They can be integrated with seat walls for a unique design statement. Our seat way system can mimic the appearance and texture of real boulders that can be prohibitive due to weight, cost, and the heavy equipment necessary to move them in. Concrete Craft can create realistic boulders to enhance your yard or patio in the exact dimensions and colors that you desire. Since a seat wall or retaining wall of (faux) boulders is one continuous piece, there won't be water or silt seeping through as can happen with real boulders. Even heavy rain will not dislodge any part of the design. Boulders can also serve as table surfaces or additional seating, independently placed or as part of a full patio design.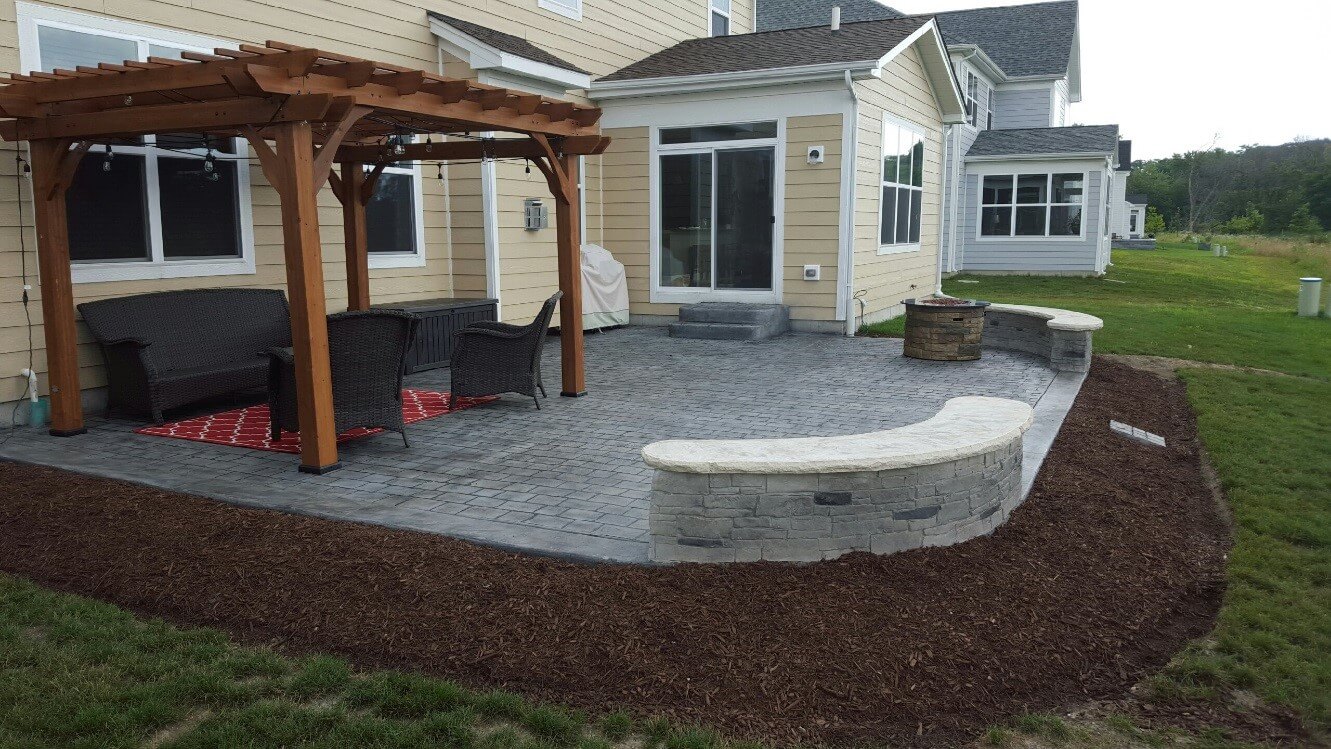 Whether a small, medium or large patio or yard, you can have functional outdoor space for your family's everyday activities as well as plenty of space when company comes. Durable and reliable seat walls are there when you need them, providing functionality and beauty to complement your outdoor furnishings with additional seating so that all you have to worry about is having enough food!
Contact us today or go online to www.concretecraft.com to find the Concrete Craft location nearest you and request a FREE estimate on seat walls or retaining walls to maximize your outdoor spaces. We are also experts with stained, stamped, and resurfaced decorative concrete overlays for interior floors, patios, pool decks, driveways, walkways, including vertical concrete resurfacing for accent walls, fireplace surrounds, siding, entryways, and more.