Decorative Concrete Adds Value To Any Business
If your business needs a new lease on life to embrace the possibilities of 2021, decorative concrete floors could easily be the catalyst for amazing change. From sprucing up your storefront to office flooring and warehouse space, Concrete Craft's® exclusive MasterProTM concrete resurfacing systems can repair, renovate, and restore worn and tired concrete areas that could be hampering your business.
Would enhanced curb appeal attract more customers?
Have your floors been scrubbed within an inch of their lives but still look dirty?
How about some high-end style and panache that won't break the bank?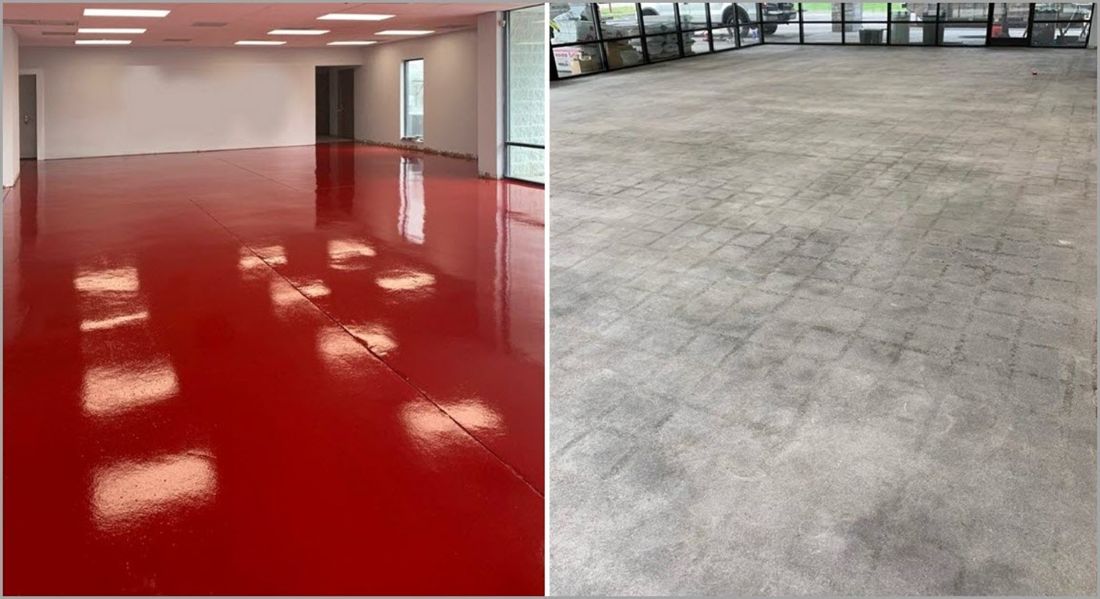 From shameful to stunning this showroom's stained concrete transformation will attract and hold customers' interest and punch up your product display
Concrete Craft's decorative concrete finishes for floors can transform any commercial enterprise by adding beauty and lasting value with versatility and durability that no other material can match. For about half the cost of other flooring, including stone, tile, hardwood and carpeting, you can have stamped concrete, stained concrete or resurfaced concrete that can replicate the look and texture of natural substances such as flagstone, polished marble, tile, slate, and wood plank. Restaurants, retail spaces, office buildings, schools, hospitals, manufacturing plants, condos, apartments, and independent small businesses can all benefit from beautiful, custom decorative concrete.
First impressions are critical
Your storefront or entryway should be inviting to customers. Given a choice, shoppers will choose clean, attractive surroundings to spend their time and money. Welcome guests with realistic faux stone finishes or elaborate stained concrete designs. Concrete Craft can help you upgrade your image with custom decorative concrete designs that will certainly get you noticed!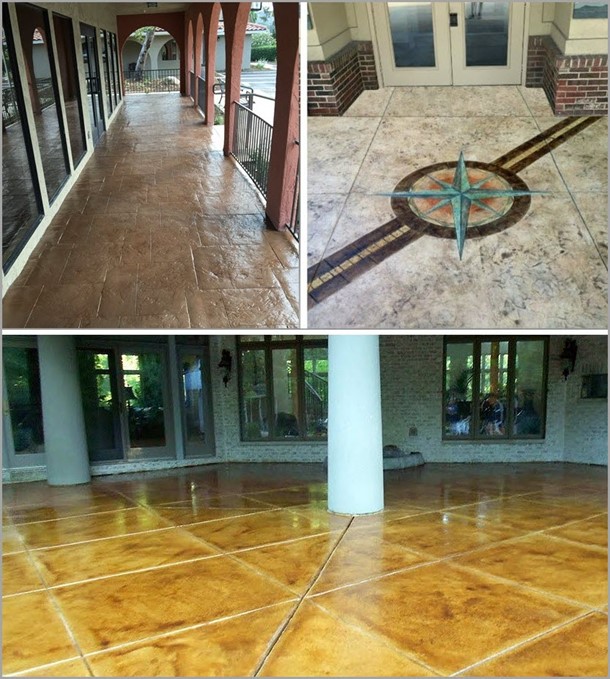 A distinctive entryway will set your business apart from all the rest
Stamped concrete in a slate-textured tile design can renew exterior walkways, porches, and patios.
Create a dramatic entrance with colorful graphics or your own company logo with stamped or stenciled decorative concrete.
Resurfaced concrete can be stamped or hand-cut and custom-stained for realistic stone designs like flagstone, cobblestone, or large-format tile.
Elevate workspaces, offices, and boardrooms
In a busy office, it doesn't take long for flooring to look damaged, from stretched and lumpy carpet to chipped and cracked ceramic or vinyl tile. You know how disheartening it is to come to work and stare at the same coffee stains every day, so give yourself and your employees a positive lift with decorative concrete floors that reflect style and beauty. Individual offices, community work areas, breakrooms, and restrooms will be cleaner and more inviting with the stain-resistant finish that keeps floors looking like new.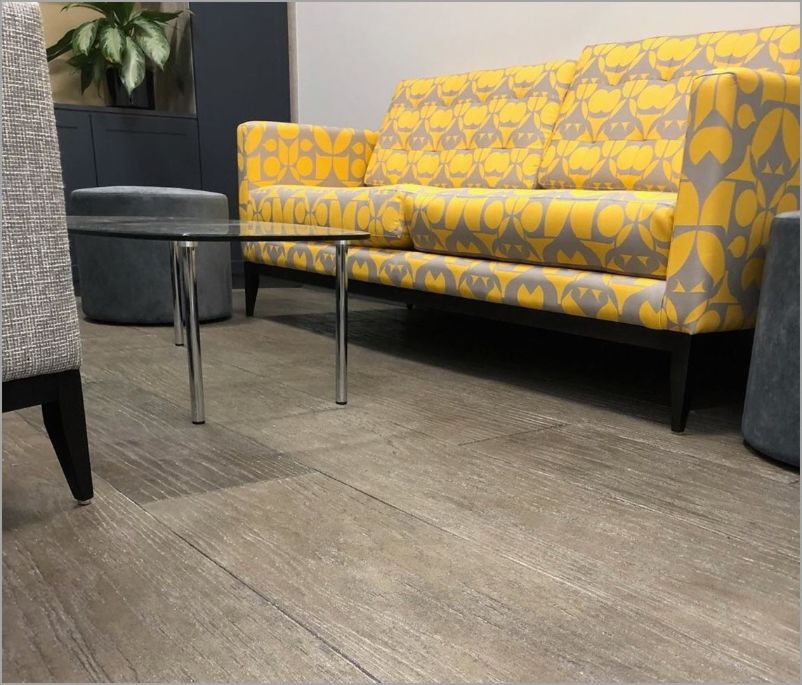 Attractive flooring contributes to the image of a successful, thriving business
Update offices, conference rooms, and reception areas with the look of high-end flooring with concrete overlays designed to replicate wood plank, ceramic and porcelain tile, or polished marble.
Indoor air quality is improved with decorative concrete floors that resist spills, stains, moisture, and mold and bacteria growth.
Long-term maintenance costs will be greatly reduced without the need to replace floor coverings every few years.
Relieve rental property headaches
Going from tenant to tenant is costly, and it will be easier and less painful to your bottom line when floor replacement is off the table. Decorative concrete floors are a one-and-done for rental properties, with floors that can withstand even the messiest tenants and their pets, resisting stains, scratches, peeling, and fading. You won't be replacing flooring every few tenants or after a plumbing disaster that can ruin carpeting or wood flooring.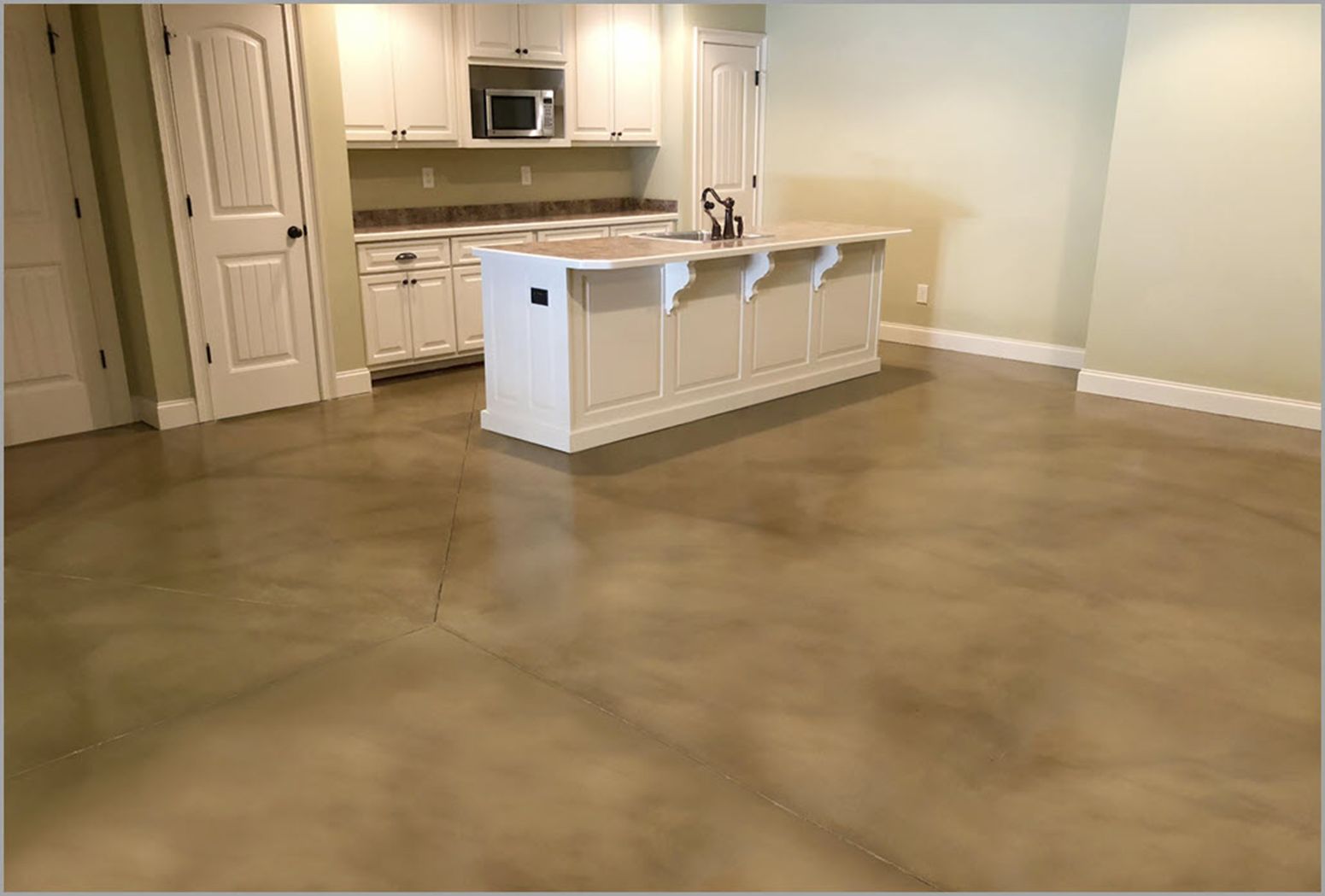 Put a fresh face on a rental property with a floor finish that always looks shiny and new
Renters will love the easy care of concrete floors and that they don't have to worry about damaging them with everyday living.
Concrete stains can create unlimited design effects, including marbling, antiqued, stenciled, multiple colors, or borders.
Stamped concrete overlays can replicate stone and wood plank designs for interior floors or outdoor patios, driveways, and walkways.
Hospitality and destination locations
Hotels, resorts, and apartment complexes can benefit from the functionality and durability of decorative concrete floors for patios and communal areas where people congregate. Indoors and out, wherever the action is, it's no worries for furniture relocation, cocktail parties, games, and dances because the sealed surface of stained, stamped, or hand-carved designs can beautifully survive any activity, in any kind of weather.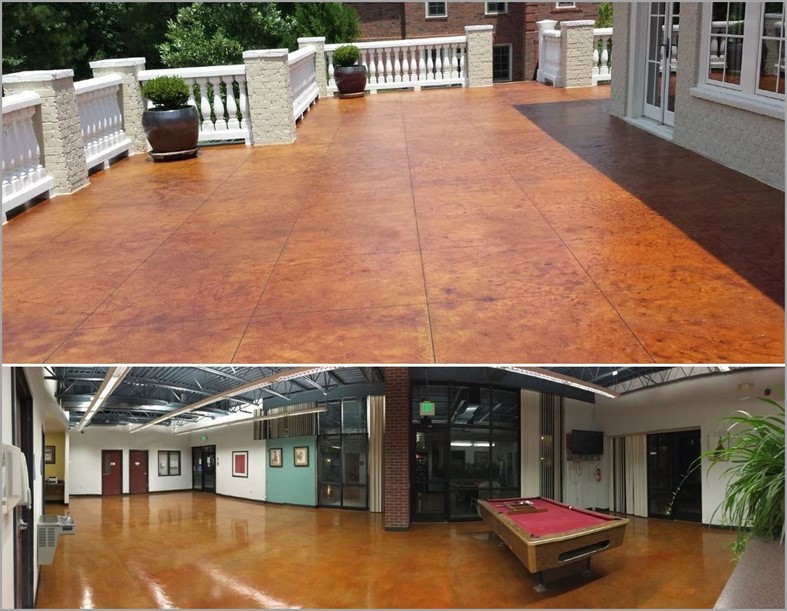 Decorative concrete is the most cost-effective way to update large areas with stylish new floors
The non-porous finish resists food and drink spills so even large parties won't mar the floor's surface year after year.
Decorative concrete can revolutionize indoor lobbies, walkways, and dining rooms as well as outdoor patios, walkways, and courtyards with lasting beauty.
Moisture-resistant pool decks stay cleaner and trouble-free, resisting chipping, cracking, fading, or peeling from moisture, sun, and multitudes of people.
Easy cleanup for food services
If ever easy-care floors are needed, it's in businesses where food and drink are served. From dining rooms to coffee houses and kitchens where food prep is a messy occupation, decorative concrete floors are the answer to high functionality in the kitchen and happy ambiance in the dining areas. Not only are decorative concrete floors resistant to dropped pans, spilled food, coffee stains, and customer traffic, the sealed surface keeps every area cleaner with its stain-resistant qualities and moisture resistance that inhibits mold and bacteria growth.
Cleanup is quick and easy, so you don't have to stay late after closing because of dirty floors
Unlimited design potential for whatever ambiance you want from bright and energetic to sophisticated marble or faux stone and wood patterns.
Custom concrete stains can match even the most vibrant décor, and UV-resistant stain colors will not fade, chip or peel.
Create a memorable dining experience with floors, walkways, and patios that always reflect good taste and clean surroundings.
Floors that go above and beyond
Some businesses have floors that experience extreme wear and tear, such as laundromats, salons, gyms, or martial arts studios where floor abuse is just part of the deal. Heavy equipment, constant customer traffic, spills, and moisture can quickly take a toll on most floor coverings, requiring frequent repair and replacement. Stained and sealed decorative concrete floors can stand up to extreme use for decades without damage or replacement, conserving your resources.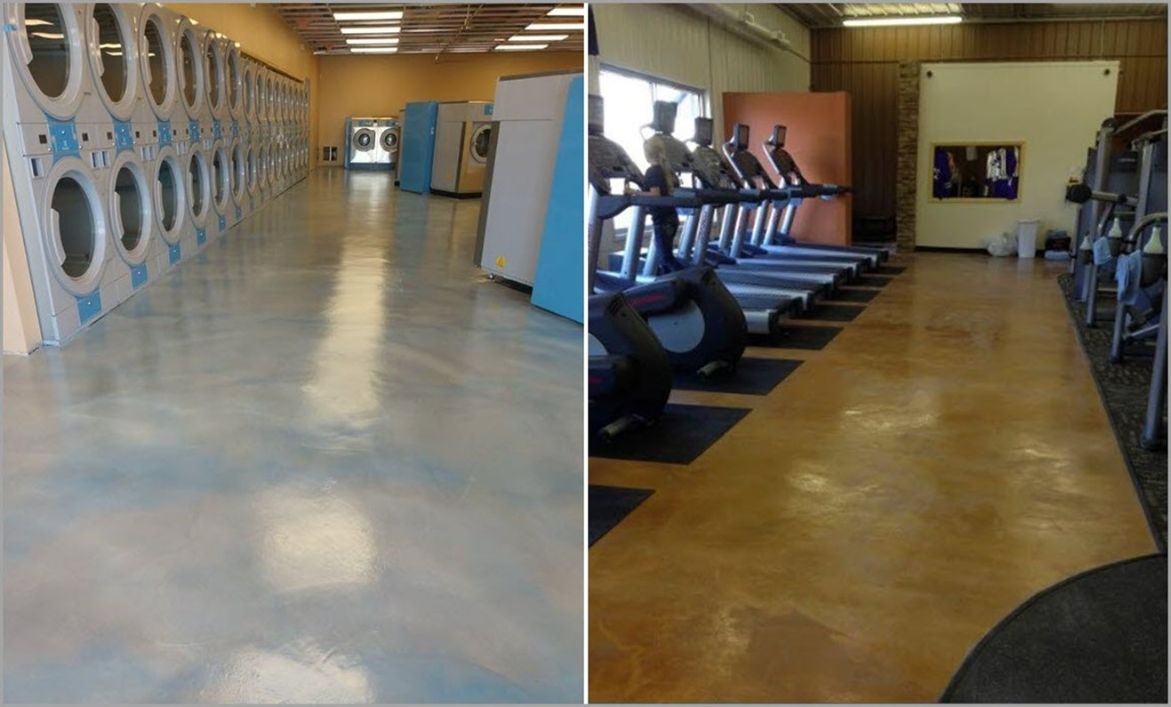 Unlimited design potential means you can have one-of-a-kind custom floors
Stained decorative concrete floors resist moisture and heat from washers and dryers, and laundry product spills wipe up with a cloth.
Safe around shampoo bowls, hot tubs, showers, and dressing rooms, decorative concrete's resistance to moisture, mold, and bacteria keep the whole facility healthy and hygienic.
Low-maintenance, decorative concrete floors clean up with a dust mop or vacuum and wet mop with a neutral-pH cleaner instead of harsh chemicals.
Warehouses and heavy-duty work areas
Areas like warehouse and storage space certainly require durability and functionality, but not necessarily aesthetic design. For economy, a simple concrete stain and sealer can improve a warehouse or storage area where the floors are in good condition. Where damage is extensive, RestoreKoat by Concrete Craft™ can repair and restore a concrete floor to like-new condition without demolition. A versatile repair mortar, RestoreKoat fills in cracks and evens out the surface for the look of freshly poured concrete. The permanently bonded surface cures in excess of 7000 PSI and will not crack, chip, or peel for a clean and safe workplace.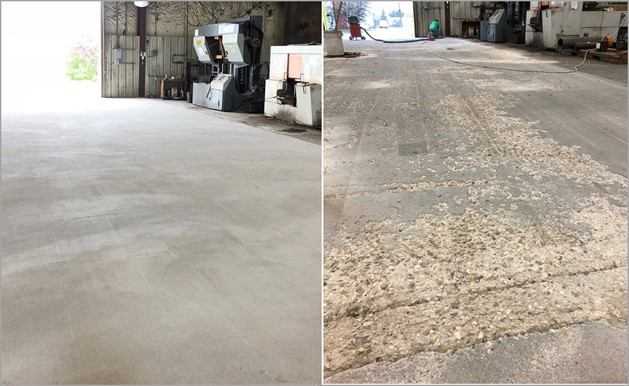 Safety is enhanced with durable, low-maintenance floors that give all the support you need
Older floors, walkways, and patio slabs can be revitalized with concrete repair and restoration instead of replacing, saving time, money, and the mess of demolition.
The durable finish is resistant to freeze/thaw cycles, salt scaling, abrasion, impact, and spills such as gas, oil, and chemicals.
The industry-tough surface is ideal in heavy-duty work locations where vehicles or machinery can take a severe toll on ordinary flooring.
Give your business a competitive edge
Whether you have one or multiple commercial business locations and whatever is your business of business, your local Concrete Craft craftsman can evaluate your flooring needs and help you make the best choice of stained, stamped, or resurfaced concrete to enhance your facilities. Contact us today or go online to www.concretecraft.com to find the Concrete Craft location nearest you and request a free onsite or virtual* consultation. You'll love the affordability, durability, and aesthetic enhancement that is custom decorative concrete.
*Virtual consultation may not be available at all locations.