Decorative Concrete Flooring is the Smart Choice for Business
For any commercial business, the more worry-free a facility can be, the better it is for business. This includes heating and air, security, internet integrity and building maintenance and upkeep. One way to enhance your facility and give yourself one less thing to worry about is with easy-care decorative concrete flooring that can last for decades.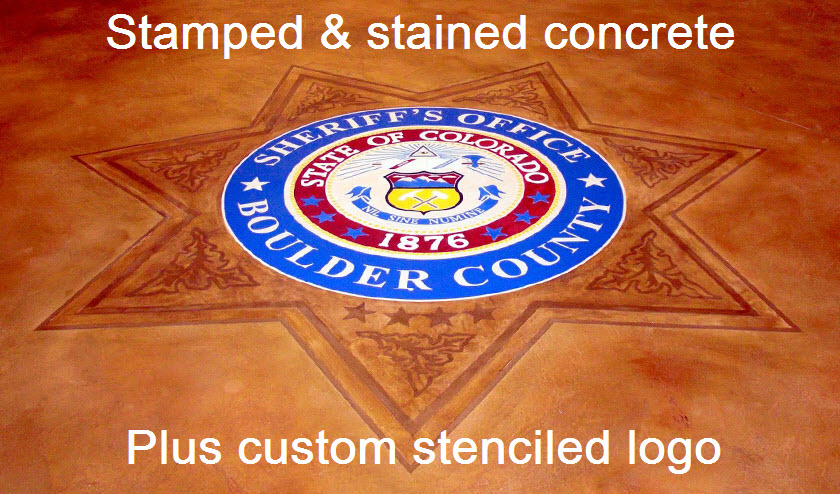 Concrete Craft® has been supplying commercial customers with worry-free stained, stamped and resurfaced concrete floors for years, like The Mellow Mushroom in Alpharetta, Georgia, Wing Stop in Chicago and Anytime Fitness in DeMotte, Indiana. We've created beautiful spaces for restaurants, offices, apartments and condos, retail stores, and more, with vibrant stain colors, hand-cut custom designs, stenciled logos and authentic-looking stone finishes.
Your business can save money by renovating rather than hiding your concrete floors. You can completely transform both indoor and outdoor surfaces with resurfaced concrete overlays for floors as well as vertical surfaces like accent walls, siding, retaining walls and more. Decorative concrete can offer the same look and texture of natural substances such as flagstone, cobblestone, polished marble, Roman Texture slate, brick, random stone and hand-cut limestone, but at a significant savings.
Stained concrete for low cost and high durability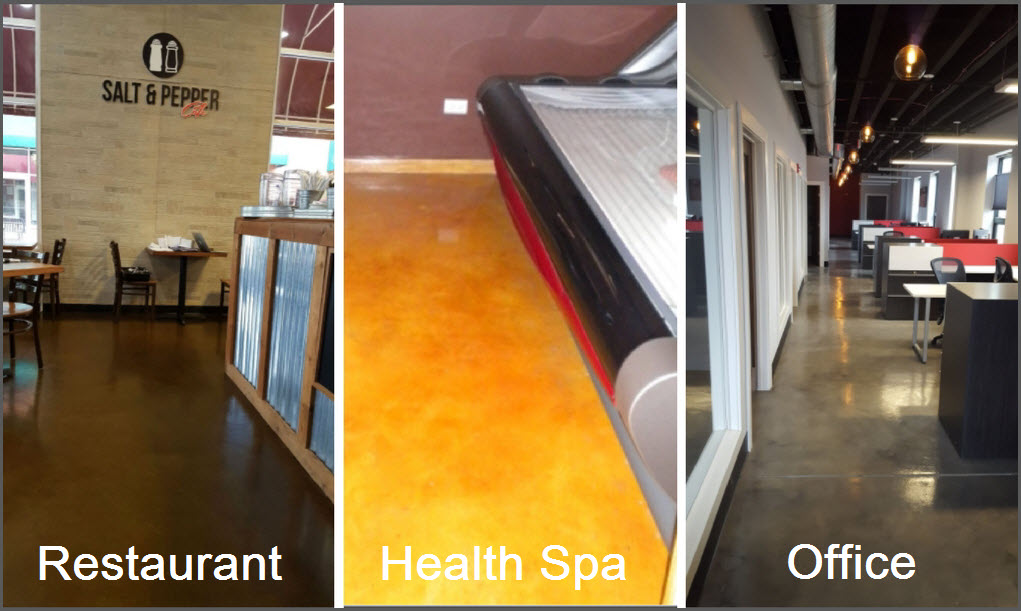 Stained concrete, as in the images above, is the most economical way to add style and luster to any commercial space. You have unlimited design potential with multiple finish options, color effects, and the colors themselves. With water-based acrylic or acid-based chemical stains, stained concrete can mimic anything from polished marble to natural stone. If your concrete is damaged after removing existing floor coverings, like carpeting, a concrete overlay can restore any surface chips or cracks for an even stain. Or, if you like the natural characteristics of concrete, stain will add distinctive color while letting its natural attributes show through. For large areas like warehouses, show rooms and walkways, stained concrete is the most economical way to transform, beautify and protect your floors against forklifts, heavy equipment and constant foot traffic.
Stamped concrete for authentic-looking, natural finishes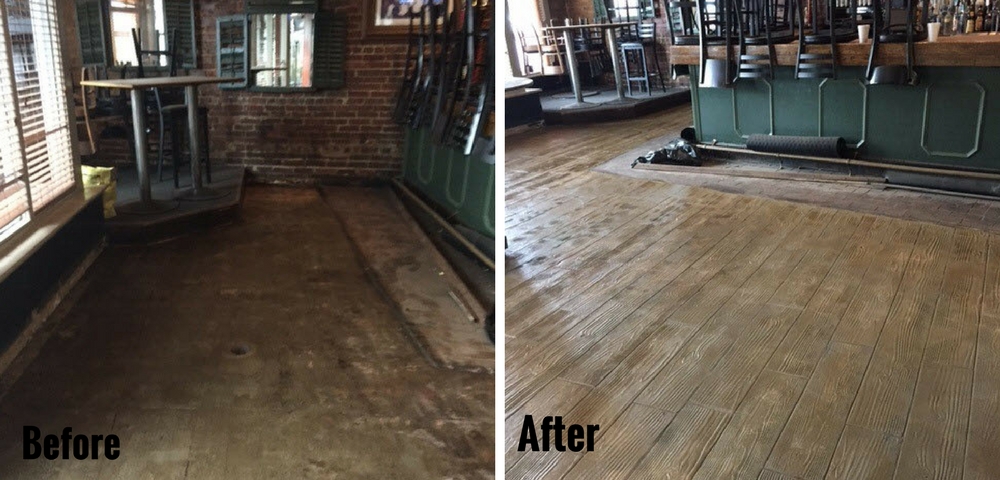 Stamped concrete can give the look of real pavers, wood plank, brick and stone for a fraction of the cost of the real thing. You can create an elegant entryway with cut cobblestone or Ashlar slate, or a rustic ambiance for a countrified steak house or barbeque restaurant with "hardwood" floors, perfect for dropping peanut shells to the floor. Nothing sticks to the sealed surface and those shells sweep right up. Line dancing in the bar to "Kick the Dust Up" won't mar the finish, but there really won't be any dust since concrete floors resist dust, dirt and allergens. Your maintenance costs will go down and the floor will last for years of "Drinks After Work" without needing replacement.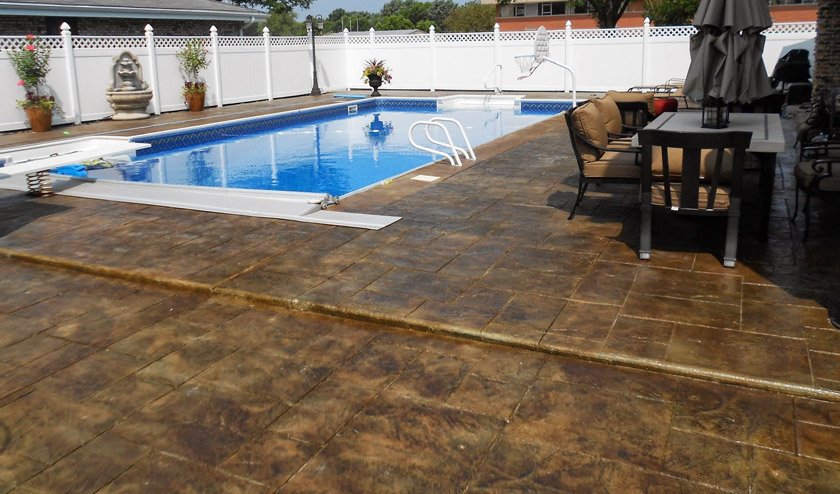 This stamped and stained community pool deck will keep residents and property owner happy for years. The fade-resistant stain will keep the color true and lasting, and the seamless surface of authentic-looking "stones" will not lift or shift, so will never become a tripping hazard. A slip-resistant additive to the sealer is an additional safety factor where water is present, like around pools, spas or hot tubs. Even with heavy use and the inevitable litter of multiple users, this pool deck can be kept clean with a quick hosing off so it's always ready for a relaxing day in the sun. No need to anger the tenants by closing the pool for a day for maintenance and clean up.
Hand-cut and custom-colored resurfaced concrete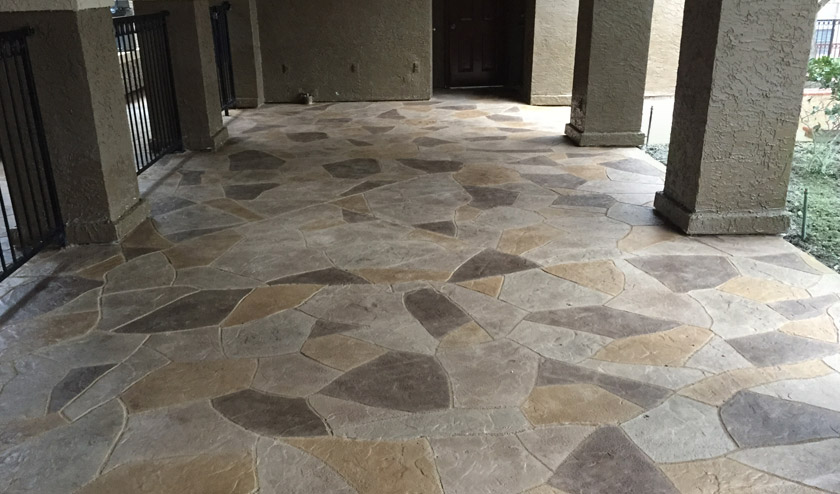 Stone enhancements for both indoors and out have been gaining popularity over the past few years and both homeowners and business owners are incorporating natural stone into their surroundings. Resurfaced decorative concrete overlays can actually improve on real stone, in cost factor, unlimited design potential and durability. This realistic-looking flagstone patio is hand-cut and custom-colored to the owner's preference and can easily extend to all walkways on the property for an upscale appearance. No worry about securing enough stones to match. There is never an issue of grout deterioration or grass and weeds growing between the stones, so maintenance costs are reduced. The textured surface is one continuous sealed finish, protecting the integrity of the design for years of performance and enjoyment.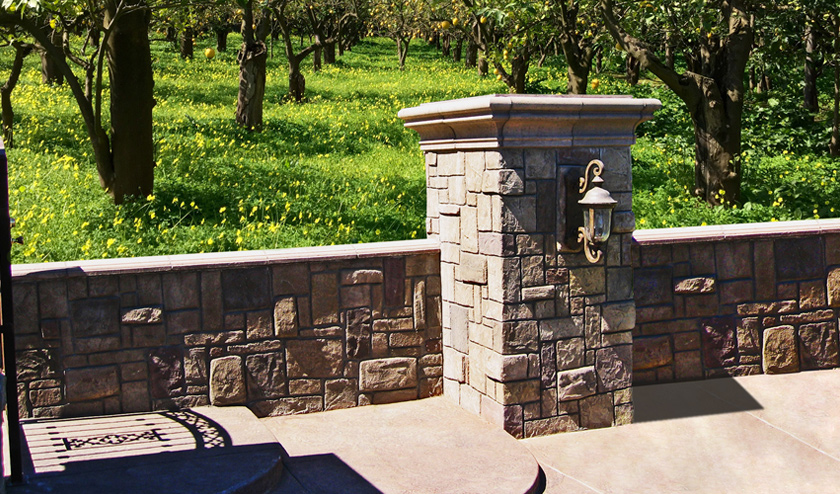 Concrete Craft can also transform vertical surfaces with custom, faux stone siding. While this example is an outdoor patio, interior walls or surfaces can also be enhanced with vertical concrete overlays, hand-carved to resemble real stone like Mountain Drystack, English cobblestone, Castle Rock, sandstone, limestone and more. Overlays can be applied over wood, drywall, brick and concrete so it's quick and easy to upgrade or add an accent wall in areas such as reception, public restrooms, and shower stalls in a gym or executive washroom.
If your business floors are looking a bit forlorn and in need of rejuvenating, rather than replacing the carpeting or tile one more time in your facility, give decorative concrete another look:
More cost-effective than other flooring options
Does not require replacement every few years
Most durable floor you can have
Lower maintenance
Resistance to mold, mildew, dust and allergens creates better indoor air quality
Unlimited design and customization potential with stained, stamped and resurfaced options
Contact us today or go online to www.concretecraft.com to find the Concrete Craft location nearest you and schedule an onsite consultation to see just what we can do for your business. Concrete Craft provides exceptional value and design expertise for any type of business, large or small, single or multiple locations, including indoor and outdoor spaces.