Decorative Concrete Interior Floors Give The Look You Want In Every Room
If you're moving into a new home and want to put your individual stamp on it with new flooring or you're renovating the floors in your existing home, your head is probably spinning if you've done your research about choosing flooring. Before we jump into the fray, here is a before-and-after decorative concrete floor from Concrete Craft® that lives up to the "one picture is worth a thousand words" quip. Just something (beautiful) to think about as we navigate the landscape of deciding on new flooring for your home.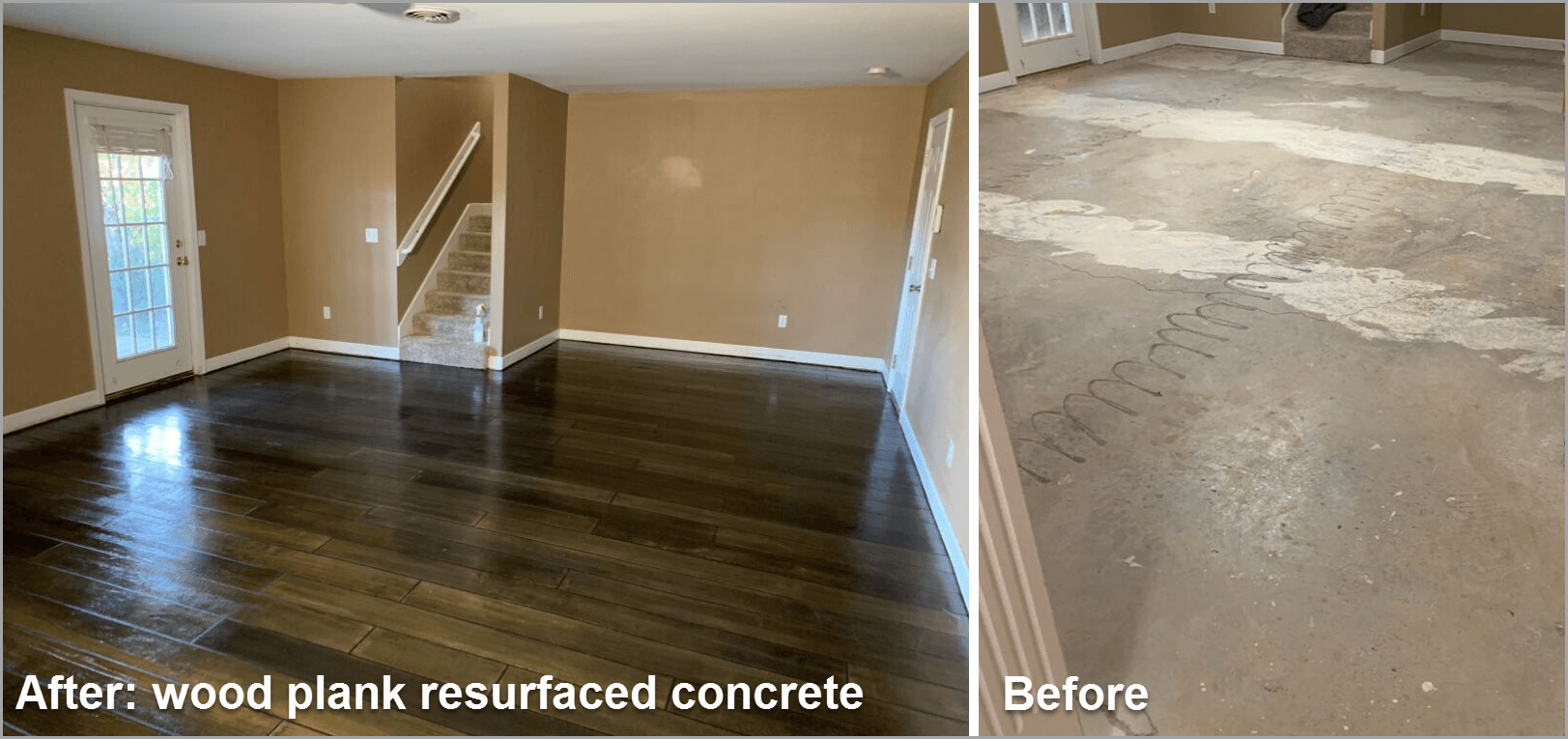 How to choose the best flooring for your home
Choices are hard for many people. And making choices that you will live with for a long time makes for a more difficult decision, especially when the cost is on the line. When researching flooring for your home, there is lots of advice online, some that helps and some that does not. Here are some samples of online advice:
The link between flooring types is color.
A dining room with hard flooring is practical.
Don't clash bedrooms with hallway flooring.
Keep your climate in mind.
Hardwood floors can warp with moisture.
Durability is important in high-traffic areas.
Ceramic wood-look or other styles of tile can crack.
Natural stone gives a high-end look.
One color and type of flooring visually expands the living space.
Above all, consider the cost and stick to your budget.
If you're not sure what type of flooring you prefer, you can develop a severe case of FOMO (Fear of Missing Out) and spend an inordinate amount of time checking out every flooring style at every home improvement store within driving distance. Or, you can call Concrete Craft and they can show you, in the convenience of your own home, how decorative concrete can emulate just about any flooring style you want with stained, stamped, and resurfaced concrete overlays.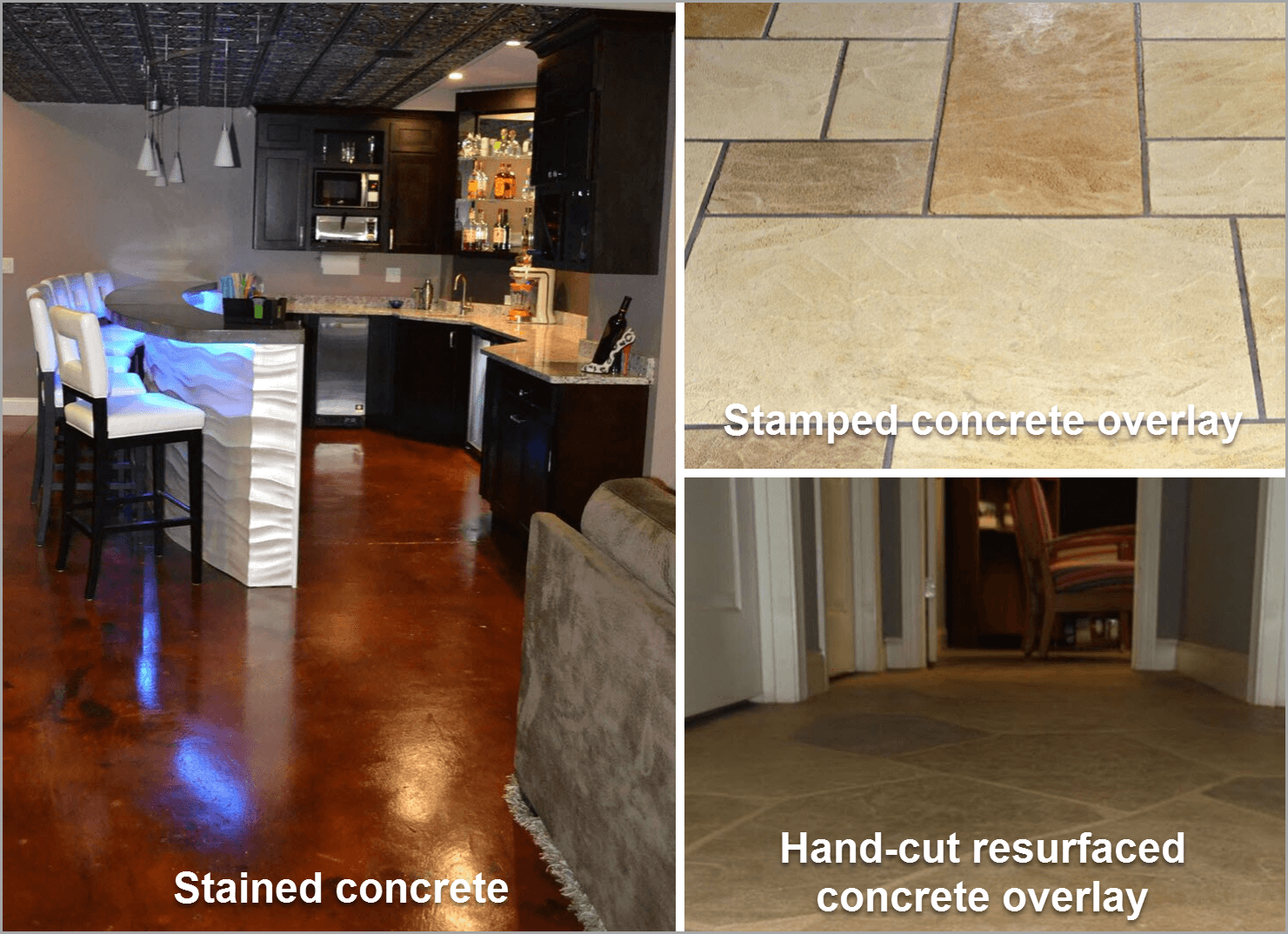 The versatility of decorative concrete
With custom decorative concrete floors, you are not limited to one style or one look. But you can get all your floors in one or multiple styles from one provider—Concrete Craft. Whether you like tile, wood plank floors, real rock or stone, brick, or marble, our decorative concrete overlays can create authentic-looking floors to match the real materials, at about half the cost.
Stained concrete
Stained concrete is the most economical way to bring vibrant color to your floors, especially if you want one flooring style to tie together multiple areas, such as the kitchen, dining room, and hallway pictured below. Using an acid-based concrete stain creates the mottled, three-dimensional effect you see here that adds distinction and uniformity to the entire space.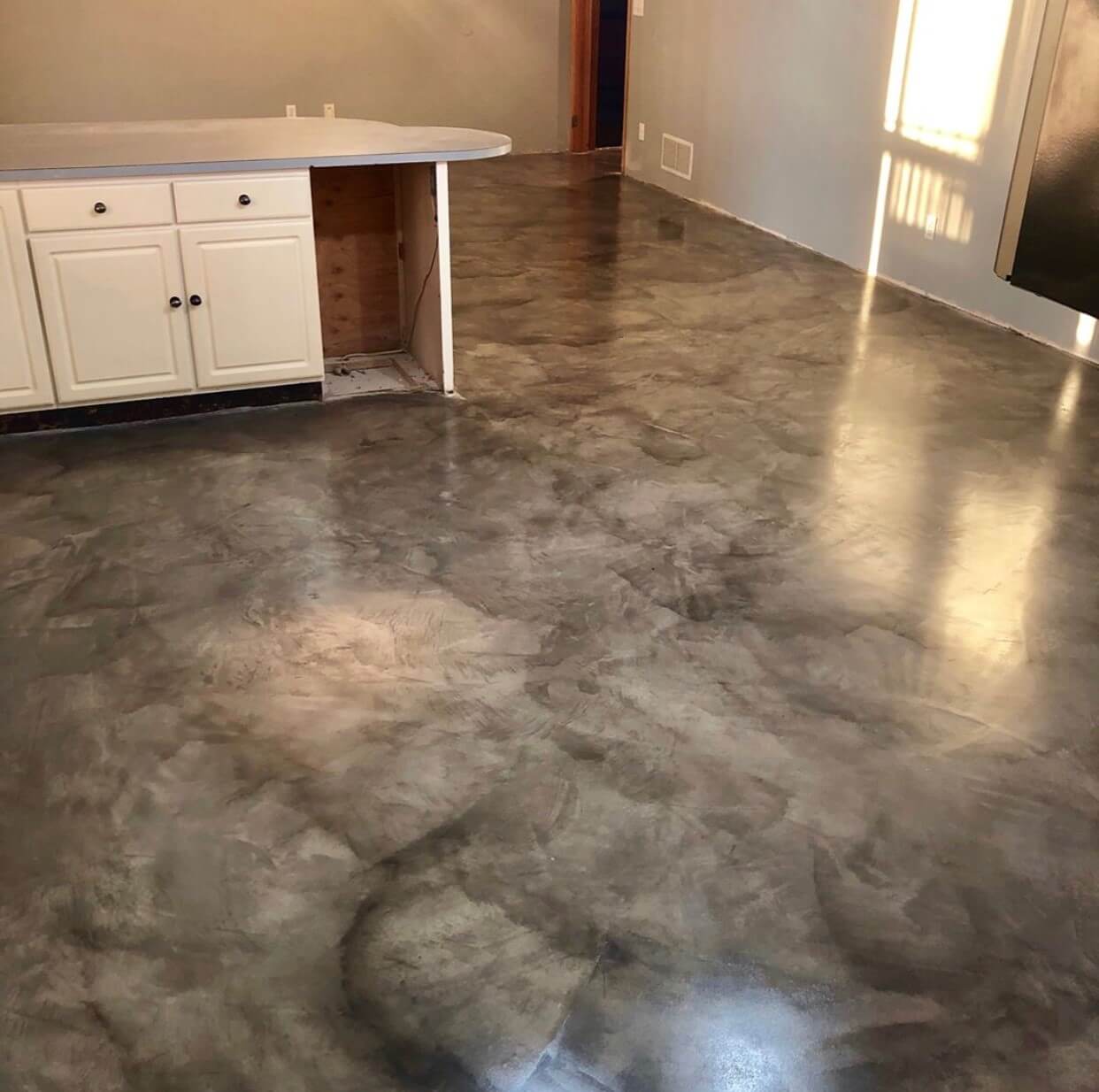 Water-based concrete stains can present a more consistent color overall.
Stained concrete can create patterns using multiple colors and be enhanced with stenciled designs and borders.
Concrete stain can be applied directly to a concrete floor that is in good condition, or a concrete overlay can cover imperfections in the floor and create a new surface for the stain.
Stamped and resurfaced concrete
While most homeowners love the look of high-end natural stone and hardwoods, they're not always in love with the price tag. With stamped concrete overlays, you can create the same effect with stamped concrete designs that can add realistic texture and patterns to all your floors. With custom stamp patterns and unlimited stain color options, you can have elegant faux stone, tile, brick, and wood plank floors that no one will guess are not the real thing.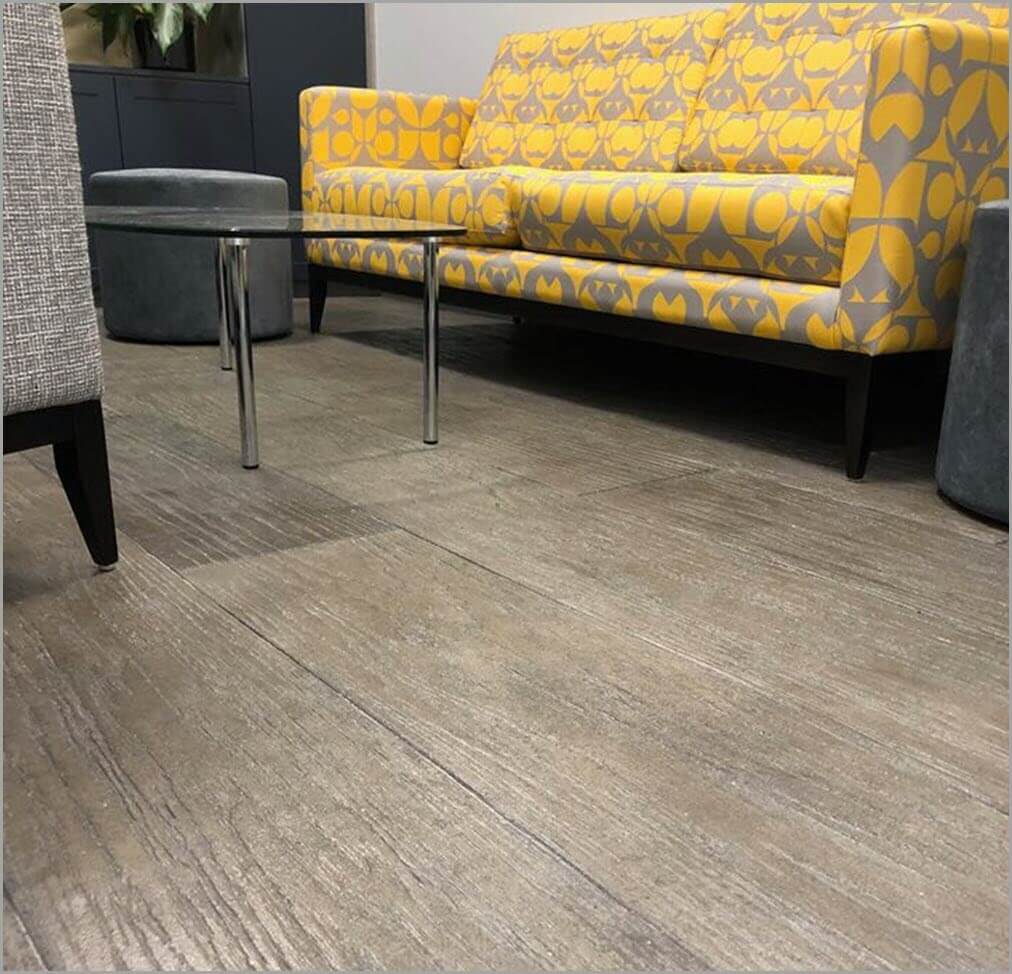 Real stone and wood stamp patterns are pressed into the concrete overlay, creating realistic finishes.
The design is one continuous surface, including simulated grout lines and wood grains, and the entire surface is treated with our industry-tough sealers to protect and strengthen the finish.
Created onsite, hand-cut, and custom-colored means unlimited design potential, including combining styles and adding custom insets and borders.
Decorative concrete versus other flooring materials
In the research list at the beginning, several issues were raised, including durability and function when considering floor styles. The durability of concrete is legendary in the building industry, it's the hardest and most-used flooring product ever. Being able to mimic other flooring materials with beautiful, durable decorative concrete makes it a viable option for every area of your home from a charming entryway to a spacious, formal living room and into bedrooms and bathrooms.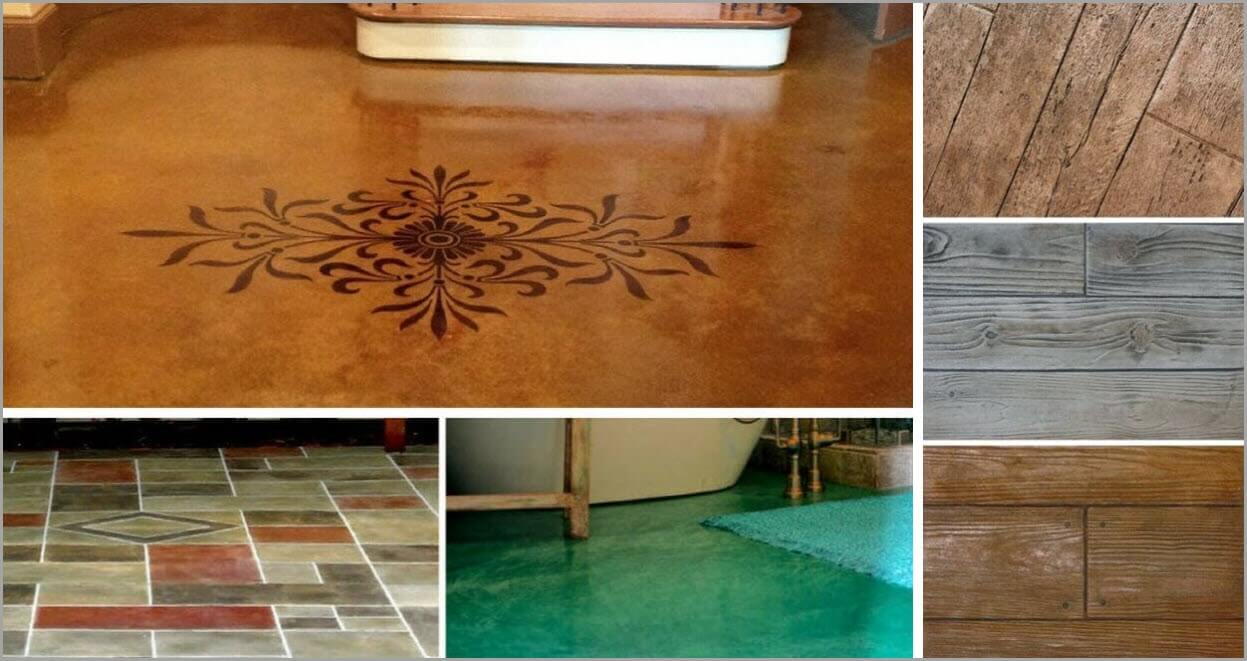 Decorative concrete finishes do not chip, stain, or peel like laminate products can do.
Moisture resistant, all styles, including stamped wood plank designs, are appropriate for rooms where humidity is high, like kitchens and bathrooms, with no worry of the problems of real wood in humid conditions.
Spills wipe right up without staining grout lines as with tile, or soaking into the wood, causing discoloration and warping.
Decorative concrete floors are easy-care and low maintenance, they don't require special cleaners. A dust mop and occasional mopping with a neutral-pH cleaner will keep them looking like new.
If you like the feel of carpet, area rugs can soften your spaces and it's much cheaper to swap out rugs when your style tastes change instead of installing new carpet.
Decorative concrete resists dust buildup and mold and bacteria growth, keeping your home more allergen-free than dirt-grabbing carpet.
And, it's worth mentioning again—you can enjoy the look of authentic stone, tile, brick, and wood floors for a fraction of the cost of real materials.
If you're tired of chasing all over town comparing flooring options, Concrete Craft is ready to help you transform your floors into beautiful, durable decorative concrete with stained, stamped, and resurfaced concrete designs. Custom decorative concrete overlays from Concrete Craft® for your interior floors may be the perfect solution to achieve exactly the look you want throughout your home. Contact us today or go online to www.concretecraft.com to find the Concrete Craft location nearest you and schedule a FREE design consultation. You won't believe all we can do for your floors, indoors and out!