Decorative Concrete Is The Ideal Solution To Commercial Flooring Blues
For many businesses, this is the time of year to "use it or lose it" when it comes to facilities budgets. If you've got flooring that needs replacing but the square footage outdistances the budget, decorative concrete may be the solution. For far less than other flooring materials, decorative concrete from Concrete Craft® can give all your commercial floors an immediate upgrade, even emulating the look of high-end flooring like marble and oversized tiles.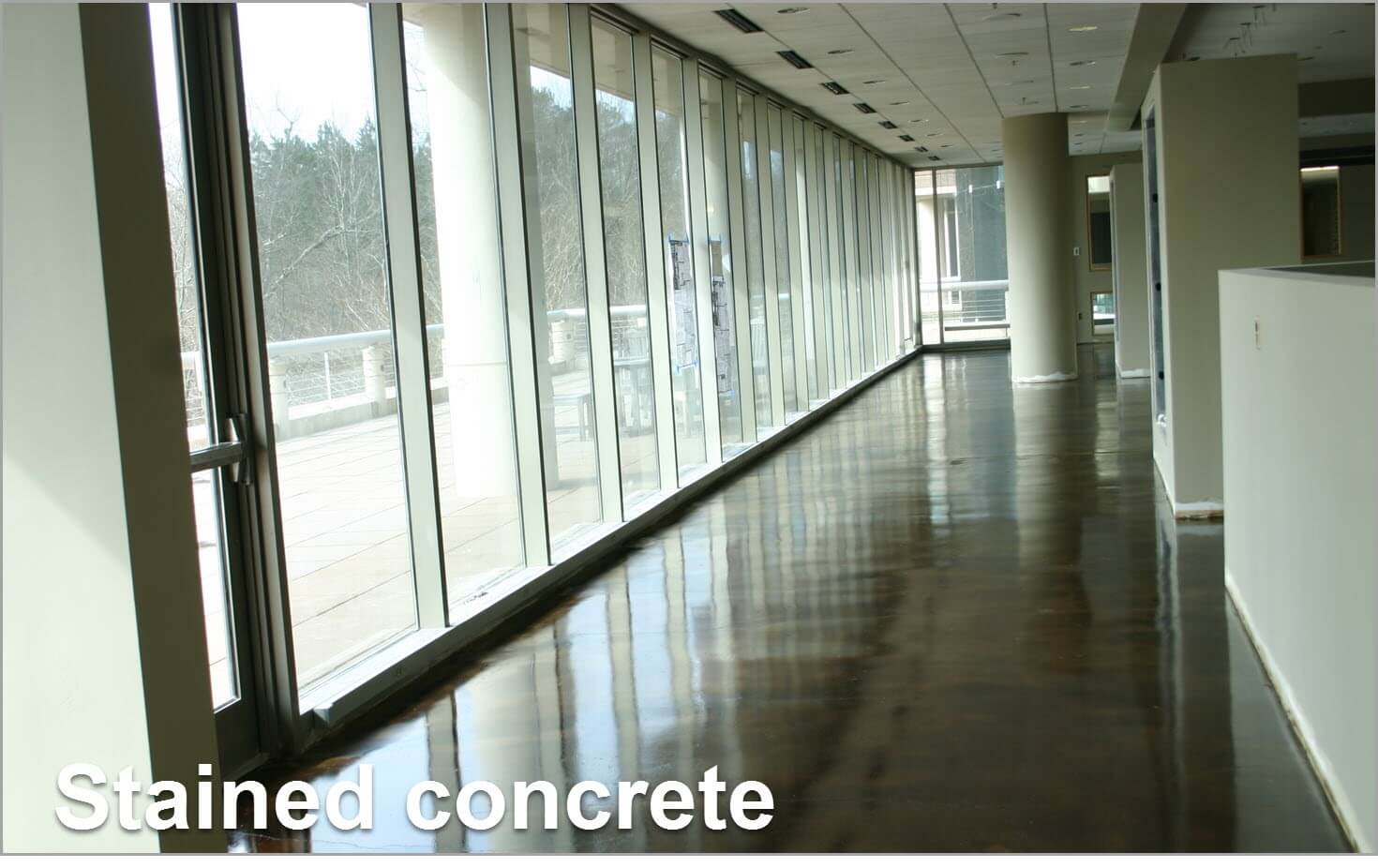 Your business can actually save money by renovating rather than hiding your concrete floors with carpet, tile, or vinyl. By replacing existing worn-out flooring with decorative concrete floors, including stained concrete, stamped concrete, and resurfaced concrete, you'll have worry-free, durable floors that will last for years. Concrete finishes range from glossy to textured surfaces, simulated natural stone such as flagstone, cobblestone, or slate, as well as brick, tile, and wood plank patterns.
Stained concrete is just the beginning
Stained concrete is by far the most popular choice for interior commercial floors because it has unlimited design potential and is the most economical solution for large commercial and business properties. Restaurants, reception areas, individual offices, apartment complexes, schools, hospitals, and warehouse space are all candidates for stained concrete. High gloss to matte finishes, a concrete stain can derive unique looks, including polished marble and natural stone. With Concrete Craft you also have the option of custom graphics and logos for a personalized, one-of-kind look.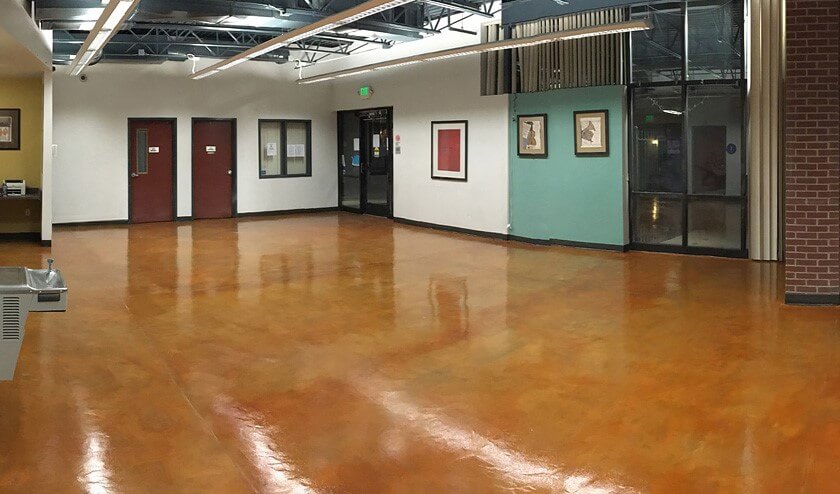 This rec center's new stained concrete floor will stand up to dinners, dances, meetings, and daily use and abuse all year long! The high gloss shine magnifies the light in the room (think spinning disco ball) and the industry-tough finish resists spills and stains and can even stand up to wet foot traffic from the community pool. Our UV-resistant concrete stains penetrate the surface and won't fade or change color over time.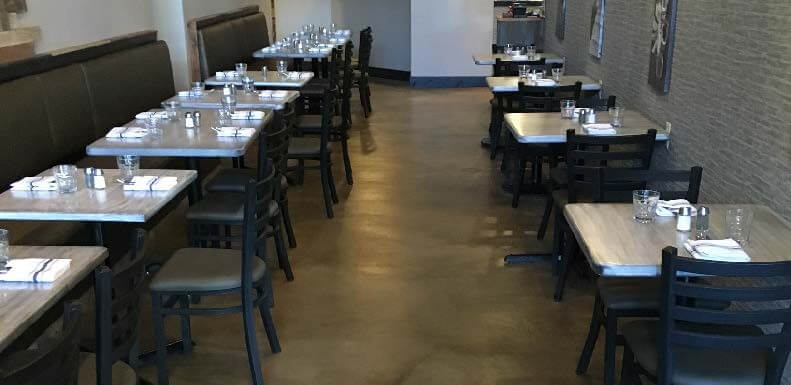 For a calmer ambiance, this restaurant floor has a lighter sheen, adding rich color and beautifully enhancing the other colors in the room. The moisture-resistant surface will mean easy cleanup all day long for spills, and a quick final clean at closing time. Neither tables, scraping chairs, dropped trays, or crowds of customers will mar the durable, sealed finish.
The versatility of concrete stain is amazing. From solid, water-based stains to the marbling effect of acid-based stains, you can achieve limitless looks by using multiple colors and techniques. Create unique designs for individual offices or use one color throughout for a seamless look. Logos and graphics can be incorporated into the design to boost your brand in entryways and reception areas.
Resurfaced and stamped concrete
Removing an existing floor covering like carpet can create surface damage to the concrete floor underneath. Older concrete may have a history of spills, glue, paint, coatings or sealers that would inhibit an even stain application. But with a decorative concrete overlay, imperfections, cracks, and discoloration disappear, and a fresh concrete surface is created that can be stained, stamped, or hand-cut into beautiful faux finishes like cobblestone, flagstone, tile, and hardwood designs.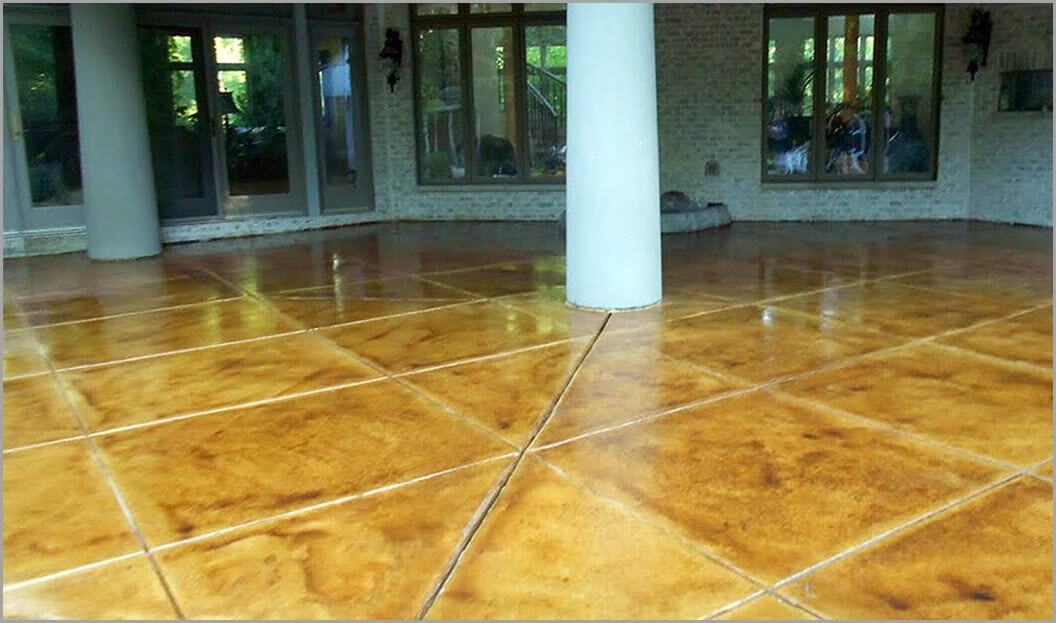 Decorative concrete overlays can make large format tile designs feasible for both interior and exterior spaces like showrooms, offices, and courtyards. There's no need to deal with complicated installations and expensive shipping costs to have the stylish look of tile. Concrete Craft creates each unique floor right on the spot with less mess and in much less time. The continuous, sealed surface is industry-tough and resistant to moisture, chips, cracks, dirt, and stains, making it low-maintenance and easy care.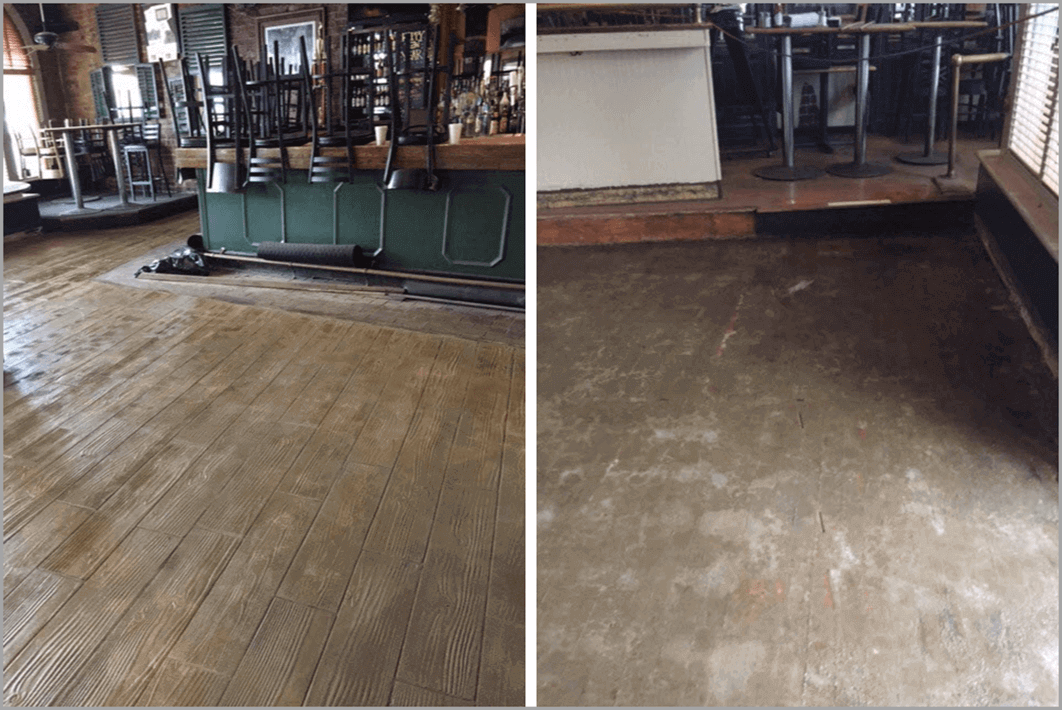 This neighborhood bar was completely transformed with a new decorative, stamped concrete floor in a wood plank pattern. The original slab was resurfaced to cover damage and create a smooth, level surface. The overlay was stamped with the wood plank pattern and custom stained to match the décor. With decorative concrete "hardwood" floors, you can even have the touch of wood outdoors such as patios, walkways, or courtyards, where real wood is not practical.
Do your bottom line a favor with decorative concrete floors
The everyday wear and tear on office and commercial floors generally means that floors need replacement every few years. Faded carpet becomes an eyesore as well as a health hazard after years of spilled coffee, residual cleaning products, and lingering pesticides. Tile and hardwood floors develop cracks, scratches, and worn spots from continued use. Repairing or replacing can be expensive and disruptive. With decorative concrete floors, you'll love the affordable, extremely durable floors that are trouble-free, aesthetically enhancing, and fiscally responsible.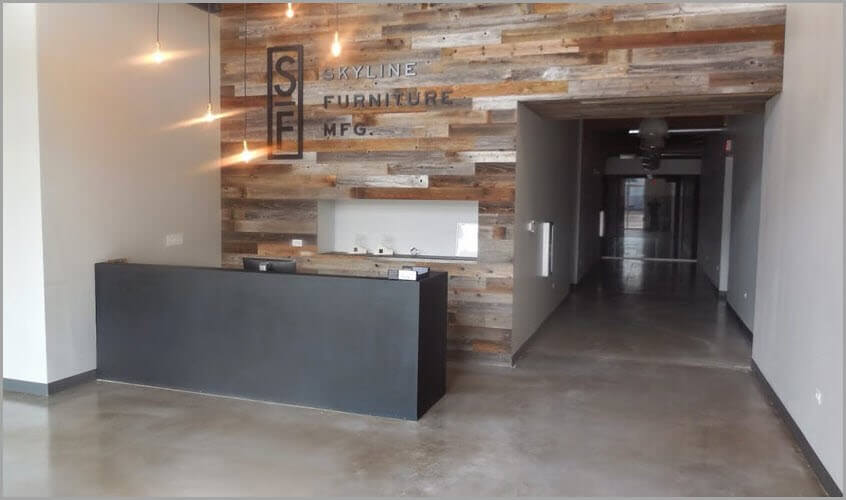 Whether you have one business location or many, and whether it's offices, retail, manufacturing, restaurant, warehouse, boutique, or spa, we can help you get the last floor you'll ever need! Contact us today or go online to www.concretecraft.com to find the Concrete Craft location nearest you and schedule an onsite consultation. Our professionals can evaluate your flooring needs and help you make the best choice of stained, stamped, or resurfaced concrete to enhance your business, inside and out. We can also do concrete repair and restoration for severely damaged concrete and save the trouble and expense of demolition and replacement of ugly walkways, driveways, patios, and courtyards to upscale your business's curb appeal.