Decorative Concrete Solutions for an Ugly Driveway
Drive through any neighborhood in Dallas, Birmingham, Alabama, or Marietta, Georgia, and you'll see ugly driveways. Even in well-kept neighborhoods, driveways take a beating from constant use and abuse from rain, snow and hot and cold temperatures. Cracks form, stains penetrate the surface and scaling and spalling create rough, pitted patches. Caustic concrete cleaners can remove some of the stains, but they can also create uneven surface color, and most cleaners don't remove rust.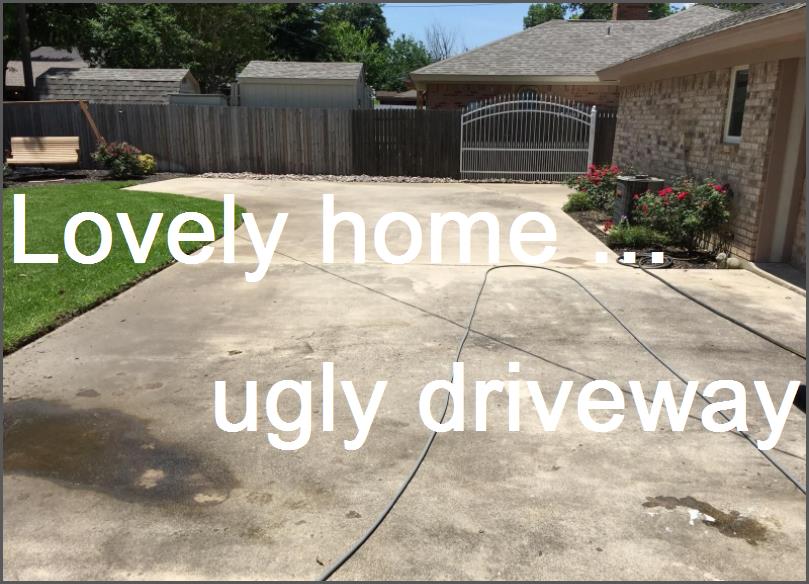 From the look of this driveway you might think it's beyond repair and the whole thing needs replacement, which is every homeowner's nightmare and why people choose to live with ugly driveways. But you do have another option. Your local Concrete Craft® professionals are experienced specialists with stained, stamped and resurfaced decorative concrete, which means you won't have to put up with the hassles and headaches of demolition and replacement, such as:
Jackhammers to break up the concrete
Deafening noise and concrete dust everywhere
Trucks to haul away the debris
Damage to your lawn and surrounding areas
Days of mess and upheaval
Grading the site for a new concrete slab; more dust and dirt everywhere
Re-pouring the driveway, cement trucks in the yard
Up to 30 days for the new concrete driveway to cure and harden so you can use it
Spending BIG BUCKS
Even a driveway this bad can be renewed without demolition and replacement. You can have a beautiful new driveway in less time and for less money than you might think possible with Concrete Craft.
You really don't have to demo the driveway
Concrete Craft's Driveway Resurfacing System is the perfect solution for restoring an ugly driveway to better than new. Our Driveway Resurfacing System will make your driveway look like newly poured concrete with a fresh "broom swept" finish, and the durable sealer will protect against any future stains, chips, cracks and weather damage. Here is the above driveway after a concrete overlay and Color Restore finish in Latte that coordinates with the colors of the home. Resurfacing the driveway gives a major facelift to the entire property, enhancing the home's curb appeal and adding lasting value.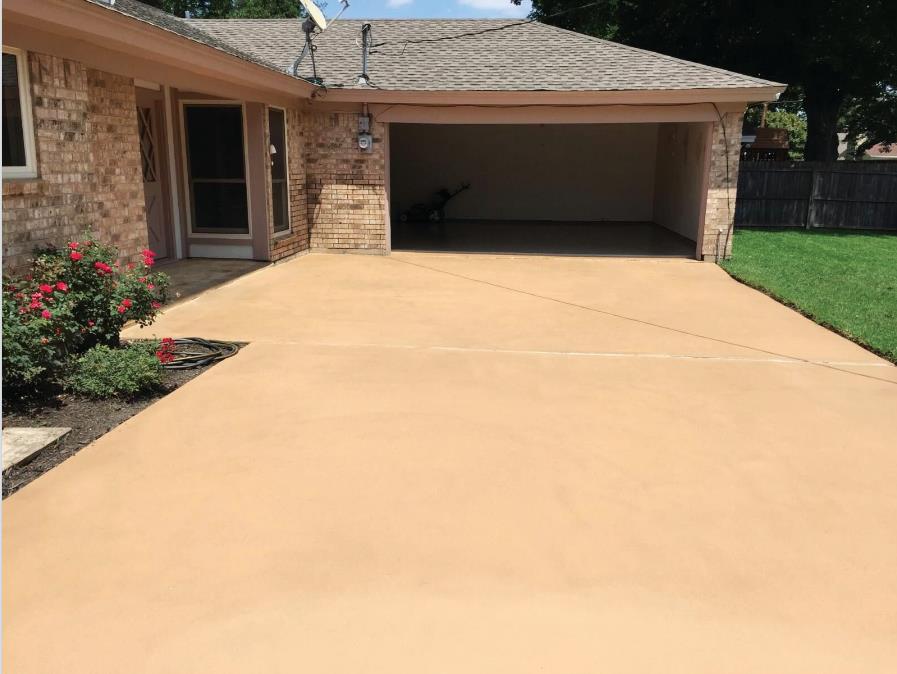 Due to our unique rubberized polymer mix, Concrete Craft's resurfaced overlays are flexible and cure to compression strength just under 5000 psi for the ultimate in durability. Along with the built-in UV protection of our coloring system and industry-tough sealers, your new driveway will remain beautiful for years, regardless of vehicle traffic, basketball games, hopscotch, skateboards or scooters. Whatever the season, your driveway can withstand extreme temperatures like hot summer sun, freezing winter snow and torrential rain.
Make a statement with your new driveway
As spectacular as this makeover is, it may not be everybody's driveway of choice. If you want something with a little more pizazz, you are not limited to just one design or color with Concrete Craft's Driveway Resurfacing System. You can add visual interest with borders or bands of contrasting colors or designs to create a one-of-a-kind showplace driveway. The driveway below is customized with a brick pattern border that replicates the brick siding of the house. No chance that anyone in the neighborhood will have a driveway like yours.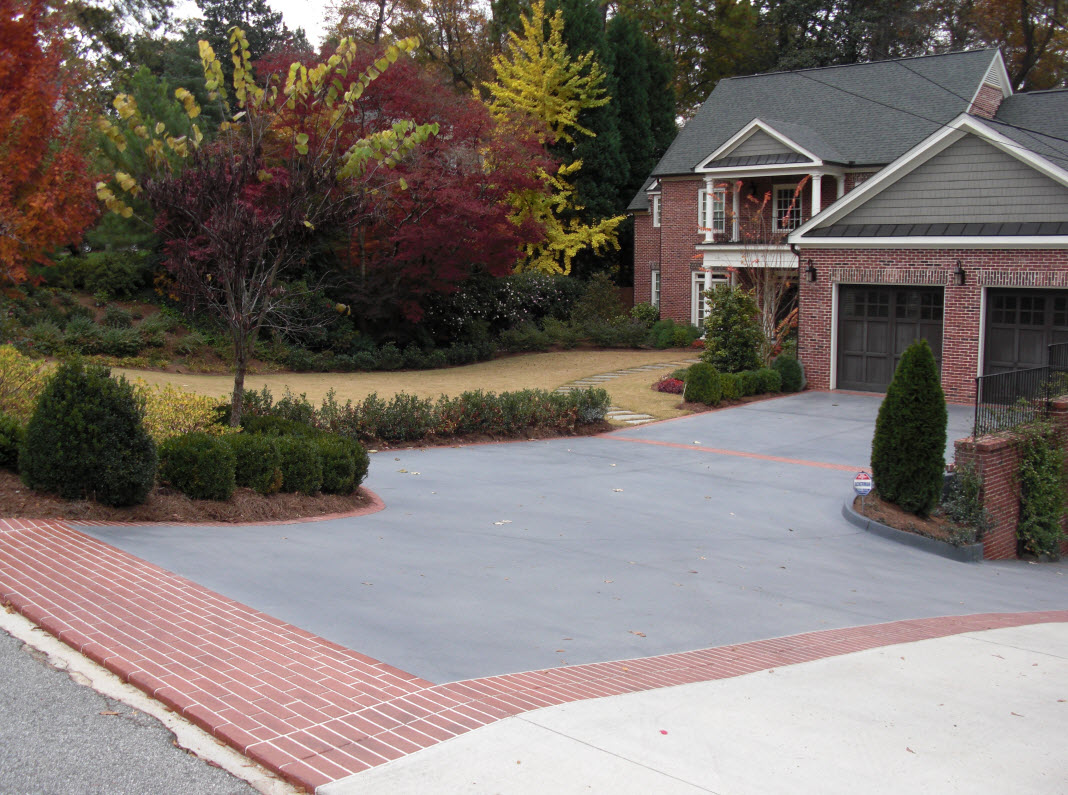 This next resurfaced driveway augments the broom finish gray concrete with hand-cut and custom-colored flagstone borders for an upscale look. With our realistic stamp patterns, you can border any driveway with Ashlar slate, brick, cobblestone, Roman Texture slate, flagstone or incorporate custom designs like a medallion, compass or whimsical turtles or geckos. The finished design may look like grouted stones, but it's actually part of the continuous, seamless surface of the driveway and will never separate or lift like real stones.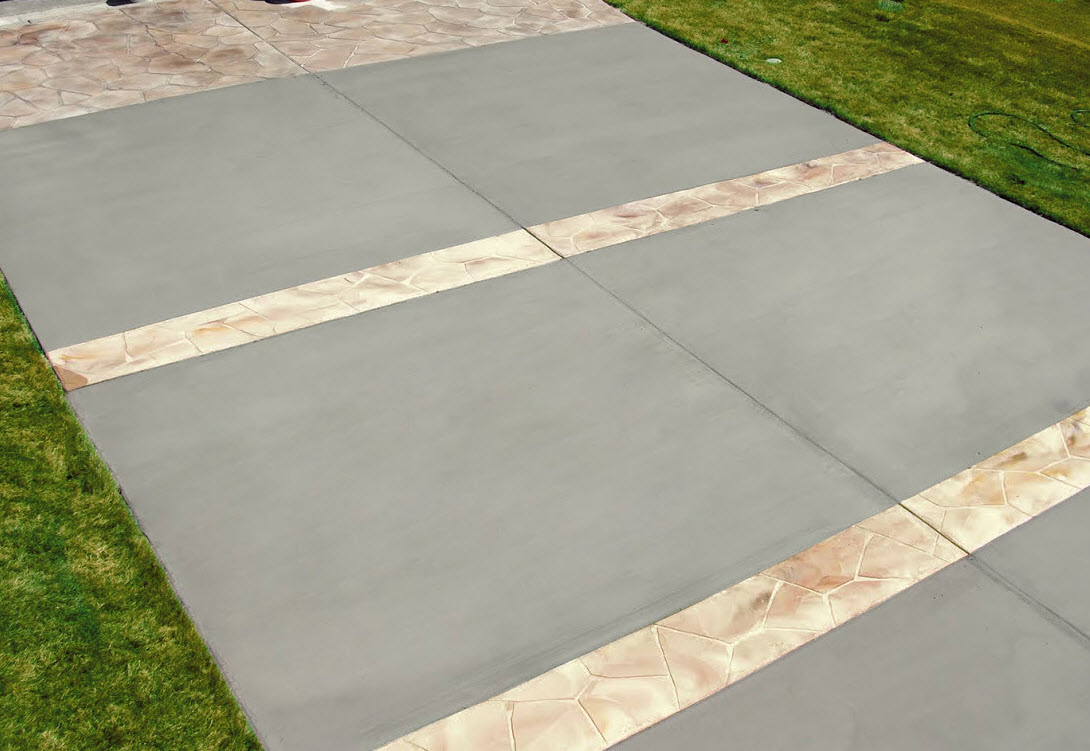 Concrete Craft is the solution to really big driveways
Driveways come in all shapes and sizes and renovating a really big driveway is a major financial decision. Imagine the time involved in trying to demo this circular driveway and the cost of breaking up and disposing of all that concrete. Absolutely not a problem with our Driveway Resurfacing System. With Concrete Craft, years of wear and tear can be covered with a resurfaced concrete overlay, restoring the driveway surface to looking like new.

This combination flagstone and broom-swept-finish driveway creates an elegant entrance for this home. The custom look of flagstone with the more economical broom finish sections makes this big driveway transformation more affordable. The maintenance for this driveway will be minimal since the "stones" are not real and no grass or weeds can grow in the grout lines as happens with real flagstone. The sealed surface guarantees years of carefree use and beauty.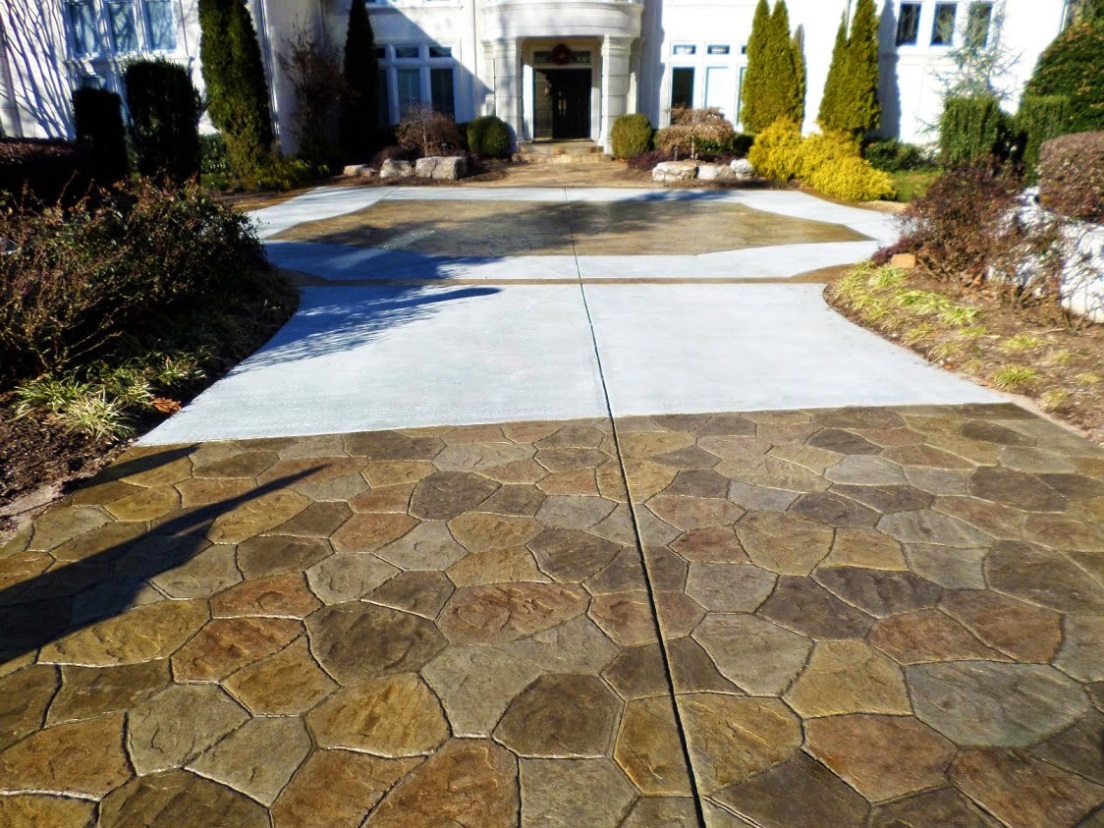 There really is no reason to live with an ugly driveway when Concrete Craft can transform your existing driveway into a work of art. Contact us today or find the Concrete Craft location nearest you. A free consultation lets you ask all your questions and see samples and stamp patterns to help you decide how you want your new driveway to look. In the meantime, check out our digital brochure and see how many unique ways there are to enhance your life with beautiful, decorative concrete for driveways, patios, walkways, interior floors, entryways, vertical surfaces and more.