Decorative Concrete Walkways Will Enhance Your Home's Curb Appeal
Walkways are an important element in landscape design, not only the all-important approach to the front door but also sidewalks that wrap around to the backyard and walkways that connect patios, gardens, and pool decks. As the name implies, walkways get lots of foot traffic and concrete walkways can become distressed and unattractive with cracks, chips, and stains due to both use and weather effects like freezing temperatures in Denver winters or sultry hot summers along Florida's coast.
Concrete Craft® can rejuvenate all your concrete surfaces with our proprietary resurfacing process over existing concrete to create beautifully, custom resurfaced, stamped, and stained concrete to make your surroundings look like new again. Replicating the look of real flagstone, Cut cobblestone, Roman texture slate, sandstone, tile, pavers, brick, and more, you can upgrade your home's curb appeal and increase its real value with high-end custom resurfaced overlay walkway designs at half the cost of real stone.
The benefits of resurfacing concrete walkways and sidewalks include:
Better resistance to weather
Exclusive hand-cut designs
Durable finishes that do not fade, chip, stain, or peel
Unsurpassed attention to detail and authenticity in the designs
Fast and affordable installation with no big concrete trucks in your driveway
See how a custom decorative walkway can do so much more for your home than just provide a place to walk.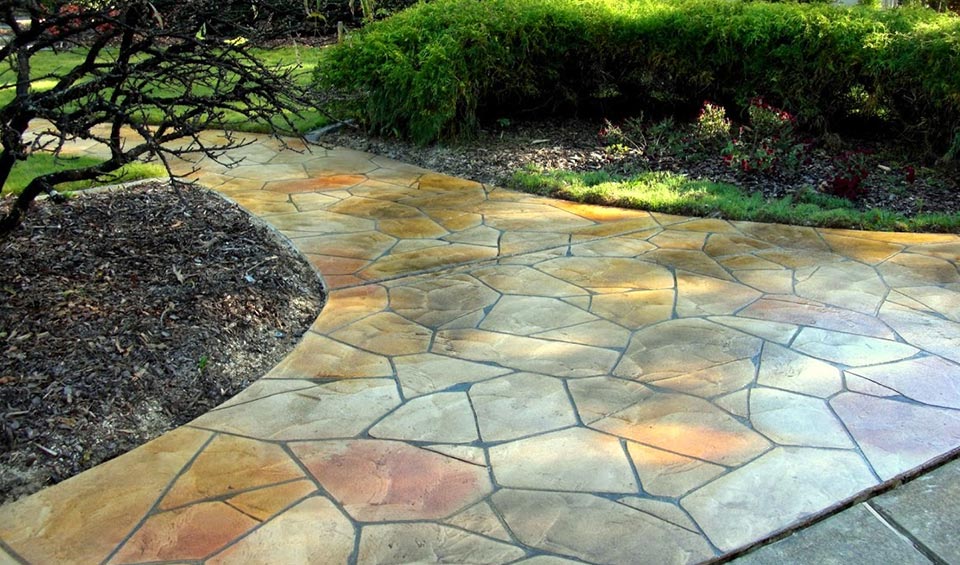 This hand-cut and custom multi-colored Flagstone pattern concrete walkway brings a rainbow of color to this front yard. Colors seem to sparkle or deepen, depending on whether it's full sunlight or dappled shade. The integral colors with UV protection built-in will never fade, chip, or peel, remaining beautiful and easy to care for many years. Resurfaced concrete is so affordable you can have designer walkways in both your front and back yard living areas.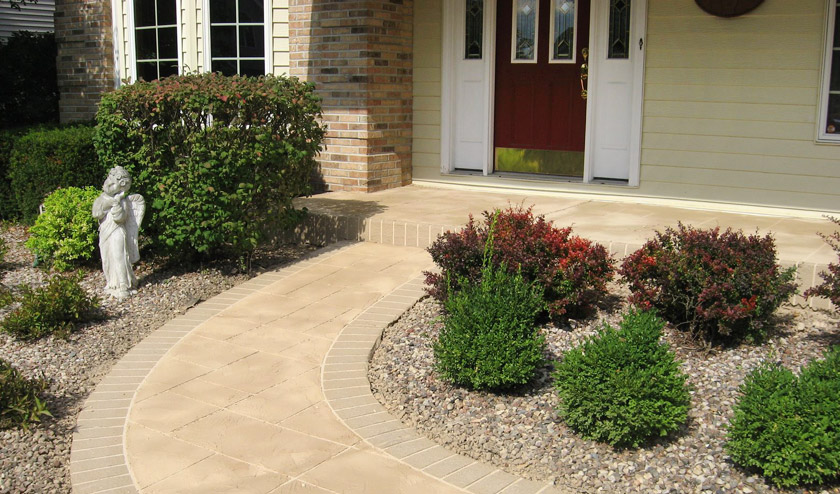 This beautiful stamped concrete overlay on the porch and walkway looks like rich suede instead of a concrete surface. The warm camel color complements the natural brown tones in the brick siding, creating a cohesive color scheme that enhances the landscape. Custom-cut patterns in Ashlar and brick create an understated elegance for the approach to this home, the stamped brick border adding a special touch, elevating the walkway from average to one-of-a-kind.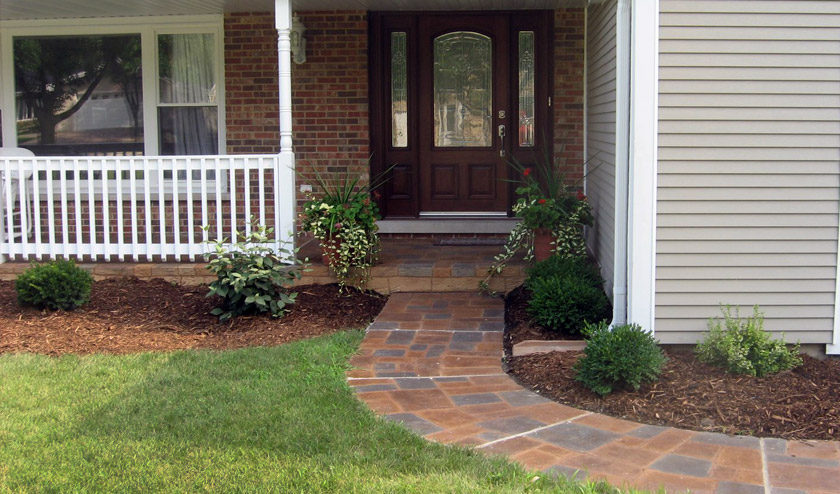 Make a welcoming statement with a custom-colored and hand-cut random stone pattern walkway that mirrors the brick colors on the porch siding. The natural earth tones come alive against the white trim for a perfect balance of color and contrast. Colors will stay true through decades of hot, cold, and wet weather, only requiring sealing every few years to keep looking like new.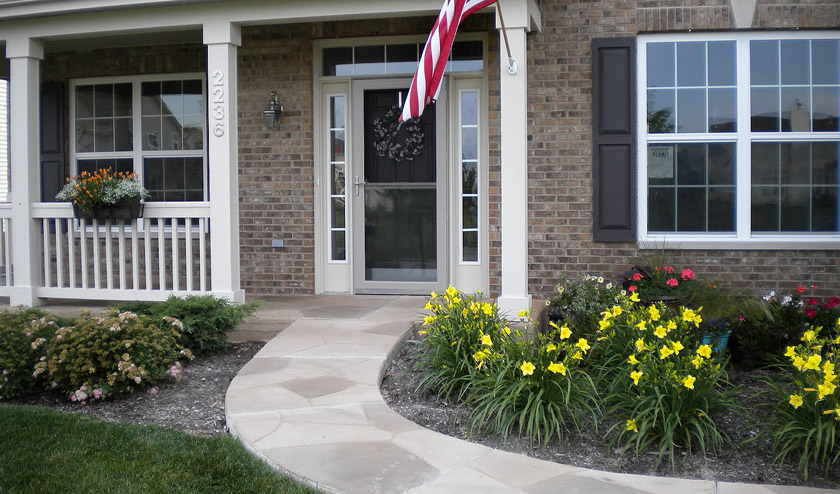 A neutral palette of darks and lights creates a sophisticated entryway. The subtle stone pattern in the sidewalk is a perfect complement to the other aspects of the home's exterior, adding artistic design to the home's traditional style with its organic, curved form. This custom-stamped and resurfaced walkway will provide years of low-maintenance beauty, durability, and functionality.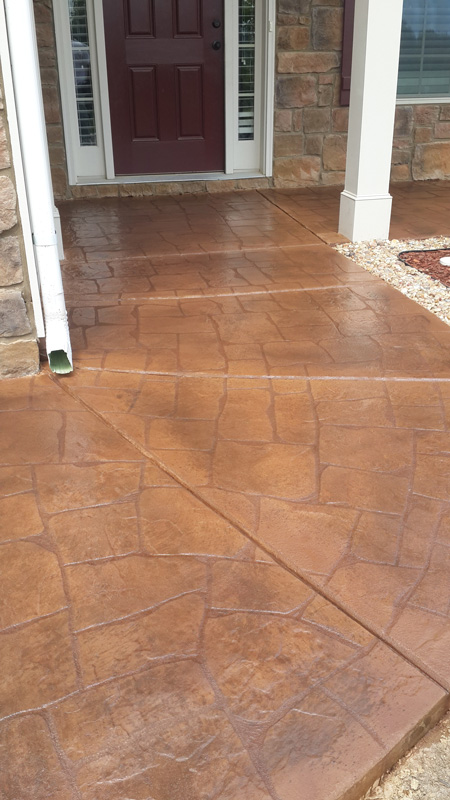 Realistic-looking brown European Cobblestone makes this resurfaced and stamped walkway look like a million bucks! With custom-cut and colored concrete overlays, you can have super high-end designs without the high-end cost. The real stone molds ensure authenticity in the finished design that can be custom colored to match the rest of your exterior surfaces.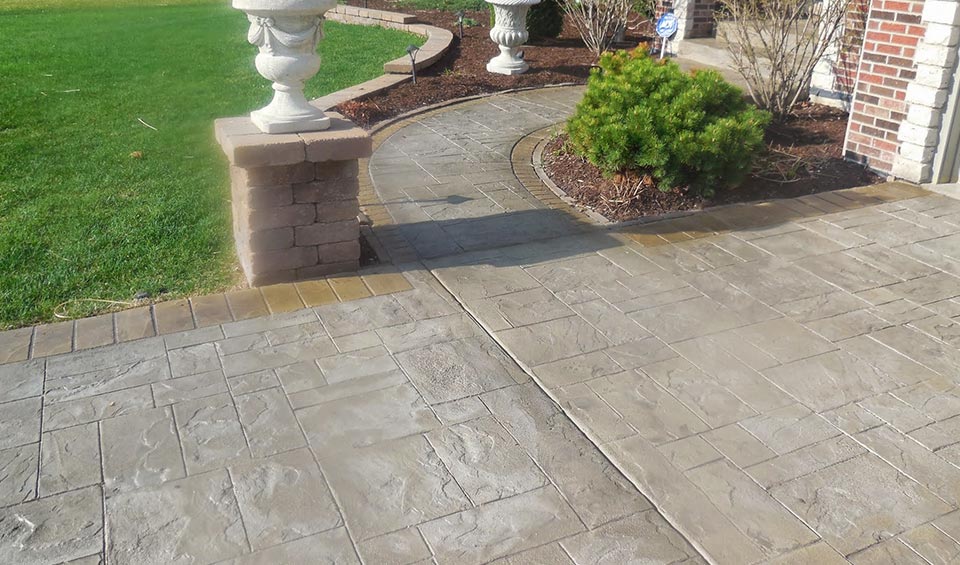 If boring gray is not your style or your sidewalks and driveway have developed cracks and stains from years of use, it's easy to get a "new" look with a custom concrete overlay. This Roman slate pattern is popular for walkways, sidewalks, and driveways with a textured surface that adds an interesting dimension. One continuous pattern for porch, walkway, and driveway creates upscale curb appeal with a designer look.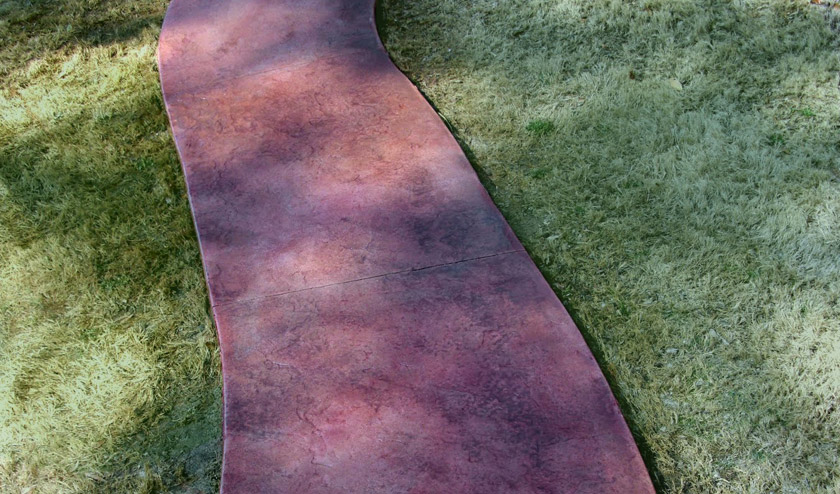 Stained concrete designs are ideal for walkways and sidewalks. Acid-based stains penetrate and react chemically with the concrete, creating natural color variations that add character and unique mottling effects to your walkways. This red-stained concrete walkway adds a pop of color to the yard as well as secure footing with a slip-resistant surface, making it safer in any weather.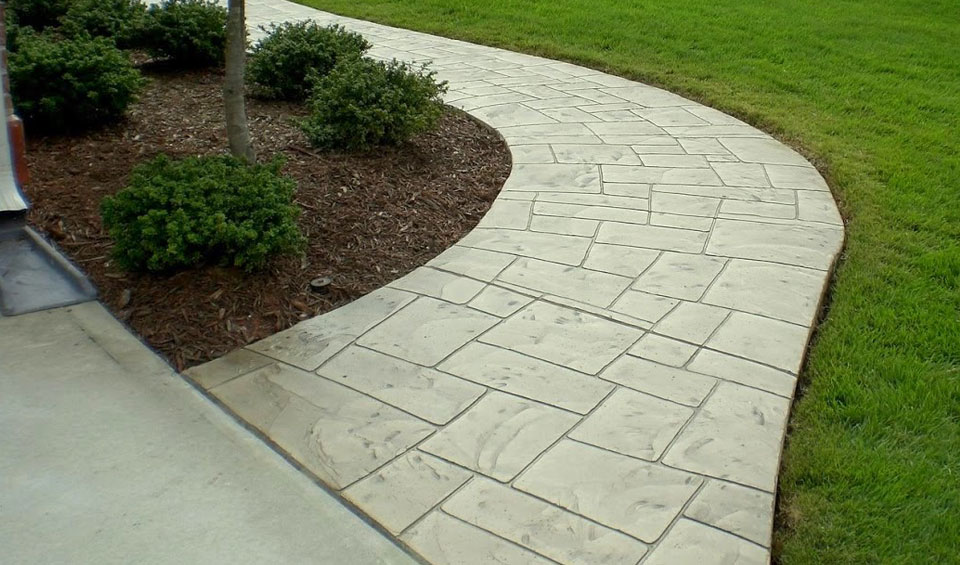 With decorative concrete, you always have a smooth, even surface. This authentic-looking European cobblestone pattern has been hand-cut and custom-colored for the appearance of real stones but without the problems of lifting and creating a walking hazard. Concrete Craft's proprietary resurfacing concrete overlays not only create a beautiful path to your home but are less expensive and messy than demolishing and pouring a whole new walkway.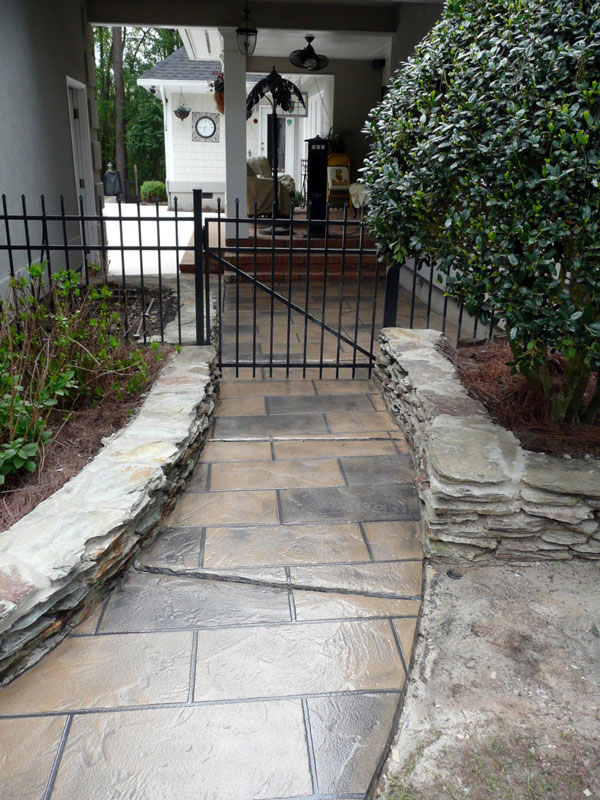 This hand-cut and custom-colored walkway create an inviting "Old-World-Charm" entrance to this home. The subtle, natural colors make this Ashlar stamped pattern concrete overlay look like authentic rock. The "stones" will never lift or host grass and weeds in the grout lines, keeping maintenance and upkeep to a minimum so you can enjoy your yard even more.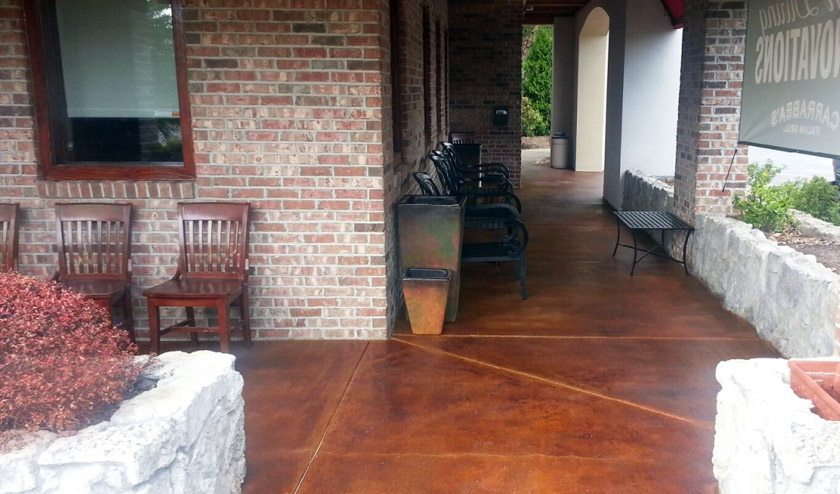 In a commercial setting, stained concrete walkways are both beautiful and economical, creating an elegant atmosphere for your patrons with shine and color able to mimic anything from polished marble to natural stone. Durable and low-maintenance, your bottom line will love that stained concrete stays beautiful for years and will not peel, chip, or fade.
Don't settle for uninspiring walkways in your landscape design. In fact, don't settle for any dull concrete surfaces, including patios, driveways, walkways, pool decks, garage floors, commercial spaces, and vertical surfaces that can all be enhanced with stained, stamped, and resurfaced concrete. Contact us today or go online to www.concretecraft.com to find the Concrete Craft location nearest you and request a FREE estimate for upgrading all your walkways with unique decorative concrete designs.
Concrete Craft is currently in Atlanta, GA; Naples, FL; Chicago, IL; Valparaiso, IN; Lexington, KY; Charlotte, NC; Dallas/Fort Worth, TX; Denver, CO, Highlands Ranch, CO, Las Vegas, NV, Birmingham, AL and Upstate, SC. If there's not a Concrete Craft near you, check out the franchise opportunity of owning a Concrete Craft.