Decorative Concrete Wood Floor Designs for Every Taste and Style
The past decade has seen a resurgence of popularity for hardwood floors. In older homes, people are pulling up carpets and other floorings to discover real hardwood flooring underneath that may or may not be salvageable due to damage and age. In newer homes, the look of hardwood floors is achieved in several ways, attempting to sidestep the expense of real wood: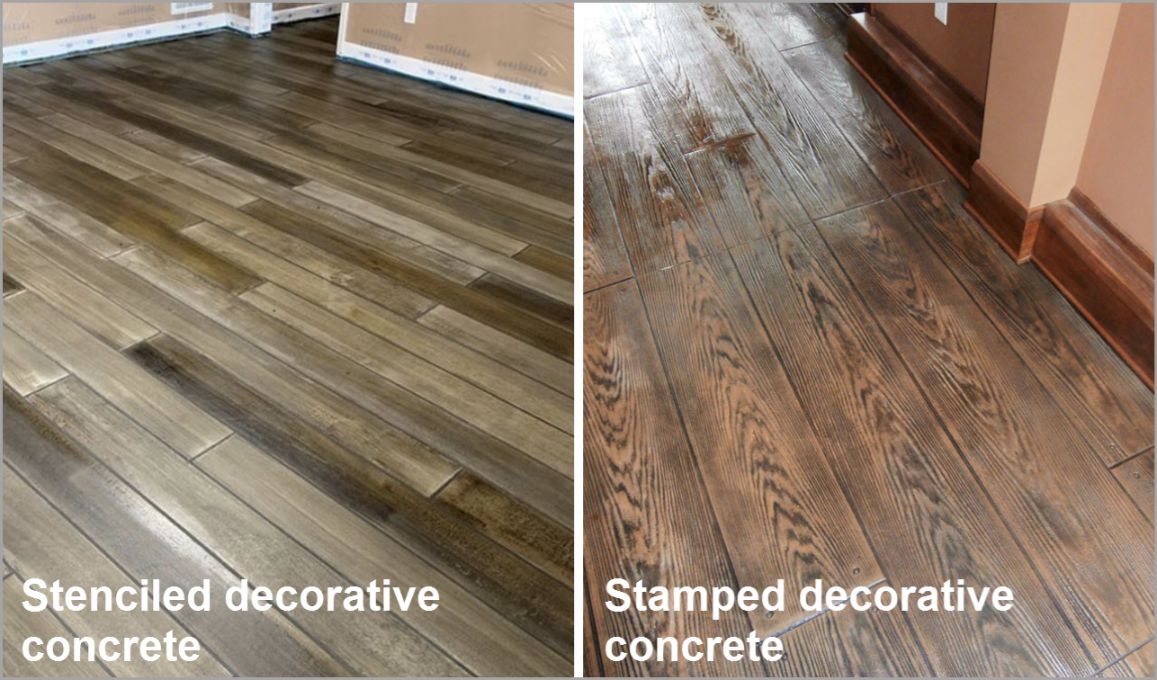 The artisans at Concrete Craft® have mastered duplicating the beauty and elegance of hardwood floors in decorative concrete designs that bring the beauty of a wood home with the most durable floor you can have. Decorate concrete resurfaced overlays present a fresh floor surface that can be customized for any style and color you choose, for beautiful, traditional "hardwood" floors, or the newest trends in hardwood flooring.
2020 hardwood flooring trends
Decorating trends are always intriguing because they generally include polar-opposite styles. Current hardwood flooring trends meet that criteria and, looking forward to 2020, you'll see that wood flooring trends leave lots of room for individual preference:
Very dark and very light colors take the floor
Textures range from smooth grain to distressed and reclaimed wood
Wider planks in a straight lay compete with multiple widths and busy patterns
Trending colors are moving away from red and yellow undertones to cooler shades of browns and grays
Stronger graining and more knots create the ever-popular rustic farmhouse feel for more rooms than just the kitchen
Regardless of the look you prefer, Concrete Craft can transform your floors with the authentic look of wood plank designs to reflect your lifestyle: elegant, modern, traditional, or rustic. Our proprietary processes of resurfacing, stamped concrete, stenciling, and custom concrete stains put every wood flooring trend within reach, at about half the cost of the real materials.
Ebony/black, dark walnut, and espresso
Dark wood flooring has gained popularity in home design because it's an elegant, modern choice. Dark floors are ideal for bringing excitement into a living space by making bright colors really pop and creating a dramatic contrast with lighter furnishings and wall colors.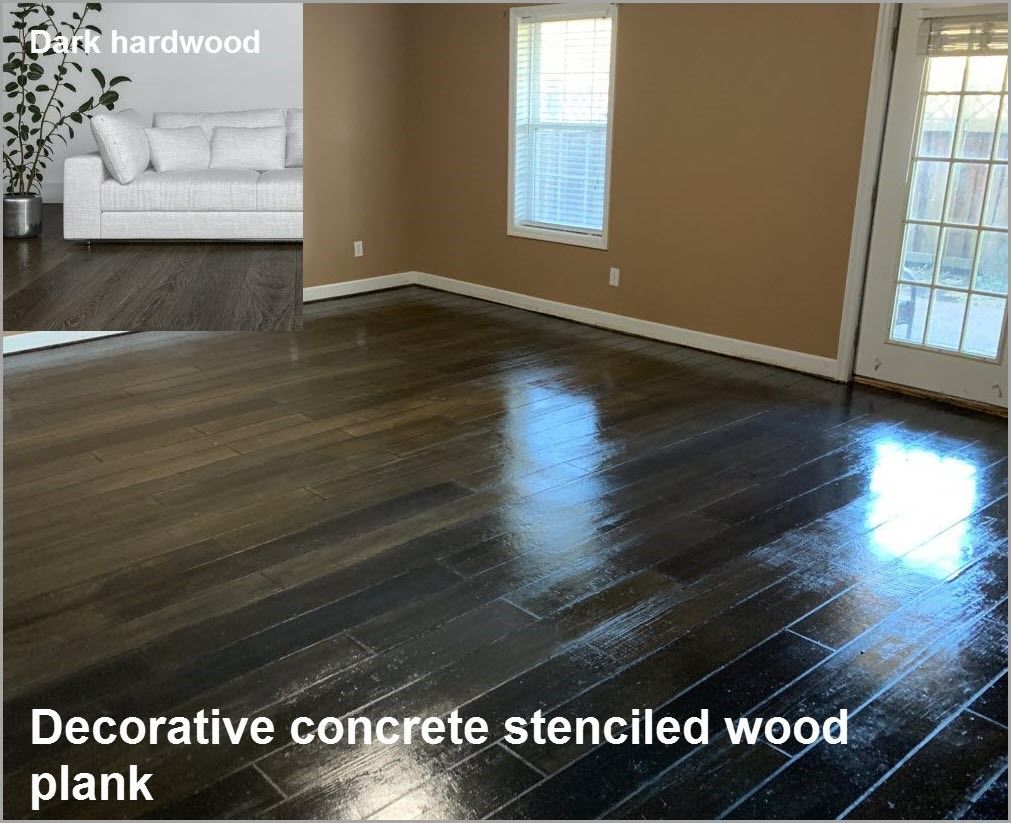 Combining multiple stain colors creates subtle variations of real wood.
Texturizing and color create realistic-looking wood finishes.
More durable than real wood, decorative concrete resists scratches, chips, moisture, and stains.
Lighter wood tones with cool undertones
Cooler wood tones with less red and yellow undertones move away from traditional warm browns that can date a home. Real hardwood floors that are oiled or coated with an oil-based polyurethane sealant tend to yellow out over time, requiring resealing and possibly re-sanding and staining. A decorative concrete wood plank finish will stay true to its original color for years of worry-free enjoyment.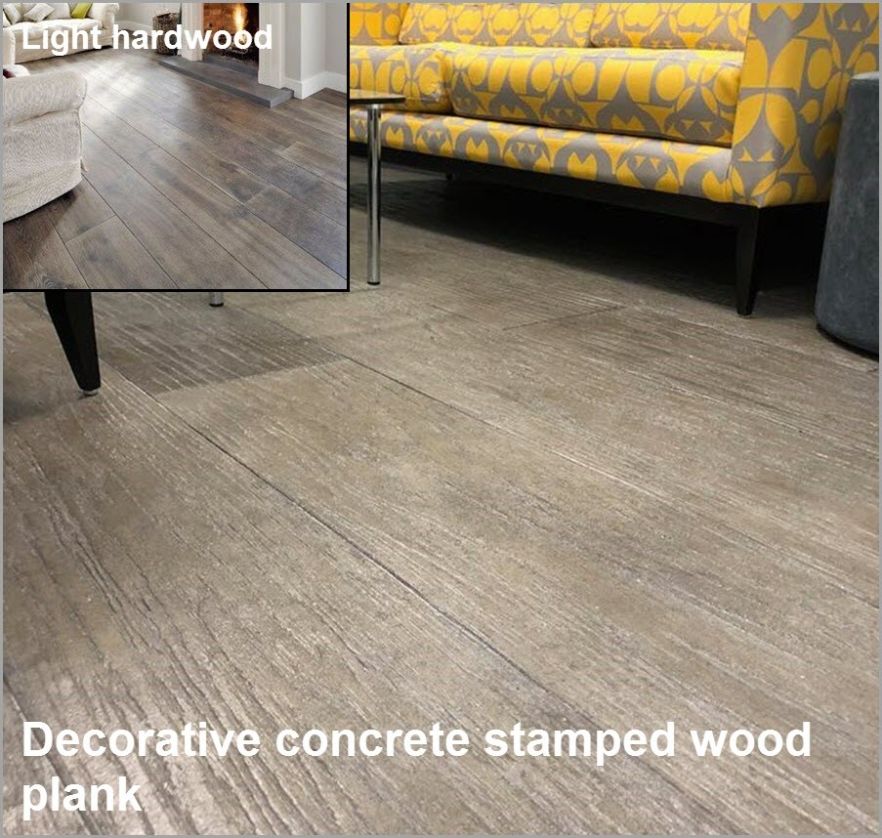 Very light colors such as light browns, grays, greige (gray/beige), and even whitewashed wood finishes are transforming spaces.
Concrete Craft's MasterProTM custom concrete stains provide an unlimited range of colors to emulate nature or create a color all your own.
Lighter color floors make small rooms feel larger and create a neutral pallet for decorating in any style.
Wood texture makes its own statement
The texture of wood brings an additional dimension into decorating with a range from the smooth texture of oak to the knotty look of pine to rugged distressed and reclaimed wood. The variety of texture and color in wood flooring is exceptional, and Concrete Craft can create authentic-looking wood surfaces you have to see to believe!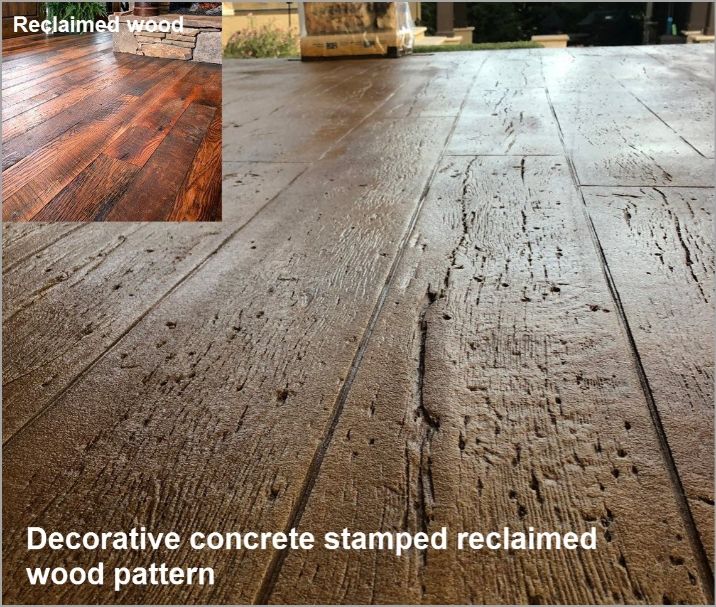 For indoors and outdoors, you can have the look of real wood flooring to enhance and upgrade your spaces.
Decorative concrete "wood" flooring can withstand weather extremes so it's a great way to have a wood patio or deck without the inherent problems of wood.
It can be difficult to find enough of the same styles and colors of reclaimed wood but that's never a problem with a custom decorative concrete floor that is created onsite.
Decorative concrete versus real wood flooring
No conversation about decorative concrete wood panel designs would be complete without comparing the durability of a concrete "wood" floor to actual wood. Even advocates of hardwood flooring realize its limitations, despite its popularity. Here's a quick comparison of just the high points between decorative concrete and real wood:
Decorative Concrete:
Sealed finish resists chips, cracks, moisture, spills, and stains.
Real Wood:
To best preserve the life of wood flooring always remove your shoes when you come into the house. Dirt and rocks caught in shoe treads get dragged over the wood causing scratches.
Nicks and scratches on a wood floor are inevitable. Use furniture repair markers to camouflage the damage. Since most woods have color variations within the grain, it's best to buy a set of markers in a range of colors.
Pet stains are tough to remove from a hardwood floor, especially if the stain is old. Try a hardwood-floor cleaner or mineral spirits, but you'll probably have to sand the floor. Some stains are so deep you may have to replace the flooring.
Most scuffs and water stains require removing the finish (polyurethane or wax) and reapplying or sanding down to the wood itself and spot refinishing but expect the patch to be a different color and sheen than the surrounding area.
Decorative Concrete:
Maintenance is easy, dry dust mopping will eliminate dust and dirt buildup.
Occasional wet mopping with a neutral-pH cleaner will keep the floor looking like new.
Real Wood:
In high-traffic areas, like the dining room and kitchen, sweep or vacuum daily, if possible, and mop hardwood floors once or twice a week.
For best protection, use specialty hardwood floor cleaners and never use wax, oils, or anything that promises to restore the sheen of your wood as these products break down the floor's finish.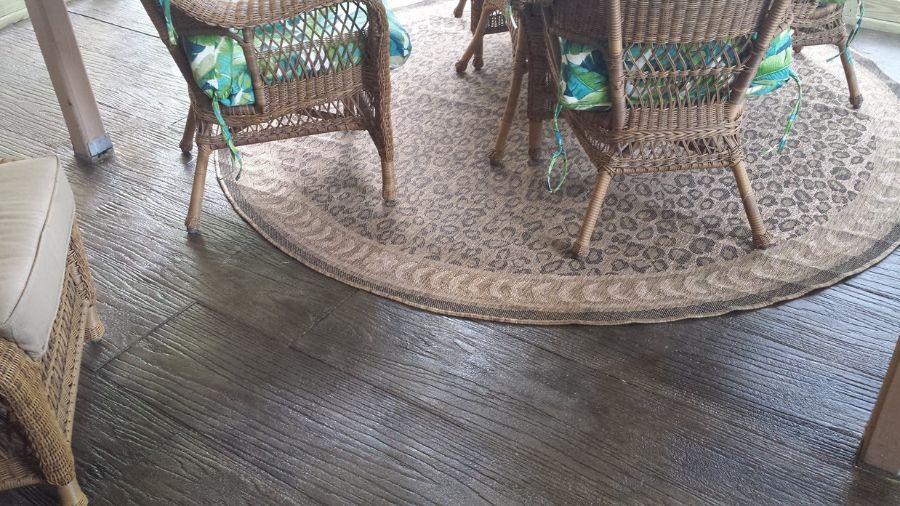 There's really no contest if you want a low-maintenance, durable floor for years of carefree enjoyment without sacrificing beauty and style. You can have the elegance of wood, in whatever style you prefer, in any area of your home, including outside in the yard where real wood is not practical. Contact us today or go online to www.concretecraft.com to find the Concrete Craft location nearest you and request a FREE consultation. See what we can do to bring the beauty of wood into your home.