Easy-Care Concrete Floors Make Spring Cleaning a Happier Task
It's that time of year when thoughts turn to Spring cleaning -- getting your house refreshed after the confines of winter. So, throw open the windows and doors and let that sunshine in! But the bright sunlight will bring to light the dust, cobwebs, and other areas that need some TLC. Rather than run from the prospect of Spring cleaning, here are some tips and shortcuts from Concrete Craft® to make house cleaning an easier task so you can get back to more important things.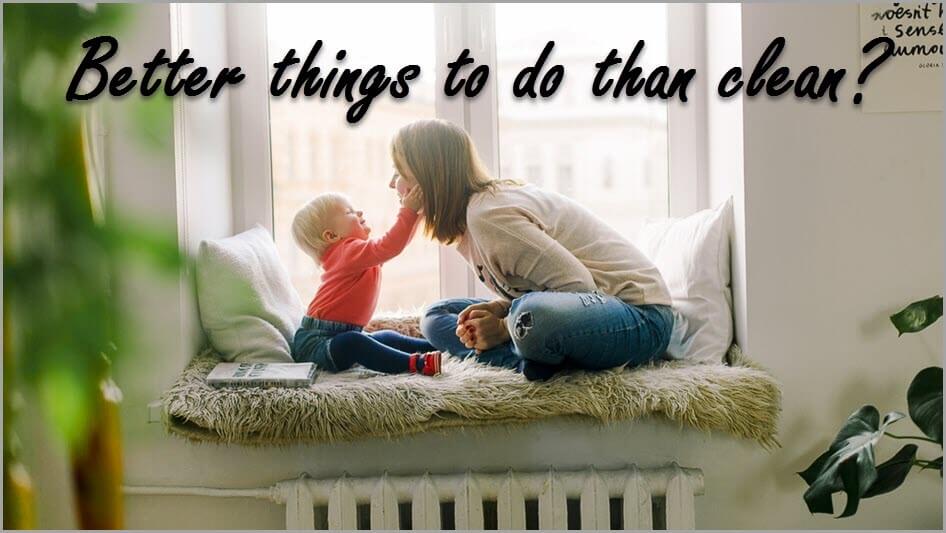 Four steps to organize your Spring cleaning
Cleaning your entire home is going to take more than one day. Plan on working room by room or task by task so it's easy to keep track of what's been done and what still needs to be done.
First step:  assemble all the cleaning supplies you'll need beforehand so you don't lose time hunting for dusting cloths, window cleaner or furniture polish. 
Second step:  consider the order of the chores. For example, you don't want to dust off the ceiling fan after you've dusted all the furniture that sits below it. Work top to bottom and front to back to eliminate re-cleaning an area.
Third step:  set out several boxes so you can collect items you want to donate, sell at a garage sale or take to the trash, including all that "stuff" that accumulates at the back of cabinets, closets and drawers. Think "unclutter" as you work and fill those boxes.
Step four: Plan on doing the floors after all other cleaning tasks are done so you don't get them dirty again.
Deep cleaning for every room
Some rooms will have specific chores, like cleaning the microwave in the kitchen, but there are over-all tasks that apply to every room in the house for a thorough cleaning.
Wipe down walls for dust and cobwebs, wash any smudges (a Swiffer makes quick work of this and the cloths are disposable)
Spackle nail holes and apply touch-up paint
Wash baseboards, handrails, doors, doorknobs and switch plates
Dust light fixtures, light bulbs and ceiling fan blades
Dust blinds, wash windows and window sills, inside and out; wash screens
Launder curtains, throw rugs and (washable) upholstered cushions and pillows
Vacuum sofa, chairs, ottomans or other upholstered furniture (lint rollers pick up pet hair)
Dust all knick-knacks, art objects and picture frames
Dust furniture and cover scratches with furniture oil or stain
Polish mirrors, dust TV and computer screens and monitors* (see below)
Replace filters for fans or furnace and wash vent covers
Move furniture (including refrigerator) and vacuum/mop floor underneath
Sweep or vacuum and wash all floors, stairs and hallways
Concrete floors speed up cleaning
Generally, cleaning the floors is a back-breaking job. But decorative concrete floors, by design, are low-maintenance and easy care. Whether stained, stamped or resurfaced hand-cut faux stone designs, the sealed finish repels dust and dirt buildup which makes them quick to clean. Regular dry dust mopping will give you clean concrete floors, with occasional wet mopping as needed.
Microfiber dust mops create static electricity to grab dust and dirt. Also, Swiffers are great with disposable dry sweeper pads or washable microfiber covers.
Never spray the dust mop with cleaners or oils, they can create a slick surface or dull the shine.
Wet mop a dust-free floor, mopping in sections, rinsing the mop as you go.
Be sure there are no puddles of water remaining on the floor.
Only use neutral-pH cleaners like mild dish soap. If it says "mild, gentle or great for hands," it should be safe to use for a DIY solution. You can also purchase neutral-pH products that work effectively in hard or soft water. For more information on cleaners:  Average pH Levels of Common Cleaning Supplies
Depending on the cleaner you use, you may need to do an overall clear water rinse.
Never use bleach, ammonia or harsh detergents on decorative concrete floors.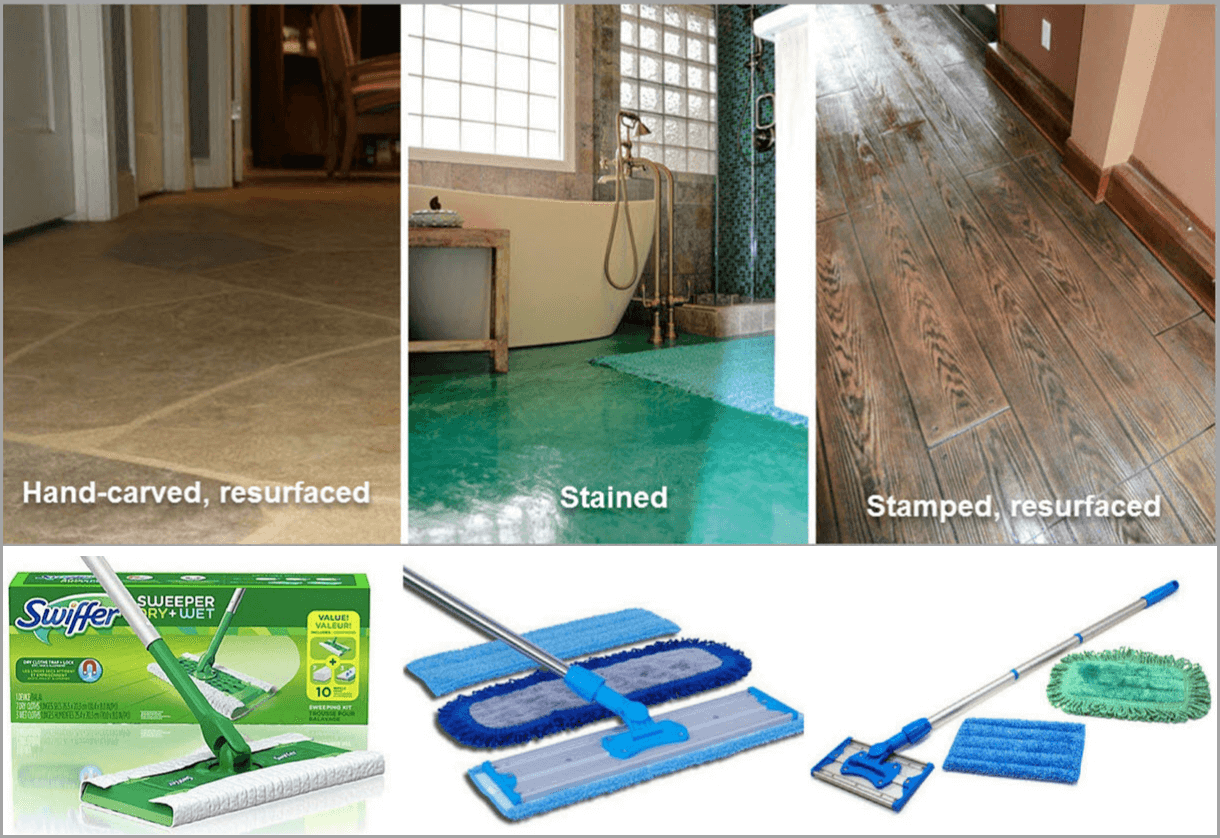 Cleaning shortcuts for dirty tasks
Every home has some especially grimy jobs that no one likes to do, but they need to be done regularly to keep a home healthy and clean. Here are some tips from homemakers who use natural, non-chemical substances (white vinegar, baking soda and lemons) to tackle messy and difficult chores with relative ease.
In the kitchen
Unclog and deodorize drains with vinegar and baking soda. Pour 1/2 cup baking soda followed by one cup vinegar into the drain. The foaming action clears clogs, grimy buildup and odor-causing bacteria. Wait five minutes and flush with hot tap water.
Freshen up the garbage disposal by dropping in one-half of a cut-up lemon and some ice cubes and run with lots of water until the lemon is history. You'll love the citrusy smell.
Use equal parts vinegar and water to clean the inside of your fridge. Use a micro-fiber cloth to wipe down walls, shelves, drawers and doors, including sealing gaskets. Use vinegar full-strength on the top of the fridge (and the stove hood) to cut the grimy buildup. Put a new, open box of baking soda in the clean fridge to absorb odors.
Deep clean a microwave by placing a cup of water in a bowl with either two tablespoons white vinegar or sliced lemon peel, and microwave on high for five minutes. Let it sit for another five minutes and wipe it clean. Even baked-on food comes right off. (Use a cover when microwaving food to prevent future messes.)
A grimy coffee maker comes clean with a 50/50 mixture of water and vinegar. Use a regular filter and, halfway through the cycle, turn it off for 30 minutes to steam-clean, then finish the cycle. Final rinse with two cycles of fresh water.
Clean your dishwasher by filling a mug with vinegar or baking soda (or a mug of each) and place right-side up in the top rack without any other dishes in the dishwasher. Run a normal cycle for a shiny interior.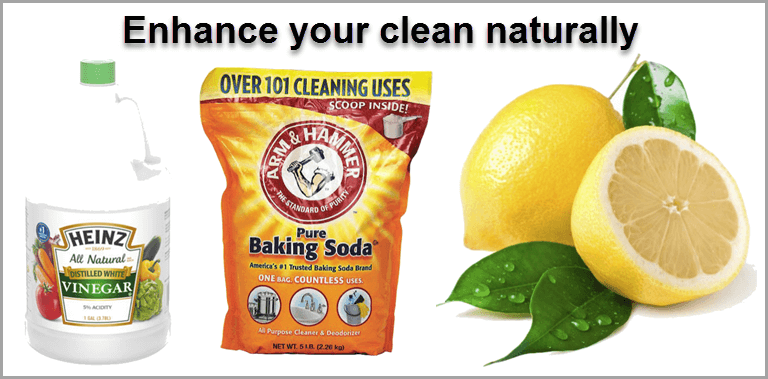 In the bathroom
For bathtubs and showers, coat the surface with a 1:1 paste of baking soda and water, then spray with a 1:1 mixture of vinegar and water and wipe it clean. Works for both tile or vinyl shower stalls.
If your showerhead is clogged or covered with hardwater stains, clean it by letting it soak in vinegar overnight. If it's detachable, just place in a container and cover with vinegar. If it's not detachable, fill a Ziplock baggie with vinegar and secure the bag over the showerhead so it's fully submerged. Sparkling clean by morning! (Works for kitchen faucets too.)
Pour 1/2 cup of vinegar in the toilet and let it set for a few minutes while you wipe down the toilet rim, lid and sides with a vinegar spray. Just brush and flush.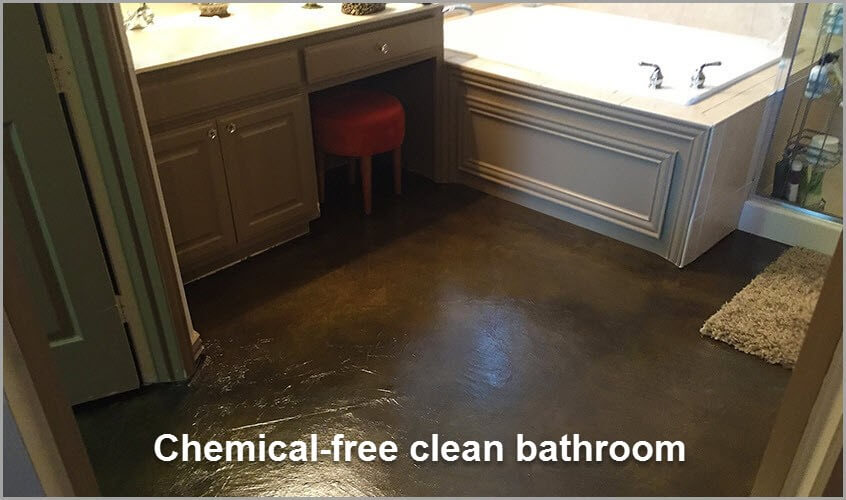 *Clean and protect your electronics
Clean computer monitors and TV screens with a dry microfiber cloth to remove dust and fingerprints. For tougher grime, dampen the cloth with water (no drippy cloth) and gently rub the screen clean with a circular motion. Turn off the power first.
For keyboards, don't spray any solution directly on the keyboard, use a dampened cloth to clean. Q-Tips dipped in rubbing alcohol clean between keys and disinfect at the same time. Compressed air will remove any stubborn crumbs or dust.
Disinfect cellphones and tablets in basically the same way, using a manufacturer-approved cleaning product and a microfiber cloth. Power down, don't saturate, and be sure to completely dry before use.
Easy care concrete floors
Concrete Craft is ready to help you cut your cleaning time with low-maintenance, allergen-free decorative concrete floors. Rooms stay cleaner and your family will breathe easier all year long. Call 866-813-3699 today or go online to www.concretecraft.com to find the Concrete Craft location nearest you and request a FREE design consultation and estimate. We are the experts with interior and exterior concrete floors, including patios, driveways, pool decks, walkways, and more, that are versatile in design, durable in functionality, and easy care. Check out the Interior Design Guide for inside the home and our MasterProTMProduct Catalog for outdoor and commercial spaces as well.