Enhance Your Home's Curb Appeal With A Fabulous, Faux-Stone Front Porch
Take a quick look down your street and see how many people are outside sprucing up their front yards. Trimming, planting, and watering are major spring activities to beautify and wake up dormant front yards after the chilling pause of winter. If you discover that your sad front porch needs a major facelift instead of mere embellishments, Concrete Craft® can restore your porch and entryway with beautiful decorative concrete in authentic-looking faux stone designs, including flagstone, cobblestone, and slate.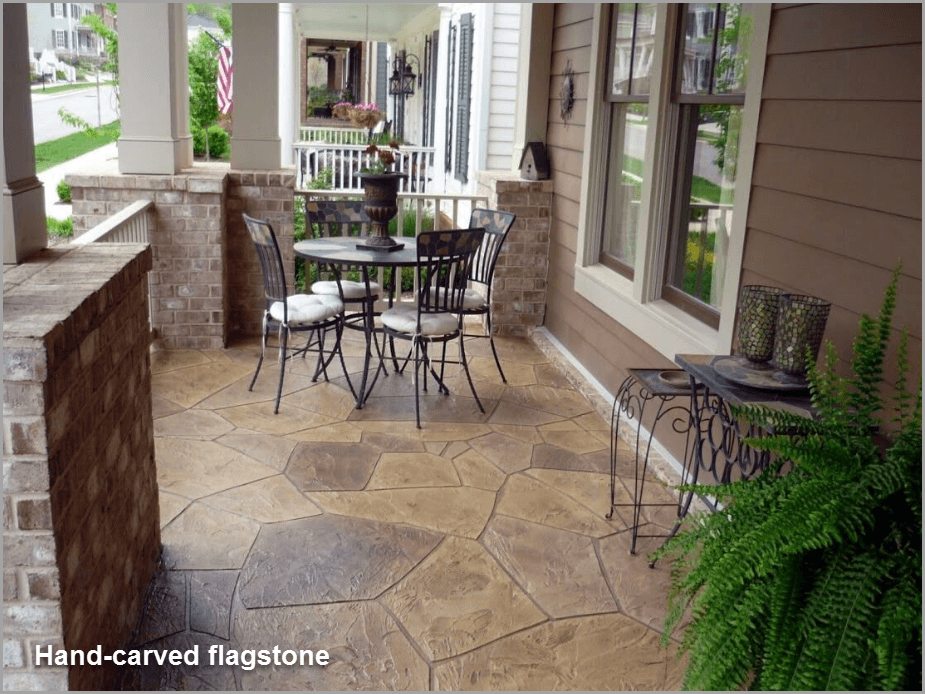 Dare to dream of stone
Oftentimes we get so used to certain defects in our homes that we can't see past them, or we assume the fix is out of reach. For instance, a cracked concrete porch or stained steps may seem to demand "replace, replace, replace" and, since demolition and replacement are not in the budget, you work around it with little upgrades, dreaming of a new stone porch.
With Concrete Craft, dreams come true! You can have a fabulous, realistic-looking decorative concrete faux stone porch without the hassle of cement trucks and the mess and cost of replacing your old concrete porch. A decorative concrete overlay can restore the surface of unsightly concrete, covering up imperfections like stains, cracks, and chips so the surface looks like new again. The overlay can be stamped or imprinted with a "real stone" mold to emulate authentic flagstone (above), cobblestone, slate, or limestone, and then hand-carved and custom-stained for the natural look and texture of real stone.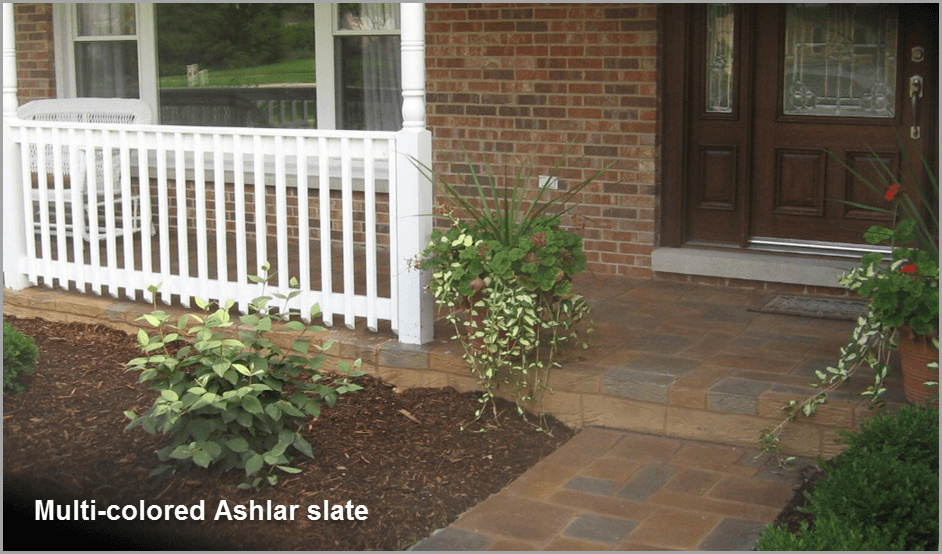 An Ashlar slate design completely transforms this walkway and porch, giving a very upscale appearance from the dull gray concrete that it was. The porch is now a beautiful place to welcome guests as well as spend time enjoying the outdoors. Benches, chairs, tables, and rugs would fit right in, making the porch feel like a comfortable outdoor room. The sealed surface resists dirt, dust, and moisture, keeping the porch cleaner and making maintenance almost effortless.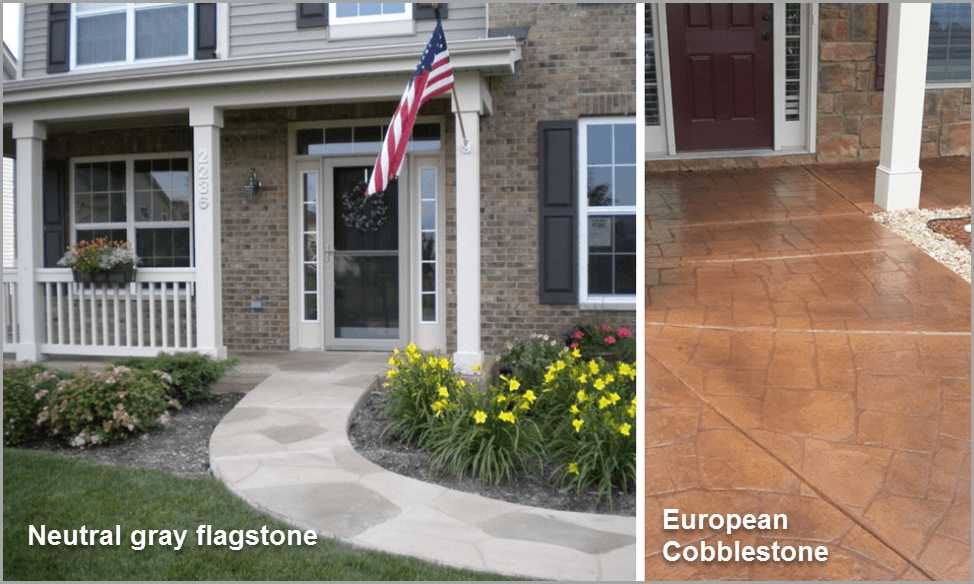 With decorative concrete, you're not limited to available stone in either style or color. Since the finish is custom-created, you have choices of stone style/type and unlimited colors in concrete stains. From muted, neutral tones to bright colors, you can achieve exactly the look you want for your home. You can rest assured that whatever design you choose will give years of worry-free beauty and service.
The continuous sealed surface resists moisture, mold, and bacteria growth and is easy to clean.
There will never be the hazard of lifting stones or deteriorating grout as with real stones.
Concrete stains have built-in UV protection so the colors will not fade.
The sealed surface resists cracking, chipping, or peeling.
Finishes can withstand all kinds of weather without damage.
At half the cost of other materials, you can have the look of more expensive materials.
Along with faux stone finishes, you can choose tile, brick, and various wood plank designs.
Small porch, big appeal
Even a small porch can have a big impact on curb appeal when it's upgraded with a decorative concrete overlay in an authentic-looking stone pattern. The color-coordinated flagstone below is the perfect complement to the stone pillars for an intimate porch setting that invites relaxing, reading, or watching a sunset. Turn the TV off and stay outside longer to enjoy the beauty of your own front yard with its carefully planned gardens that even look better from the new porch.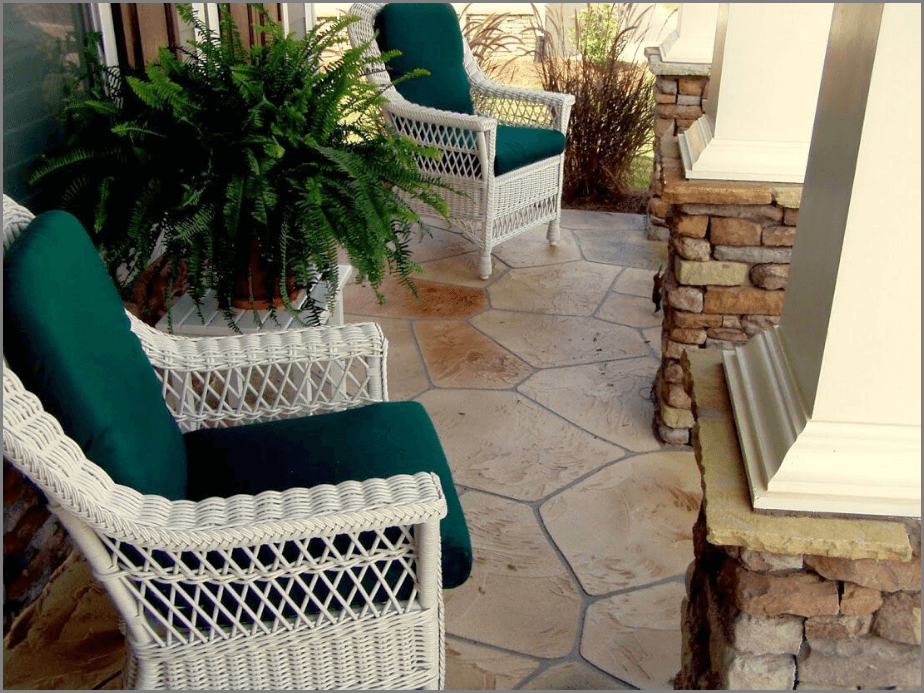 Quick curb appeal upgrades
Now that you have the front porch of your dreams, you can add additional charm and character to your home's curb appeal with some quick and easy upgrades:
Easy-to-read decorative house numbers
New, statement mailbox
Modern light fixtures, including solar accent lights
Paint the front door, trim, and shutters a fresh color
Attention-grabbing door knocker
Cheery new welcome mat and outdoor furniture
Old-fashioned porch swing with cushions
Potted plants and flowers
Reseed bare grass patches and trim overgrown bushes and trees
Add a roof or awning over the front door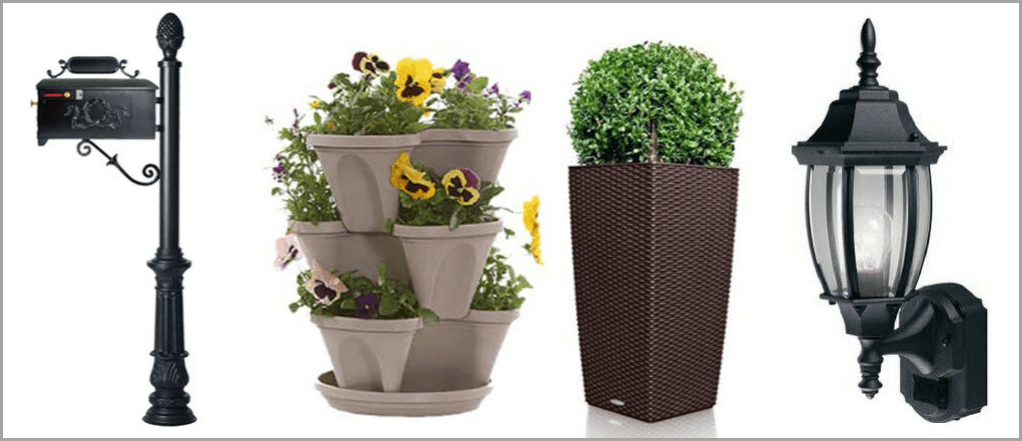 Don't let your front porch embarrass you or keep you from having the home you desire. A decorative concrete overlay from Concrete Craft can transform your entryway, front porch, and walkways into fabulous faux stone for stunning curb appeal with finishes that look natural and authentic.
Contact us today or go online to www.concretecraft.com to find the Concrete Craft location nearest you and request a FREE design consultation and estimate. Now is the perfect time to upgrade so you'll be able to enjoy your new porch all spring and summer long. We can also repair, restore and resurface patios, pool decks, driveways, interior floors, and vertical surfaces like shower walls, fireplace surrounds, and outdoor seat walls and retaining walls. Check out our online MasterPro Product Catalog to see all that can do to beautify your home inside and out with incredible, decorative concrete.
Learn more: