Enhance Your Outdoor Spaces With Decorative Concrete During Home Improvement Month
It may seem odd to declare one month as home improvement month when maintaining a home is an ongoing, everyday experience. But spring has sprung, summer is right around the corner, and warm weather is driving people outside, so it's natural to turn your attention to enhancing and upgrading your outdoor spaces. During May Home Improvement Month, Concrete Craft® can help with transforming your home from its front yard curb appeal to the backyard play spaces with versatile, beautiful decorative concrete.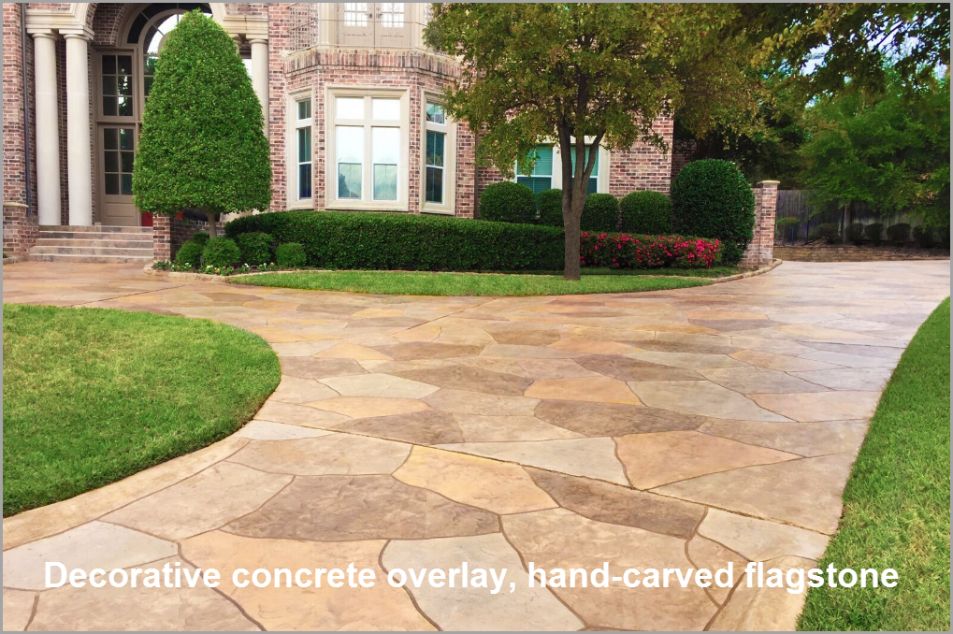 A resurfaced decorative concrete driveway will add beauty and real value to your home.
The continuous sealed surface can withstand spills and stains, including auto fluids like oil, gas, brake fluid, and antifreeze that will wipe up with a cloth, no heavy-duty cleaners are required.
At 5000 psi, your driveway can handle cars, trucks, motorcycles, and RVs, without chipping, cracking, or peeling.
Enhance your home's curb appeal
Over time, concrete driveways, porches, and walkways can become unsightly with years of wear and weather damage. Concrete surfaces with cracks, chips, discoloration, and exposed aggregate can make your home appear older than it is. Give an instant facelift to your entrance and enhance curb appeal with a decorative concrete overlay to cover concrete imperfections and present a fresh, new surface that can be finished in any number of ways. Stained concrete, stamped concrete, and hand-carved faux stone designs can create a whole new look for your front yard in just a few days.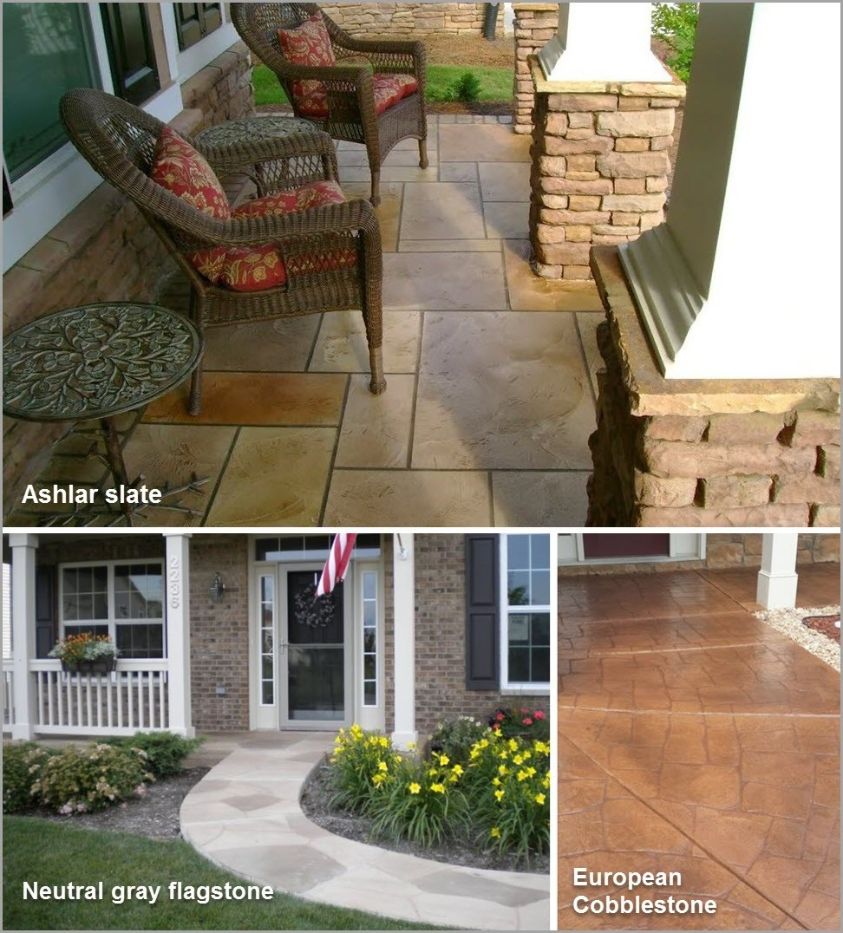 Decorative concrete can transform an unassuming front porch into an outdoor room with easy-care, faux stone floor, patio furniture, and seasonal décor.
Unify walkways and porches with a continuous design that creates a statement entryway from the curb to the front door.
Enjoy the popular look of grouted stone without the inherent problems of grout lines such as crumbling, lifting stones, and intruding weeds and grass.
Create a fun zone in the backyard
With less travel this summer, your family will probably be spending more time in the backyard. The best-intentioned patios, fire pits, barbeques, fireplaces, game courts, and pool decks can become unappealing areas to spend time when concrete goes bad or when amenities like seating and shade are lacking. If your entertainment spaces need some TLC, Home Improvement Month is the perfect time to spruce up your surroundings and make them more comfortable for your family. Starting with decorative concrete floors, it's easy to transform your yard into a summer fun zone! Recent HGTV Extreme Makeover: Home Edition episodes showed home transformations with renovated outside spaces showcasing Concrete Craft's decorative concrete finishes.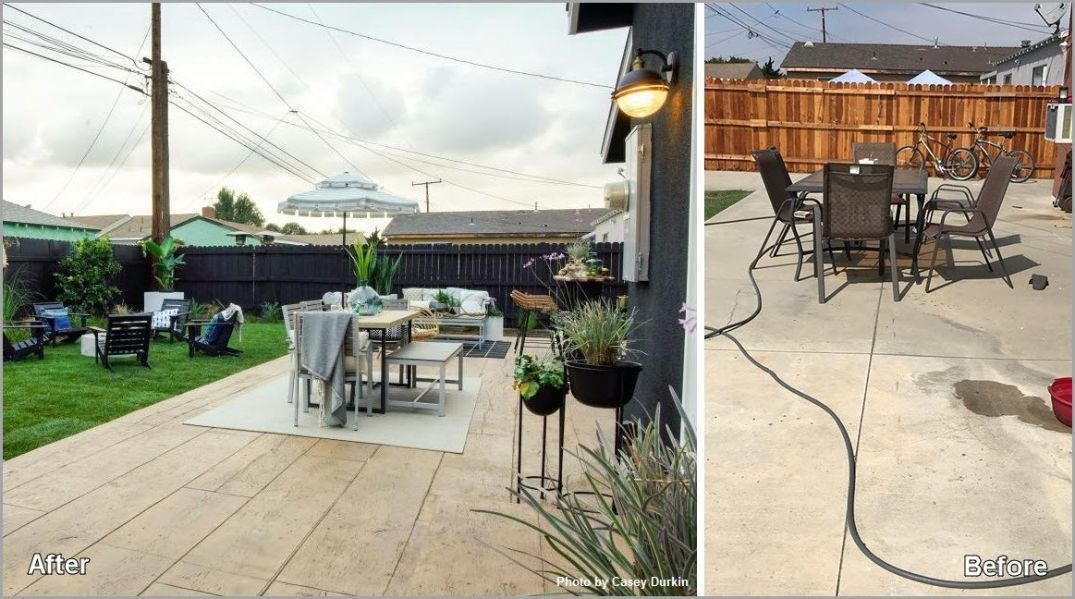 A reclaimed timber wood plank concrete stamp turned the boring and unused gray patio of the Joseph family into a "beach boardwalk" that was the catalyst to turn the whole backyard into multiple activity areas.
New patio furniture and a fire pit with chairs on the lawn greatly multiplied the capacity for family fun with comfortable space to spread out and relax. Not pictured is a semi-secluded hot tub area at the other end of the yard.
The durable spill-, stain-, and moisture-resistant finish will keep the patio like new for years, and it quickly sweeps clean even after a full day of fun in the sun with food and drinks.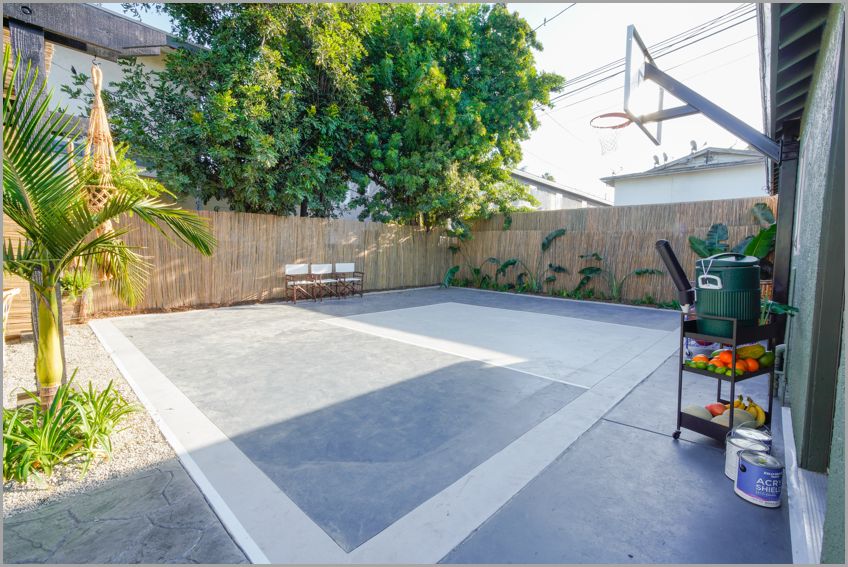 This resurfaced basketball court for the Fifita family was a must-have for the many games they host. The MasterPro StainTM Color RestoreTM finish will stand up to rain or shine with a durable surface that will not wear away over time.
Repair and restore any game court, including tennis, badminton, shuffleboard, hopscotch, and volleyball so your family can play in style.
Adjacent to the court is a shaded pergola for spectators with a full dining set up for alfresco lunches and post-game celebrations.
Beyond just resurfacing
Maybe your patio, porch, or driveway needs more than just a decorative overlay. RestoreKoat by Concrete CraftTM is a versatile repair mortar that can repair deep cracks and severe spalling, creating a "new concrete" look to damaged concrete surfaces, making them better than new because of the industry-tough finish.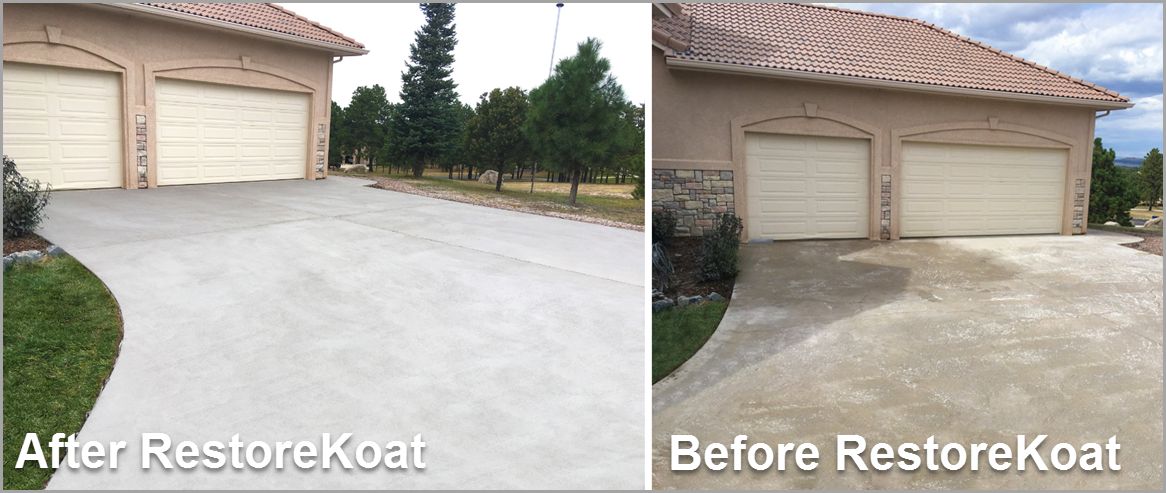 Your space may need enlargement to be more functional but pouring new concrete beside old gives a patchwork appearance that no one wants. Concrete Craft can work with you on projects that require additional slabs, by applying an overall finish to the final space for a cohesive look. The patio enlargement below turned a small, inconvenient patio into a patio large enough to create a very comfortable backyard entertainment area. The decorative concrete overlay faux stone finish eliminated any appearance of sections of old and new concrete.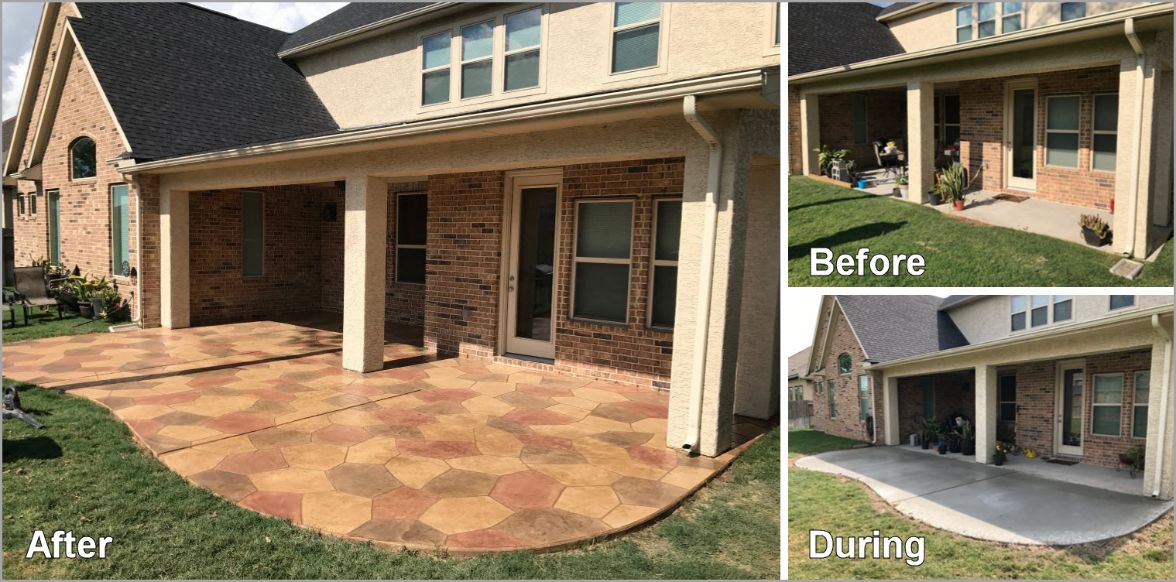 Concrete Crafts' exclusive MasterProTM products have many options for repairing, resurfacing, and refinishing concrete, including vertical concrete resurfacing for seat walls, retaining walls, fireplace surrounds, accent walls, and more. Below is a project that required multiple systems for an amazing result. Without any demolition and replacement, this porch was completely transformed to absolutely incredible from what appeared to be beyond help.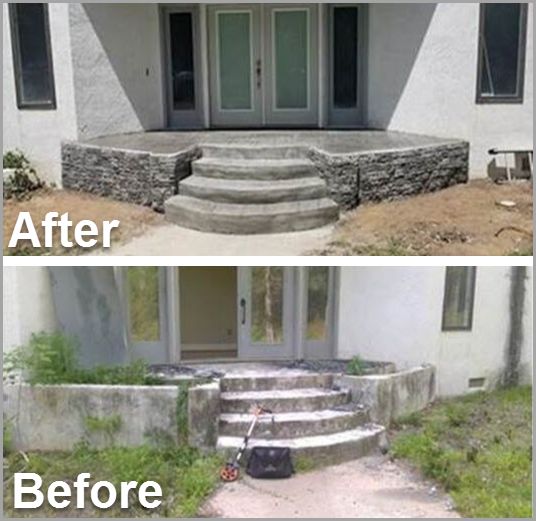 Make Home Improvement Month a smashing success!
If you've decided to update your yard by restoring your damaged concrete surfaces, Concrete Craft is your one-stop shop for repair, concrete staining, concrete overlays, and vertical concrete resurfacing. Even if you're not sure exactly what needs to be done, the professionals at Concrete Craft can evaluate your concrete and help you determine the best solutions to give you the result you desire. Contact us today or go online to www.concretecraft.com to find the Concrete Craft location nearest you and request a free in-home or virtual consultation.* For safety and peace of mind, we can provide this service remotely on your mobile phone or through a web conference—design, order, and set an appointment to install when the time is right.
At Concrete Craft, we want to reassure you that the well-being and safety of our customers is always a top priority. We're committed to following all guidance and updates suggested by the CDC, local departments of public health, and the Public Health Agency of Canada, as well as adhering to sanitation and cleaning procedures and practicing social distancing.
*Virtual consultation may not be available at all locations.